One of the activities I enjoyed on Iriomote Island in Okinawa Prefecture was a trip to Yufu Island by water buffalo. In addition to enjoying the relaxing atmosphere in the coach pulled by water buffalo, there was a botanical garden in Yufu Island where I could see butterflies with the most strange "golden willow".
Access to Yufu Island – water buffalo car tickets go up!
Yufu Island is located on the east side of Iriomote Island. Even so, it is only a few hundred meters away from the coast of Iriomote Island, and it is sometimes connected by land at low tide.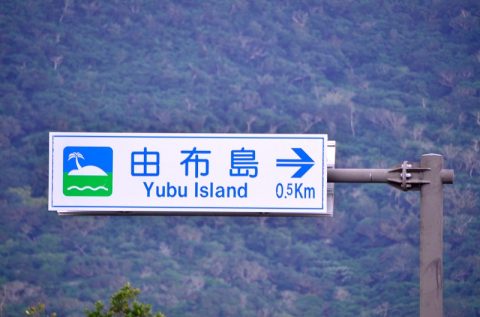 If you look at the road sign of Iriomote Island, it says it is only 0.5 km to Yufu Island. It won't take more than 10 minutes on foot.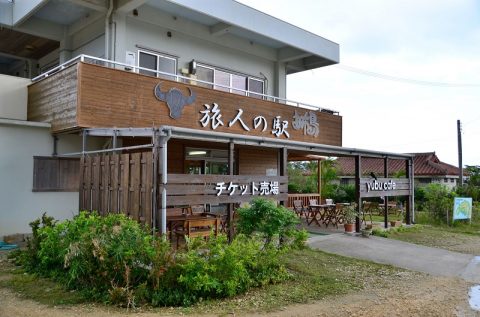 But it's a good opportunity, so I think I'll take a water buffalo carriage. Driving along the road signs leads you to a free parking lot where you can buy a ticket for a buffalo car in the cafe building "Traveler's Station".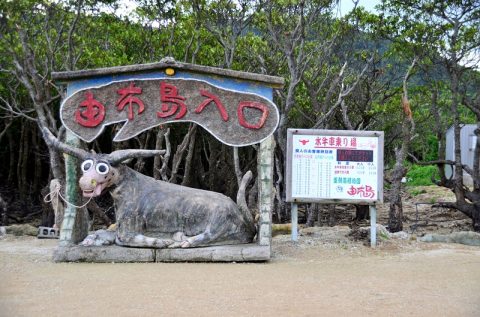 The tickets include admission to "subtropical botanical garden" at Yufu Island and the round trip is 1,300 yen … which is now up to 1,400 yen …。 If you walk instead of taking a water buffalo you only need to pay the botanical garden admission 600 yen. → Go to HP for details
in a water buffalo car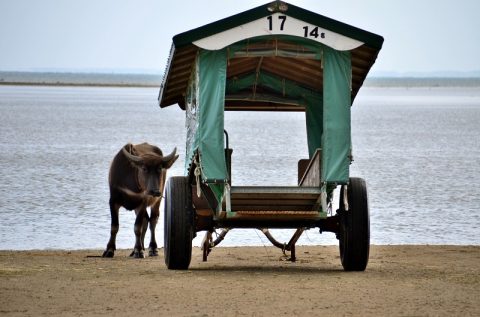 The buffalo cars leave at 30 minute intervals until 9:15 ~ 16:15. There are only 14 passengers, so there may be more trains during the busy season.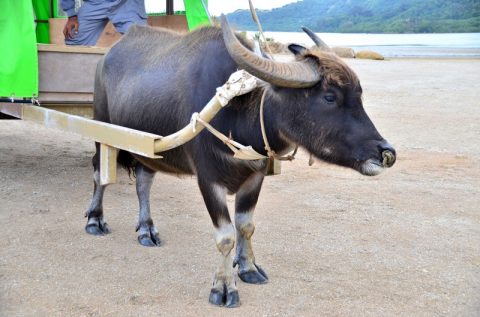 By the way, the appearance of buffalo is quite different from that of ordinary dairy cows. It's more like a bullfight? It has big horns.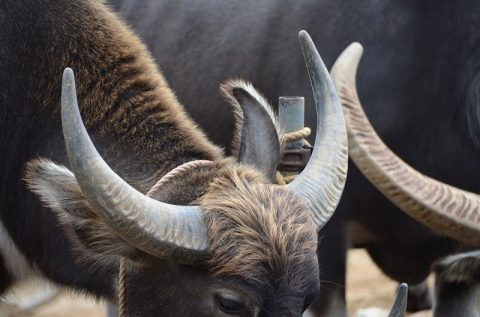 But they were all very quiet. It may be because they are tamed, but water buffaloes have a history of being domesticated in China and other countries for several 1000 years, so I don't think they become violent.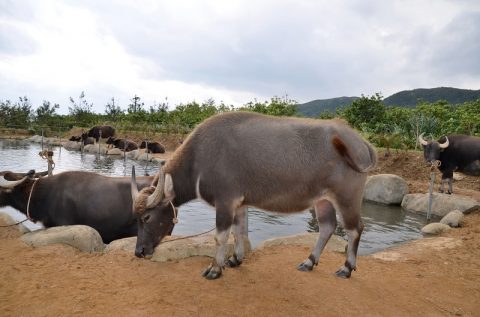 By the way, water buffalo seems to be used for food as well, especially in Hinduism where beef is not generally eaten, but water buffalo meat seems to be exceptional, and it is widely served in restaurants in India. Also, milk from buffalo is used for processed foods such as cheese, so it can be eaten in the same way as ordinary cows.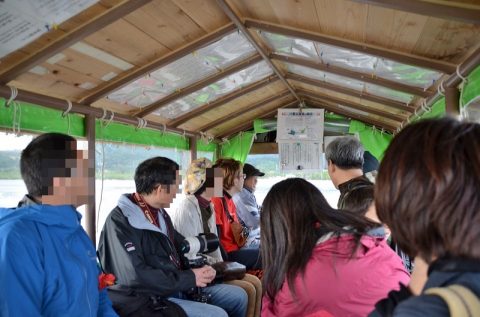 In the coach drawn by the buffalo, the guide sang while driving the buffalo, holding an Okinawan instrument called "Sanshin" in hand. I thought they would sing traditional Okinawan folk songs, but I was surprised to hear the modern songs <<Nada Sousou>> and <<Shimanchu nu Takara>>!
In Iriomote Island, these two songs were sung in a live performance at a restaurant I visited for dinner, and I would like to have more variety of repertoire. These 2 songs are played frequently on USEN in town, so you will get tired of them after staying in Okinawa for a few days … (Well, it's a great piece of music,).
The golden willow I saw in the subtropical botanical garden!
After 10 minutes of being swayed by a water buffalo car (It's faster to walk!), we arrived at Yufu Island. The water buffalo car is not a tour, so it is completely free movement in Yufu Island.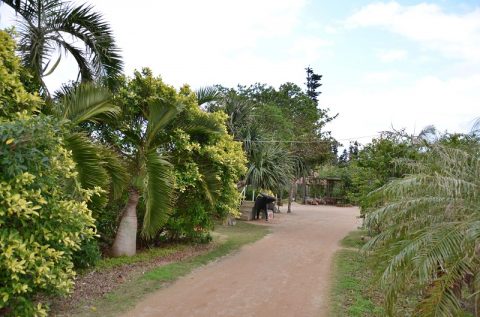 Yufu Island is a small island with a circumference of 2km, but the promenade was well maintained and became a tourist spot. The entire island is shaped like a theme park, and some buildings have restaurants and shops.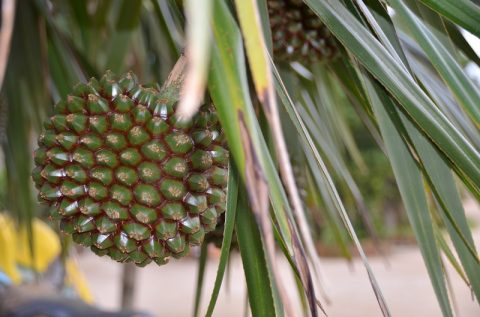 As it is a subtropical botanical garden, the island is full of tropical plants! It doesn't have a special "exhibit" style, but rather a natural development.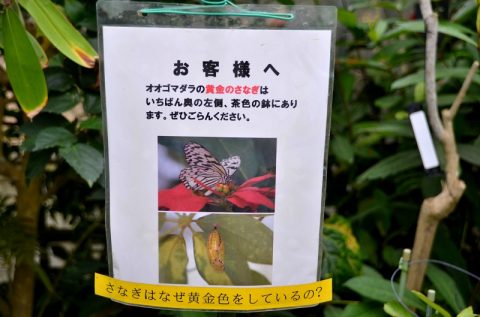 I found a rare item in the building of "Chōchōen". It is said that a butterfly pupa called Oogomadara is golden.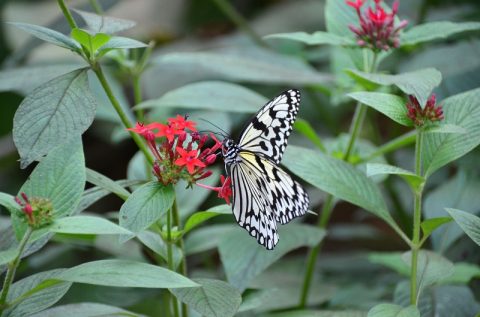 Speaking of monarch butterfly, this white butterfly with black spots. I was flying around the butterflies. In Japan, this also lives only in Nansei Islands.
When I went to the information board, I saw a small thing hanging from a leaf …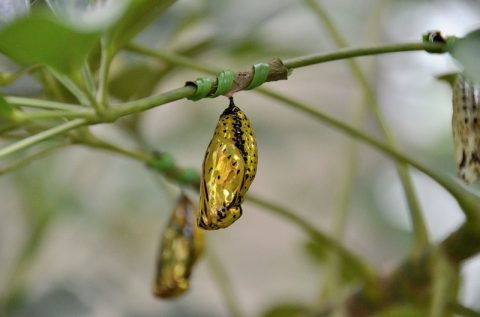 This is it! golden willow. I was surprised that it was really golden. This color is used to protect yourself from natural enemies and to show that you have poison. In general, a certain body with poison is more grotesque, but this is not so much. It's gold, but I had a hard time finding it because it's small.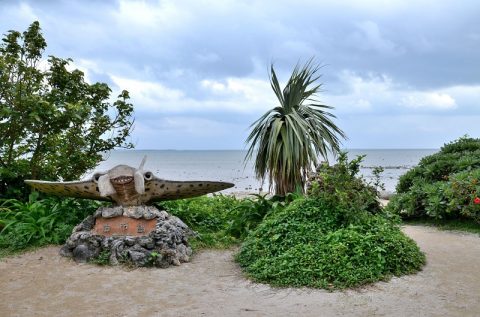 There are many rare things in southern countries. Even though it's in Japan, you can feel a little exotic atmosphere in Yaeyama.
Next time, I will report the local gourmet I had in Iriomote Island.
♪Click here for a List of articles on "Miyako Island, yaeyama area"