The beach "Maehama Beach" is so famous that it is one of the top 2 beaches in Miyako Island. It is correctly called Yonaha Maehama Beach (Yonahamaehama Beach), but is it possible to snorkel at this Maehama Beach which is said to be the most beautiful in the East? I would also like to see the situation of the parking lot.
Maehama Beach Access and Parking
Maehama Beach is located in the southwest area of Miyako Island, near the Kuruma Bridge, which leads to Kuruma Island.
It takes about 15 minutes by car from the airport, and about 20 minutes from the downtown area. This time I left from Hotel Kyowa on a weekday morning, and I arrived smoothly in 20 minutes without a traffic jam.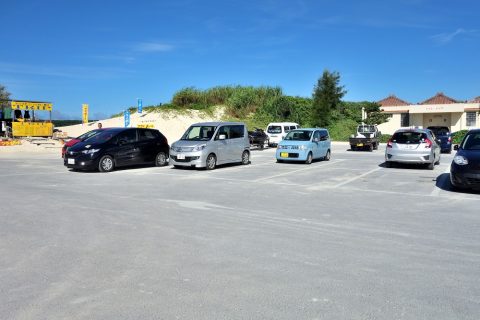 As you can see from the satellite photos, this Maehama beach has a clean parking lot. Roughly 35 passenger cars can be accommodated. There is enough space for two large buses and I think it is one of the biggest parking lots on Miyako Island beach. They also have a toilet and shower.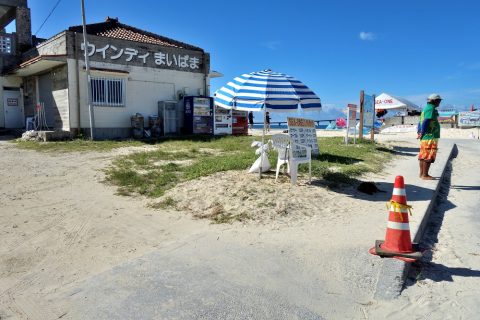 There was an old man who looked like an attendant in the parking lot, and I thought he was going to charge me for parking, but he just greeted me casually. There is no parking fee here. As Maehama Beach is a famous beach in Miyako Island, I was worried if I could park properly, but when I arrived before 9 AM, the parking lot was 2/3 empty.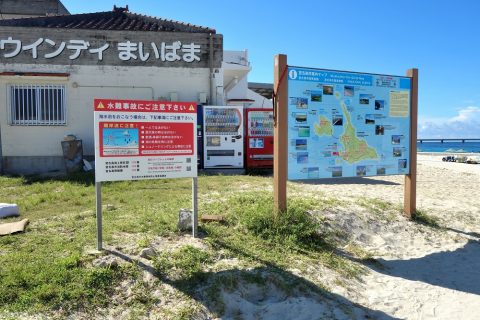 Near the parking lot is a restaurant called "Windy Maibama" where you can have a light meal, but it is open from 11:00 ~ 16:00 so it is not open in the morning. By the way, does Maehama Beach read "Mabama Beach" from the name of this restaurant …?
The beach is very wide!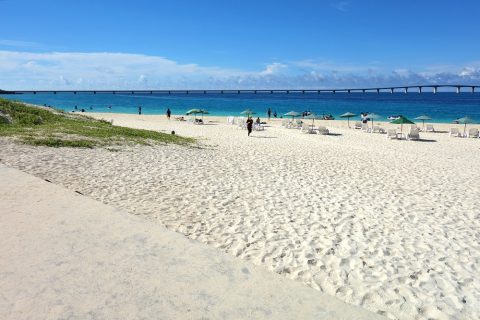 When you go out to the beach, the beach is completely white all around! It is an amazingly vast sandy beach that is several tens of meters to the sea!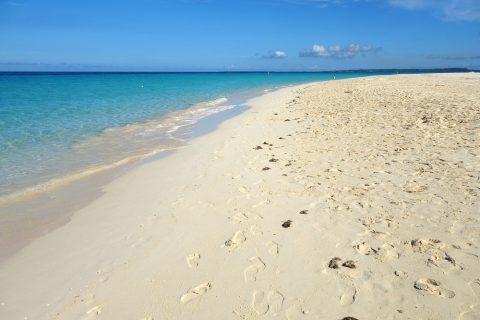 It is only around here that the beach is maintained, but it is amazing that such a pure white beach continues for many kilometers. I think I can understand why this is called the best beauty in Asia.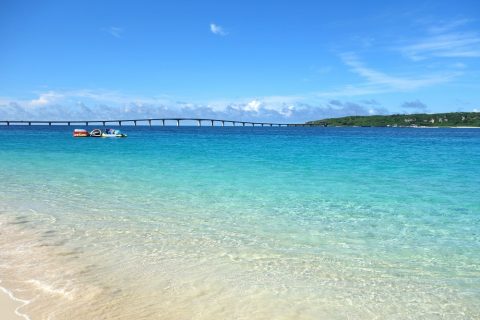 The color of the sea is also beautiful! You can see the Kuruma Ohashi bridge from a distance, and the water is very clear, so I think it's worth just coming to see this ocean without swimming.
Not suitable for snorkeling?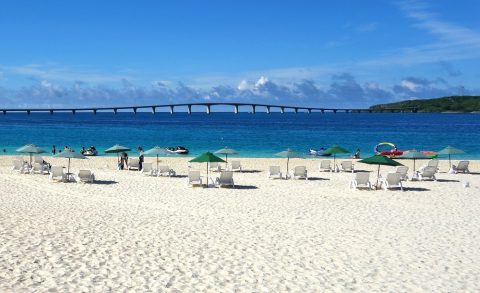 I thought I would swim in this beautiful ocean, but when I looked around, all the people were preparing large equipment such as motorboats. I don't see anyone who is trying to swim by himself like me.
Is snorkeling prohibited here? Just in case, I asked the uncle who was in the parking lot, and he told me that snorkeling is not impossible, but since there are not many coral reefs and there are few fish near the beach, it is better to go to Yoshino beach for snorkeling.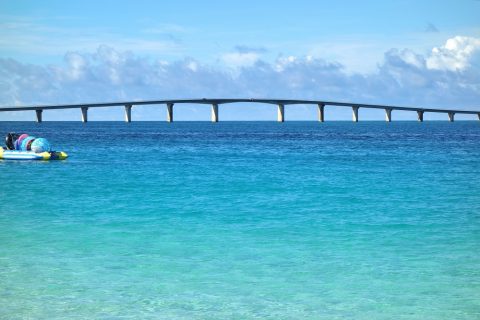 Indeed, if you look at the sea, you can't find any cobalt blue reef. Maybe this beach is specialized for playing sports using boards or playing on the beach.
I have already swum the Yoshino Coast (Reference: How to get to "Yoshino Coast" which is popular at Miyako Island snorkeling, and the view of coral.) but it was certainly a good beach for snorkeling with coral reefs and lots of fish. But if you go to Yoshino Coast from here, it is on the opposite side of the island, so it takes 40 minutes by car …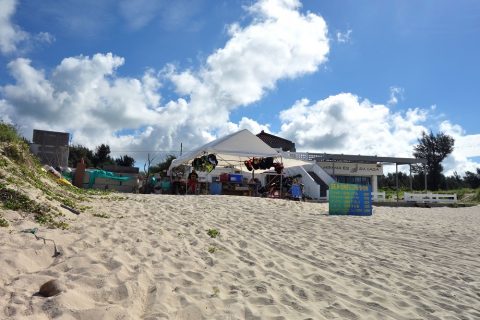 So I will give up swimming at this Maehama beach and go to another beach. I went to Kuruma Island after crossing the Kuruma Bridge which was visible from the beach, and there was a beautiful beach full of a private feeling, so I would like to introduce next time → The private beach of Kuruma Island is beautiful! Snorkeling at Musunung Beach
Check out the rest of Miyako Island's beaches below.
♪Click here for a List of articles on "Miyako Island, yaeyama area"