The traditional performing art seen in Hong Kong is "Guangdong Opera". There are several theaters in Hong Kong where you can see Cantonese opera, and in January 2019, a new hall dedicated to Chinese performing arts called "Xiqu Centre" opened in the West Kowlon district.
This time, I will watch Cantonese opera at this newly opened Xiqu Centre! I will report in detail from the ticket arrangement to the audience seats.
※This article was written before the virus scandal. This will be updated.
How to buy tickets
About the concert ticket of Xiqu Centre, I made a reservation and purchased it from the website of West Kowloon.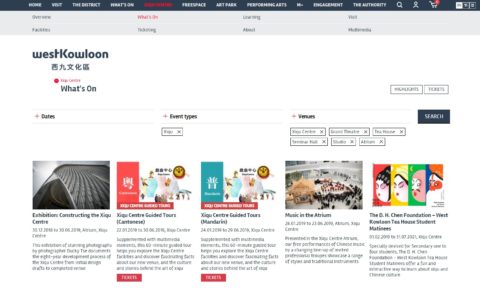 When you enter from the top page and select XIQU CENTRE → What's On from the menu at the top of the screen, a list of performance programs will be displayed, so you can select any performance and proceed with the arrangement.
You can also choose your seat. You will be prompted to create an account, but you can purchase it as a guest without registering.
Once you've paid for your credit card, you'll get an email to your email address, and you can download your ticket by clicking the link in the email.
It's an e-ticket with a bar code, so you can use it as it is without having to exchange it for a real ticket.
Access to Xiqu Centre
For access to Xiqu Centre (drama centre), Kudian (Austin) Station is the nearest station if you go by MTR.
Kowloon Station is also close by, but Kowloon Station has a special structure and it's hard to get out of the station, so it's better not to use it. If you are going from Kowloon station, it is better to take a taxi.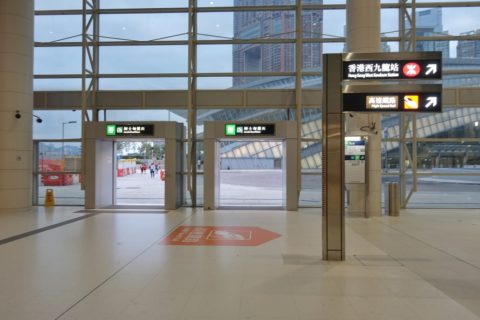 If you are using the Kodian station, it takes about 3 to 4 minutes on foot from exit D2. Turn left at the rotary in front of the station and it is across the road. When I visited there, it was under construction and I had to make a detour.
an innovative modern building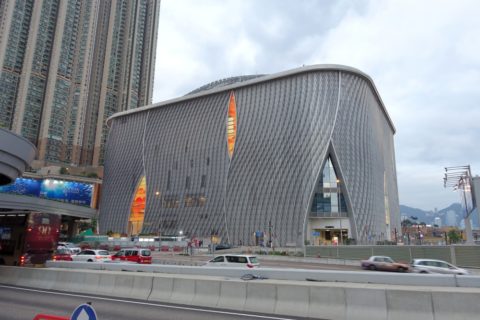 The Xiqu Centre, which sits on the other side of the road, has a new design. You can see the shape like a sperm whale and the art like stained glass on the side.
The Xiqu Centre is an 8-story building with a total floor space of 28,164 m2.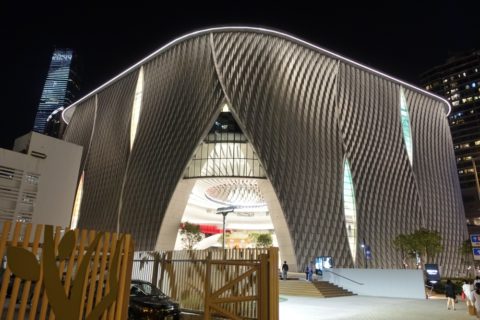 By the way, the illumination at night is like this. The building itself is shaped like a square and has two main entrances and multiple back doors.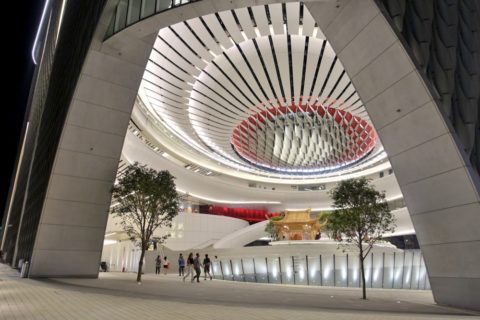 It's not a big deal when you see it from a distance, but it's a big entrance with a lot of impact when you see it close. It has a cosmic design that is somewhat different from traditional Chinese arts.
Play Plaza/Ensemble performance before the performance
The inside of the building is a large space to wipe off, and there is an event space called "Drama Plaza" in the center. It is open to the public, so you can enter without a ticket.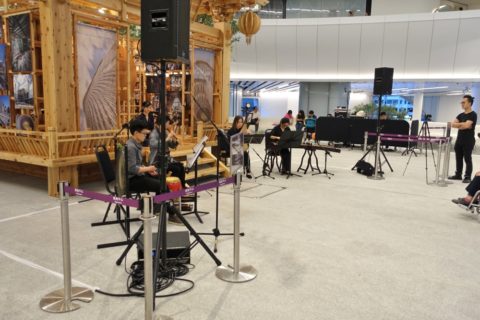 I visited this play plaza before the performance, and there was an ensemble with traditional instruments. There are benches around here, so you can sit and watch.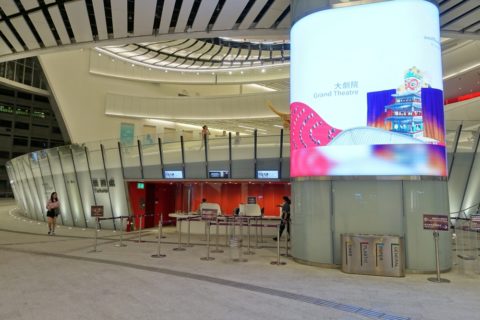 There is a ticket office outside the plaza, and if you want to buy a same-day ticket, go here.
Various halls in the complex
By the way, this Xiqu Centre consists of various halls, conference rooms, studios, etc. as it is a complex facility.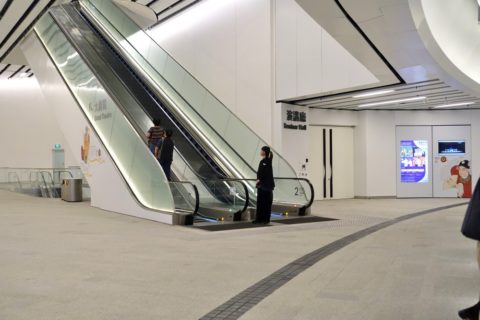 The venue of the Cantonese Opera will be the largest theater called "Grand Theatre". The location is upstairs, use the escalator to go up.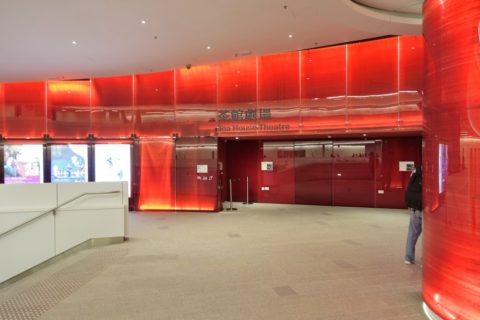 On the way to the Grand Theatre, there is an entrance to another theater called "Tea House Theatre". This is a small hall with about 200 seats, but there are opera performances where you can enjoy Chinese tea and dim sum.
Restaurant and gift shop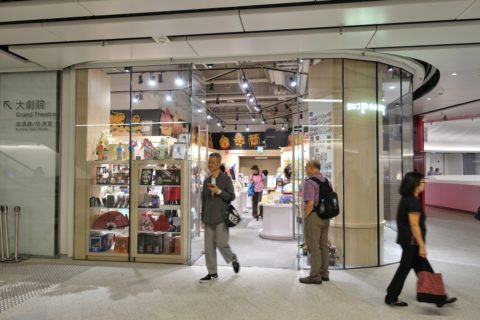 There is also a restaurant and gift shop on the same floor. The gift shop closes by the time the Grand Theatre performance starts, so if you want to buy something, I recommend going there before the performance starts!
When I took a look at the shop, I found that there were sense of Chinese dance patterns, hand towels, stationery such as files, and even masquerade ornaments.
In addition, I personally noticed this masking tape. It's a paper tape with a Chinese dance pattern, but there are several thicknesses and a variety!
For my job, I often use this masking tape for the binding tape used for the back cover of music scores, but this is the first time I've seen such a wide variety of section! The price is reasonable, about $30 each, and you can get various patterns here without hesitation!
Grand Theatre seating and seat map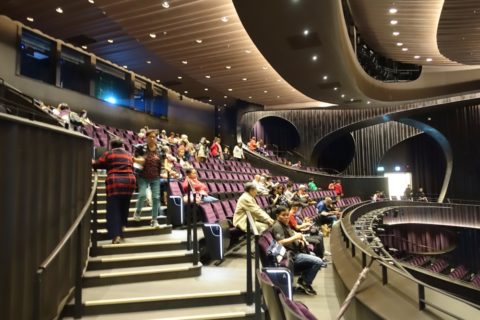 Now, let's go to the audience! Normally, the entrance to the audience is 30 minutes before the curtain time, but this time, we had to wait until 15 minutes before the curtain time …。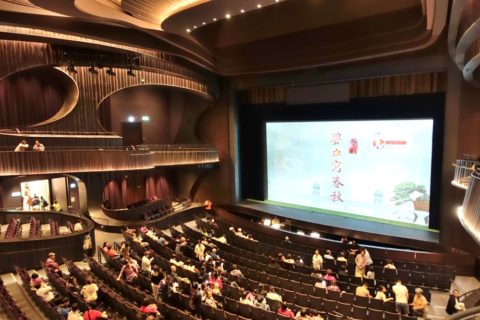 When I entered inside, the interior was decorated with calm colors based on dark brown. The auditorium has 2 tiers and has 1073 seats. * The seating chart will be downloaded from here.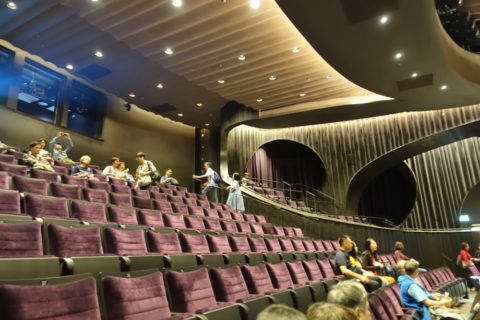 I imagined a stage like "Kabukiza" because it is a hall specialized in Chinese traditional performing arts, but when I look at the balcony and orchestra pit, I feel like I am at a Western opera house.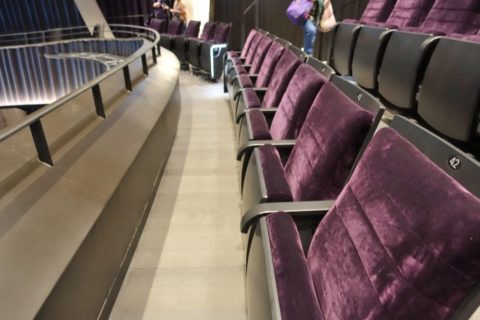 My seat this time is the center of the second floor seat. We secured the first row as usual! The view is good and the handrail in front is a little bit of a hindrance, but it is good that you can look over from the edge of the stage to the edge!
However, the seat pitch is not so wide, so it might be a little hard if a big person comes next to you. Still, it's not too narrow, and it's still a standard size.
Not so good? Guangdong Opera "粵劇萬福台"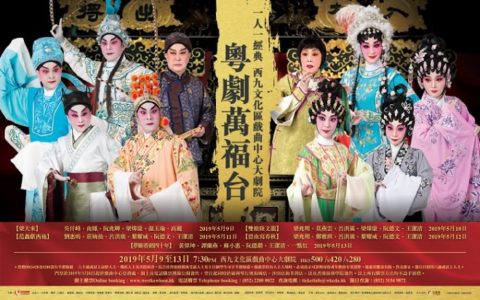 Now, this Cantonese opera is called "粵劇萬福台". It is a work depicting human patterns by the rulers of ancient Chinese dynasties.
Characters wearing characteristic makeup perform dances and songs in the story. It was a performance unique to Cantonese opera, but I felt it was very similar to Western opera in form and content.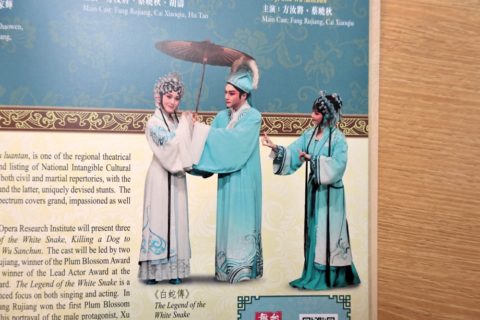 The main performances are temple blocks and cymbals. I expected to be able to listen to a variety of music with traditional scales, but the music was almost the same throughout. Moreover, the sound of cymbals is echoing in my ears strangely, and I can't stand it. …。
Rather than music, it has a strong sense of rhythm for dancing. The performance lasts about 3 hours with a break in between, but as expected, I gave up in the first half!
The stage set was not so good, and it wasn't as gorgeous as a western opera, but not as powerful as Japanese Kabuki …, which was very disappointing for me. Well, just knowing what the Cantonese opera was like was rewarding.
Well, for that content, it might be better to watch it in a smaller place. In that sense, I can say that the aforementioned Chakan Theater is more suitable for viewing.
The building is worth a house!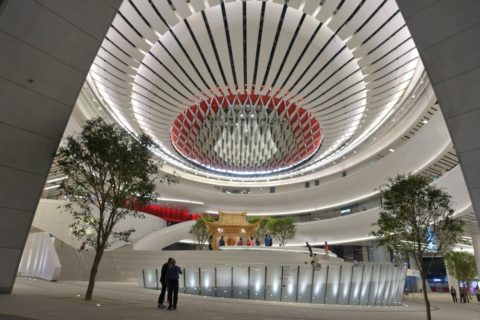 In any case, the new modern architecture of the Xiqu Centre is quite impressive, so it's a good idea to visit without buying a ticket. Performances at the play plaza usually start around 18: 30 every day, so you might want to visit for this.
So, it was a report to watch Cantonese opera at Xiqu Centre!
♪Click here for a List of articles on "Opera House & Concert Hall around the world"