I'm so upset! Russia – I was taking a picture of a white bird in the square in front of Kazan Cathedral in St.Petersburg when a young man made fun of me and took my money!
When I looked into it later, I found out that this is a fraud which occurs frequently in tourist spots in Russia. I never imagined that I would suffer this classic pattern, and I just felt remorseful …
This time, I would like to give you a full picture of the damage and countermeasures that are rampant in Russia based on my experience.
♪Here you go too → "Saint Petersburg" article list and travel guide
※This article was written before the virus scandal. This will be updated.
So if you take a picture of a white bird, "Give me the money."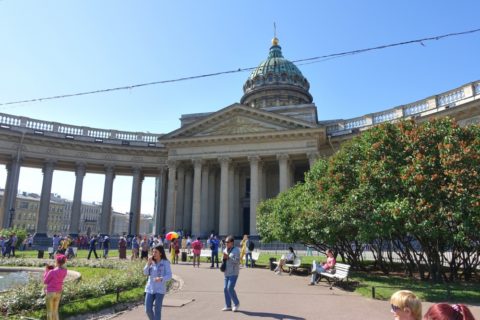 The plaza in front of Kazan Cathedral in St. Petersburg was the scene of the attack. This is a very famous tourist spot and it is crowded with many tourists from morning to night.
About 9:30 AM, as I was walking toward Kazan Cathedral, I caught sight of a white bird sitting on the top of the flowerbed fence in the square.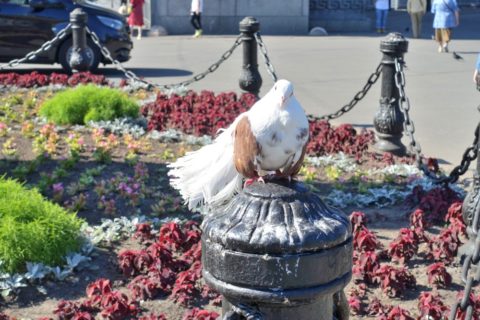 Although there are only black pigeons around, this brightly colored bird stands out. As soon as I snapped a picture of the bird with my camera, a young man rushed over and spoke to me in English.
"This bird is my precious friend. You just shot this bird, didn't you? So give me the money."
Ah ~ I thought it was a common pattern and started walking, then another man who seems to be a friend of this man came running up and said the same thing. until, in the end, it interfered with my course of departure.
There was a long standoff, and even if I said I would call the police, "No problem". I thought of fighting like this, but as expected, I think we can see a match in 2 to 1 with a young man. I had no choice but to give one of the men the 1,000 RUB bill as requested, and the other guy said, "Give me 1,000 RUB each."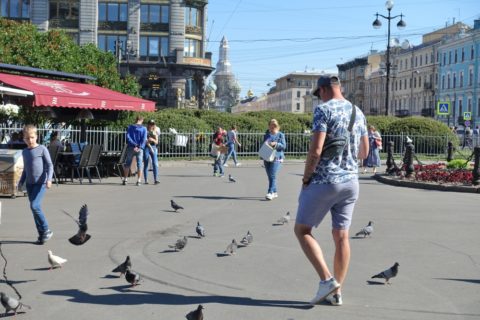 I couldn't hold back and shouted "You just paid." several times in a loud voice, and then went away with a slight frown on my face. There was no violence (The path was blocked, but …) and no injury, but 1,000 RUB was stolen as a result …
If there were Japanese people around, you could ask for help, but only Chinese people were there at that time …
Criminals are two young men
I was so frustrated that I photographed the figure of the criminal! The man in light blue is about 175 cm, wearing sunglasses, and the man in blue jumper is about 165 cm, which is a little small. Both men are thin and about 20 years old.
If you are planning to visit St. Petersburg from now on, please remember this appearance and face.
These two guys seem to have been prowling around this square before I took a picture of the birds, and they were also in a casual picture of the square taken about five minutes ago. I mean, they're addicts! I can't bear to think that there are other victims besides me …
It's effective to shout!
How can we prevent damage if we encounter such a case? The most effective way is to "shout". Like the criminals this time, they don't want to stand out, so it might be the most effective way to make a fuss loudly.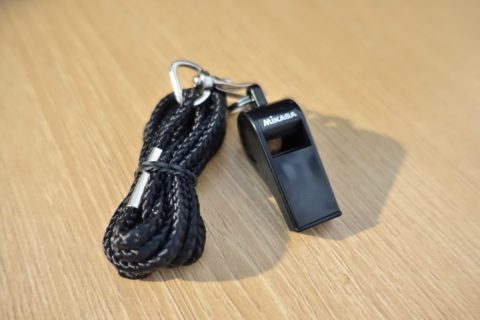 If you don't have the confidence to speak loudly, carry a whistle or a security buzzer. Anyway, I think it's better to make a big sound and get attention from people around you.
Even if you know it in your head, it's hard to put it into practice, but it might be useful to have a whistle with you.
for scams and other incidents that are rampant in tourist destinations?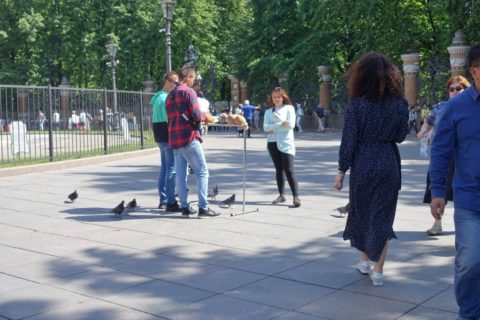 In addition to Kazan Cathedral, there are other places where "white bird" I have seen people dealing with similar birds, such as the Salvation Church in the blood and the park in front of the Russian Museum.
Even if you think it's a little unusual, don't ever take a picture of a white bird!
Also, other than birds, you should be careful if you are dressed up like this! They are swindlers who let tourists take pictures and then charge them later. Even if you don't point your camera at them, they will aggressively attack you.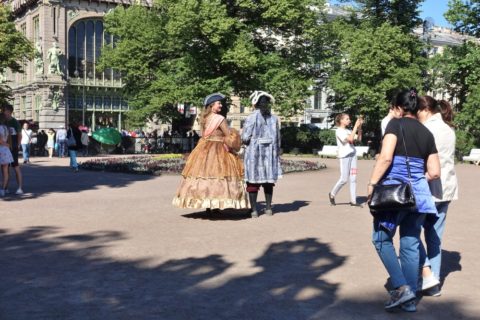 I also had experience, and when I was eating ice cream on the street, a couple of cosplay lovers who looked like nobles came up to me and suddenly asked me to shake hands. I say no loudly! However, there was a chance and carelessness at work, …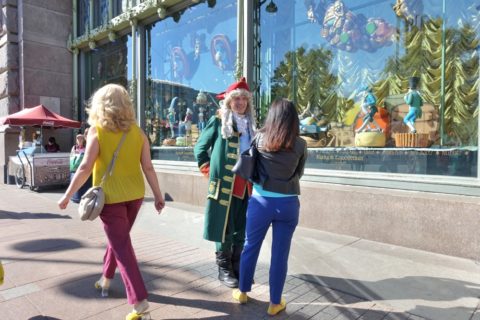 Looking at their movements, some tourists did not have to take their money because they were Westerners. Asians who don't understand the language are especially likely to be targeted, so you shouldn't think with them.
Oriental people are especially targeted!
This time I came to St. Petersburg because of the bad luck that I would suffer damage on the morning of the first day of sightseeing. … However, at the same time, it was a chance for me to reaffirm the importance of crime prevention in "urban Russia" which is different from the countryside in Far East, Siberia, etc.
It is said that not only fraud but also pickpockets are common in St. Petersburg. When I look at the tourists around me, there are many people with backpacks in front of them. Almost everyone in East Asia (Japan, China and South Korea) is like that, but there are some Westerners who already have one.
This is a scene that has never been seen in other European countries, so this city is very dangerous.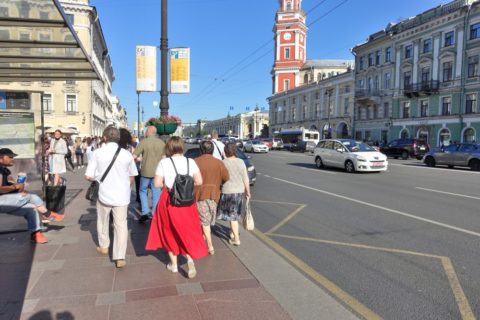 If you are going to visit the cities of Russia such as St. Petersburg or Moscow, please pay the utmost attention so that you will not suffer damage. I do hope that the person who robbed me of my money will be punished …
♪Here you go too → "Saint Petersburg" article list and travel guide