Temple in Bangkok having the most famous giant Shaka statue "Wat Pho". I also went there and captured the huge figure on camera, but the angle is difficult because of its size ~!
In addition to this golden statue of Buddha, we would like to introduce you to the access fee to Wat Pho and the beautiful altar of the main hall.
How to Access Wat Pho
To get to Wat Pho from central Bangkok, a taxi is fast and convenient. I took a taxi from the "Wat Traimit" area near Hualamphong Station and Wat Pho arrived in about 10 minutes.
*The MRT Blue Line opened in 2019 and is accessible on foot from nearby Sanam Chai station!
Some people are worried about traffic jams, which is a local specialty in Bangkok, but as far as I used, there were no major traffic jams as long as I left the BTS, MRT and other railway areas. The inside of the taxi is air-conditioned and cool, so I think it's worth riding even for a short distance.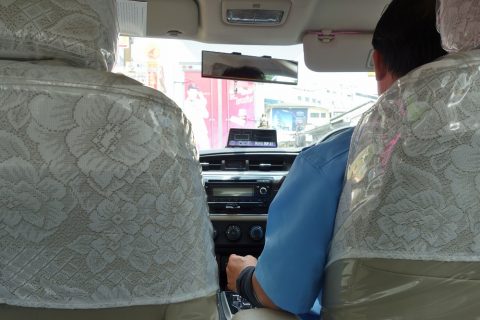 However, even if you use a cruising meter taxi, you have to negotiate when you go to sightseeing spots such as Wat Pho. From the Hua Lamphong Station I was on, it was 100 baht, but from the Siam area of BTS, it should be 150 baht (about twice the meter).
Taxis in Bangkok don't run on meters for good deals on how to negotiate taxi fares! How do you negotiate to avoid being bullied? See the article.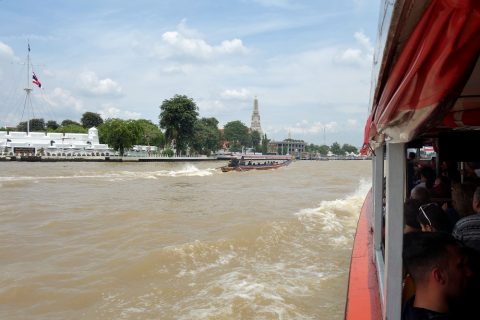 You can also take the Chao Phraya Express boat, but it takes a lot of time because of the detour, so I don't recommend it. The low fare of 14 baht per person is attractive, but if you have more than one person, the advantage is reduced and it is not very comfortable to ride. About express boat, a little scary way to ride express boat! for details.
Entrance fee is 100 baht, and traditional Thai massage is also available.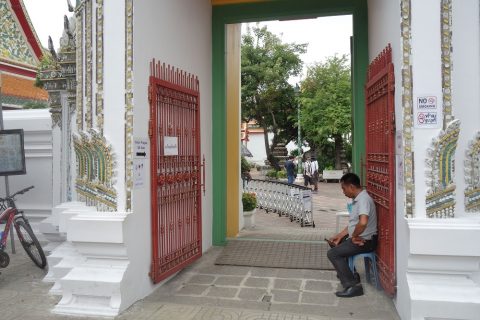 Like the Royal Palace (Wat Phra Kaeo), Wat Pho has a number of back doors, but very few. The main entrance is on the north side of the property, but there is more than one place where you can enter, and I entered a place like a back entrance which is not popular.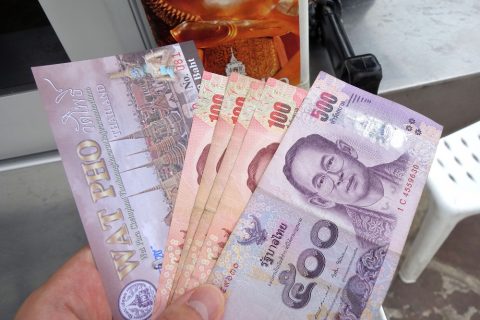 Wat Pho admission is 100 baht. You can't use a credit card, but I gave you change without a complaint when I gave you a 1000 baht bill! If you are grabbing a large bill at a currency exchange office, it will be easier for you to break it at a place like this.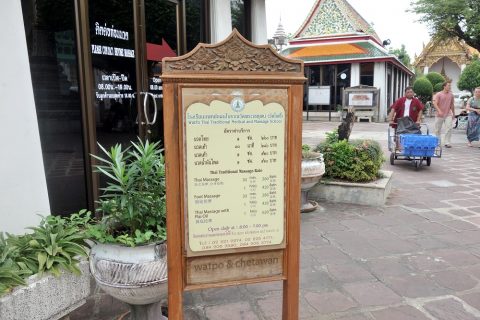 Also, there is a place in the precincts where you can get a traditional Thai massage. This Wat Pho massage is also very famous in Bangkok, so the price is pretty good from 260 baht for 30 minutes!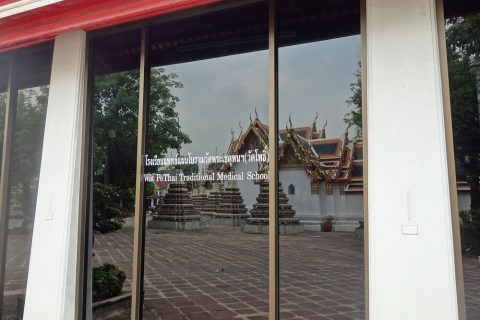 There is also the word "School" near there! If you take a lesson here, you can get a qualification of traditional Thai massage, and there are many Japanese who get it. The 30 hour course costs from 40,000 yen, which is surprisingly cheap.
The golden altar is beautiful in the main hall!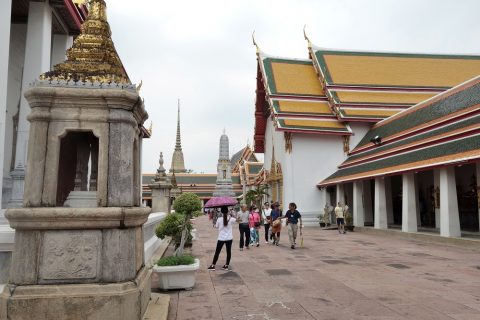 The main buildings in the Wat Pho precinct are the chapel with the statue of Shakyamuni sleeping and the main hall. The place where I entered was on the opposite side of the chapel with the statue of Buddha, so I would like to go to the main hall first.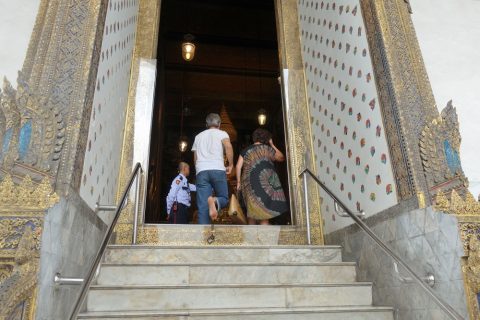 As with other temples, shoes are not allowed inside the building. I thought photography was prohibited, but it wasn't.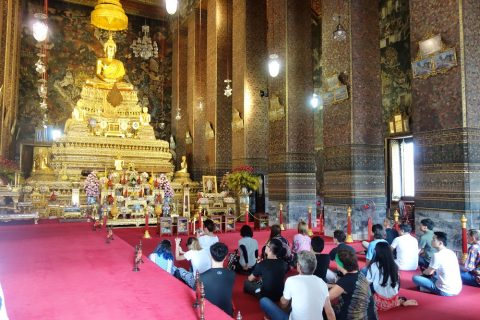 The main hall is lined with red carpets in front of a golden altar, and staff at the entrance encourage you to sit down quickly. This person in charge was quite strict, so he was only allowed to sit in seiza style or cross-legged style, and was warned that he was sitting with his legs out in front of him …
But the golden altar is beautiful! Numerous finely sprinkled ornaments are illuminated and glitter like jewels. The contrast with the hell-like mural paintings behind is very mysterious …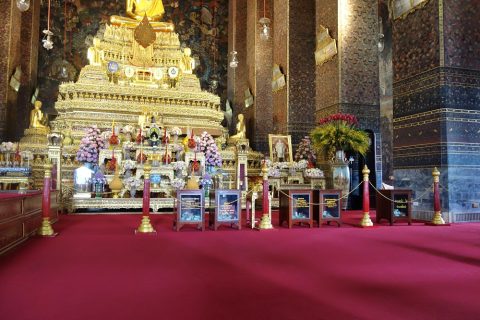 There is a rope in front of the altar, but you can get quite close. Is the portrait on the altar the former Bhumibol Adulyadej?
To the chapel where Buddha lies!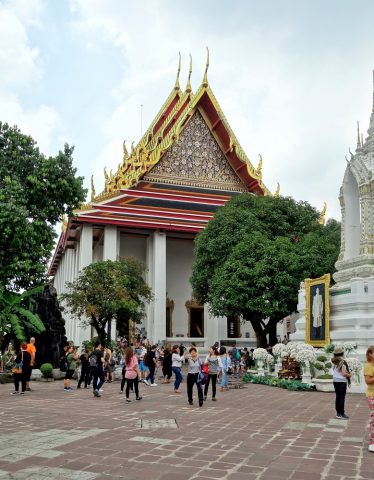 Well, the main "Omoe-Shaka Butsu" of the Wat Pho is in a chapel to the west of the property. It is so crowded that it cannot be compared to the main hall.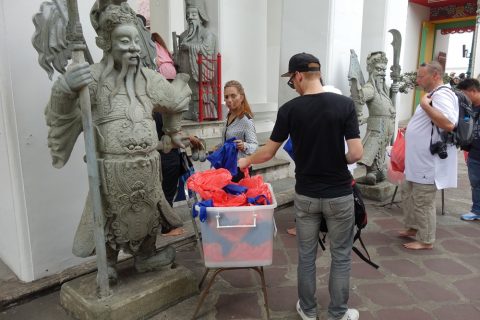 We take off our shoes and go inside, but we don't have a shoe cupboard here, so we have a bag instead. This may be better because there is no risk of theft.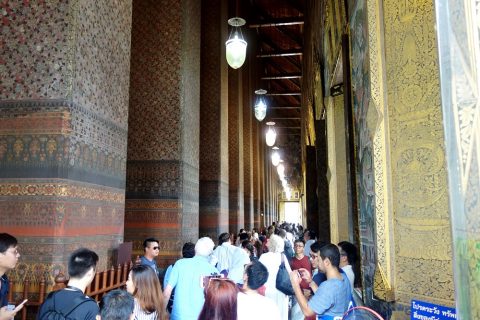 When you enter, there is a long corridor that continues to the back. Large columns are lined up at equal intervals under the high ceiling.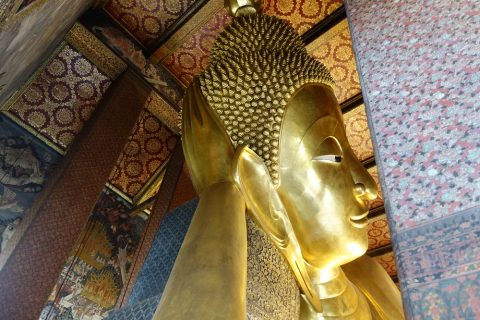 If you look through the pillar, you will find Shaka Buddha! The part of the hand used as a pillow feels a little strange, but if you look closely, you can see that it uses a large block to support the head.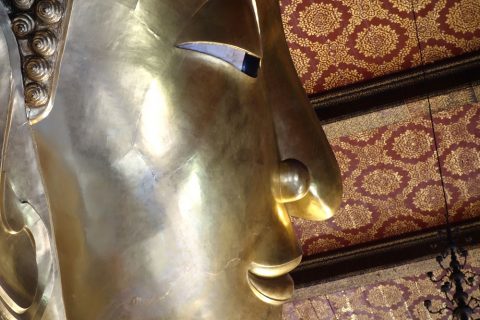 It's gold-plated with a bold feel, but the texture is a bit bland … and the white and black eyes in the eyes are also a bit bare. The expression of Buddha is half-laughing, and Thai culture is really unique.
a method of capturing Buddha
Even so, I want to take a picture of the whole body of Buddha, but this is quite difficult. That is to say, in order to take a picture of the huge Buddha Shakyamuni, you have to keep a distance from the Buddha, but you cannot do that because there are pillars. However, if it is too close, the angle is not clear.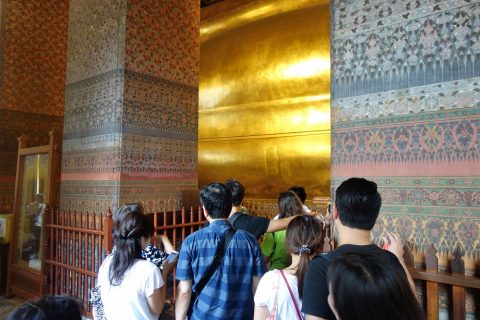 On the other hand, there was a crowd of people between the pillars. This seems to be the best spot for shooting.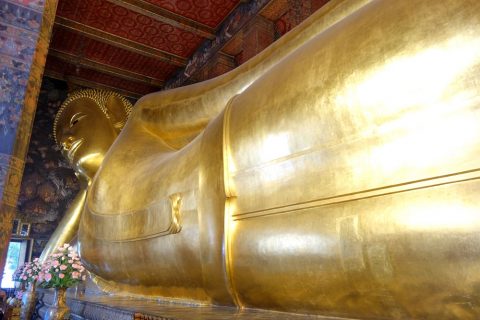 I also took a picture from there, but it may be good to be able to see from the head to the feet of Buddha. Come to think of it, many brochures and guidebooks also use the same angle of photos.
Pearl like sparkle! the art of the soles of the feet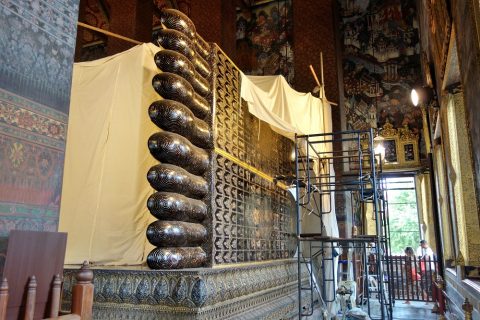 By the way, the sole of Buddha's foot is like this. This is not a gold foot, but an artificial foot based on black. There are a lot of fingerprint-like whirlpools on the 10 fingers, but even more impressive are the fine details.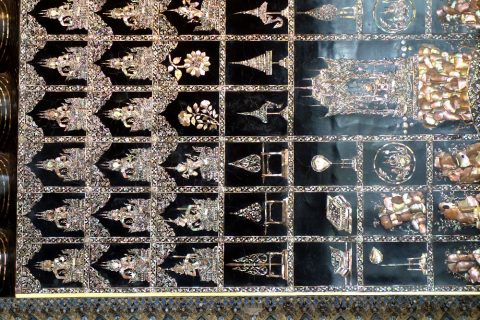 If you look closely at the soles of the feet, you can see the detailed paintings of flowers, trees, and people with different facial expressions, which are glittering like pearls. It's called "mother-of-pearl work" and it's a decorative method using polished shells. It seems to express the teachings of Brahmanism with a cosmological viewpoint, and it is a magnificent viewpoint.
Try the "dispel earthly desires" movement!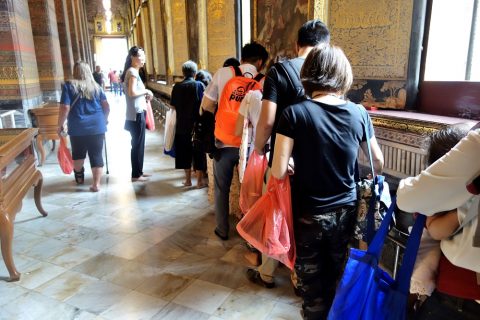 If you walk to the end of the corridor, the route will continue to the back of Shaka Buddha. There are 108 pots, and if you insert coins in order from the end, you can cancel your earthly desires.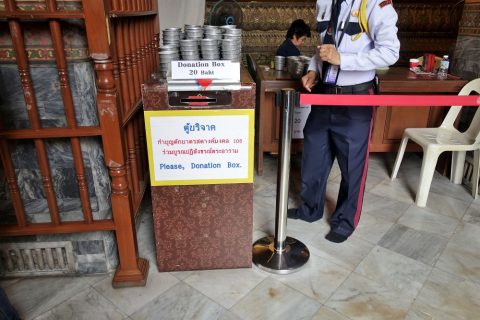 The coins will be accepted along with a 20 baht donation.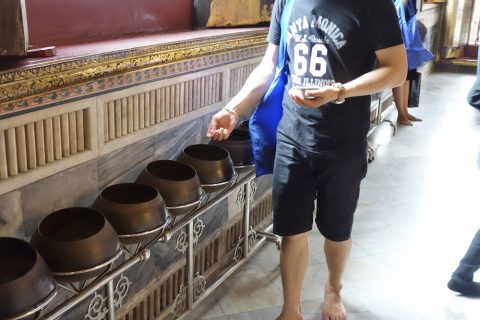 At first glance, putting coins into a jar looks easy, but when you actually try it, it's pretty hard. I might have put 2 pieces in a pot without noticing it on the way, but finally 3 pieces were missing! Ah, with this, my earthly desires remained …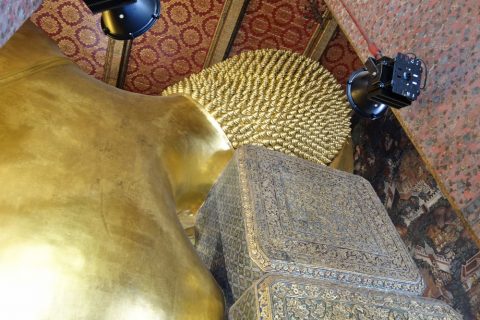 Also, you can see the back of Buddha from here, but there are not many people taking pictures because everyone is concentrating on coins. Looking at Buddha from behind, he is surprisingly muscular and well-built!
get free mineral water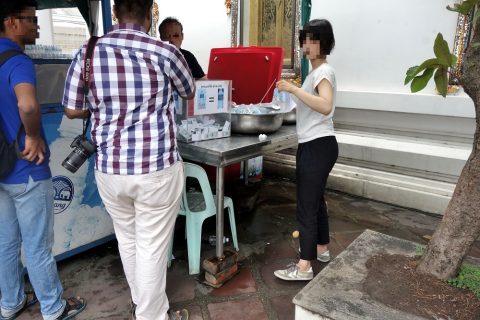 Finally, free drinks were distributed near the chapel where Buddha rests. Anyone can get it with the stub of the entrance ticket.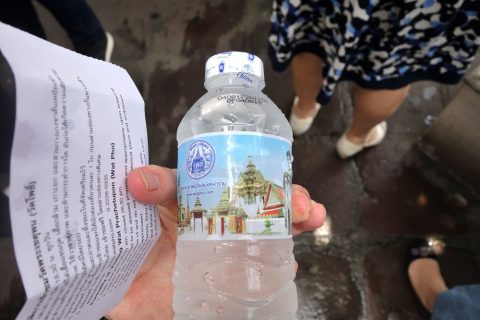 It is a small bottle of about 250 ml, but it is a nice privilege for strolling in perpetual summer.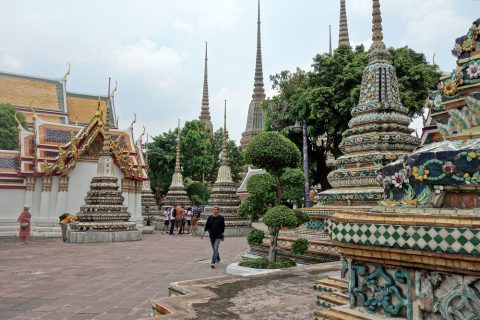 So, I went to see Wat Pho Sleeping Buddha, which is said to be a symbol of Bangkok sightseeing spot, and I think the content was very substantial as a spot you can enter at a low price of 100 baht.
The Wat Pho is open from 8:00 ~ 17:00 and the Shakyamuni's chapel is open from 8:30. If you want to take pictures slowly, I recommend you to visit early in the morning.
♪Click here for a List of articles on "Bangkok"