"Wat Arun" is one of the main tourist spots in Bangkok, Thailand. It was my first visit to a temple in Bangkok, but when I look at it from a distance, it's beautiful in the shining light of the sunlight!
But this temple seems to have been renovated for a while, and now the paint is repainted and shiny! This is the first time we've seen Wat Arun.
The glittering pagoda is beautiful!
After 20 minutes on the Chao Phraya Express boat from Saphan Taksin, I spotted a white pagoda and came to "Wat Arun".
It is located in the Chao Phraya River basin in Bangkok, Thailand, where a temple named "Wat ○○" gathers. Access by express boat is described in yesterday's article → A little scary how to ride express boat! From Saphan Taksin to Wat Arun!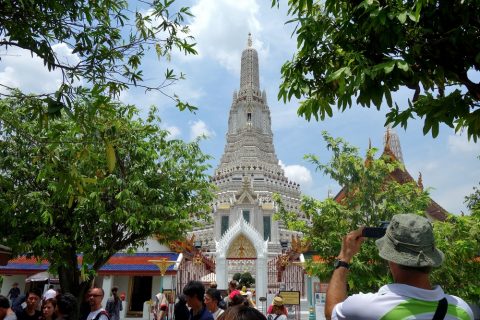 As soon as you leave the dock, you'll find Wat Arun's entrance. The white Buddhist pagoda, shaped like a young corn, shines brightly in the sunlight! It is hard to understand from the picture, but it is beautiful as if it is scattered with jewels.
I want to go inside and see how the structure of Wat Arun's pagoda, which can be seen from an express boat, is structured.
Admission is 50 baht; rentals must be paid.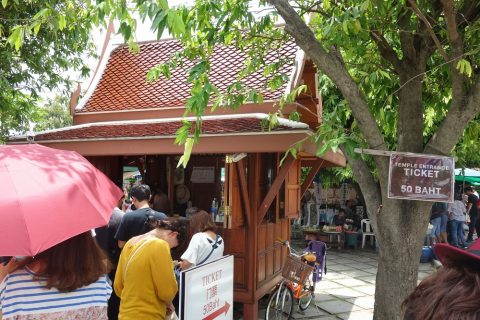 When you enter the entrance, the ticket office is on your left. It was around 12:30 PM at that time, but I could buy it smoothly without a long line. By the way, we don't accept credit cards.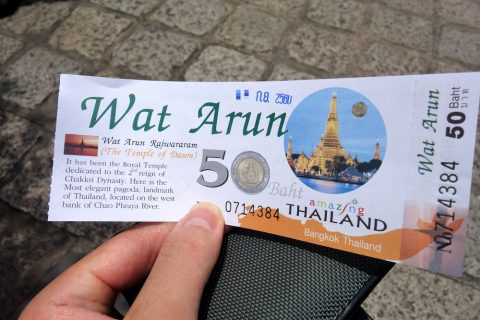 It costs 50 baht. As the ticket says, the official name of Wat Arun is "Wat Arun Rajwararam" and it's called Wat Arun for short.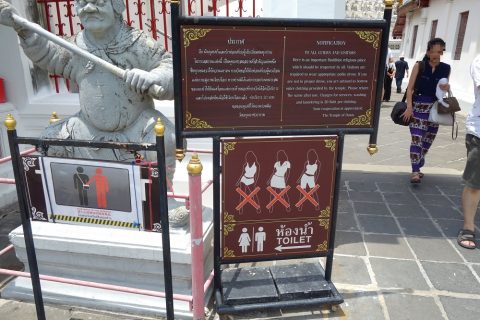 Also, like Islamic mosques, there is a dress code in temples in Thailand, so you cannot enter with sleeveless clothes, shorts, miniskirts, or other clothes that expose your skin. There is a staff near the entrance to check and the person in question can rent clothes.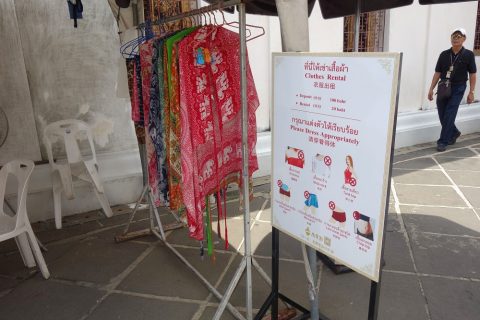 The rental clothes say "Rental 20 baht" and "Deposit 100 baht" so it seems to cost a lot.
However, it seems to be quite hot under the perpetual summer, and I saw some women taking off their clothes on the way to see them, but they were noticed right away. I don't know if it's properly washed, so it's best to wear clothes that you don't have to wear.
It shines like "pottery"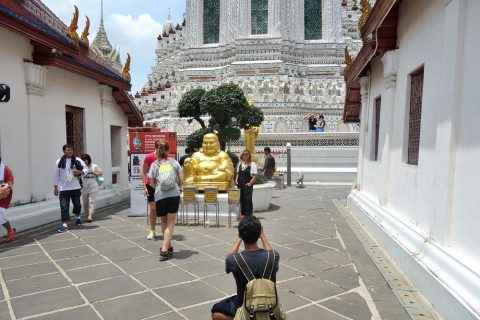 After checking the ticket, I went to the Golden Ebisu(? ) welcomes you! In front of it, there is an offertory box to collect donations.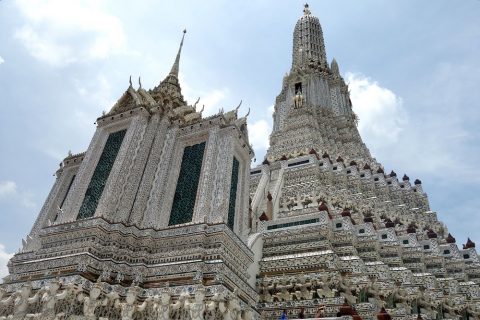 Through there, we reach just below the tower! It wasn't that big when I looked at it from a distance, but it was pretty big when I looked up close. The height of the tower is as high as 75 meters. It has a very powerful appearance.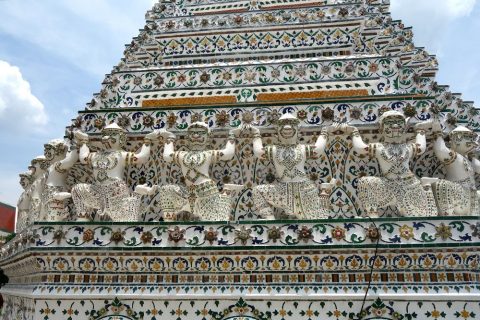 At the base of the tower, there are many figures supported under the rim! It's interesting that everyone has different expressions.
But the strange thing is that it shines when you look at it from a distance, but when you look closer, it doesn't shine, and the exterior is pretty matte.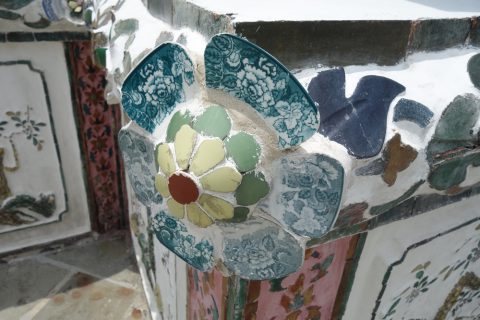 If you look at the details of the decoration, you can see the red, yellow, green and blue patterns, but this is made of pottery. I thought it was gold or silver, but this pottery was shining in the sunlight.
A little scary, steep stairs.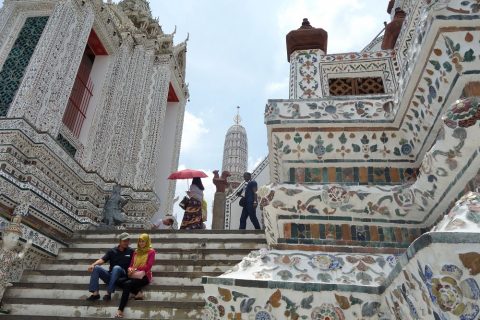 There are stairs in this tower, and you can go up to the middle of the mountain.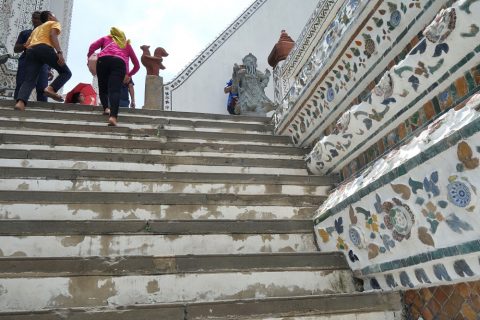 But these stairs are pretty steep! It may be hard to understand from the picture, but it is closer to a ladder rather than stairs. It's still good when climbing, but it was pretty scary going down … It's especially dangerous to climb up and down with one hand of the camera because it doesn't have a handrail!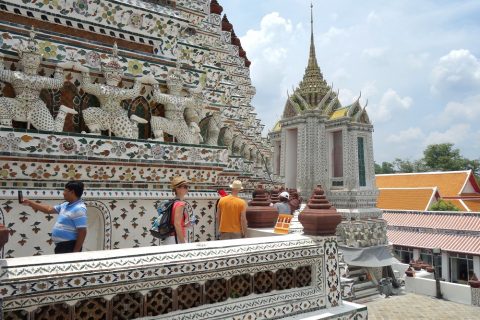 When you climb the stairs, there is a corridor surrounding the young cone. It's a very narrow passage, so there are traffic jams everywhere.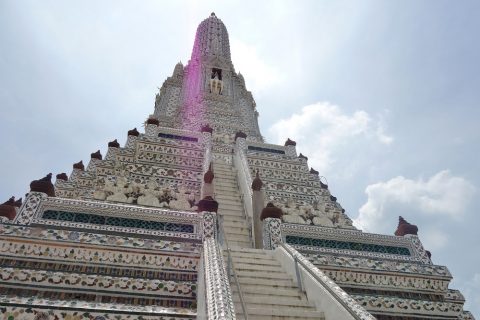 If you go through the corridor, you can come to the place where you look up the pagoda from the front. Unique form and shape, only I think of the word "Hatakeyama"?
There are more old stairs here that lead to the tip of the young cone, but unfortunately, you can't enter from here. It might have been able to climb before because it has a handrail.
The renovation has been completed and it's sparkling!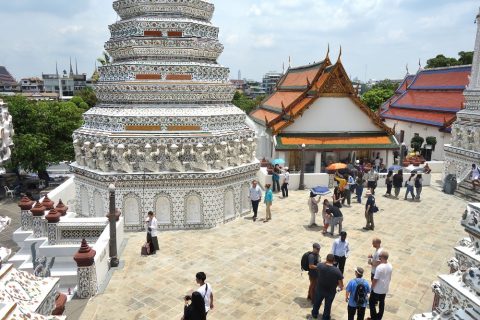 According to word of mouth, the Wat Arun had been under construction for several years, and it was still standing by until around July 2017.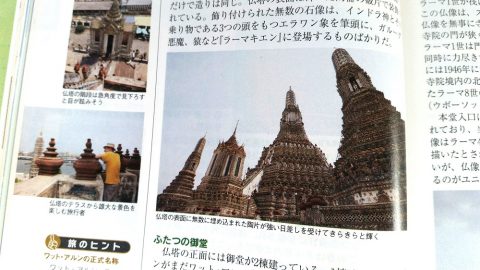 It's true that when I saw a guidebook published a few years ago, I could see the blackened and peeled exterior walls and it looked old, but from what I saw this time, the exterior walls might have been repainted.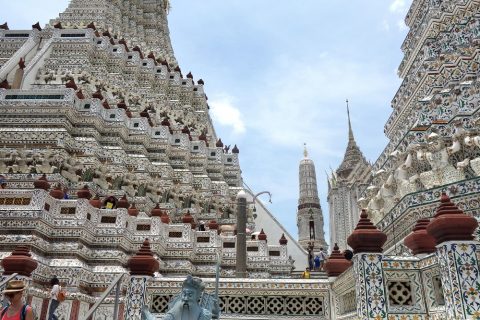 In that sense, we were able to visit at a very good time this time. Maybe it's the only thing you can see right now. If you go to Bangkok, please visit Wat Arun.
Next time, I will sneak into the royal palace (Wat Phra Kaeo) → Access to Wat Phra Kaeo and strict dress check! see a golden temple
♪Click here for a List of articles on "Bangkok"