From Narita Airport, take S7 Airlines to Vladivostok International Airport! In this issue, I would like to report on the access from the airport to the city, how to use the exchange ATM, the Sim card store, and the price.
♪ Here you go too → "Vladivostok" article list and travel guide
Vladivostok Airport Terminal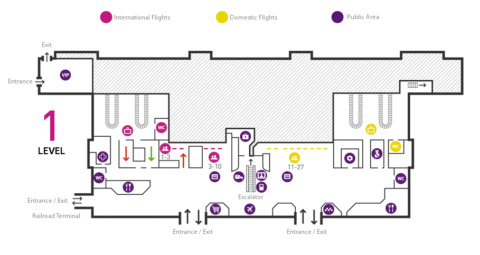 Vladivostok International Airport has a very simple terminal. The arrival lobby is on the first floor, and the second and third floors depart. International and domestic flights are on the same floor.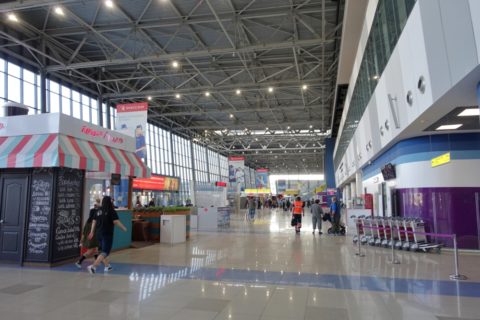 The terminal is cleaner and more open than I expected! As it was a local airport, I imagined a darker and dirtier airport, but I was betrayed in a good way! It is not new, but the floor is shiny and there is no trash.
I also used the toilet, but it was well cleaned and the smell was limited. I don't often see airports overseas (especially a local airport) so clean.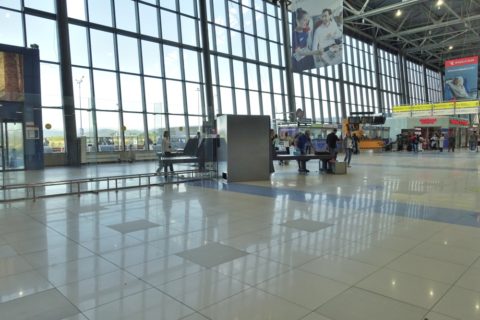 The entrance and exit of the terminal are one-way traffic, and there is a security gate at the entrance, so you can't enter without a baggage inspection. I was a little surprised at this time, but in Russia today, this is the way to go to any airport, station facility, museum, etc.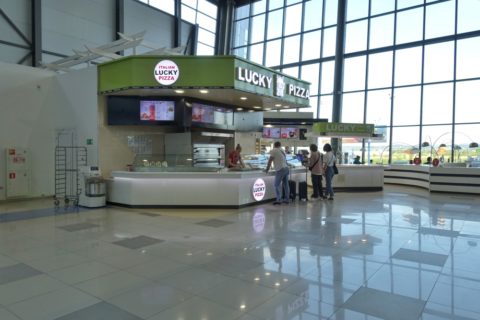 There are several cafes and fast food restaurants in this arrival lobby, and there is also a space for eating.
There are a variety of ATMs that are convenient for money exchange!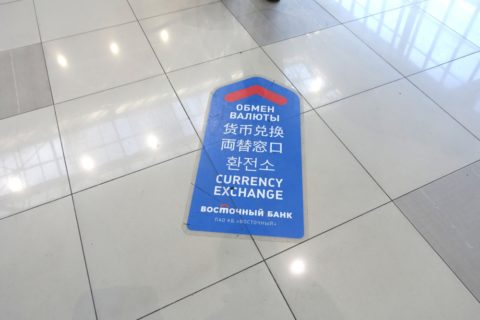 When you arrive at Vladivostok Airport, you first need to change money into the Russian ruble. The exchange counter is in the center of the terminal, and there is a guide sign on the floor. However, since the business hours are limited, it is a reality that you cannot use it when you arrive in the evening or later.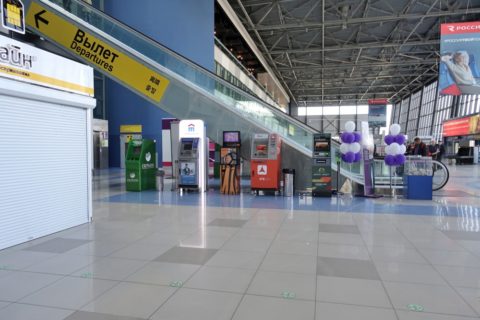 So I recommend cashing at ATM. If you go to the escalator to the departure floor near the center of the terminal, there are many ATMs like this. There are nine ATMs on either side of the escalator.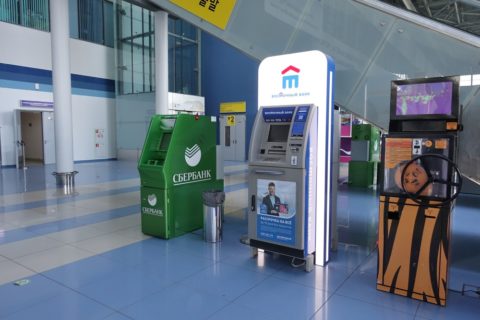 With so many ATMs, it's hard to decide which one to use, but the one I used seems to be the safest.
Since Russian ATMs have a possibility that the cards won't come out, it's better not to use old machines.
How to operate the ATM screen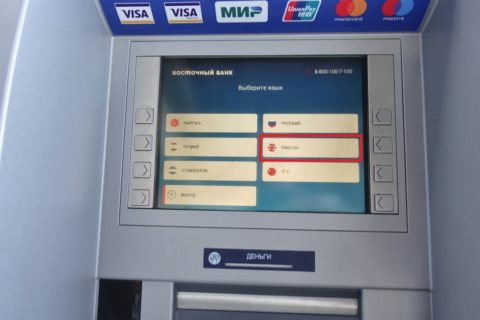 How to operate an ATM is basically the same for all ATMs. First, insert your credit card (Visa or Master), enter your PIN, and select your language. You don't have Japanese, so you should choose English.
When you select English, this screen appears in Russian for some reason. This is just an ad, so I push the booing gesture to fly it.
After that, press CASH OUT and select the desired amount. You can enter any amount by pressing ANOTHER AMOUNT. Press CONTINUE and go ahead.
When you select a large amount of money such as 5,000 RUB or 10,000 RUB, you can select the type of bill to withdraw. It's not very detailed, but it's a handy feature to avoid large bills.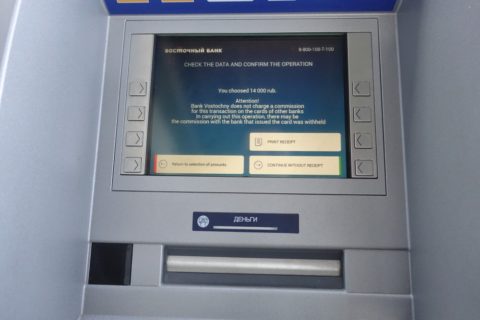 Finally, you can choose whether or not you want to receive the receipt. Be careful not to forget to take your credit card.

Later, I checked my credit card bill, and the difference from the posted rate (1.67) was very small! I used Sumitomo Mitsui VISA Everyplus and it only made up 2% difference even with about 30 day interest!
I'm concerned that the ATM fee is a little high at 216 yen, but according to word of mouth, some ATMs at this location offer free fees, so it might be a good idea to look for one.
Sim card is very cheap! About 20 days, 500RUB.
Next, I will talk about the shops selling Sim cards, which are essential for Internet connection in Russia. The restaurant at Vladivostok Airport is called "MTC" and is located right in front of the international baggage claim area.
When I give my smartphone to a clerk and ask for a Sim card in English, he asks me how long I will be staying in Russia. I answered that because it is 21 days this time, the price is 500 RUB.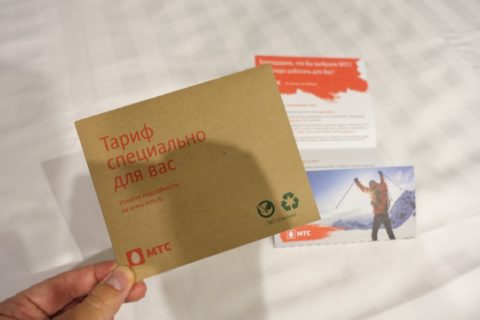 I was worried if I could use it for more than 20 days with just 500 RUB (≠ 850 yen), but I was able to communicate with 4G (LTE) without any problems until I flew off to Moscow for the last time after visiting various cities.
They didn't tell me how many gigabytes I could use, and the instruction manual I received at the time of purchase didn't mention it, but I used 3.2 GB for 21 days and there was no speed limit. I think I can use about 5GB, but if I use it with Wi-Fi at the hotel, 5GB is enough.
By the way, when I came back to Japan with my Sim card on, Docomo mark was displayed on the radio wave.
In the case of Android smartphones, even if you unlock Sim on a Japanese carrier, you may not be able to pick up signals from other carriers, but as far as I can see, you can use Docomo without problems even if you bring it to Russia.
There are three ways to access the city
Once I got my Sim card, I went to the city. There are three ways to access the city from Vladivostok.
Train (Elektrichka)
minibus
Taxi
If you take a taxi, there is an official airport taxi in the arrival lobby, so please use it. The standard fare to the city is 1,500 to 2,000 RUB.
Other than this, when you walk in the terminal, you will see a taxi driver with a white taxi? Taxi? If you negotiate well, you may be able to move cheaper.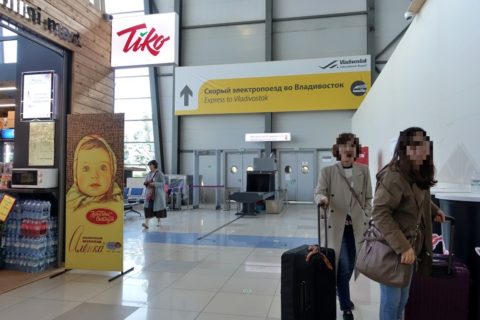 In the case of trains, there is a platform at the very end of the terminal (International flights), and you go through the security check.
However, the number of buses is extremely small, and according to the airport website, there are only five buses per day. Also, the last train is early at 18 o'clock, so it is difficult to use unless you arrive very early (Here is the train timetable.).
It must be full! minibus number 107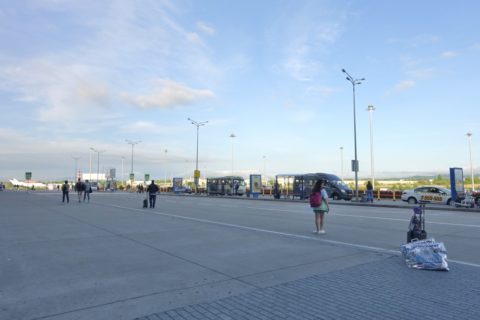 On the other hand, the bus stop is outside the terminal. A part of the rotary in front of the airport is a bus terminal, and there are buses for various directions from here.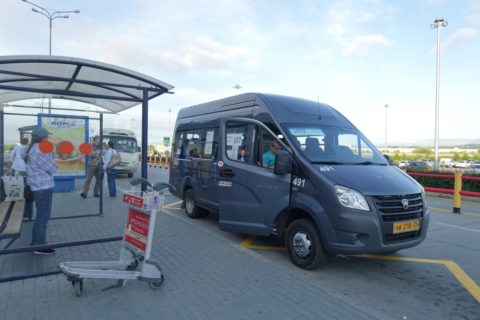 Travelers can take bus number 107 to Vladivostok Station. If you go out of the terminal exit and cross the road, there is a bus stop. When I left, the bus had already stopped and several people had already boarded. It seems that you can open the door and get on without permission.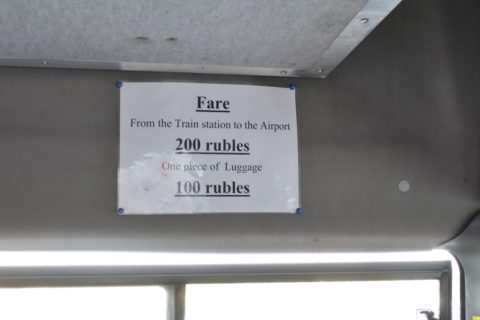 The fare is 200RUB, or +100RUB if you have a large package (Suitcases, etc.). The driver will collect the money just before departure, and hand it to the driver. They accept slightly larger bills (1,000 RUB), but it's worth noting that you can't use credit cards.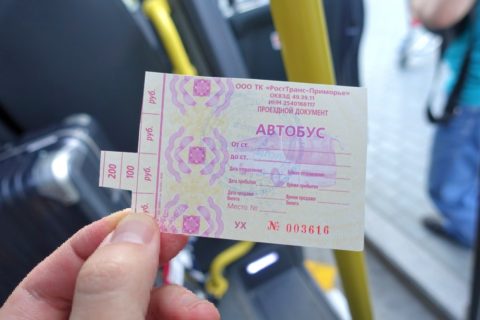 I will receive the receipt in exchange for the payment.
Also, this bus doesn't say "We'll leave as soon as it's full." and it runs according to the timetable, but the number of buses is only 10 per day. I recommend you to check the time beforehand (The timetable is here.).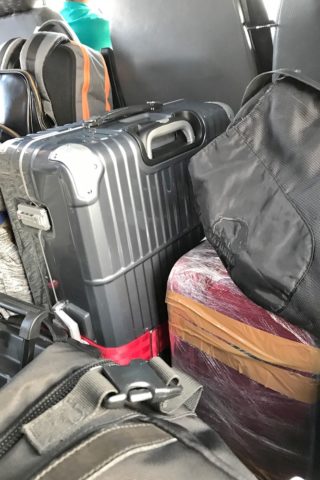 Also, the inside of the train was small for a small number of trains, and it was immediately full when more than a dozen people got on. This time as well, although the flight departs at 20: 00, it becomes full after 19: 30, and everyone who comes after that stands up. There was a lot of luggage, and the inside of the car was chaotic!
Vladivostok is about 40 km away and it takes about 40 minutes to get there, so standing on the bus is pretty tough for you. If you use the … bus, I recommend you get on the bus as soon as possible.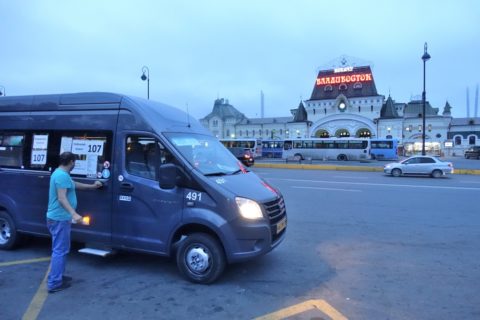 So we arrived at Vladivostok station! As it is still a developing airport, there are many inconveniences such as access, but once you get the hang of it, there is nothing wrong with Vladivostok Airport. Please refer to it when you use it.
♪ Here you go too → "Vladivostok" article list and travel guide