Continuing from the scene of the Turkish Airlines business class that I used from Istanbul to Porto (Portugal), I will report the in-flight meal this time!
The Turkish Airlines in-flight meal was not at all delicious on flights out of Singapore. This time, although it is a short distance route within Europe, 3 courses of gorgeous menu were served, and how about the taste and …?
※This article was written before the virus scandal. This will be updated.
Here is the in-flight meal menu for this flight! The menu has a distinctive design with a sharp point like the one from Singapore, but it is half the size for short distances.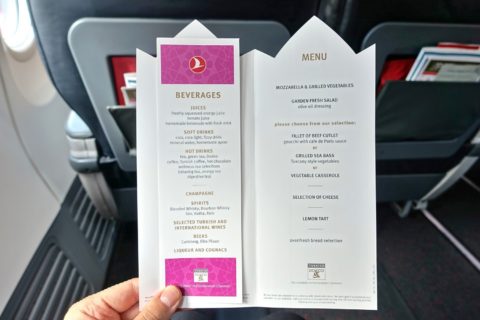 The in-flight meal consists of 3 courses of appetizer, main dish, cheese and dessert. You can choose between beef, fish and vegetable, and it comes with bread. Although it is a short distance line, it takes 4 hours and 55 minutes to Porto, so it is quite a luxurious menu!
"Turkish wine" has a very strong habit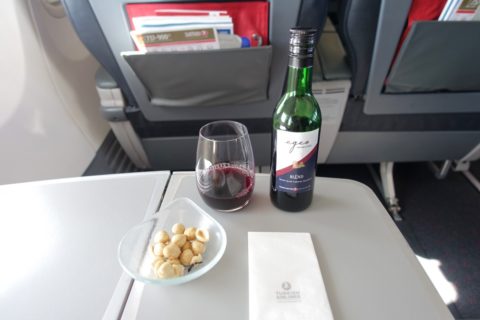 The drink only says "SHAMPAGNE" or "SPIRITS" so I don't know the brand, but when I asked for wine, they said they had red and white Turkish wine, so I chose red wine!
It's called Egeo Kavaklidere, and it's a little rare Turkish wine, but it tastes pretty special! There is a strange sense of disgust, this is a little unpalatable …
The market price of the bottle is around 3,000 yen. Considering the wine you can buy in Japan, it is somewhat expensive, but this is probably due to the rarity of Turkish wine. Well, it was a tasting for later study, so …
Appetizer, bread, dessert, cheese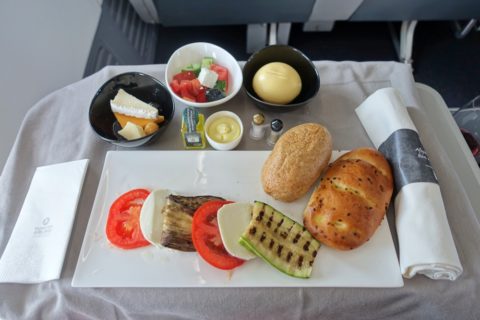 An appetizer plate followed by a drink. There is no tablecloth, but instead, a tablecloth is wrapped around a tray with in-flight meals.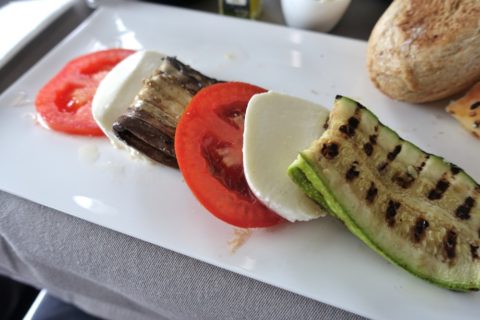 The main plate of appetizer is "Mozzarella and Grilled Vegetables", but the freshness of tomato and eggplant is not bad. However, it is not particularly well seasoned, just grilled vegetables with mozzarella cheese.
The cheese doesn't bring out the taste, so I think it's a special delicious dish …
The 3 small bowls are "Cheese Select" "Green Fresh Salad" and "lemon tart" respectively. A dessert served with an appetizer is a common pattern in European domestic flights.
All of the cheese is mild and easy to eat, but it doesn't have any special taste. The lemon tart brings out the flavor of the citrus, but it's too sweet for me to eat too much …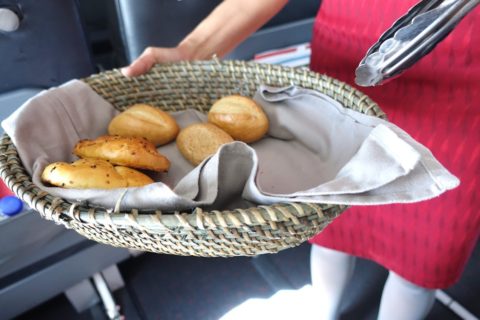 You can choose the bread from the basket. There seem to be 4 kinds, but when I came to my place, there were only 2 kinds left …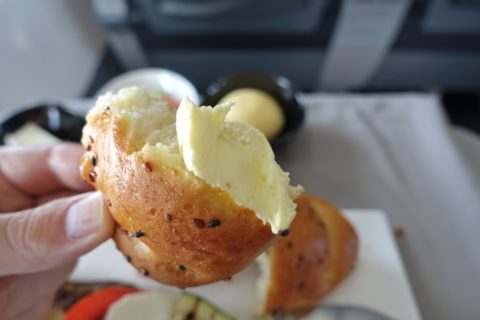 The bread in the lounge was delicious, so I expected, but the bread in this in-flight meal was not delicious at all … The butter was just plain margarine, which was quite disappointing!
Couldn't they have put that savory bread and milky butter in the lounge …? (Reference → Istanbul New Airport Lounge MILES & SMILES to the treasure house of gourmet and fascination!)
a main dish to choose from in a wagon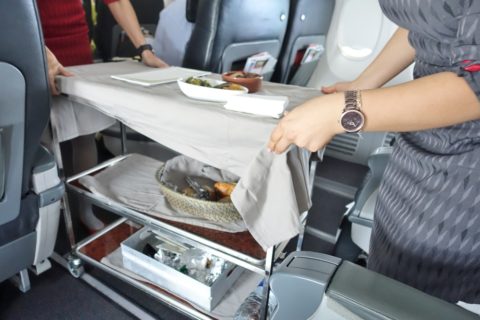 You can choose from 3 main dishes, but you don't have to be asked by CA in advance. You can choose from a wagon like this. As far as I can see, the fish I was looking for is already out of stock … (TT)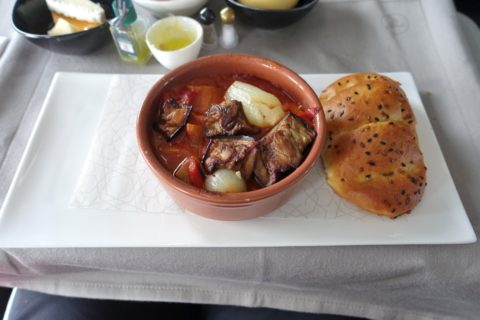 This is a menu called Vegetable Casserole. "Casserole (casserole)" is a French pot dish of stewed meat and vegetables.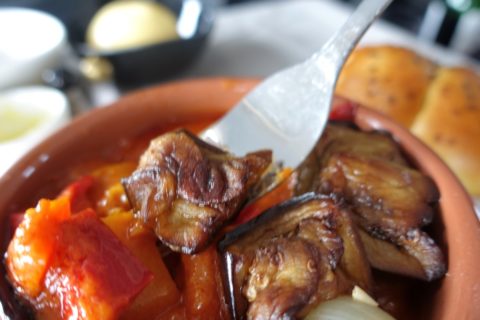 It tastes like ordinary tomato stew. There are a lot of ingredients such as eggplant, carrot and sweet onion, but it has a taste that doesn't go well with the music.
It is good that the ingredients are soft, but the flavor of the ingredients does not permeate the soup and the depth of the flavor is zero.
Turkish tea, taste …?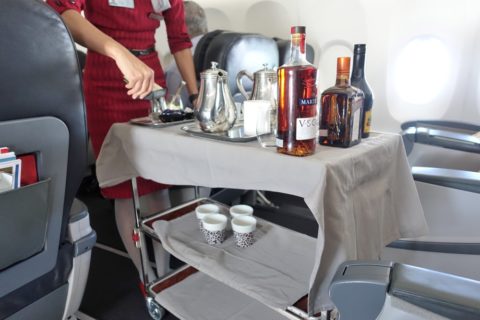 After the meal, you can have a drink again with wagon service. In addition to coffee and tea, there are standard liqueurs such as VSOP and Cointreau.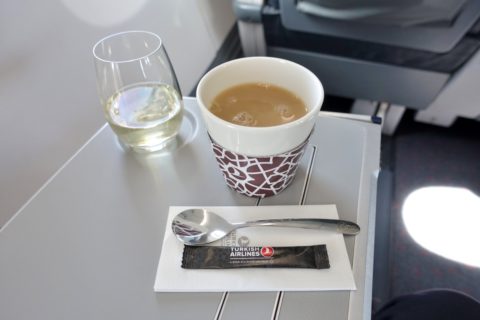 I heard that both coffee and tea are local drinks named "Turkish" so I tried the Turkish tea!
I had it with milk, but it tasted like buttermilk. The taste is definitely different from ordinary Earl Grey, but I think this is also especially delicious …
Turkish coffee was also recommended, but I didn't like its powdery texture so I passed it!
The lounge was delicious, but the in-flight meal was disappointing …
Hm ~ … As expected, the in-flight meal was disappointing. I was expecting a little because it was a flight from Istanbul, the base, but I couldn't find a particularly delicious menu, so …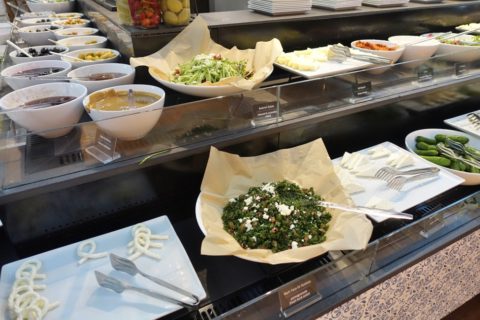 The lounges in Istanbul were full of delicious food. Can't they serve the same food? It's not that the taste is bad, but I feel that they put emphasis on the appearance and ignore the essential taste.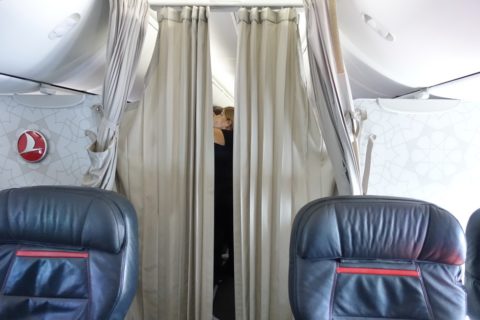 Still, it was good that it was a rattling business class and the service of CA was good and it was a very comfortable flight. It is totally different from the chaotic economy class that can be seen from the gap of the curtain! Well, this is the best part of business class.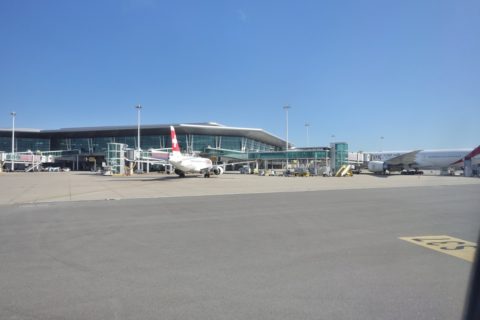 So it was a boarding report for Turkish Airlines Business Class! Please refer to the previous article about the seat of B737-900 → Turkish Airlines B737-900 Business Class Boarding! IST-OPO
♪Click here for a List of articles on "First Class & Business Class Airlines worldwide (Seat, In-flight Meal, etc.)"