From Singapore, he used a Turkish Airlines ticket issued by ANA special ticket to Porto, Portugal. This time, I will report a business class flight to Istanbul, the stopover among them!
Turkish Airlines has a good reputation on the street, but the B777-300er that I boarded this time was an old style seat with no sense of private room, which made me uncomfortable, and the service of CA was also not good … It became a dissatisfactory flight!
※This article was written before the virus scandal. This will be updated.
TK Flight 55 from Singapore
The flight departing from Singapore at 23:25 is bound for Istanbul. It takes just 11 hours and arrives in Istanbul at 5:25 in the morning.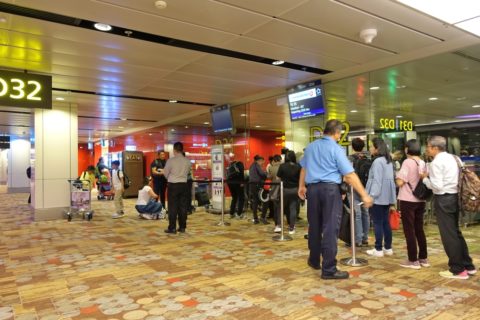 Singapore Changi Airport departs from Terminal 1. It's an isolated gate that comes in after baggage inspection, but there was a priority lane for business class.
Boarding starts 45 minutes before departure time. Looking at other flights, some gates were already closed 30 minutes before departure, so it might be a good idea to get to the gates early.
B777-300er old seat

The machine from Singapore is B777-300er. It is a large aircraft with more than 300 seats, which is familiar to JAL and ANA, but economy class seats are 3, -3, -3 seats arranged in 9 rows, which are not slave ships.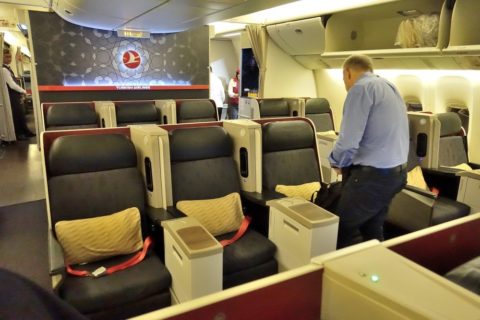 Business class is 2 -3 -2. It is not a private room type that is popular now, but an old type seat with only chairs. Since there is no partition on the seat, the whole cabin has an excellent sense of openness.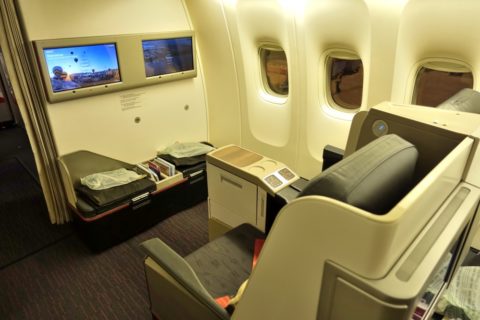 The seat pitch is wide and the vertical space is more than 3 windows. Although not all seats have aisle access, if the aisle seat is not in the bed position, you can enter the aisle without stepping over your feet.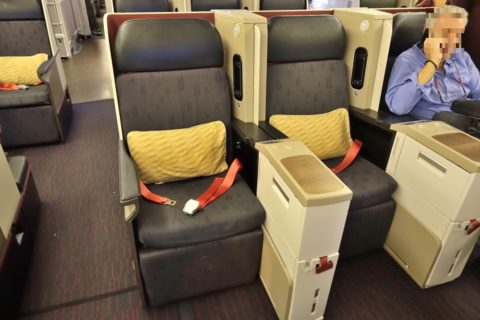 My seat this time is 3G. I didn't like people coming next to me, so I chose an aisle seat for 3 people! As I expected, the seat next to me became vacant, but I could not relax at all because I was always physically restrained with CA passing by the aisle …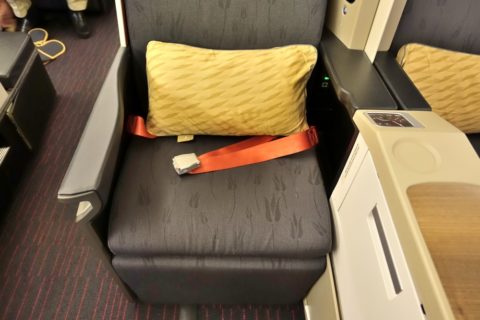 Also, it occupies a large vertical space, but the horizontal space is very small, and the seat width is only about the size of JAL class J. The width of the armrest is so narrow that if you sit normally, your elbows protrude from the armrest into the passage.
If there is a person next to you, your shoulders may get stiff.
Tables, storage, reading lights, etc.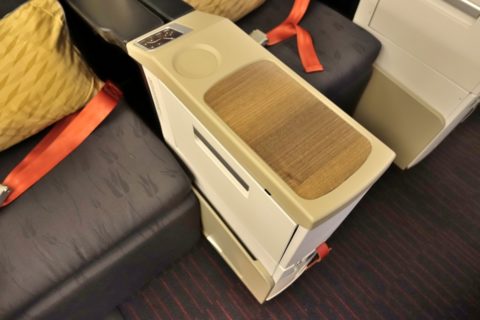 On one side of the armrest, there is a large cocktail table, cup holder and seat controller. The cup holder and seat controller in the center seat are on the left side in the case of a three-seat seat seat in the center row.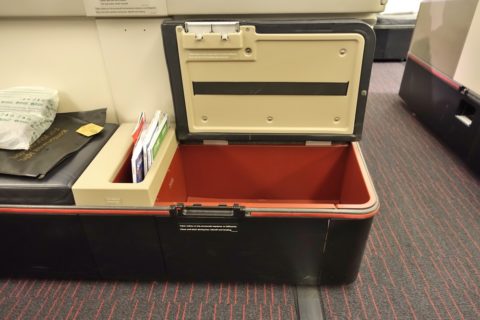 A large storage case at your feet. It's convenient because you can throw your personal belongings here, but on the other hand, this is the only storage space around the seat.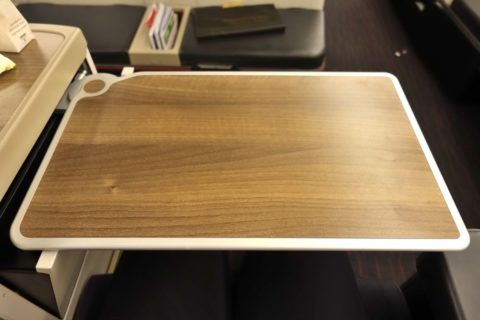 The table is pulled out from the side. The size and stability are not bad.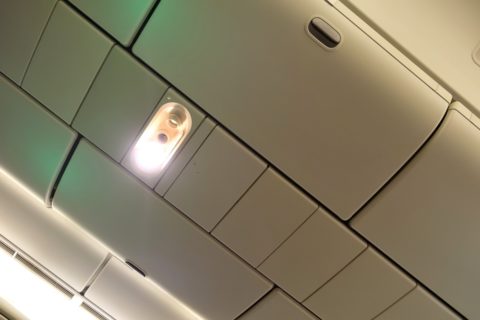 There are two reading lights, one on the side of the seat and the other above the head. The overhead light is brighter, but when I turn it on, the light hits the position of my face, which is dazzling. … The angle cannot be changed, so it is useless.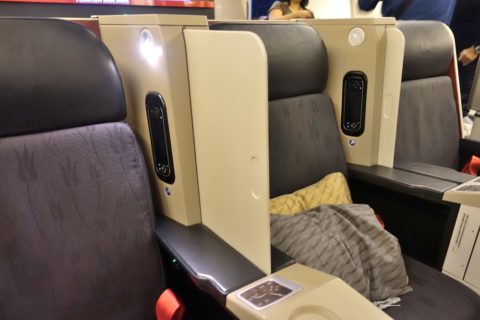 Also, there is a partition at the border with the next seat, but it's a half-size so it doesn't mean much! …?
How about a full flat bed?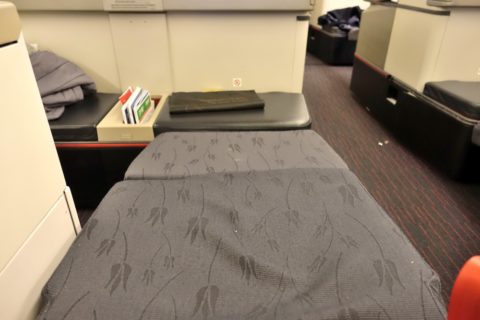 In addition, this seat is singing "full flat bed", but when I actually reclined the seat, it was only about 175 degrees.
The armrest doesn't go down, so the bed is too narrow and cramped. When I sleep on my back, I can't even lower my elbow.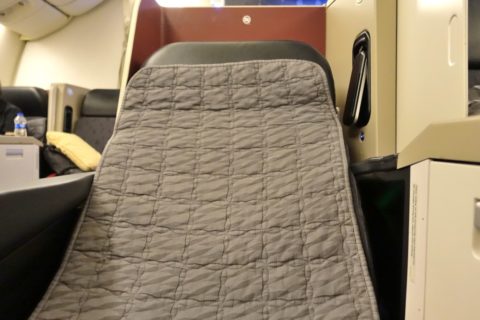 Also, there is no mattress to be laid on the sheet, and only such a sheet cover can be hung. When I put this on, my back gets unusually hot, so I took it off right away!
It doesn't have the feeling of a private room, and it's quite a clumsy seat for a business class seat!
The only merit is the substantial amenities.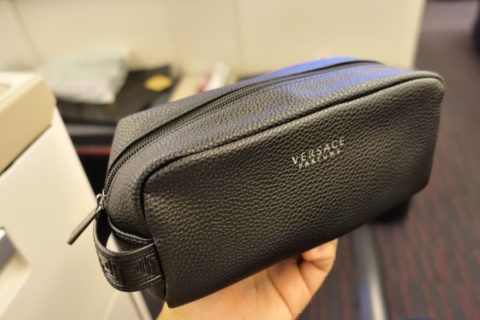 Among them, the only one I felt was high quality amenities. This amenity pouch that I can get from Singapore is from the Italian fashion brand "VERSACE", and the soft case that is soft to the touch has a luxurious feel and is well made, which is good!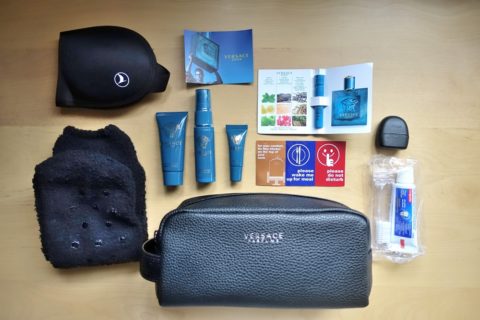 There are also plenty of things inside, such as ear plugs with an easy-to-use size case, and a fine eye mask made of thick material. The pouch is easy to use with an inside pocket, so I take out the contents and use it regularly.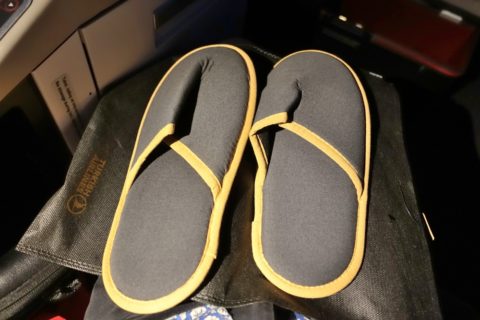 In addition to the amenity pouch, the slippers are of a high quality specification, and in addition to the firm seams, there is even a cushion on the sole. There is also a carrying case, so it will be very useful in the hotel ahead!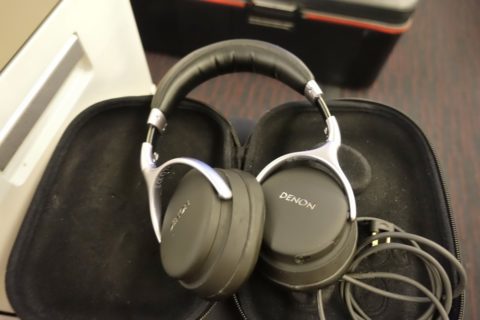 The headphones are made by DENON. I don't know if it has noise canceling function or not, but it sounds good.
Always restless …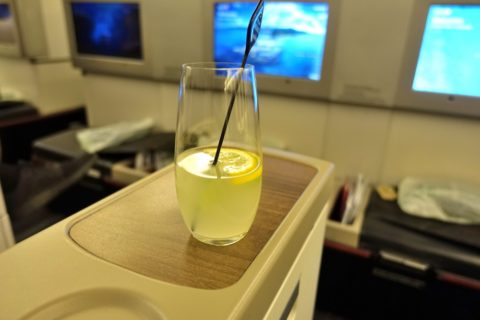 Now, I would like to take a break …… after having a welcome drink, but all CAs are always busy and noisy on the plane …
I understand you are busy, but everyone is running around in the plane, so I can't calm down at all.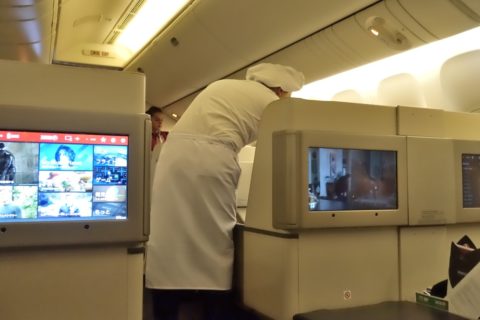 Since it is not economy class, I would like to have a more elegant space. The seat was disappointing, CA was disappointing, so is the in-flight meal …? I'll continue with that next time. → I was disappointed with the in-flight meal of Turkish Airlines! SIN to IST boarding report
♪Click here for a List of articles on "First Class & Business Class Airlines worldwide (Seat, In-flight Meal, etc.)"