Continuing from last time, I will report the in-flight meal from the scene of the Turkish Airlines business class that I used from Singapore to Istanbul!
I was feeling down because of the old seat which doesn't have a private room feeling, and I was hoping that at least a delicious meal would be served. …
※This article was written before the virus scandal. This will be updated.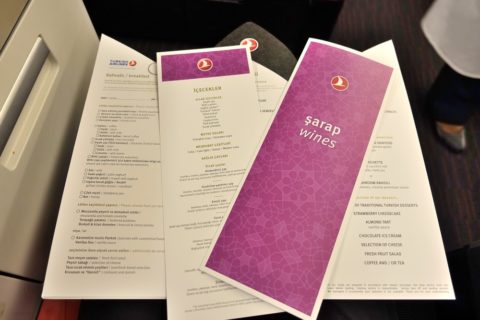 The in-flight meal menu will be served immediately after boarding, and CA will come to ask for a selection of the main dishes.
It is a luxurious menu that comes with a signature three-fold booklet, a drink list and a wine list on a separate sheet! All of them are splendid menu sheets made of clean cardboard.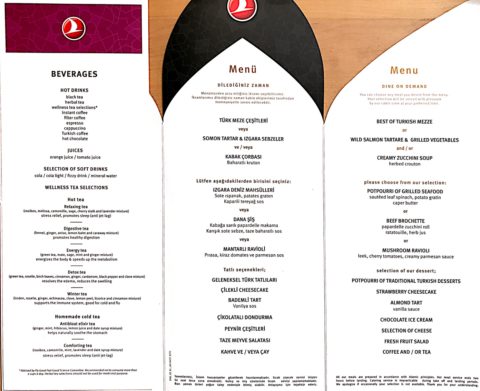 The menu is listed in Turkish and English, with two choices: appetizers and main dishes. You can add soup to the appetizer.
The wine menu is quite extensive with 3 kinds of white wine, 5 kinds of red wine, and 1 kind of rose, port and champagne. There are various kinds of whisky and brandy, and it seems that there is nothing wrong with the selection of alcohol.
Why I couldn't eat breakfast …
This flight is a long distance, so you will have two meals. In addition to dinner served immediately after takeoff, breakfast is served two hours before arrival.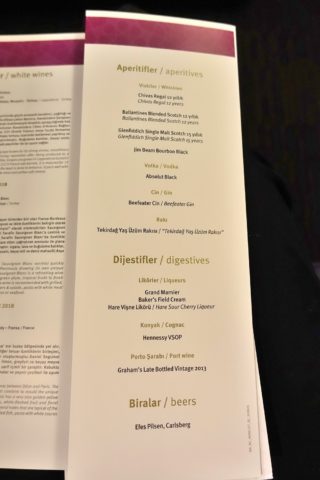 Breakfast is a request system, and you can check your favorite menu from the separate breakfast menu placed in the in-flight meal menu and give it to CA. In addition to omelets and pancakes, the menu also includes drinks such as coffee and tea, as well as milk and lemon to put in them.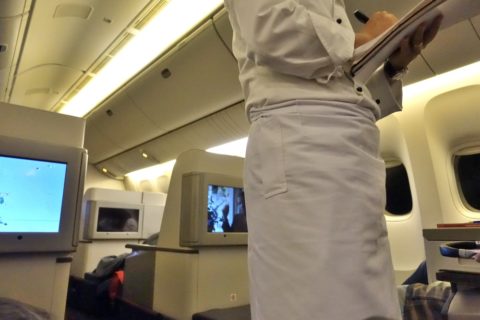 However, this time I wasn't able to eat this breakfast at … because they didn't wake me up at the beginning of breakfast time and I woke up 30 minutes later and waited, but nobody seemed to bring the meal and while I was waiting, the service hour ended …
I think it would be better if you could at least say a word, but … service is a little too bad. It is impossible for business class of other airlines.
Unforgettable champagne and nuts …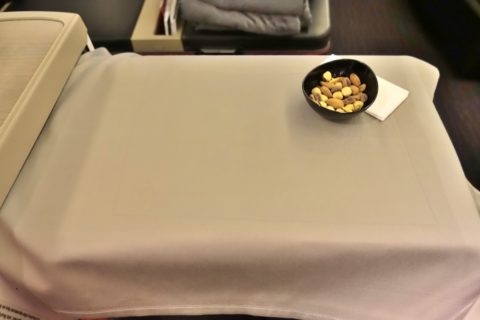 Because of that reason, this time, even though it is a long distance route, there is only 1 meal on the plane … (hum).
The first in-flight meal (supper) is served with a tablecloth and a drink service. You can choose nuts for your drink.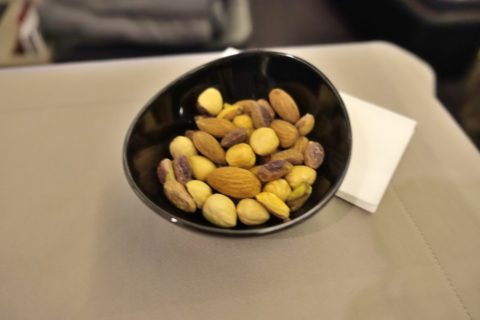 There are 3 ~ 4 selections including almonds, cashew nuts, macadamia, etc, but the taste is absolutely no good … The saltiness is not working at all, and none of the nuts are dry enough to bring out the flavor at all.
Same business class nuts, no Qatar Airways delicious (→ The in-flight meal is delicious! From Vienna [B787-8] Qatar Airways Business Class boarding!)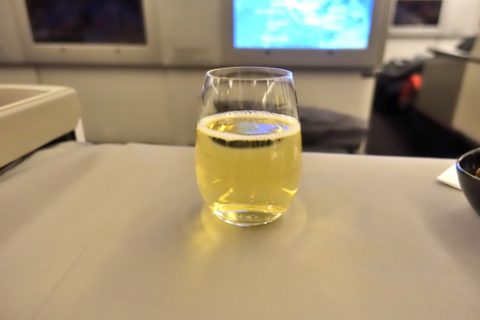 As for the drink, I ordered champagne, but this is not … champagne which does not bring out the taste at all, but it tastes like medium level sparkling. It is not particularly harsh, and there is no point.
According to the menu, the brand of this champagne is "Taittinger Brut Reserve" which is quite famous, but I was a little surprised that the taste is so unassertive!
Maybe the storage condition is bad?
Disappointed amuse bouche and appetizer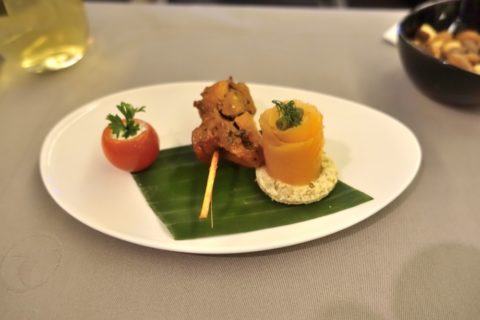 The drink service was followed by an amuse bouche. This dish is not on the menu, but there are 3 dishes, cherry tomato, chicken satey and salmon.
Slightly shabby CAs who can't get knives and forks unless they request them …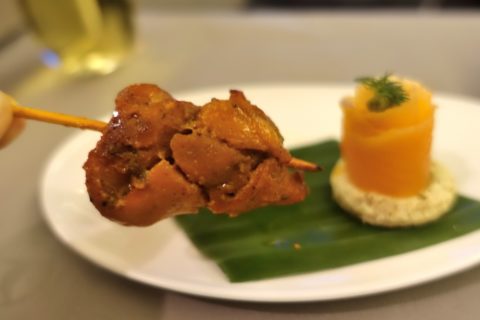 The color is ok but the taste is not so good … Curry flavored Chicken Satey is much better with Malaysian Airlines and the salmon is not particularly fresh.
Since I had a delicious amuse bouche of ANA the night before, this makes me depressed … (Refer to → ANA In-flight Food [advance reservation] Report! NRT to SIN)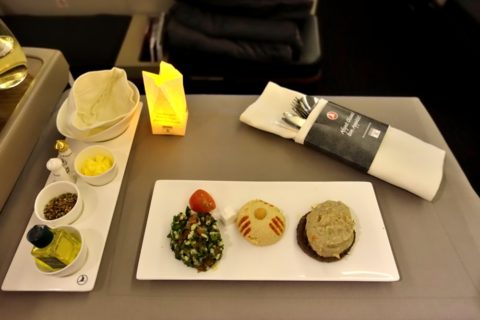 I chose "Best of Turkish Mezze" for the appetizer. It is a plate with hummus and Tabbouleh which is familiar in Middle East airline, but it does not have pita pan.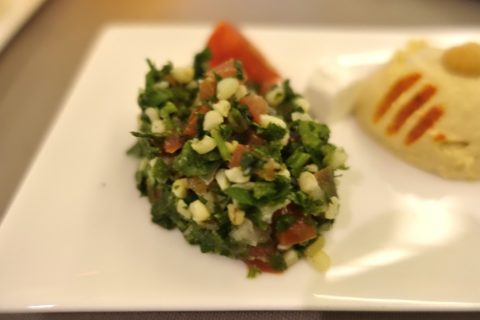 Middle East airline's "Mezze" has a lot of delicious food, but this Turkish mesh doesn't taste as good as I expected. Even if you take off a Tabbouleh, you can't feel the freshness of the material.
It is far behind Emirates Airlines and Qatar Airways.
The main dish is hard meat, and the bread has no flavor.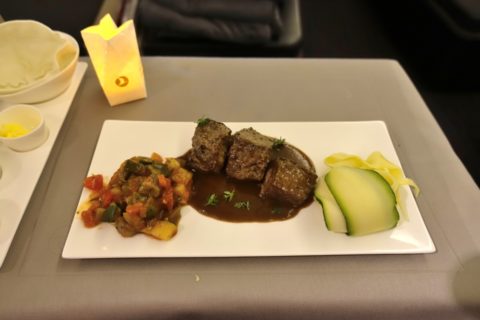 The main dish is "Beef Brochette". "Brochette" means kushiyaki in French, but it doesn't come with a skewer and it is 3 pieces of diced steak.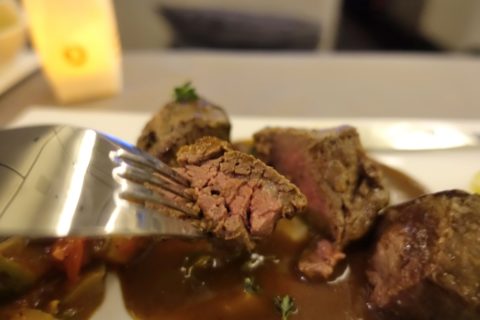 I didn't expect much because it was business class meat, but the taste and firmness are just as I expected. The hardness is within the acceptable range, but the sauce has an indescribable taste that is neither good nor bad, and the tension is also dropping …
You can choose from 4 kinds of bread in the basket. Some of them had a chewy texture, but I didn't find any bread that was particularly delicious. The butter on the side has no flavor at all, and it makes me cry. …
Dessert in the dark …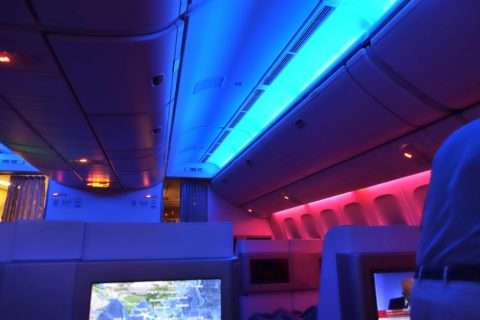 Dessert was served after the main dish, but the lights on the plane were turned off without dessert being served! If you look around the seats, the Westerners who eat fast are already in the sleeping mode …, and this is still dinner time, but …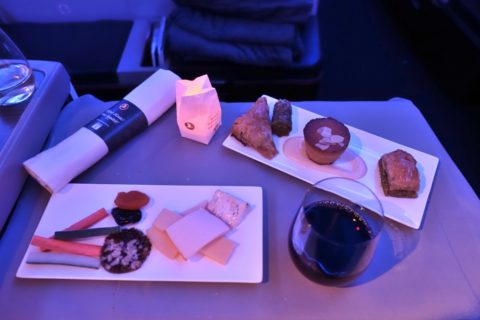 The dessert is a selection of cakes, tart and cheese titled "Turkish Desserts". It is good that there are many kinds, but except for relatively good muffins, all of them are just sweets with hardened sugar and have no taste or fruity flavor.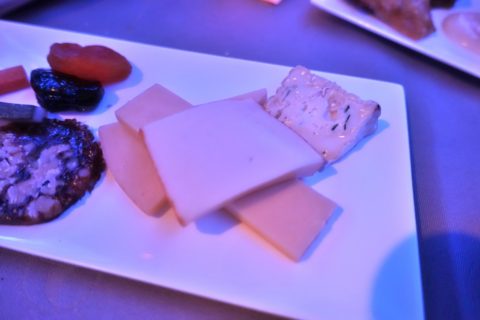 As for the cheese, it is good because it has a good taste only for Camembert! The rest is just a lump of dairy! Well, this is better than JAL where only 2 slices are served. …
No seats, no service, no in-flight meals.
I'm so disappointed! As mentioned in the previous article, this is a low-quality in-flight meal in addition to an uncomfortable seat with no room feeling. I've never been in a business class so low.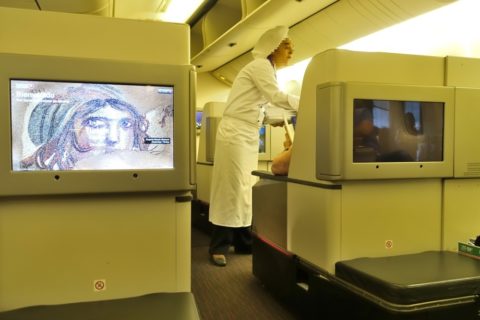 The service of CA was so bad that I was always running around and felt restless and forgot to serve knives and forks. It's a good example of people not thinking about their customers, only thinking about getting their work done quickly.
Turkish Airlines, which received relatively good reviews in the reviews, I hope this flight happened to be bad, …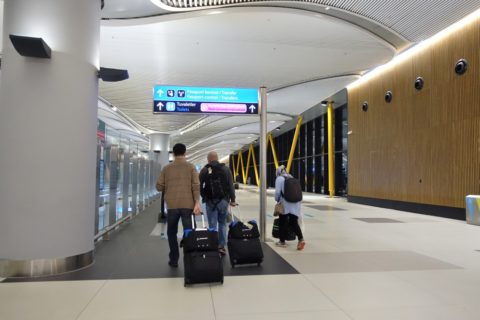 So I arrived in Istanbul without feeling happy! Check out our previous coverage of the seats on this flight → Disappointed! Turkish Airlines B 777 Business Class Boarding Report SIN ~ IST
Next time, I will report the lounge of Istanbul new airport! → Istanbul New Airport Lounge MILES & SMILES Let's go to the treasure house of delicious food and fascination!
♪Click here for a List of articles on "First Class & Business Class Airlines worldwide (Seat, In-flight Meal, etc.)"