When I was walking in the streets of Hanoi, a motorcycle accident happened right in front of me! Then a fight broke out between the parties and it developed into a riot until the police came! I would like to tell you about the dangerous road situation in Vietnam from such an accident.
motorcycle fight
The quarrel between the two motorcycles occurred at an intersection about one kilometer south of Hoan Kiem Lake in Hanoi.
At the intersection of Hàng Bài street running north and south and Hàm Long street running east and west, Hàng Bài street is one-way from south to north.
It was past 15 o'clock when I was casually walking along the crosswalk of this intersection, when suddenly the motorbikes crossed each other just before the crash, and one of them fell.
Both of us were not injured, but as soon as we threw away our motorbikes and approached each other, a dispute erupted! They gradually escalated, until one of them pulled a wrench-like blunt object from his motorcycle and struck him.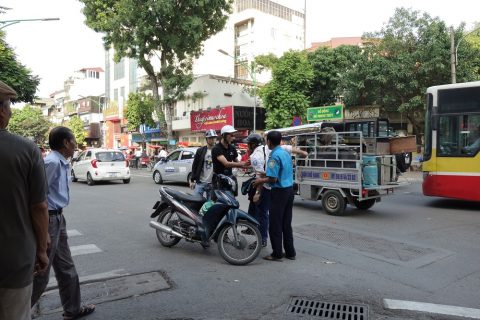 Adults around him couldn't stop them, but they couldn't stop them, so the police came to calm them down after a while. In any case, it seems that the bloodshed was avoided, but it could be a serious problem if you make a mistake.
The reason is that one side has left the other.
As for this incident, I could see the whole situation from the side, but the cause was that one of the traffic lights ignored the other.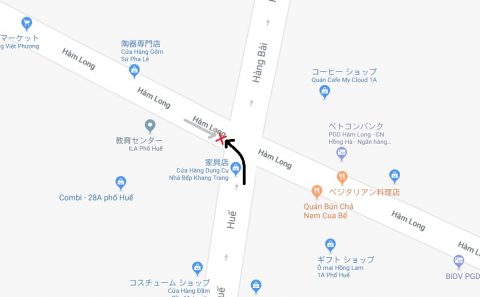 To explain in detail, the black helmet (white suit) stopped at a red light in Hàng Bài street started from south to west (Hàm Long Street) without waiting for a green light, and at the same time, the white helmet (black suit) entered the intersection from west according to the green light, and both of them collided at that time.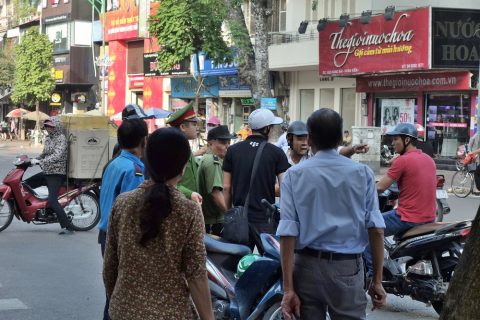 In light of this fact, the black helmet that ignored the traffic light should be charged, but the black helmet was launched five seconds before the traffic light turned green. At that time, all the cars on Hàng Bài street left at once, so the black helmet just started following the flow.
A collision between a motorcycle that started following traffic and a motorcycle that entered an intersection following a traffic light. I think it was an accident that cannot be prevented.
Road Circumstances in Vietnam Really Dangerous
After all, it's common for cars to ignore traffic lights in Hanoi, Vietnam, and the fact is that they honk if you don't give up and start. There is no way that an accident won't happen in such traffic situation.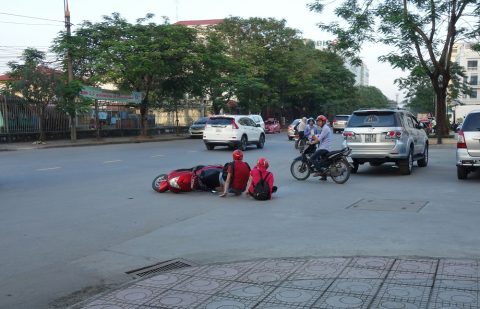 In fact, even though I was only in Vietnam for four days, I had two motorcycle crashes like this! I'm scared when I think I might have hurt myself as a pedestrian if I was wrong!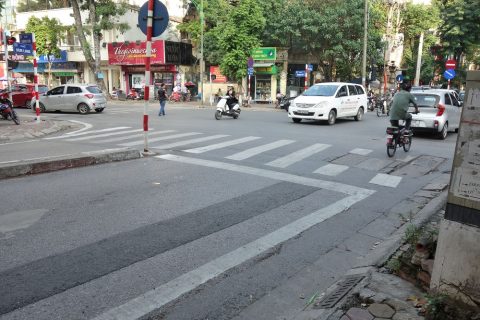 Even if you're crossing a crosswalk at a green light, it's natural for cars to crash into you. Unlike in Japan, it's often "car priority" overseas, but if you cross a pedestrian crossing and hit it from the side, you can't avoid it.
The traffic situation in Vietnam where Japanese common sense does not apply. If you are planning to visit Vietnam, please be careful.
♪Click here for a List of articles on "Ha-Noi"