This page summarizes the "Trans-Siberian Railway" trip by "personal trip", including how to arrange tickets and facilities on the train. I collected elegant and valuable information that I practiced, such as a luxury car with a bath and toilet, and a way to monopolize a two-person room that is safe even when traveling alone!
No need to ask a travel agent! I can arrange everything by myself.
Purchase a ticket from the website of the Russian Federal Railway.
Tickets for the Siberian Railway can be purchased from the official website of the Russian Federation Railway. The system is stable and easy to use, and accepts credit card payments! For more details on how to make a purchase, see the following article.
Siberian Railway "Ticket Reservation" How to Use the Official Website, Credit Card Support
If you ask a travel agency, it may cost nearly twice as much as the regular price, but if you arrange it by yourself, you don't have to worry about it at all! It's the only way to get it cheap and reliable.
Major Trans-Siberian Railway Lines
The Trans-Siberian Railway runs the longest distance in the world, 9289 km from Vladivostok in the Russian Far East to Moscow. The main sleeper trains that Japanese tourists often ride are shown in the figure below.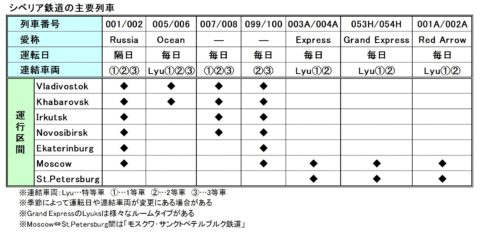 The Trans-Siberian Railway always has a 3-digit train number, and major trains are nicknamed "Russian" etc.
The most famous of these is the "Russia-go (001/002)" which runs from Vladivostok to Moscow in 6 nights and 7 days, and the most popular is the "trial version" of the Siberian Railway, which runs from Vladivostok to Khabarovsk in 1 night and 2 days "Ocean (005/006)".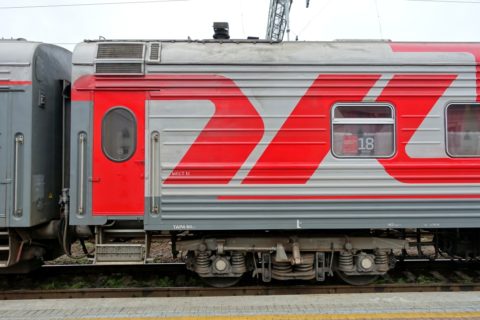 The Russian 099/100 also runs from the Far East to Moscow, while the 007/008 train runs from the Far East to Novosibirsk. There are also direct trains to various branch lines as well as direct trains from China and Mongolia. There are 60 ~ 70 types of long-distance trains in operation.
Seating class
There are four seat classes on the Trans-Siberian Railway. In some sections, there is a class which is cheaper than the third class, but it is not a bed but a seat only, so I will not show it here.
Deluxe Sleeping(Люкс)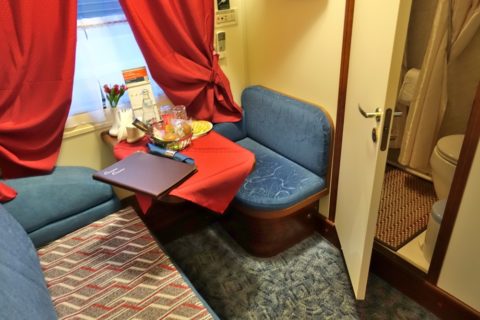 The highest class on the Trans-Siberian Railway is the Deluxe Class. It is a luxurious private room type seat with bath and toilet, and the maximum capacity is 2 people. There is only one car per train, and there are six to four rooms. It's perfect for solo travel since you won't be sharing any rooms with other passengers, but unfortunately the Deluxe Class is connected to only a few train sections.
As far as I can confirm, it is only connected to the "Ocean" which runs in the Far East, the "premium issue" between Moscow and Kazan, and 3 sleeper trains (Express, etc.) which runs between Moscow and St. Petersburg.
According to the company, the Deluxe Class uses a lot of water for things like showers, so it can't be used on long-distance routes because of its limited storage tank capacity. As it is a technical problem, we can only hope that it will be solved in the future and linked to the Russian ship etc. …
Read more about Deluxe Class in the Ocean and Express bulletins in the following articles.
1st class sleeping compt.(СВ)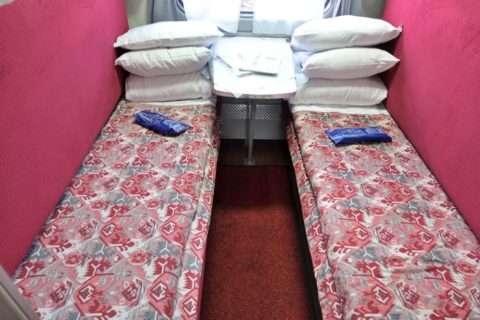 The first class car is next to the special class. It is a private room for 2 people, and in most cases it is one train and one car like special class. If you book one seat on a solo trip, you will always have to share a room with others, but if you book two seats, you can rent one room by yourself.
I also enjoyed my solo trip gracefully in this way! Check out the full post for more details.
Siberian Railway "First-Class Car" Ride Report! Private Seats and In-Car Facilities for One Person
2nd class sleeping compt. (Купе)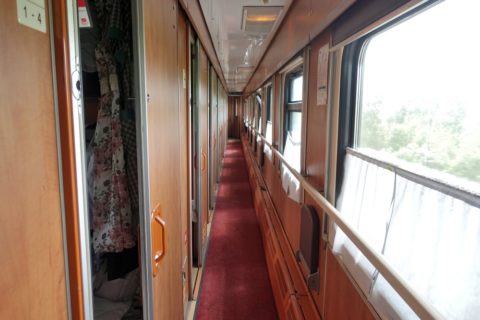 The second class car is a private room for 4 people. The size of the room is the same as the first class, but each room has bunk beds. It's relatively cheap and you can get a private room, so it might be the best to use with your family.
There are merits and demerits for both the upper and lower stages, but the lower stage seems to be more popular because it allows you to see the car window and easily manage your luggage. However, people on the upper bed use the lower bed as a sofa except during sleep, so it's not like it's a permanent bed.
Also, this second class car can be used exclusively by one person if you buy 4 seats like the first class car.
3rd class open sleeping(Плацкартный)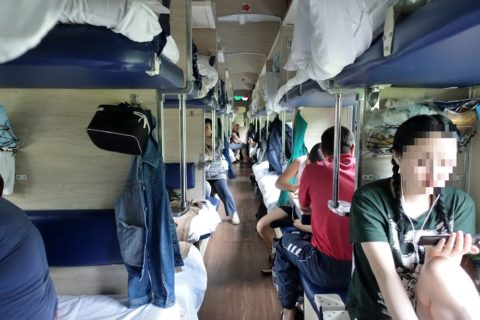 This is a third-class car which is not a private room but an open type. There is also a bunk bed on the opposite side of the corridor, so the space per person is smaller than the second class.
This class is said to be popular among backpackers, and many people ride it in search of a once-in-a-lifetime encounter.
Circumstances on the train "Food"
There are four ways to eat on the Trans-Siberian Railway.
make a reservation at the time of ticket purchase
go to the dining car
buy ~ at a station kiosk on the way
Buy and bring canned or instant food in advance
preordered meal
Reservations for meals are optional when purchasing tickets on the Russian Federation Railways website (Refer to the article on ticket arrangement for details.). If you make a reservation with this, up to 3 meals a day will be delivered to your seat.
There were only simple dishes with rough arrangement, but there were some dishes that were unexpectedly delicious maybe because of the quality of the ingredients. You can eat 1 meal for less than $10, which is a good deal, but you cannot choose the menu and time freely. See the next article for more details.
Dining car meal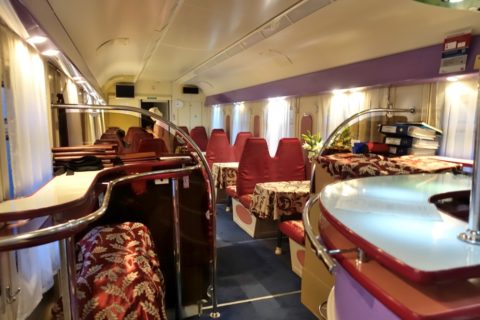 On the other hand, the dining car is where you can eat freely. The advantage is that you can drink alcohol such as wine or beer together, but the price is rather expensive and the taste is often disappointing, and I have never seen a word of mouth saying "It was delicious.".
If you use it, it might be better to think mainly about alcohol. Check out the full post for more details.
Kiosk on the platform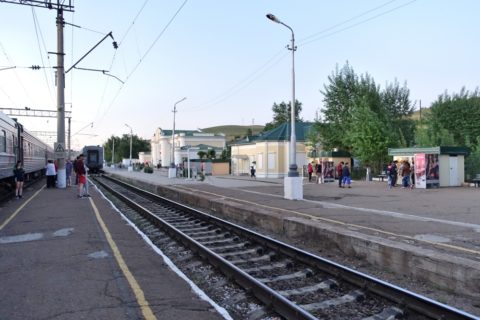 On the Trans-Siberian Railway, which operates over long distances, there are stations where trains stop for long periods of time (About 30 minutes.) several times a day for maintenance, inspection and transportation of goods. There are always shops on the platforms of such stations where you can get water and food.
The price is more expensive compared to the whole town, but it was difficult to bring a large amount of heavy water in advance, so I used it several times. Check out the full article below for more details.
Siberian Railway Station Kiosk, What can I buy?
bring in canned or ready-to-eat food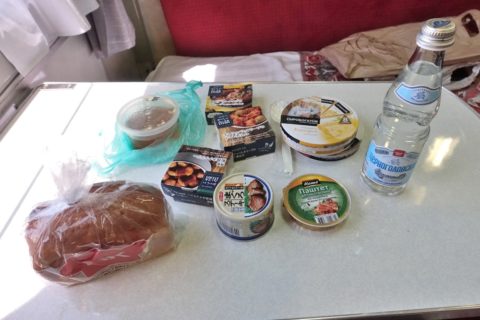 If you use it for one or two days, you can buy canned food in advance and bring it from Japan. In Russia, bread is cheap, so if you buy it at a supermarket at the departure station, it will last for a few days.
I brought some delicious honey from the market in Vladivostok and enjoyed the superb sweet time!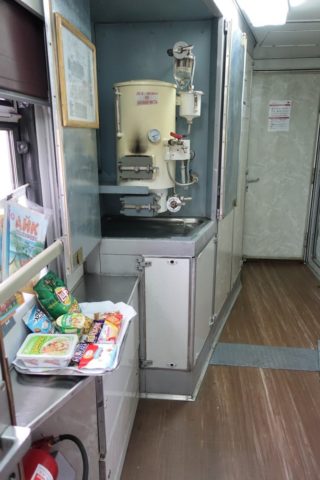 Because a water heater is installed in each car of long distance trains such as the Russian, you can easily make cup noodles and instant coffee, and you can also purchase cup noodles from a conductor.
Interior equipment
Toilet situation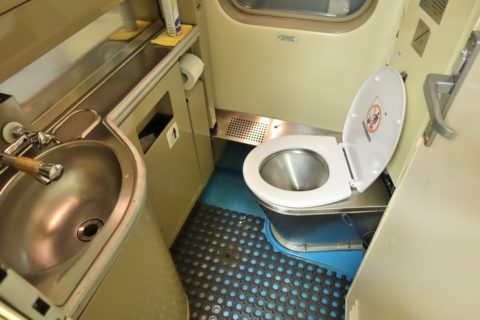 In the past, the toilets on the Trans-Siberian Railway were slow-flow toilets and were unsanitary, and for security reasons, when major train stations neared they could not be used for more than 1 hour, but now the "Bio-toilet" system is in place, so the toilets are clean and can be used 24 hours a day. There was almost no smell, so I could use it comfortably!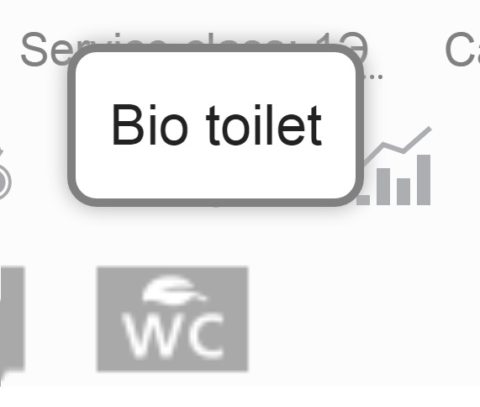 However, I heard that there are still some old type of toilet cars on some lines, so I recommend you to check if there is a bio toilet mark when you reserve a ticket.
Can you use the shower?
Siberian Railway, Report the TOILET and SHOWER ROOM!
As for the shower facilities, there is no problem as the deluxe car (Deluxe Class) is in the room. On some long-distance trains such as the Russian, there is a shower room at the end of the car, so if you ask the conductor, you can use it for a fee (See the above article for more information.).
Like the toilet, you can check if there is a shower by the icon when you buy a ticket.
Smoking situation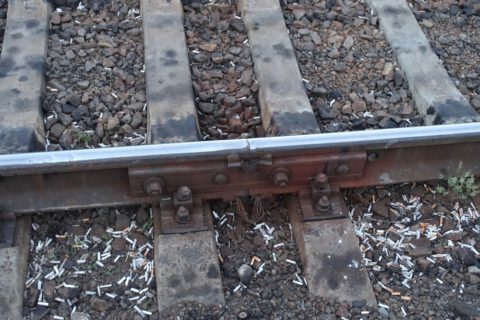 Smoking is prohibited inside the car. There is no smoking room. If you want to smoke, you need to go out and smoke at the station. Since many people smoke this way, there are a lot of cigarette butts on the station platform and on the tracks …, and you should always bring a portable ashtray.
Wi-Fi, Internet
As long as I got on the train this time, I was able to use Wifi only on the Ocean and Express Deluxe Class, not on the 007. It is better to check in advance if there is wifi since it is indicated by the icon displayed on the train list when you purchase a ticket from the Russian Railway website.
Also, even if you use a Sim card, you can only use the Internet while the train is at a station because radio waves are hardly available except around the station in remote Siberia. In this case, it's probably best to stay away from the internet and just sit around reading or looking at the scenery.
What kind of window can we enjoy?
The scenery that spreads out in the train window is one of the pleasures of train travel, but as far as I was concerned, most of the scenery between Vladivostok and Irkutsk runs in the wilderness, so I could not enjoy the scenery very much.
However, when I passed the Zabaykalsky Krai region on the way, there was a beautiful marsh and I sometimes found animals!
From there, we could see the vast Baikal Lake like the sea! However, as it is on the right side in the direction of travel, it is a little hard to see it only when you go out into the corridor …
What is the possibility of a train delay?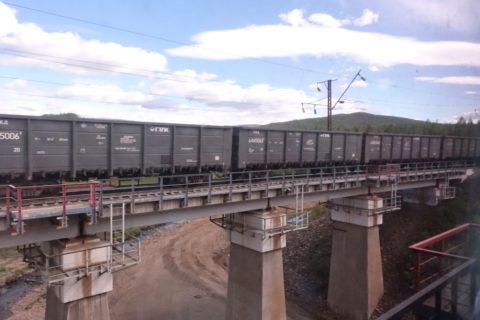 The Trans-Siberian Railway is unexpectedly crowded, so there are frequent misses with freight trains while running. Some trains are delayed due to a single track section on the way, which causes trains to wait.
The 007 I got on was delayed by up to 2 hours on the way, so I recommend you to have extra time for the schedule after arrival.
Conductor's service and English proficiency
The conductor is in charge of each train and provides 24 hour service. It seems that there is a shift depending on the time zone, and if you ride for a few days, 2 ~ 3 conductors will remember your face.
All of the conductors were simple and dry, but there were many friendly people, and they responded to my request properly, and they let me know when the station to get off is near, so I feel at ease with the service.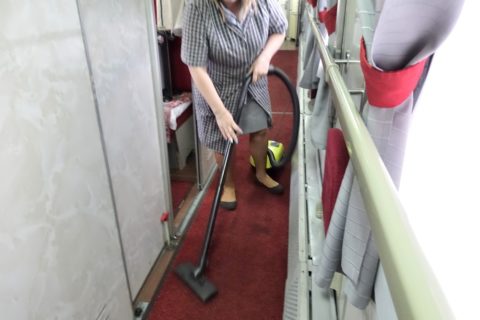 The inside of the car is often cleaned, so the corridors and restrooms are always clean! I was surprised to hear that they sometimes come into the room suddenly and vacuum it (lol).
The conductor doesn't speak English at all, so Google translation is a must! If you read Russian offline beforehand, you can use it even if the radio wave doesn't work.
It's not "Moscow Time" anymore?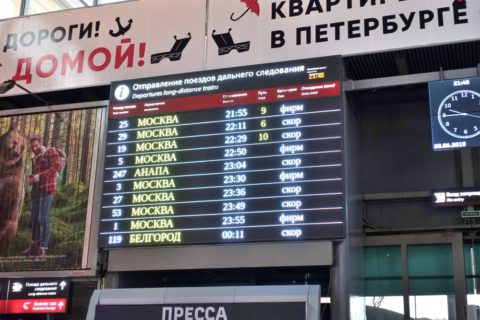 When you get on the Trans-Siberian Railway, you need to pay attention to the way the time is displayed.
Until now, the Trans-Siberian Railway displayed "Moscow Time" mainly even on trains that run in the Far East, but when I used it in 2019, everything from the display on the ticket to the electric bulletin board at the station was displayed as "local time". I never had a chance to be aware of Moscow time.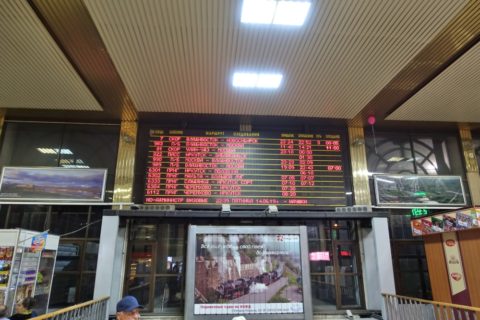 It is much easier to understand because it is the same as an airplane, but there is a stereotype that "Trans-Siberian Railway – Moscow Time" so I often get confused.
Also, when you get on a train at a local station which is not the main station, the time may still be displayed in Moscow time, so you should pay attention to it every time.
Convenience goods that are useful if you have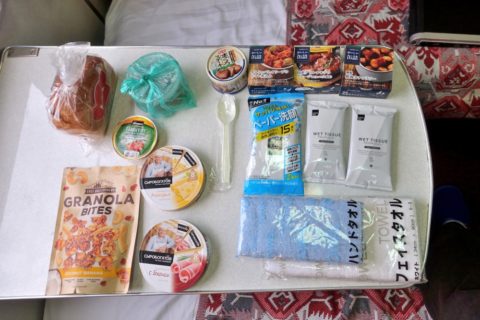 Finally, I would like to make a list of things that I have brought with me and that I wish I had.
Something useful that someone brought with him
Sterilizing tissue … Required for meals in the room
BOSE headphones … Useful when you want to focus quietly
Eco-bag … Convenient to throw in anything!
Sim card … You can't use the net without this.
What I wish I had
Paper plates and disposable chopsticks … It is convenient to have them when you eat canned food in your room.
Uchiwa fan and fan … I want it in summer as the air conditioning is weak.
Garbage bags (A lot.) … I want to dispose of my personal garbage.
I hope this will be a good reference for your trip on the Trans-Siberian Railway. And don't forget to get a tourist visa to go to Russia! For all other articles on the Trans-Siberian Railway, please refer to the category → "Trans-Siberian Railway"