I had been eating only Middle Eastern food in Dubai, but this time I changed my mind and had lunch at a stylish western cafe!
I visited THE SUM OF US, a cafe in Dubai's business district. Relaxed design and comfortable interior, comfortable to eat alone! The price was rather expensive, but I could enjoy delicious food and tasty coffee.
cafe in the business district
The SUM OF US, the cafe I visited for lunch this time, is located 7 to 8 minutes walk from the World Trade Centre, the third station on the Dubai Metro from Burj Khalifa.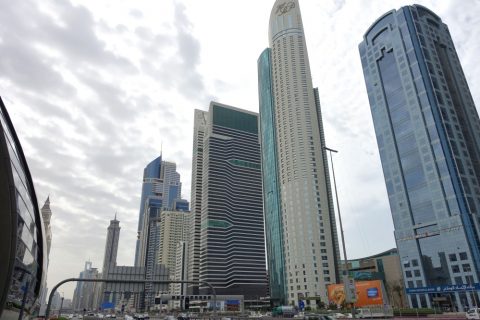 This area is one of the best business districts in Dubai, and the World Trade Center is nearby. Maybe because there are many skyscrapers, the wind of the building is really strong …!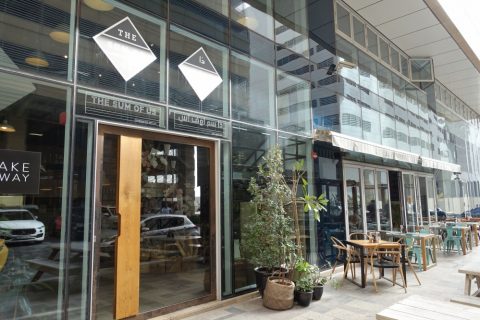 This cafe is located in such a corner. It's on the first floor of a skyscraper. There are terrace seats with sofa seats, but the number of customers is small probably due to the strong building-induced winds. I decided to eat in the store too.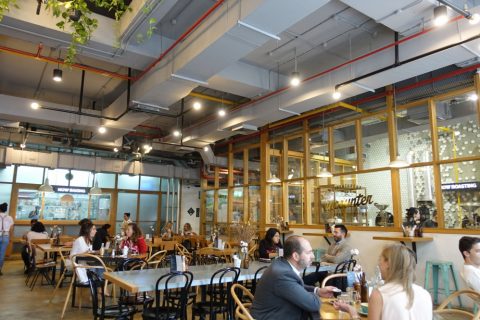 The restaurant has around 50 seats, mainly tables for 4 people. I visited around 14:30, but the vacancy rate was about half. Most of our customers are Westerners.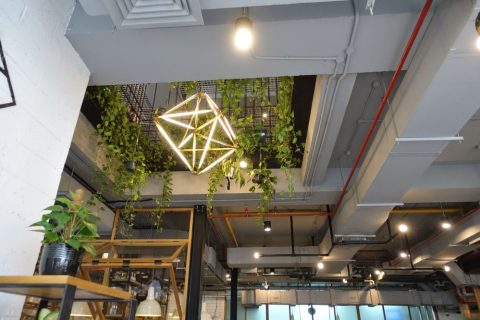 Simple yet stylish interior with elaborate design lighting on the exposed ceiling exhaust duct. There are many single customers, and it has a bright atmosphere and a good feeling.
Meals and Drinks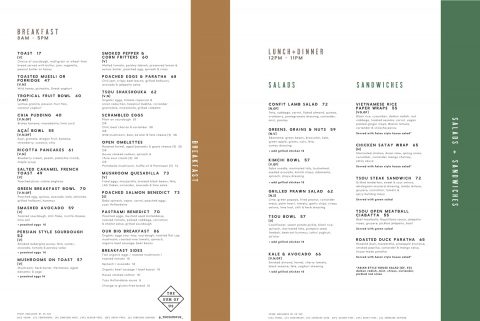 If you look at the menu, there are mainly 2 kinds of food menu, Breakfast (8:00 ~ 17:00) and Lunch + Dinner (12:00 ~ 23:00). The latter is a 3 piece set of salad, sandwich, and main, and the price is 50 DH ~ 70 DH, which is quite expensive!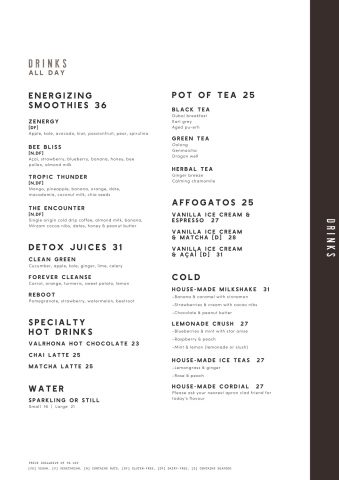 On the other hand, regarding the drink menu, there is a cafe which has a variety of coffee, and there are also aeropress coffee and French press coffee. The price is 20 DH, which is a pretty high class price.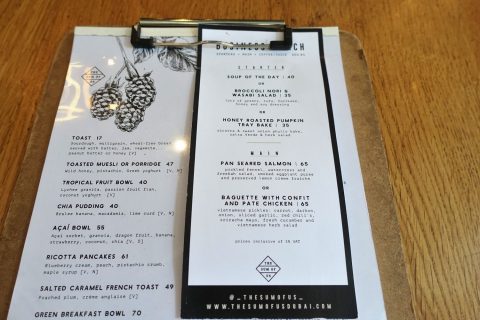 In such a situation, there is a menu called "Business Lunch" at lunchtime, which is 85 DH with a starter main drink set. If you order each menu individually, it costs more than 100 DH, but if you order a set, it's cheaper.
There are few menus to choose from, but I will choose from here this time.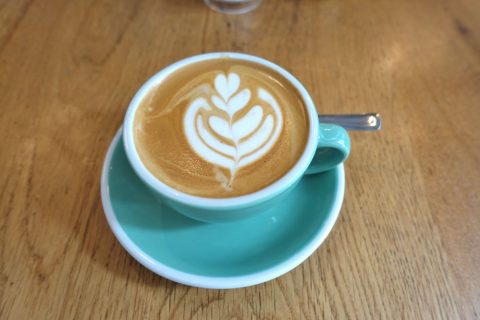 As for the drink, I chose cappuccino as usual, but it tastes like bitter chocolate. It has a mild taste with plenty of milk, and has a deep taste of coffee, so it is a very high quality coffee!
It tastes good! It has plenty of volume!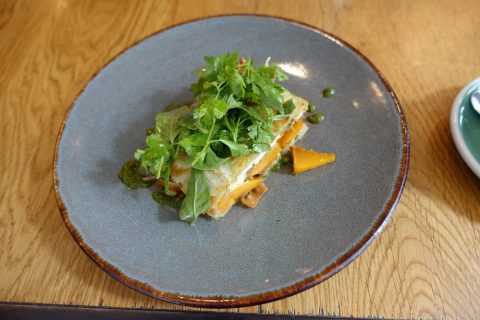 I chose "Honey Roasted Pumpkin Tray Bake" for the appetizer. I was irritated because coriander, which I don't like, was on top of it, but it was easy to eat because the smell was suppressed.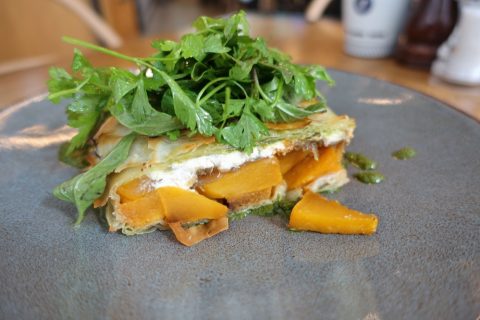 A crispy pie crust covered with savory and sweet pumpkin, cream cheese, almonds and basil sauce is delicious! The volume is much more than it looks, and it makes me full.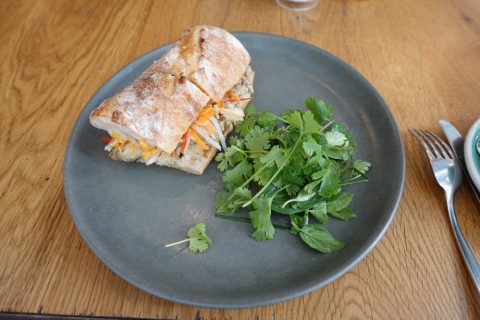 The main dish is "Baguette with Confit and Pate Chicken". I was surprised to see basil here on …, but as expected, I did not eat this (lol)!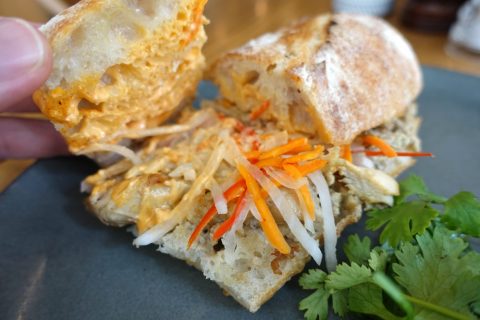 The sliced sandwiches contain chicken, Vietnamese pickles, carrots, radish, onions and other vegetables, as well as sliced garlic and red pepper.
Chicken is fragrant and delicious, and if you don't like it a little, there is liver paste in it, but it doesn't smell and is easy to eat. This is also a very high quality sandwich!
Luxurious lunch!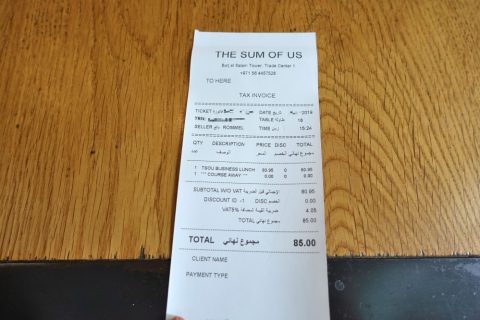 The accounting this time is 85 DH. It is quite expensive for lunch, but I think this is what a restaurant for Westerners would be like. But the taste of the food and the coffee is delicious, and I have no complaints about that content!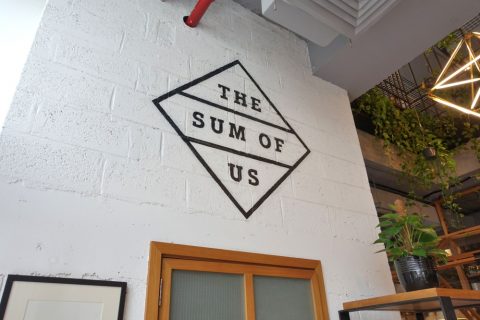 It is a little far from the metro station, but it is recommended if you want to have a delicious meal at a cafe with a different feeling!
The Sum of US
Address: Ground Floor, Burj Al Salam, 6th Street, Trade Centre Dubai
Opening hours: 8:00 ~ 23:00
The homepage is here.
♪Click here for a List of articles on "Dubai"