Next, I will report THE DECK Business Lounge from Cathay Pacific Lounge tour at Hong Kong International Airport!
This lounge is a relatively new lounge established in 2018, but you can enter it in business class status. Though it is small, the elegant interior of Cathay is still there!
※This article was written before the virus scandal. This will be updated.
"THE DECK" Lounge locations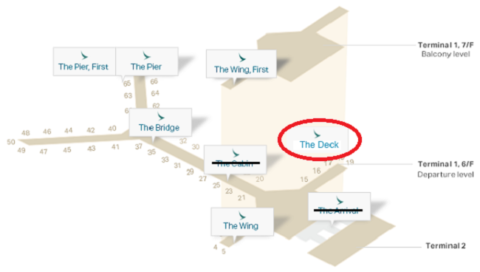 The DECK Lounge is located near Terminal 1, Gate 6 ~ 7. After you pass the security check, go to the right side, the opposite side of Wing Lounge.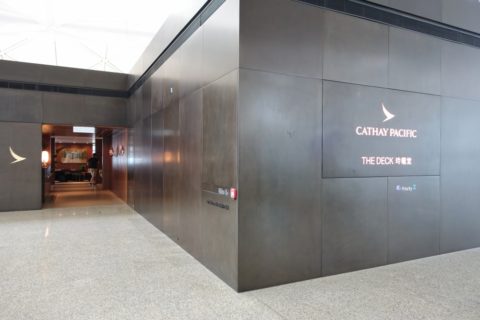 Take the escalator up one floor and you will see the lounge entrance in front of you. The lounge is available in Business Class (sapphire) status.
a compact floor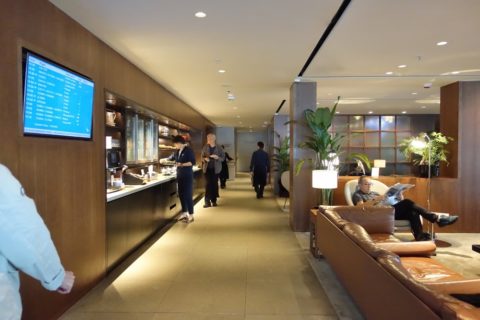 When you enter, there is a hallway with a buffet counter and a lounge area on the side. There is a shower area at the back of the picture.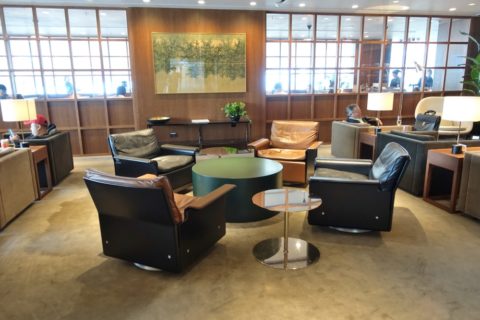 Although the lounge area is small, it is equipped with a large sofa and a table, and it has a high-class design. The atmosphere is good, but the number of seats is small, so I might not be able to get a seat right away when it's crowded.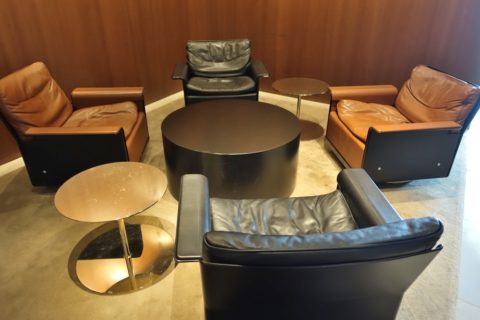 It is located next to the buffet counter, but there is no table like a restaurant, which is a little unusual arrangement. Probably because there was a space problem, they prioritized sofa seats.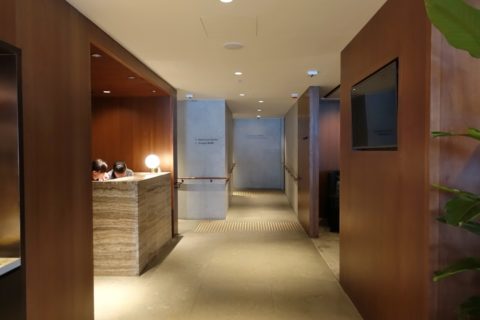 On the other hand, if you go to the opposite side of the lounge area from the entrance, there is a shower facility. I heard that there are 8 shower rooms in this lounge and I will use it after I finish the procedure at this reception.
Check the brand of wine! There's champagne.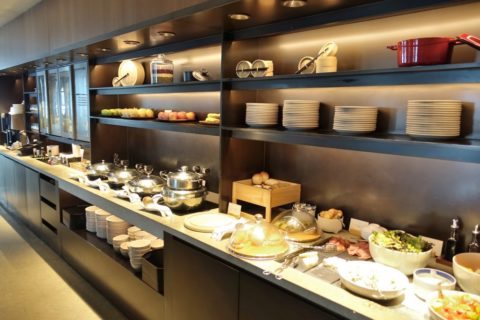 Next, check the buffet menu! The menu, however, is similar to previous reports. However, it seems that there are some dishes that can't be placed in the space, and there may be less types compared to THE BRIDGE.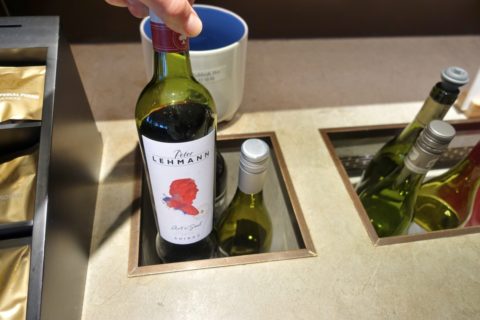 So this time, I focused on the brand of wine and checked it out! Wine is available in three bottles each of red and white, and the brands and market prices are as follows.
Peter Lehmann Art 'n' Soul Shiraz/¥1,500
Leap in the dark pinot noir/¥2,000
Berry Bros. & Rudd GOOD ORDINARY CLARET/¥2,000
hipi sauvignon blanc 2018 marlborough/¥1,800
Grant Burge Benchmark Chardonnay/¥1,400
Domaine Grand Vneur de viognier: ¥1,400
All of them are cheap, but there are vintage ones, so they have a good lineup! The place that doesn't have cheap wine that you can buy a bottle for ¥1,000 like Japanese lounges is the place called Cathay.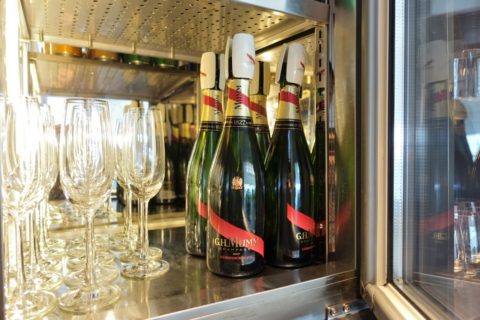 There was also champagne in the fridge! As far as I know, this is the only place in the business lounge where you can drink champagne.
However, the MUMM CORDON ROUGE is a super cheap champagne that can be bought for ¥3000 per bottle, so of course it tastes good. Even so, it tastes much better than the sparkling wine around there, so it might be good for daily drinking.
There is a noodle bar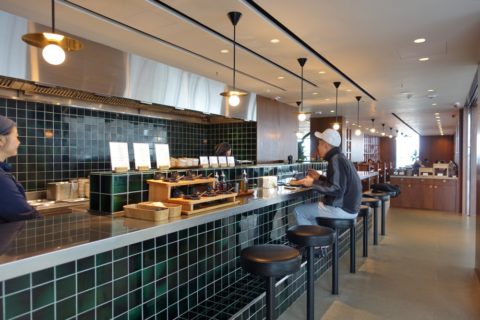 At the end of the buffet is a noodle bar! There are 7 counter seats and table seats in the back at the order counter. There must have been a great demand to build it in such a small lounge.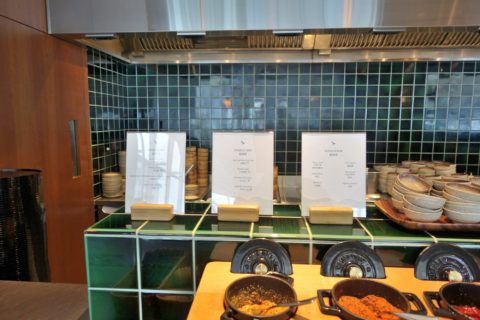 As for the menu, I think it is … which is the same as the noodle bar in THE PIER, but the Chinese bun menu is slightly different, and there are 8 types of lineup including the noodle.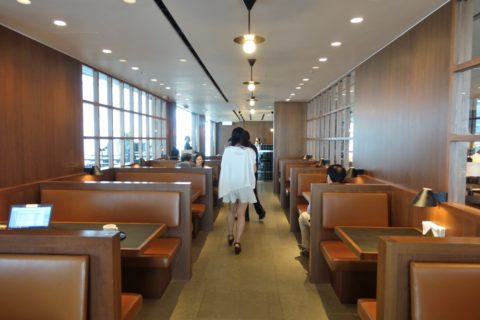 There were only about 30 table seats, but they were half empty for lunch time. I dropped by THE PIER before I came here, and it was so big that it was full, but it was a big mistake.
There are a lot of dishes on the menu, so if you want to use noodle bar, it's definitely better to come to Koch.
an open "The Terrace"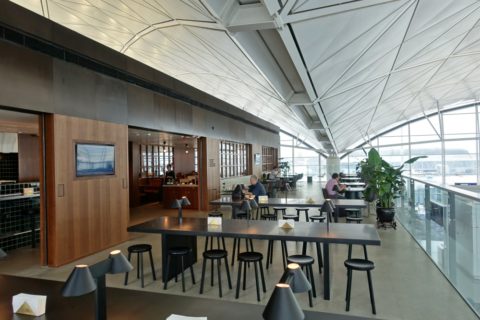 You can go out of the terrace from the side of the noodle bar counter. This area is called "The Terrace" and it is the best selling point of this lounge.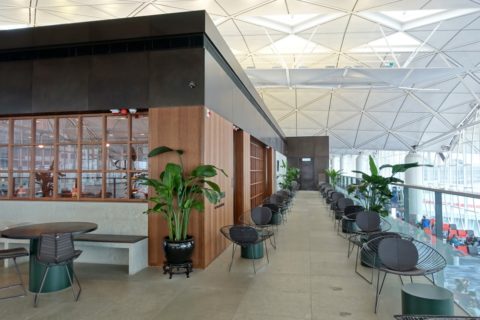 This terrace continues around the lounge building. It is a bright area with a sense of openness, but maybe because it is not very popular, there are few people sitting here …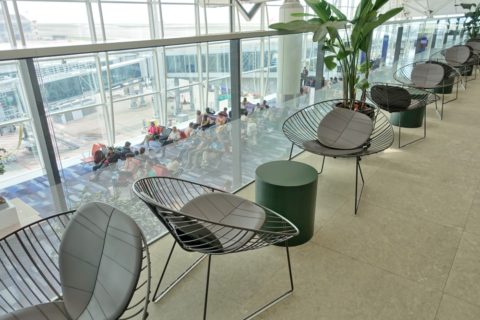 Sure, a chair with a stylish design is nice, but it's a little hard to use at a table like this. I would like you to think about the function a little more.
It is a little small, but it is good that there are few customers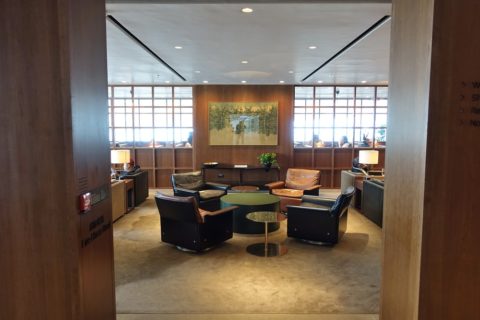 So, the newest lounge in the Cathay Lounge in Hong Kong "THE DECK", a small and small lounge, but having noodle bars, champagne and an open terrace is good! More than anything, it's nice that it's not crowded because of the location.
♪I also recommend this link→Collection of AIRPORT LOUNGE Reviews Worldwide! Wine, buffet, Shower, etc.