Continuing from Thai Airways Business Class (Bangkok – Narita), this time we will report on the in-flight meal of TG 676!
Please refer to the previous article for the report on seats and facilities of A 380 → Thai International Airways A 380 Business Class boarding report! Seat and full flat bed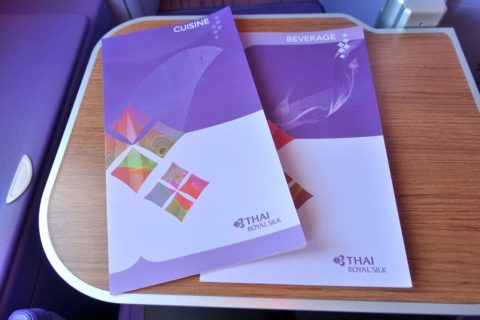 When the seat belt sign is turned off after taking off, the in-flight service starts immediately! The in-flight meal menu is already in the seat pocket, and there are 2 types of meals (Cuisine) and drinks (Beverage).
The 2 brochures made of cardboard have the same specifications as the long-distance lines from Frankfurt.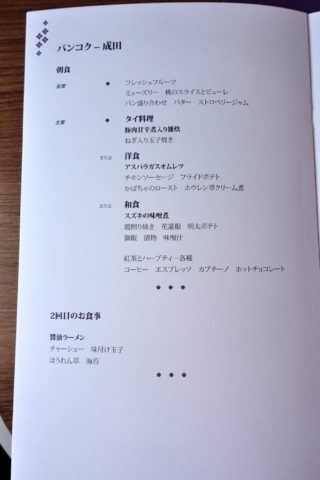 This time it departs at 8 AM, and the in-flight meal menu is breakfast. There are 3 kinds of main dishes and you can choose Japanese food.
It is served by "Soy sauce ramen" before arrival.
On the other hand, the wine list and drink menu are exactly the same as those from Frankfurt. It is amazing that they provide the same menu as the long distance route even though it is a short distance route that arrives in 5 ~ 6 hours!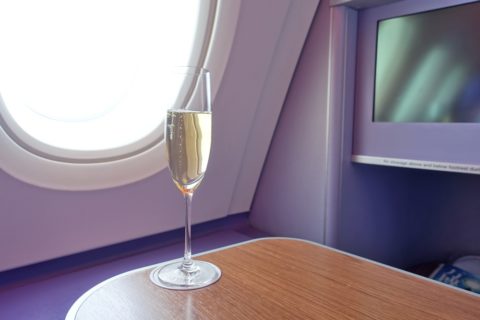 First of all, I chose champagne because it was this! The champagne of Thai Airways is a brand called "Piper-Heidsieck Essentiel", and it has a good balance with a good insistence and lingering flavor.
It doesn't have any special appeal, but it might be good for an aperitif.
In addition, I tried the red wine "Chateau Tour Prignac 2016" later and it was also well balanced. It doesn't have any outstanding features, but it seems to go well with meals.
By the way, when I checked the market price of the bottle, it cost about 3000 yen in Japan! Compared to Japanese Airways which only have bottles for about 1,000 yen, they are very upmarket oriented.
Delicious muesli and croissants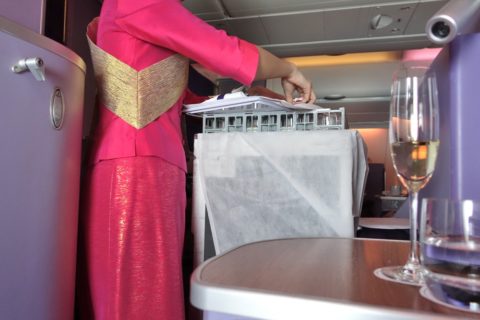 Now, the in-flight meal will start soon after the drinks are served! First, an appetizer was brought on a wagon.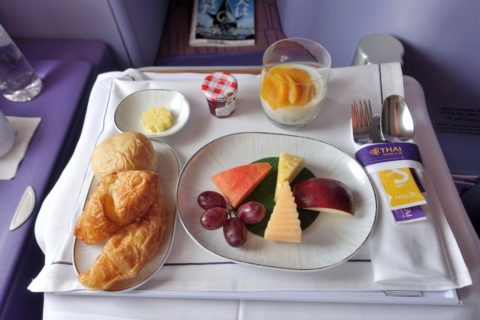 The appetizer is a selection of muesli and bread with a focus on the plate of fruits. Fruit should be the main dish, but when I tried it, all the fruits were crispy and crunchy …, and they were all dried, which was disappointing!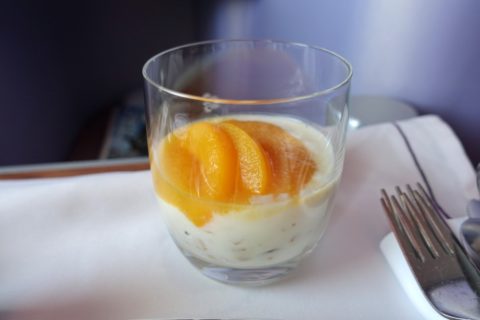 However, the muesli has a less sweet yogurt taste, and the fruit flavor is firm. It goes well with meals and is quite delicious!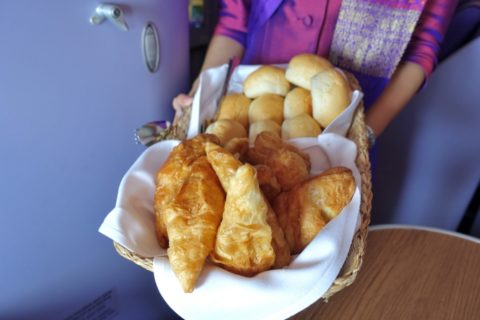 Also, the breads you can choose from the basket are of high quality, especially the croissants are well salted and butter flavored! It doesn't taste like Air France, but it was delicious and I had another one!
Thai rice porridge is delicious!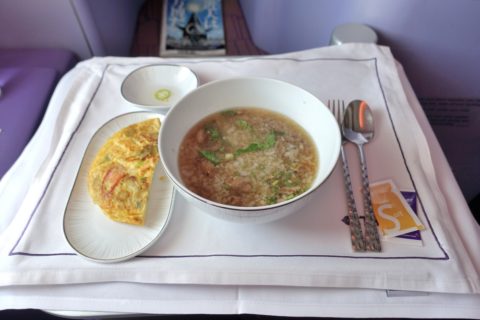 I chose Thai food for the main dish. After all, only Thai food is served from Bangkok.
However, when I saw the gentleman sitting next to me, he was eating Japanese food in a stylish bowl, so I thought it was still good …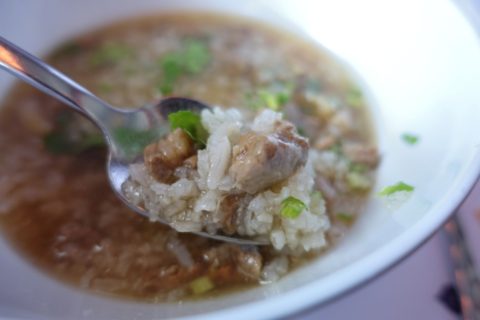 The main dish of Thai cuisine is "Rice porridge with sweet and salty simmered pork". It has a flavor unique to Southeast Asia, but it is delicious with the meat broth coming out well! It was disappointing that only coriander was included, but the amount was small and it was helpful …!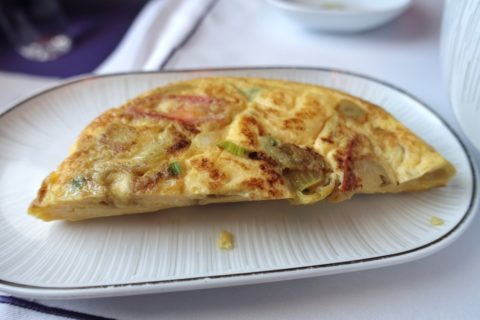 On the other hand, this omelet is not so good. It is a dish that is just baked and hardened with ingredients, and it sometimes contains very hot red pepper.
Even though it was the same egg dish, the omelet from Frankfurt was more delicious.
Reason for not being able to eat the second meal …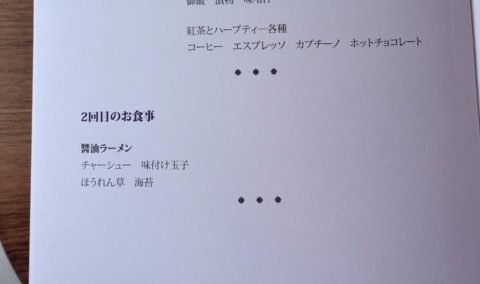 By the way, while I was waiting for the "second meal" which was supposed to be provided before arrival, it seems that only I was blown away for some reason. They might have misunderstood that the airplane was sleeping in the dark.
I don't think people would have misunderstood if the eaves had been open, but I was forced to close it after the first meal, and even though I wanted to open it, it didn't feel like I could open it carelessly …
Like any Airways, it's really nice to make the inside of the plane dark even if it's a daytime flight. I'd like to see the outside view at least during the daytime.
The in-flight meal is good! No luxury.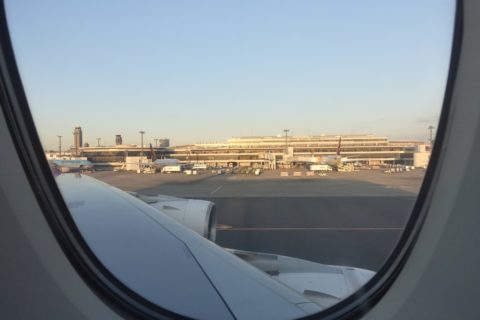 In the meantime, we arrived at Narita very quickly! It wasn't as gorgeous as Qatar Airways and it wasn't very eventful, but maybe this "tranquility" is the best part of business class.
I would love to fly first class next time!
So it was a report of Thai international Airways business class! Regarding the seat of A 380, the previous article → Thai international Airways A 380 business class boarding report! Seat and full flat bed
For the A 350 from Frankfurt, please see here → Thai international air business class boarding record! A 350 -900 Seat & Amenity
♪Click here for a List of articles on "First Class & Business Class Airlines worldwide (Seat, In-flight Meal, etc.)"