Continuing from the last time, I will report the in-flight meal from the Thai international Airways business class that I used from Frankfurt to Bangkok!
As Thai Airways is an Asian Airways, their in-flight meals are mainly Thai food. It doesn't have the gorgeousness of European cuisine, but the taste level is excellent! It was very delicious!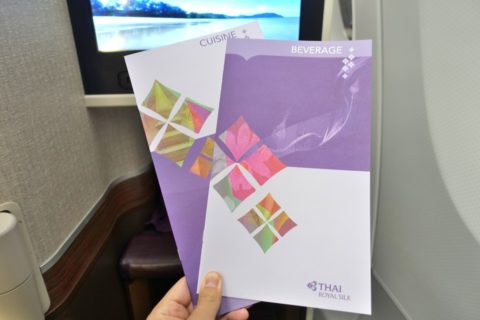 The in-flight meal menu consists of 2 booklets, CUISINE (Food) and BEVERAGE (Drinks). It's just cardboard, but it's more solid than JAL (lol).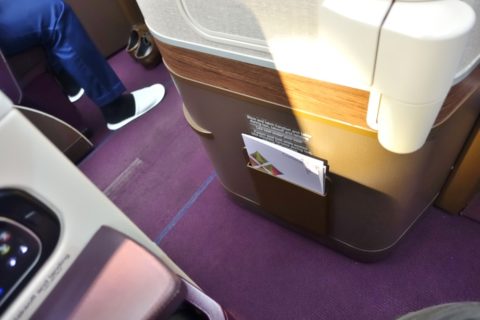 I thought this in-flight meal menu would not be distributed for a long time, but it was already in my seat pocket. In other Airways, CA always distributes to each person …, but it's not polite enough.
This time, the in-flight meal between Frankfurt and Bangkok will be dinner and breakfast twice. Each has a choice of 4 ~ 5 main dishes.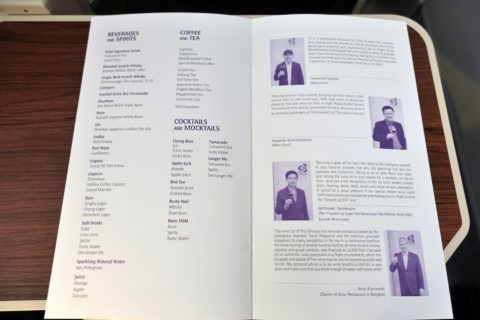 On the other hand, if you look at the drink menu, you can find various kinds of alcohol such as champagne, beer, hard liquor, etc., for beer, you can drink Thai brand "Singha", and for whisky, there is "Glenmorangie Lasanta" which I like, so it is a pretty good lineup!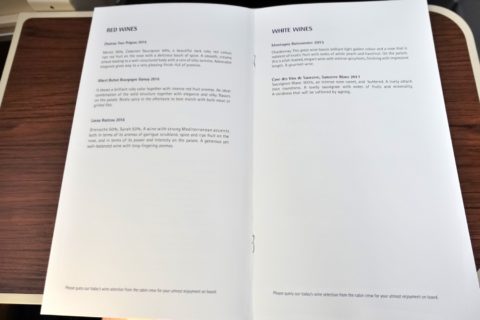 The wine list consists of 5 types of red and white wine. Just because it's from Germany, it doesn't mean that they have German wines in particular. The bottles are priced at about 2,000 yen each.
Nuts as a snack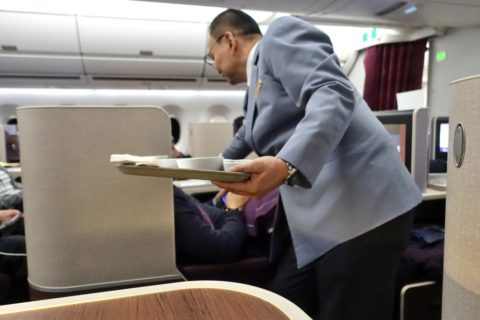 As soon as we take off and the belt sign turns off, the service starts! First, nuts were distributed as snacks.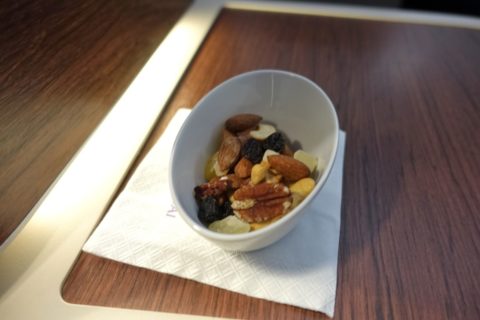 It contains cashew nuts, almonds, raisins and dried fruits. It's cold, but the salt is just right and the taste is pretty good! Well, it's not nearly as good as Qatar Airways business class nuts lol * Reference → The in-flight meal is delicious! From Vienna [B 787 -8] Qatar Airways Business Class boarding!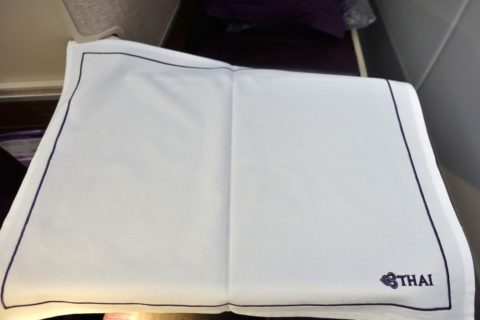 And the tablecloth was laid and ready! This tablecloth has a chic "THAI" logo.
Thai Airways champagne tastes …?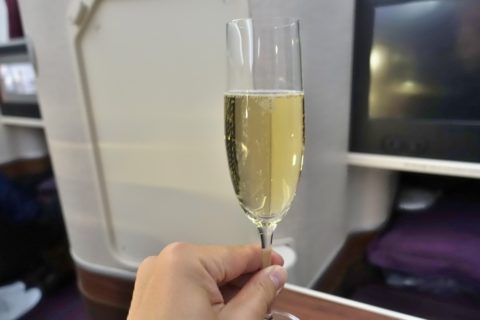 Then, as for the drink, I chose champagne for this first!
The brand of champagne of Thai Airways which I ride for the first time is called "Piper – Heidsieck Essentiel", but when I drank it, it was standard and it was spicy and well-balanced, so it was not bad.
The market price of the bottle is around 5,000 yen. It's my first time to drink this brand, but it's worth the price. The cost performance may not be good as a daily drink.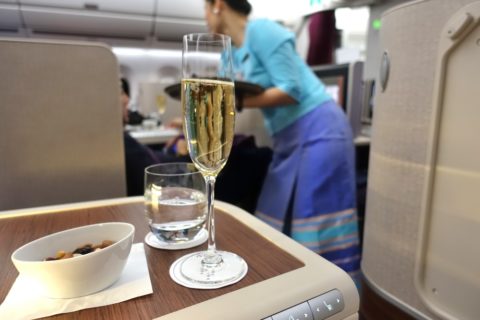 Also, when I ordered champagne, it was nice that they gave me chaser even if I didn't say anything, but when the champagne decreased even a little, CA came and poured, so I had to drink too much (lol).
It was the same with Malaysia Airways, which I used to fly, but I guess it's because they say that this kind of inconvenience is typical of Asian Airways.
a pretty good appetizer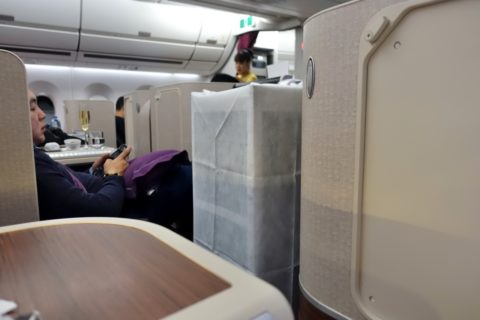 Soon the in-flight food wagon arrived. As with the main dish that follows, all Thai Airways in-flight meals seem to be delivered pre-set on trays.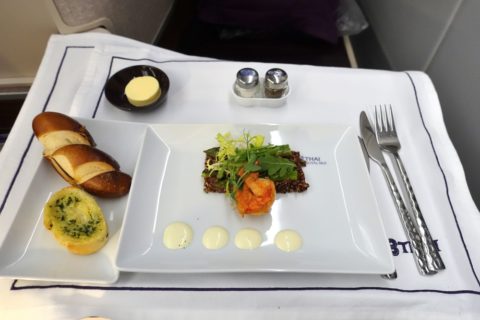 The appetizer is "Shrimp and Quinoa Salad". This one plate comes with a selection of bread and butter.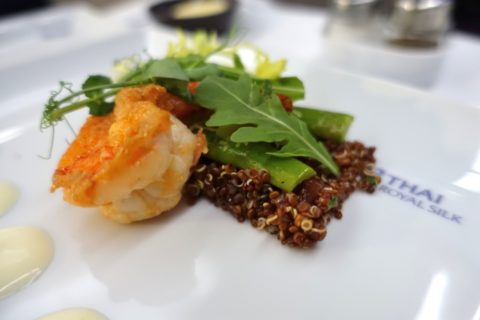 This plump and high-quality shrimp! If possible, I would like you to put about three of them instead of one. Quinoa has a good bitterness that spreads in your mouth and is delicious, and it is a plate with a high level.
German Bread You Can Choose From Basket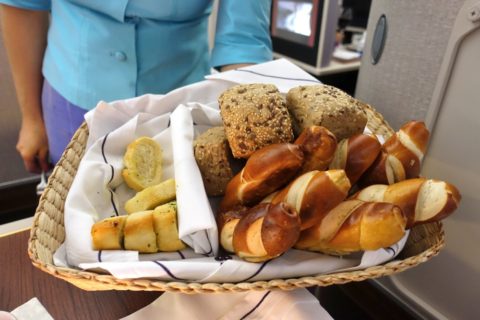 You can choose from 3 kinds of bread from a basket. Since it's a flight from Frankfurt, there seems to be mainly German bread.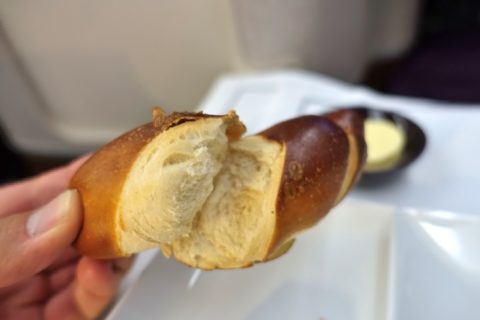 I think this is probably " Laugensandwich ", but unlike pretzels, it is not salty at all and has a completely plain taste. It has a smooth skin and a bagel-like texture, and it's nice with butter.
I also tried garlic toast, but it tasted good.
A gorgeous plate of delicious Thai food!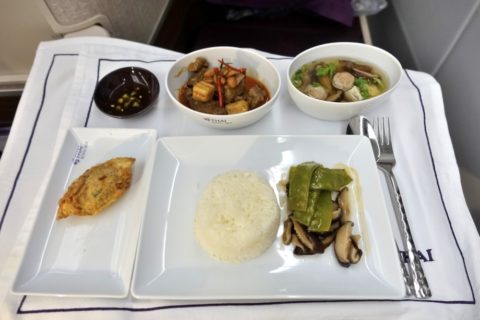 As for the main dish, there are 2 types of Thai and international dishes, and I chose "Massaman Beef" from them! It is a rather luxurious plate with soup and jasmine rice in it.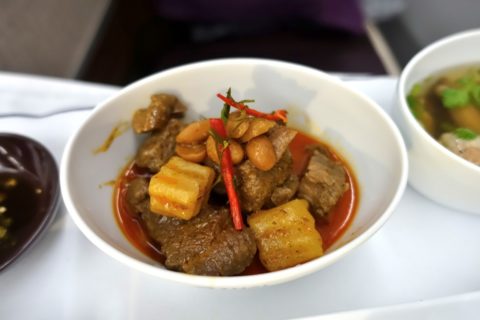 I think this is one of the Thai dishes "Massaman Curry", but the taste is good! There is beef in Thai red curry, and you can feel the sweetness of coconut while it is a unique spice.
This kind of curry is hard to eat in Japan.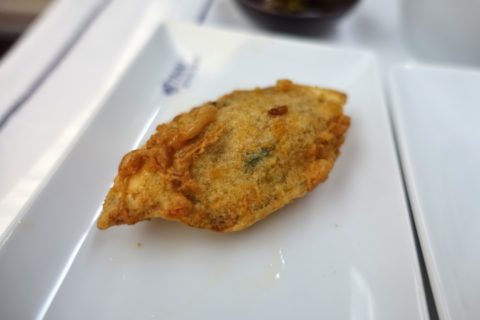 Also, this Thai dish called "Puja". It's a dish of minced crab meat and vegetables stuffed into the crab shell and fried whole, and this is very delicious! I was impressed by how easy it was to eat crab shells, while the contents of many ingredients were the same.
The slightly sweetened vegetables that come with jasmine rice are delicious, and the meatball soup is also good! I never imagined that such delicious Thai food would be served on a flight from Germany …!
Asian sweets with a slightly subtle taste of cheese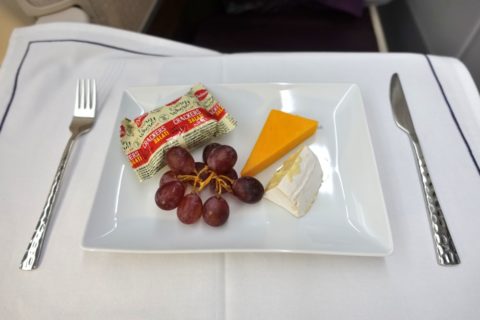 As for the cheese that was served after the meal, there are 2 types, hard orange type and Camembert. The hard type doesn't taste much, but Camembert has less odor and milky taste spreads in your mouth.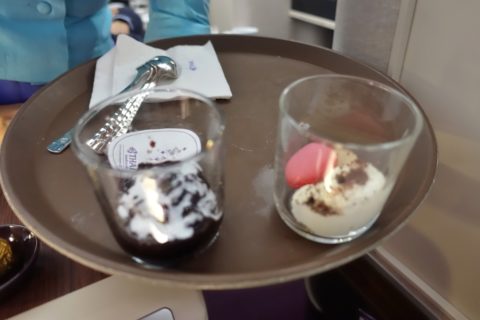 There are 2 types of desserts to choose from. Black Glutinious Rice on the left in the photo is a standard Asian sweets, but I have eaten this before and had diarrhea, so I passed …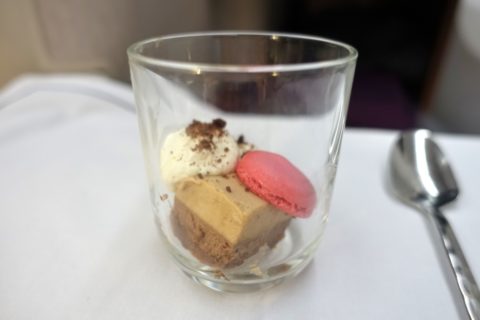 Instead, I had "Double Nougat Tart". Nougat (Nougat) is a soft candy with an almond taste, but it has a slightly special sweetness and is subtly …
The chocolate part is somewhat delicious, but since I have eaten a lot of delicious sweets in Paris, I am a little reluctant to eat Asian sweets which have a lot of unique flavors. …
Any good drinks …?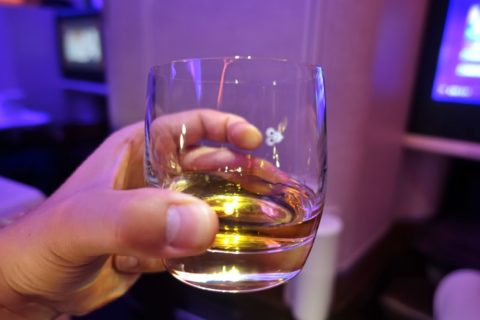 By the way, I tried Conyac "Leyrat XO Trés Vieux" after a meal, but it was disappointing that the alcohol stimulation was strong and the taste didn't stand out at all. This brand should not be so cheap, but I was surprised.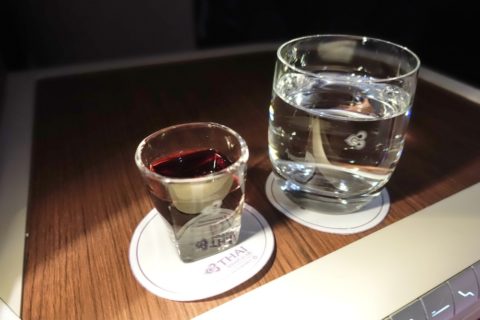 I also tried port wine, and although I felt the strength of the alcohol, it was completely cheap. It's completely different from the 10 year-old wine I had in Portugal.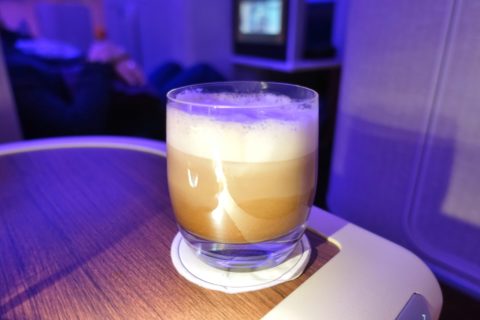 Also, this chocolate drink was served saying "I want chocolate.". It doesn't seem to contain alcohol, but it doesn't taste particularly good, just chocolate flavor.
My honest impression is that while the in-flight meal was delicious, the drink was not so much.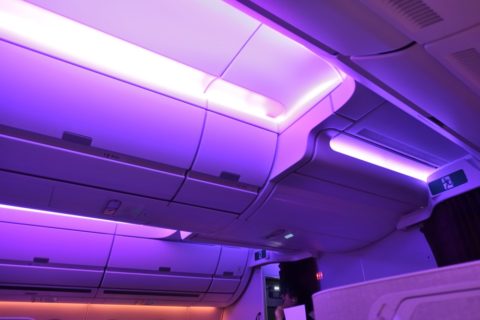 That's why the plane went to sleep. The comfort of the bed and the 2nd meal (Breakfast) will be continued. → Can you sleep on Thai International Airways? A 350 Business Class Seat & Breakfast Report!
♪Click here for a List of articles on "First Class & Business Class Airlines worldwide (Seat, In-flight Meal, etc.)"