I will return to Narita, Tokyo via Bangkok from Frankfurt, Germany by Thai Airways, and this time I will report a business class boarding report for the flight to Bangkok "TG 923"!
The business class of Thai Airways is called "Royal Silk". I was hoping for a good service this time as it is a long distance route which exceeds 10 hours, but is it really …?
TG 923 from Frankfurt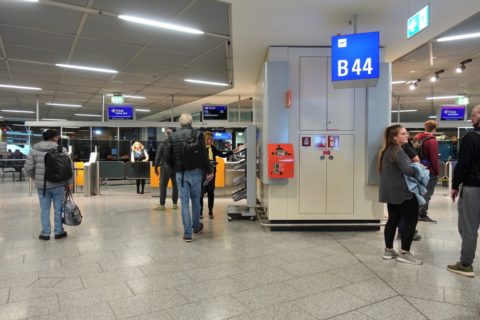 Flight TG 923 will depart at 20:55. I will use gate B 44 at Frankfurt International Airport T1. It's right in front of the Lufthansa Airline lounge I was using, so it's very convenient!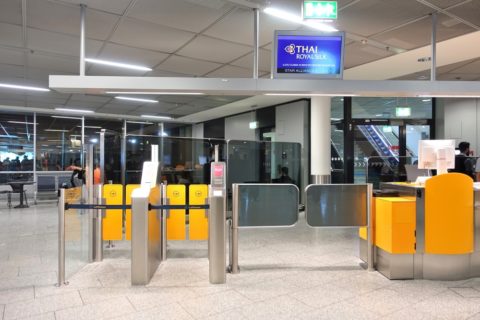 As it was business class, I got on the bus with priority boarding, but there was no partition in front of the gate to make a clear line, and when the boarding time approached, everyone gathered in front of the gate and formed a line.
The staff were very friendly, and when they found out that I was Japanese, they even offered lip service to me, saying, "Konichiha". There must be a lot of Japanese passengers at this airport.
A350-900 staggered seat

This time the equipment is A350-900. It was B777 when I made a reservation, but it seems to have been changed just before. Business class has 8 rows, 11 to 19 rows, but it is interesting that "13" is omitted even though it is not a country of Christ.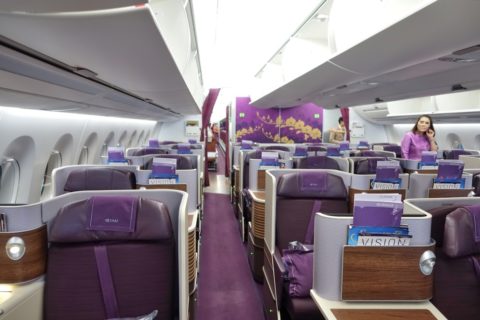 1-2-1 seats are arranged in the first cabin, and the front and back seats are staggered.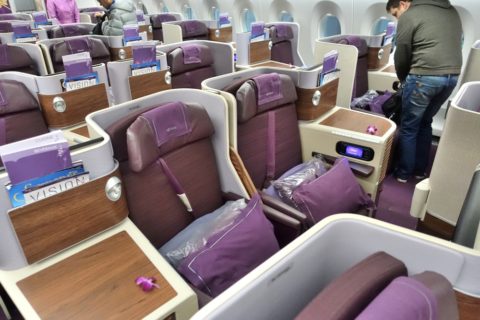 The middle row is even and the seats next to each other stick together. It seems to have a center partition, but I definitely want to avoid it when I travel alone.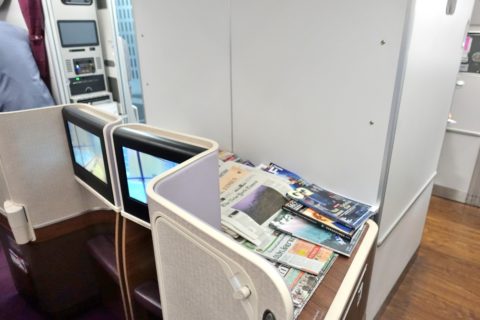 In addition, there is a space like a shed in the front of the front row, but it seems that passengers cannot put things here because CA is used as a work bench.
The feeling of a private room is perfect? window seat
My seat is 12 k. It's a seat with a window seat and a side table on the aisle. As is the case with ANA 787, the side table serves as a partition for this type of seat, so it is the best seat with a high sense of individual room.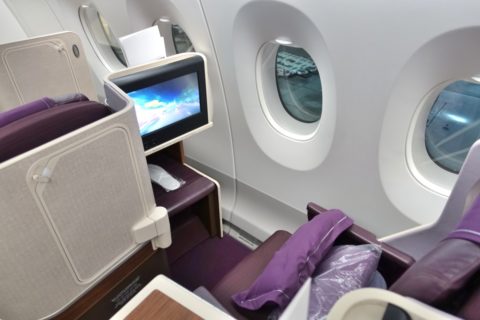 It has a decent amount of space. The window is not slanted for Airbus, so I don't feel any pressure when I sit on the seat, so it's comfortable! There is plenty of legroom.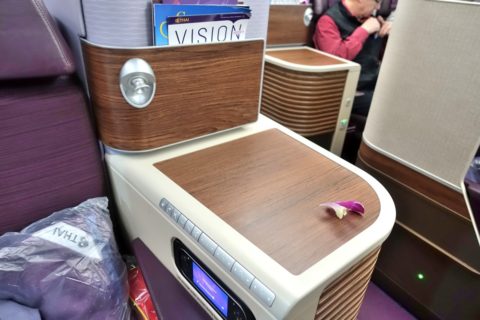 Wood tone side table. I guess it has just been introduced, there are no scratches or dirt and it is shiny and comfortable! It's big enough.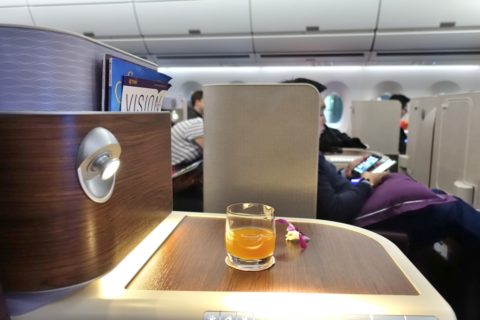 But there are no partitions or anything on the aisle, so you can see your face from the opposite seat. Also, I'm worried that I might drop something I put here in the aisle, so I can't put my valuables at ease.
There is no accessory case, so this one is better than ANA's stud guard. (Reference: ANA Business Class boarding report! [B787-9] sheets and amenities)
equipment around the seat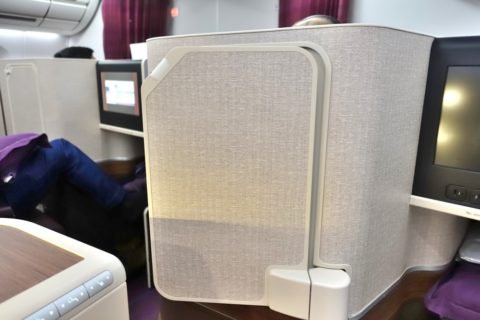 Next, regarding the equipment around the seat, the table is embedded in the wall diagonally in front, and you use it by unlocking and pulling it forward. I've never seen this type of table before, but the hinges are sticking out strangely, and it gets stuck when I go in and out. …。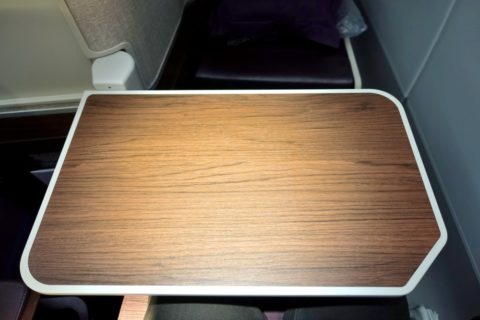 The beautiful wood grain table is not bad in size and stability. You can also rotate it in the direction of the monitor, so you can go out to the passage with things on it.
The reading light is bright enough with a dimmable spotlight next to the seat and two LED lights overhead.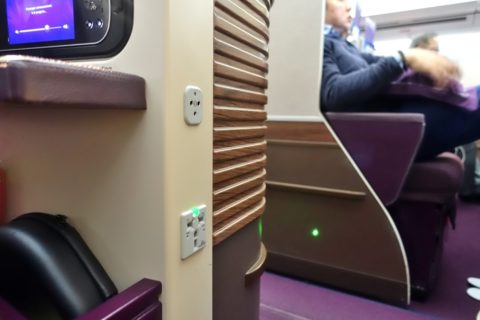 The outlet is under the side table. It's a universal type, so you can plug in a Japanese outlet as it is.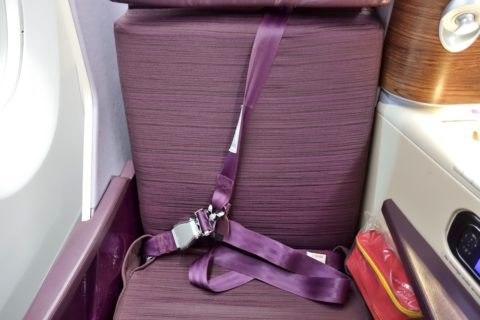 The seat belt is a 3-point type. If you take off the clasp and remove the shoulder belt, you can make it a normal 2-point type, but you cannot take it off during takeoff and landing.
This type is also used by Malaysia Airways and others, but the belt on the shoulder is annoying, and the metal fittings always come around the neck when the belt is removed, so personally I would prefer not to have it, but …
Amenities are poor …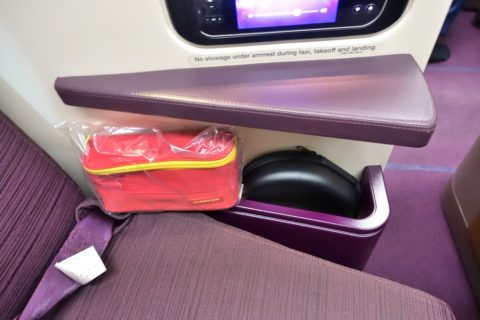 There is also an accessory compartment under the aisle armrest, where headphones are always available. The amenities were also placed here beforehand, not distributed by CA.
Amenity is Italian brand "MANDARIA DUCK". At first, there was an orange pouch, but the person sitting next to me had it changed to black, so I had it changed too.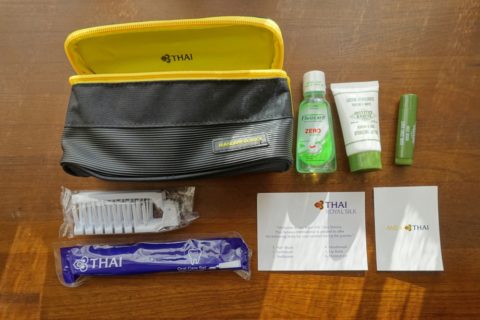 However, when I opened the package, the contents were very small for a long distance route, and there were only 5 pieces of toothpaste set, mouthwash, lotion, lip balm, and comb. The details were the same for the next flight I took between Bangkok and Narita, so perhaps the black one was a porch for short haul …?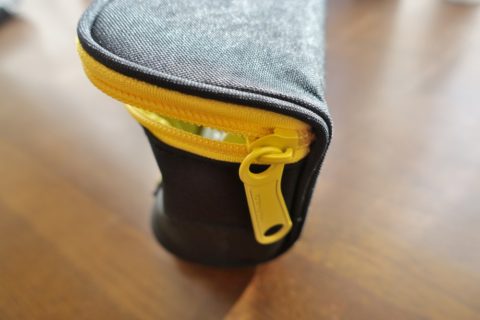 The zipper is slightly distorted and the structure is not very precise, so this is quite disappointing …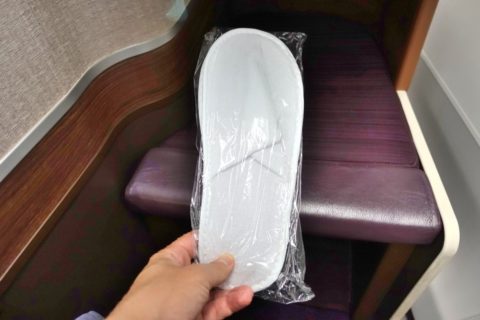 In addition, slippers are the ones used in cheap hotels. This is a long distance business class, but I can't take it.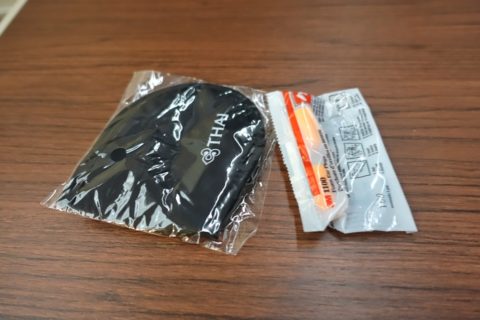 Also, the eye mask and earplugs were brought by CA later. There are 7 in total, which is enough, but …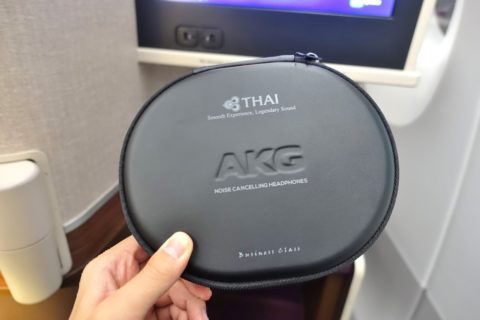 The headphones also have noise cancelling. It doesn't have a lot of noise cancellation, but the sound quality is not too bad, which is good for business class.
Welcome drink and newspaper service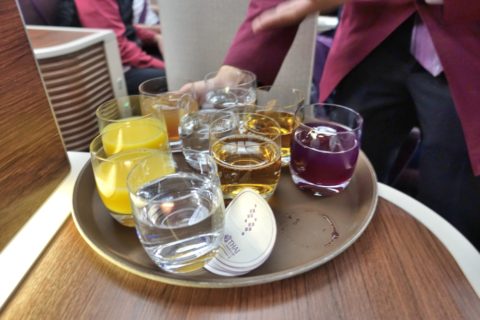 CA just brought me a welcome drink after my photography competition. You can choose from 4 kinds including water, but no alcohol.
But I saw someone drinking champagne when I was looking at other customers, so they might bring it if I request.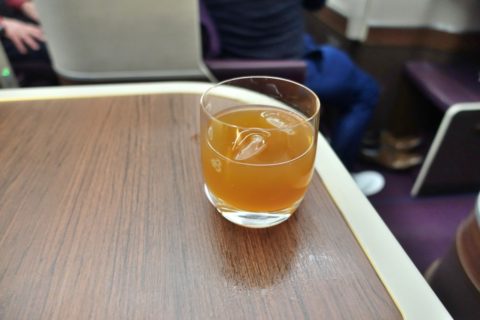 I chose an orange drink. I was somehow told that it was tea, but I couldn't hear it, and when I drank it, it had a fruity first touch! However, there is almost no aftertaste, and it is not clear whether it is sour or sweet.
How does free Wi-Fi work on …?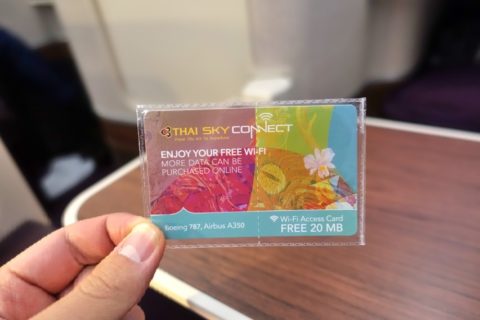 The wifi card was later handed out. Enter the code on the back of the card on the login screen, and register the mail address to use it. I could log in with a dummy email address, but if I don't use it for a while, I have to log in again, so it's not easy to use.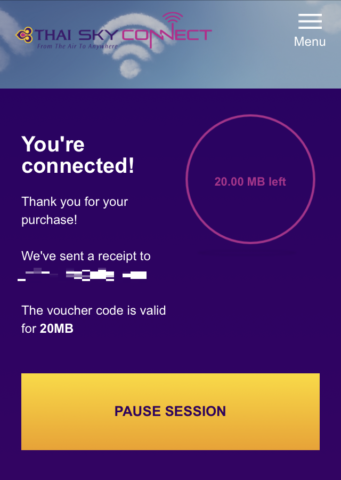 Available capacity is 20 MB. I tried using iphone, but the speed was really slow, and after searching on Google a few times, there were only 5MB left …
It shows how good JAL's (domestic service) free wifi is.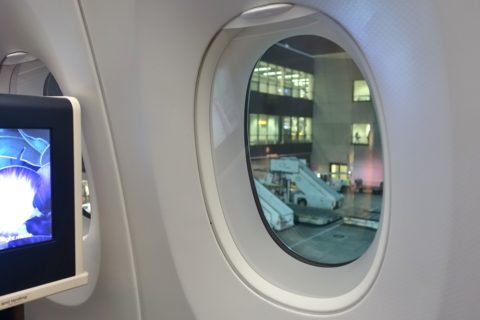 So, it's been a long time, so next time! Report on Thai international airline business class in-flight meal! → Thailand International Airways Business Class In-flight Food Report! Delicious Thai food!
♪Click here for a List of articles on "First Class & Business Class Airlines worldwide (Seat, In-flight Meal, etc.)"