This report is about Teatro Nacional de São Carlos in Lisbon, Portugal, who visited for opera appreciation!
This is a historic theater with more than 200 years of history, and the interior is beautifully decorated. I was able to immerse myself in an elegant mood! I would like to tell you about the inside of the theater and how to buy tickets in detail.
※This article was written before the virus scandal. This will be updated.
A historical appearance established in 1793
Teatro Nacional de Sao Carlos is here. Located in the heart of downtown Lisbon and easily accessible, it is a 2-minute walk from Metro Baixa-Chiado's exit leading to Camons Square.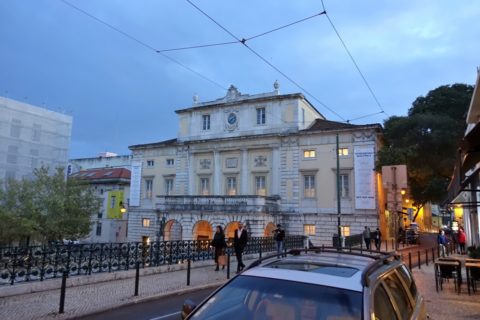 It is a theater located between 2 roads, but it is in an unusual location that is one step lower from the west road (a person on a streetcar) side. The main entrance is on the north side and is a square with the same name as the theater (São Carlos).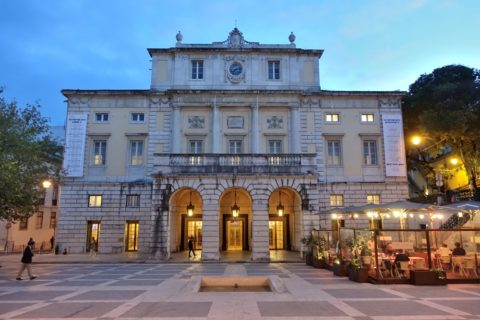 Teatro Nacional de Sao Carlos was established in 1793. It's not a big building, but it has a facade with a clock and a long history, and it has a nice appearance. On the front side is the theater's restaurant "Cafe Lisboa".
Entrance Lobby and Bar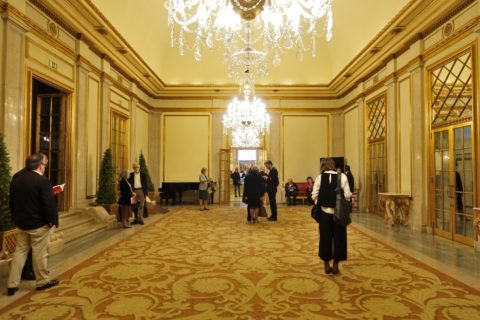 When you enter from the main entrance, you will see a gorgeous entrance hall with a chandelier! There is an entrance to the seat in front of you, and there is a bar on the left side.
This large carpeted hall seems to be used as a social space and it was crowded during the break time.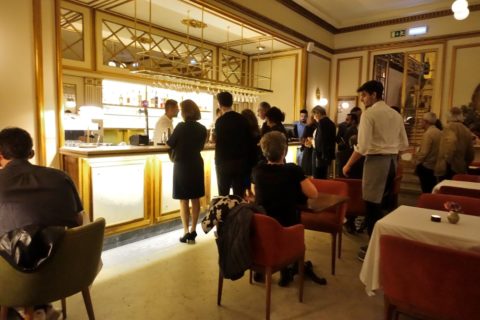 The bar next to the entrance can be used even before the performance starts and sells alcohol and light meals. I couldn't check the price because there was no menu list, but it was quite an authentic bar with beer poured from the server.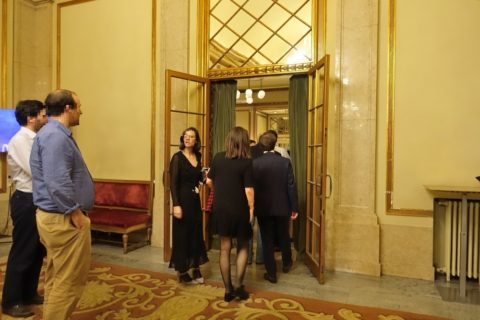 After you have checked your ticket, go to the foyer with seats through the corridor covered with a flower pattern carpet! All staffs are kind and polite, and I have a good impression, and I feel at ease because I can communicate in English.
There is a luxurious hall in the foyer.
The foyer is built in the same way on each floor, but when I went to the Third balcony floor, there was a special room like this, so I took a look!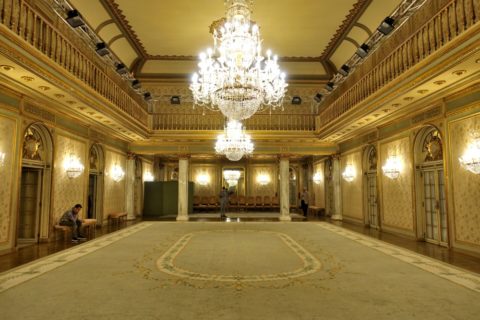 When you enter the hall, the chandelier is beautiful again! A huge green carpet, gold-framed doors and beams, and a gorgeous foyer that looks as if you've been to an aristocratic mansion.
There is a piano in a corner of the hall, so there might be a mini concert or something.
Maybe this hall is not well known, but there are few people coming during the break time, so it is nice to be able to soak in this luxurious space slowly!
Gorgeous seats with 5 levels shining in gold!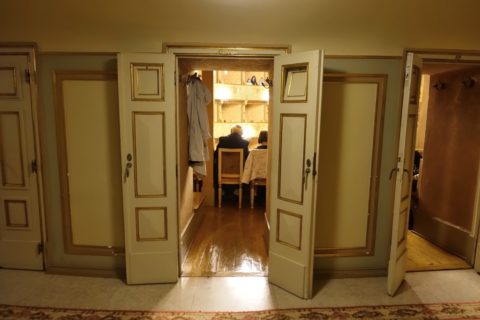 Now, to the audience! The entrance to the audience seats starts 30 minutes before the curtain time. If you show your ticket, the staff will show you to your seat.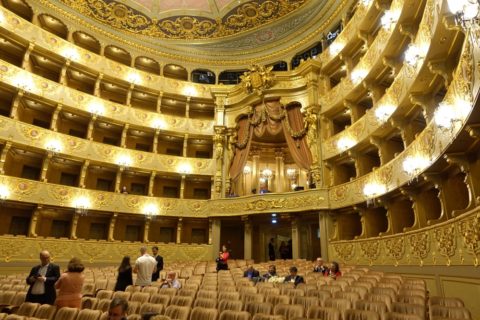 The inside is a typical horseshoe-shaped auditorium with five balconies. It is a little small theater, but the VIP seats covered with gold decorations are amazing!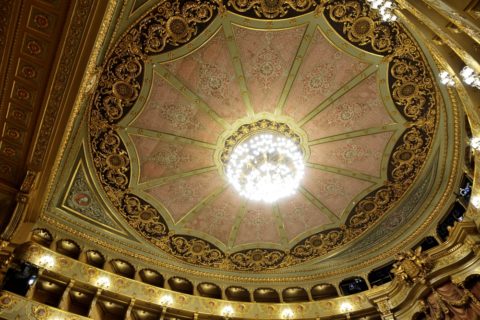 The ceiling is centered on a large chandelier with a fan-shaped pink pattern, and a golden art object with a musical instrument motif is painted on the outer circumference. This one is much nicer than the religious paintings in opera houses in other countries!
The front of the stage is a golden statue with a slightly black vermilion damask and instruments on both sides. Probably because of its height, it is a big stage for the scale of the theater.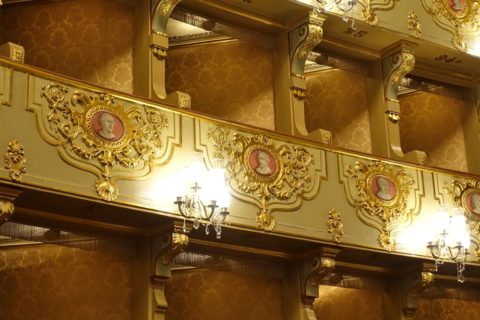 There are also portraits of great people on the balcony. However, as you can see from this, although the entire venue looks golden, the amount of gold used is limited.
The walls and pillars are probably all yellowish ochre, so they look golden in the light, but if you think about it, it's a well-designed interior.
Soft Cushion Seat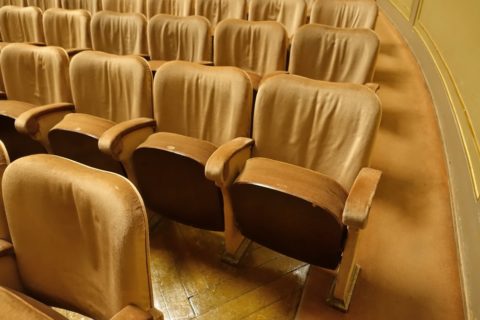 The seats are old but have fluffy cushions and are wide enough! However, the armrest is too expensive for me to sit on. …。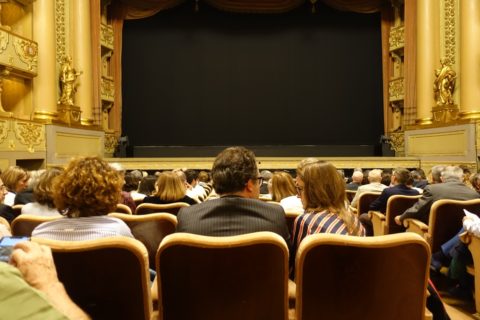 My seat this time was in the center of row 12 from the front (L Column). It is not staggered so it may be a little hard to see if a big person comes to the front seat. Luckily, there was a vacant seat in the front this time, so I'm lucky!
Verdi "power of fate"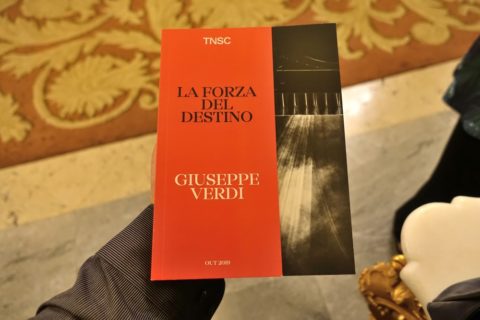 By the way, this program is Verdi's opera "power of fate". It's a four-act opera about the love and tragedy of Leonora, the daughter of Marquis Caratrava, and Alvaro, a knight.
In addition, the booklet of this program is €5, and you can purchase it from the entrance hall staff when you come.
Although it was a classic work, there were some modern ideas such as staging using a projector, but the quality of the stage set was not good, there was little change, and I felt a little sleepy …。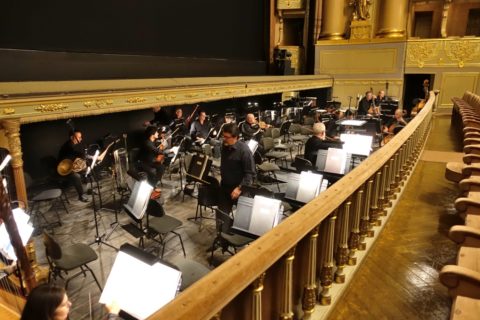 The performance was not so good, so to speak, it was like a bad student punk. There was no harmony between the instruments, and the performance didn't sound professional, so I was disappointed. …。
The sound is also quite dead, so it might not be a suitable hall to listen to music.
Purchase tickets from the official website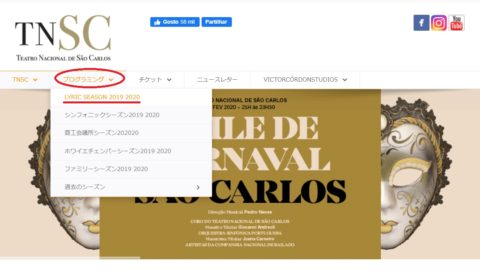 Also, I bought the ticket for this performance from the official website of the theater. There is no English switch, so it is a bit confusing, but there is no problem if you use Google translation together.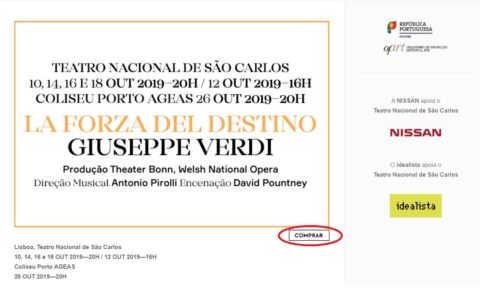 Select any performance from the program item on the top menu and press "COMPRAR" on the performance summary page to move to the reservation screen. The ticket sale of the performance I saw this time was very late, and I had to wait until 3 weeks before the performance, so …。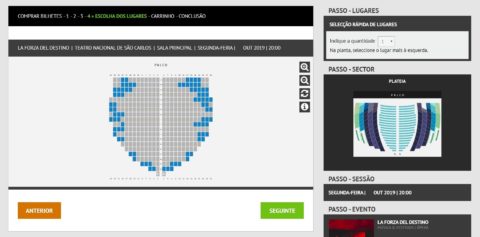 It is also possible to make detailed seat reservations. But even though I accessed it right after it went on sale, there were few good seats left …。 I think it's probably reserved by special members, but it's a bit unfair.
You don't have to create an account to purchase it. All you have to do is fill in your name and email address and pay with your credit card. After the payment is completed, you will receive an e-mail with an attached electronic ticket, so you can print it out and bring it with you on the day, and you do not need to exchange it for a real ticket.
Clothes are a little tight, eyes are good?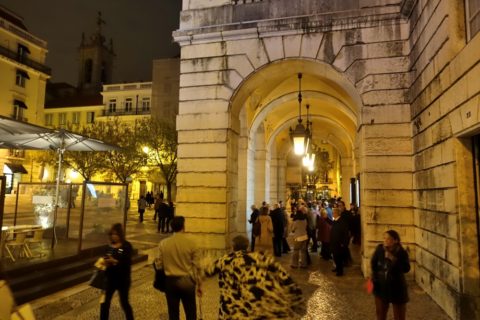 So, I went to "Teatro Nacional de Sao Carlos" in Lisbon, and the golden interior was quite impressive!
This theater doesn't have a special dress code, but when I was looking at other guests, many of them decided to wear formal clothes, so it might be better to avoid light clothes.
In the case of men, I think there is no problem without wearing a jacket if it is a shirt with a collar (So did I.).
♪Click here for a List of articles on "Opera House & Concert Hall around the world"