I stayed at TAP Ai Portugal's business class lounge "TAP Premium Lounge" at Lisbon International Airport, but it was a lounge with stylish interior despite its small space, and the buffet had a variety of dishes and the taste was good!
It was a very satisfying visit with delicious "Pastel de Nata" and port wine!
※This article was written before the virus scandal. This will be updated.
Location of TAP Premium Lounge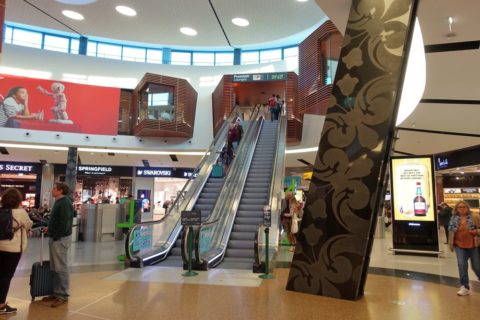 The location of the TAP Premium Lounge is on the second floor of the atrium lobby, which is a little further from the limited area of Terminal 1, and you go up by escalator.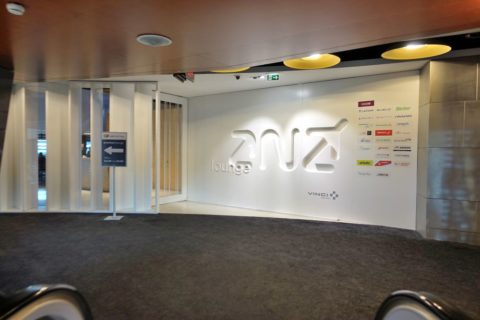 There is a lounge called "ANA Lounge" right in front of you, but this time I passed because this lounge is designated by Priority Pass, One World, and Skyteam.
By the way, this "ANA" is the name of the operating company, and it is by no means an abbreviation of "All Nippon Airways" (lol).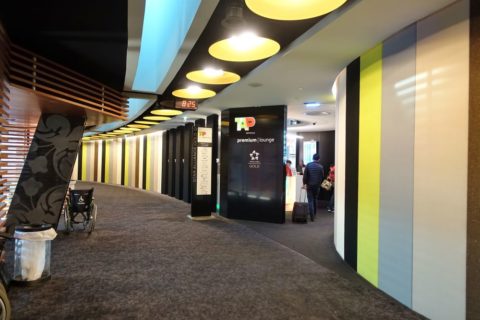 When you get off the escalator and go straight down the corridor to the left, you will see the entrance of the colorful TAP lounge in yellow green and black. It is a Star Alliance-designated lounge that is available for business class passengers as well as Star Alliance -Gold members.
A stylish space! But it's crowded at …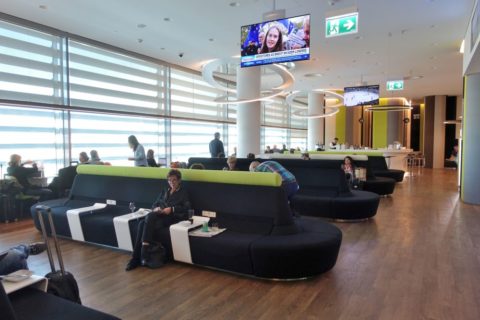 The lounge is a continuous space and the sofa area is located along the window in front of the entrance. To the right is the bar counter, and to the left is the buffet.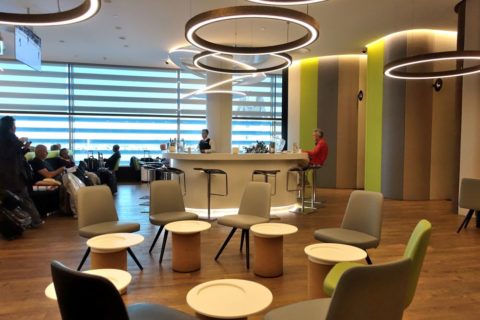 The interior of the building, where the background music of a quiet acoustic guitar is played, has bright colors based on yellow green and black just like the entrance. The circular light design is very stylish.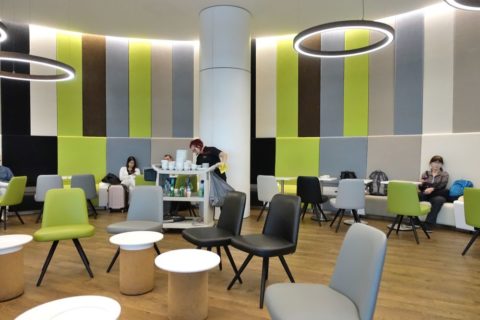 Each seat has a power supply, with some exceptions. Although it has a high sense, the seat pitch is narrow in many places.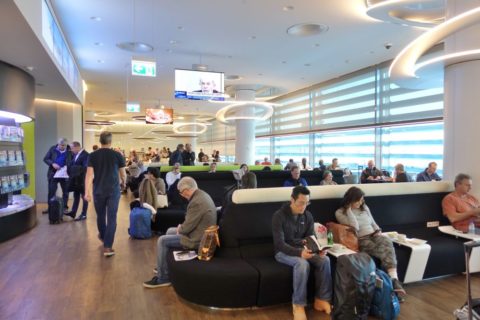 In addition, this time I visited around 8:30 AM, but it was very crowded mainly in the sofa area and buffet. … Although it was a compact airport, there was only one lounge in Star Alliance, so it couldn't be helped.
Breakfast buffet is super fulfilling!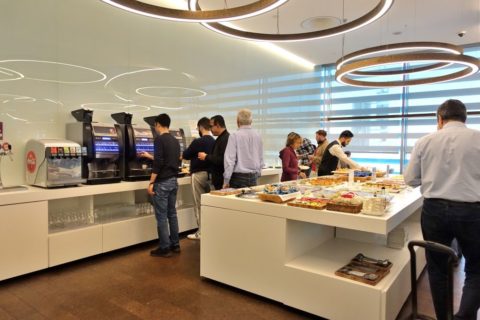 Next, check out the buffet in the back of the lounge! There is a large buffet counter and a drink counter in the back, and alcohol is also placed there.
I didn't expect much at this time because it was breakfast, but I was surprised by the variety of menu!
In addition to 4 kinds of elaborate salads such as "Chickpea and Zucchini" and "Orzo Pasta with Mint", 4 kinds of ham and cheese, and pintxos are also available, so you can have a wide variety!
There are also dishes unique to Portugal such as round shaped pies and quiche. Both of them have a menu with pictures, so it's easy to understand.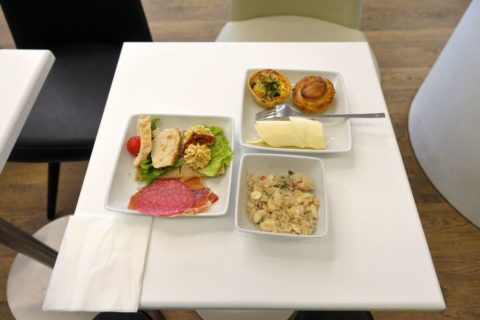 I have tried various dishes, but all of them are delicious, such as pintxos with juicy chicken on top, and quiche with crispy outer dough. The ingredients of ham and cheese are good, and I haven't had such a satisfying lounge buffet for a long time!
Pastel de Nata is delicious!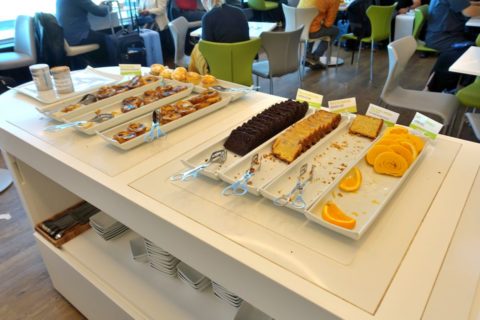 In addition to the meal menu, there is a sweets corner at the next counter, where you can see pound cakes, oranges and Portuguese local sweets "Pastel de Nata"!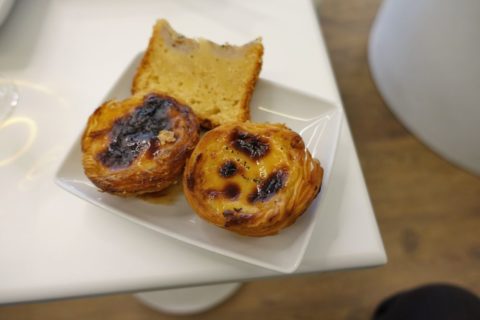 I tried this too, and the elegant sweetness of the pound cake was delicious with the moist apple flavor! I can eat as much as I want …!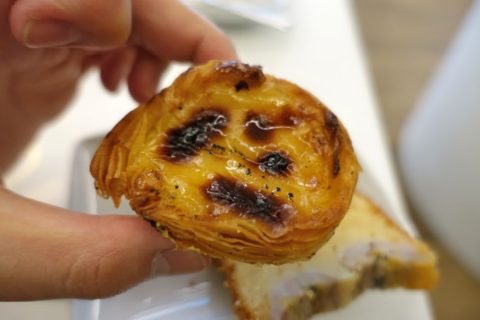 And this pastel de nata is still warm and crispy, with just the right sweetness of custard and delicious! That's almost as good as the best restaurant I've ever had in downtown Lisbon!
This is free all-you-can-eat. This is really heaven!
I can drink delicious port wine!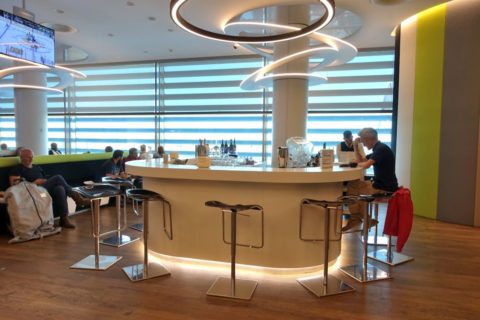 This is the bar counter on the opposite side of the buffet. Wine and beer were also available at the buffet, but there are more varieties like hard liquor!
There is a bartender here so you can't drink without permission (lol), but if you look at the menu, there are various hard liquor and port wine in red and white.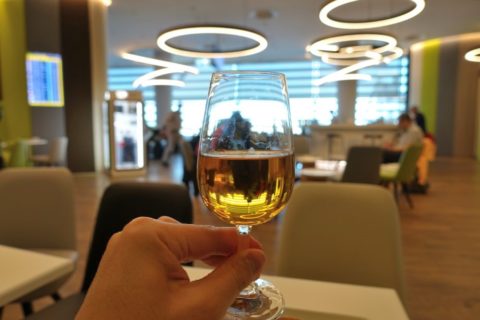 I didn't have my favorite Tawny, so I chose White, and it's a beautiful amber wine! When I drank it, it had a Tawny aftertaste and a little brandy taste, and it was quite delicious!
The taste is different from ordinary white wine, so port wine is delicious.
By the way, when I glanced at the bartender's hand, this port wine was from the brand called "Ferreira". This is a popular wine that can be bought at a supermarket in Lisbon for a few euros per bottle, but if it is non-age and has such a high quality taste, I would definitely buy it!
You can buy it on Amazon and Rakuten, so I would love to drink it while I'm in Japan!
This is a very substantial lounge with a shower!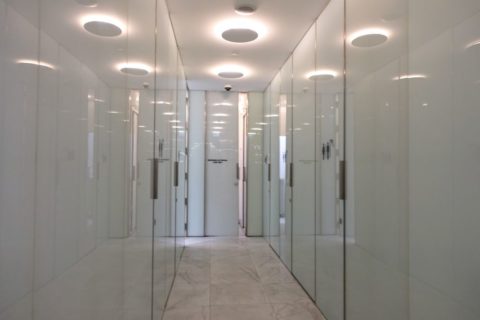 Also, this lounge has shower facilities, and the number of rooms is 5. There is no reception, but there is a staff room, so I think cleaning is done in its own way.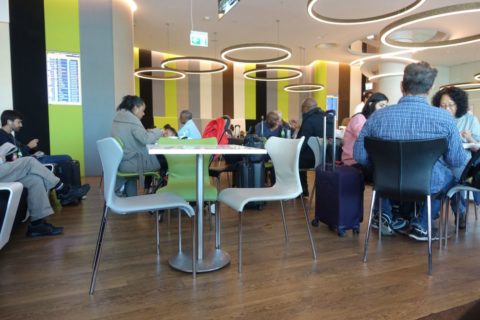 So, it's a super fulfilling TAP Premium Lounge where you can enjoy a delicious buffet, port wine and pastel de Nata! It was a very comfortable stay!
Next time, I will go to Budapest in Hungary with Portuguese air business class! I will report the seats and in-flight meals. → TAP Portuguese Airlines boarding pass! A 319 Lisbon – Budapest
♪I also recommend this link→Collection of AIRPORT LOUNGE Reviews Worldwide! Wine, buffet, Shower, etc.