From Lisbon, Portugal, to Budapest, Hungary, we will fly in the TAP Air Portugal  Business Class which won an ANA award!
Since there is no direct flight to Japan, there are not many chances to take TAP Air Portugal, but the in-flight meal was good and the response of CA was good! It was a very satisfying flight as there were menus unique to Portuguese airlines such as you can drink aged port wine!
※This article was written before the virus scandal. This will be updated.
Boarding TP 1252 from Lisbon!
The flight this time is TP 1252 departing Lisbon at 10:25. Even on domestic European routes, Budapest is quite far away, so the travel time is as long as 3 hours and 40 minutes.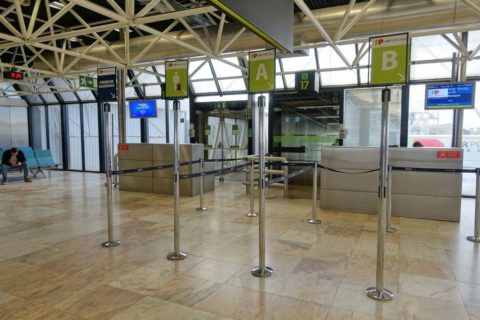 There are four boarding lanes, a PREMIUM BOARDING lane for business class and senior control, two economy-class lanes, and a priority lane for those who don't have a suitcase, which will follow PREMIUM.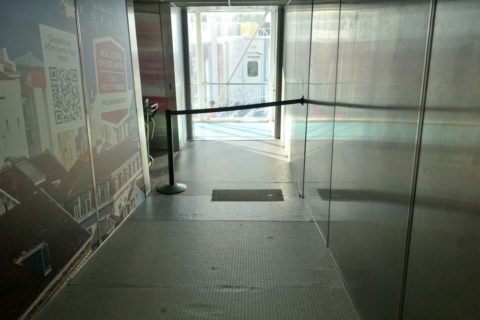 This time I boarded in the front line, but for some reason I couldn't proceed because there was a partition in front of the boarding bridge. … I thought it was a mistake and tried to break through, but the staff flew me with a terrible look and I was scolded (laughs)!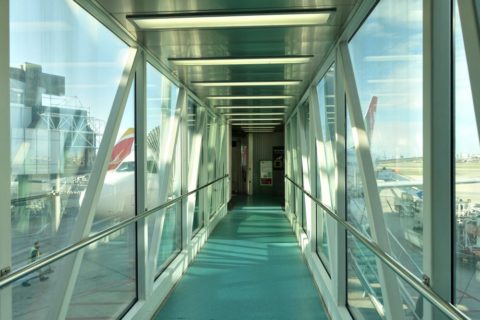 After waiting here for about 5 minutes, we were finally allowed to proceed to the plane, but the unkind priority boarding … If you want us to wait here, I think we should start boarding before we are ready …
3-3 array sheet of A319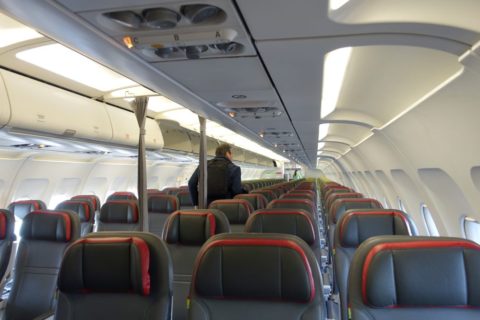 The aircraft for this flight is A 319. It is the most standard small plane among European domestic flights, with a seat arrangement of 3 -3.
Although it's business class, the seat specifications are exactly the same as those of economy class, but it's a system where only window and aisle seats are available and the center row seats are always vacant.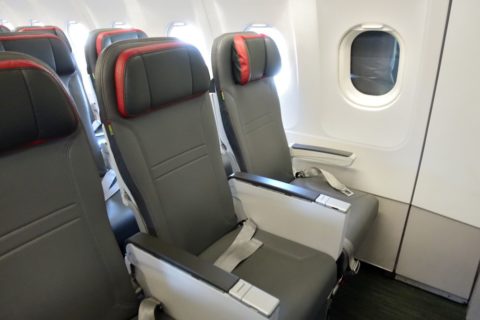 My seat is the first 1A. Originally, I chose 2A, but somehow it changed without permission. Since it is the first seat, there is a lot of space around my feet, but compared to large equipment, it is very small and I can't stretch my legs as much as I want.
The seat specifications are exactly the same as those of economy class. But the width of the seat is about 46 cm by weight, so there is room. It has a headrest that can be used by bending both sides, and it is a very high level seat for short distance equipment!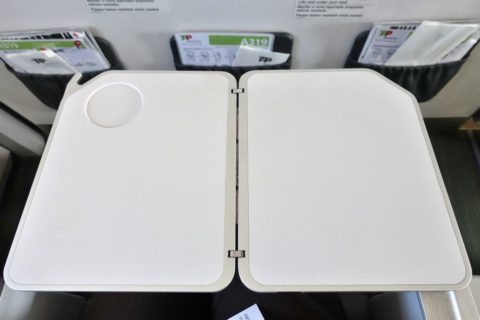 The table is the first column specification of the double fold. It will wobble when you open it, but it will be stable if you fold it in half.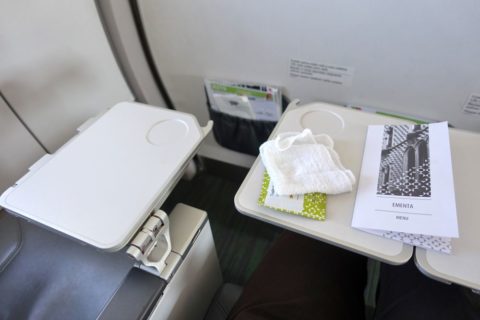 Also, on this flight, the first four rows were assigned as business class, but there were only five passengers including me, and thanks to that, I was able to use only one row of seats! Airbus doesn't have much room by the window, so it's nice to sit in the middle and use both sides as storage!
be served in-flight meals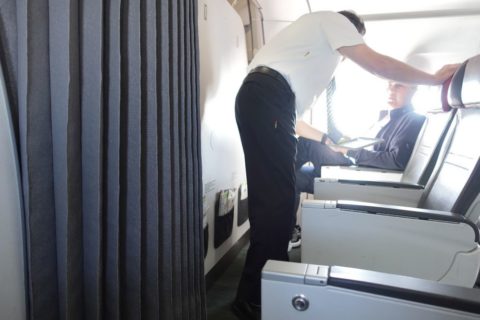 Now, the in-flight service will start soon after takeoff! This time, a male CA, who is thought to be the chief, took care of me, and I was in a good mood and dealt with it very well! I always feel that I should increase the number of male CAs at Japanese airlines.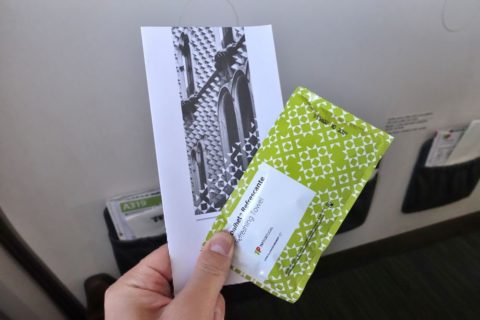 First served were the in-flight meal menu and a hand-wrung. The wet towel is a simple bagged type, but the inside is made of thick cloth.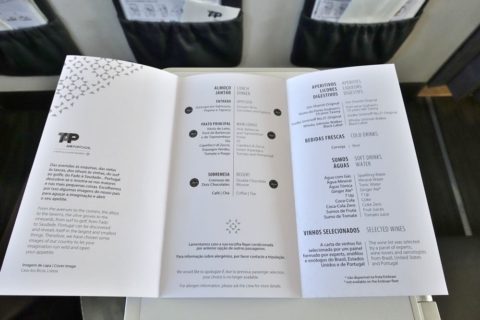 If you look at the in-flight meal menu, the center of the three-fold is the in-flight meal and the right side is the drink menu.
The meal consists of 3 courses of appetizer, main dish and dessert, and you can choose between beef or vegetable for the main dish. It says "LUNCH DINNER" so I think everything is the same except for breakfast time.
The port wine from 10 year old is delicious!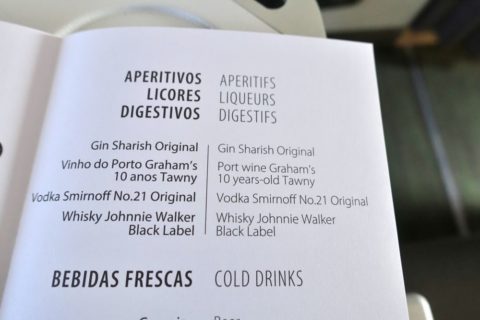 The alcohol menu includes beer, several liqueurs, and a separate wine selection list. Unfortunately, there is no champagne, but there is a 10 year-old Tawny port wine instead.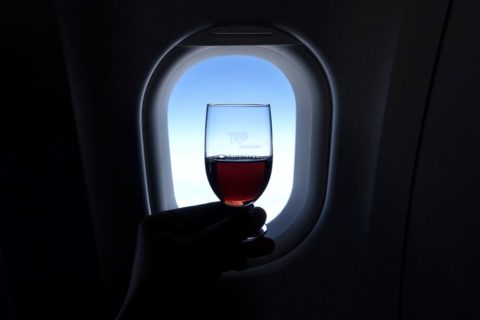 I had this "Graham's" 10 Tawny for a change, but it had a rich flavor and a long lingering flavor, so I always enjoyed the aged port wine! There is no doubt about this selection of port wines to drink at Portuguese airlines.
By the way, I can buy this Graham in 10 at a little over 3,000 yen at Rakuten, so it is good in terms of cost performance! It's much cheaper than buying expensive wine.
Very high quality in-flight meal!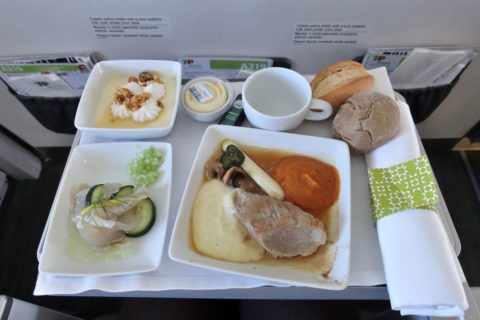 About 20 minutes after serving the drink, the in-flight meal arrived! It looks a little plain, but the volume is firm, and it is a rather luxurious in-flight meal for a European line.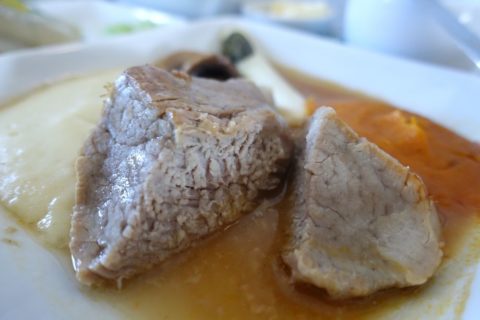 I chose beef (Veal, Barbecue and Topinambour Puree) for the main dish, but it tasted great! The meat is firm and has a nice texture, and the puree sauce of Topinambour is delicious!
The Grouper fish was used for the appetizer, but the sour taste of lime was good, too!
The dessert, on the other hand, is a chocolate mousse with two layers. It is not a match for the best sweets of Air France, but it is less sweet and the walnut flavor is a nice accent.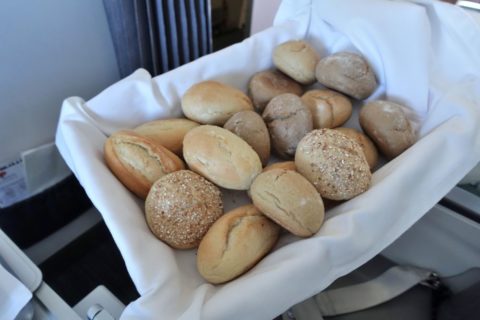 You can choose from 3 types of bread from the basket. This is also not as good as French bread, but it is good that you can enjoy the crunchy texture of any bread!
TAP Air Portugal with good service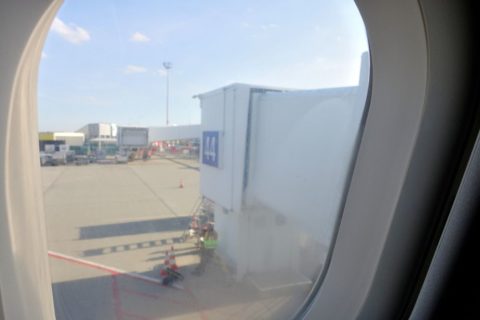 So, I was able to enjoy a satisfying flight in the business class of Portuguese Airlines! It was a relatively long flight of 3 hours and 40 minutes, but it was so quick when I was dazed with delicious port wine!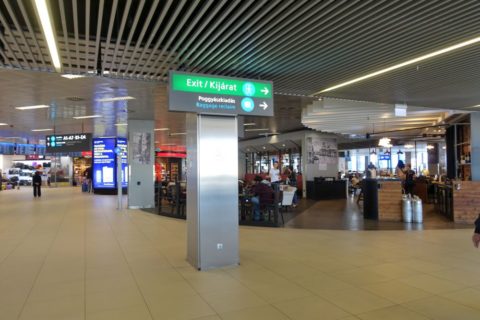 The lounge at Lisbon Airport was good, and the service of TAP Air Portugal shone in this flight!
However, after arriving at Lisbon Airport, … experienced some serious difficulties! I'll tell you about that next time.
♪Click here for a List of articles on "First Class & Business Class Airlines worldwide (Seat, In-flight Meal, etc.)"