The "ez-link card" IC card is essential for riding the Singapore MRT or bus. This time, I would like to see the place of purchase in Singapore Changi Airport and the difference from the standard ticket.
※This article was written before the virus scandal. This will be updated.
From T2 and T3 to the MRT station at Changi Airport
I arrived in Singapore by JAL at Terminal 1. I was going to take the subway (MRT) from here to the city, but I couldn't find any MRT station to look around.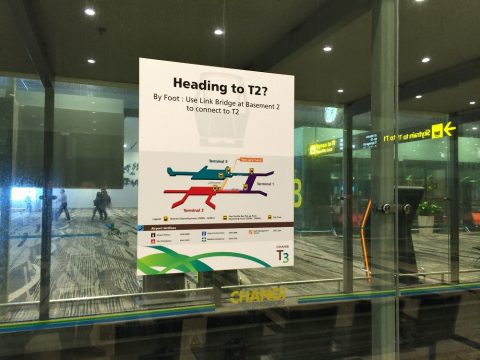 That must be the case. The MRT Changi Airport Station is not accessible from T1 and must be moved to T2 or T3. Moreover, there were not many places where the information was written, so I was quite lost when I visited for the first time.
Use the free Skytrain to move between terminals. I decided to go from T3 this time.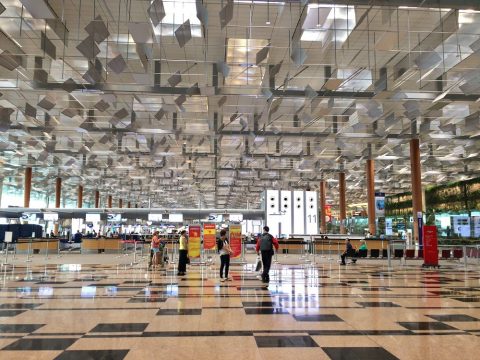 When I arrived, the main floor of Terminal 3 was amazing! It is a space with a ceiling with a novel design that continues for a long time. It is wonderful!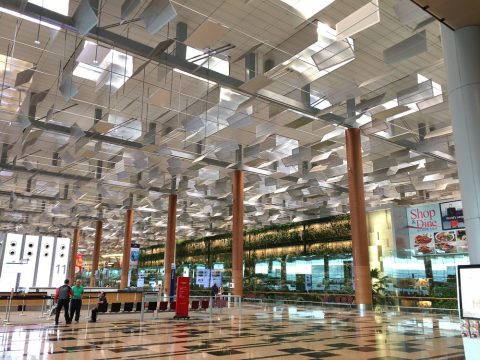 And even though it doesn't have a lot of lighting, it's still bright! It's very different from Haneda, which is so dim that you can't even recognize people's faces.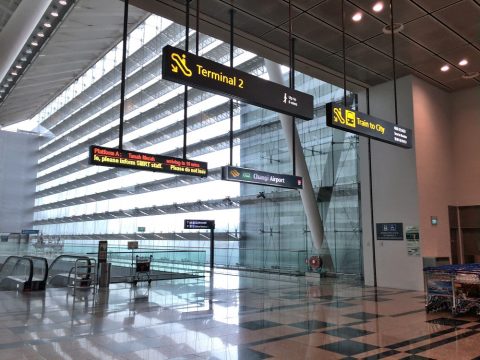 The MRT station is located between T2, so you go in the direction of T2 from here. There is an escalator to the platform floor, so you don't have to worry.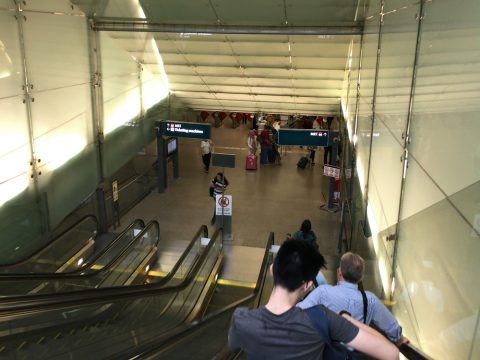 All that remains is to follow the guide and go down to the basement. It takes 15 to 20 minutes from T1 to get here.
Buy at the counter, no credit cards accepted!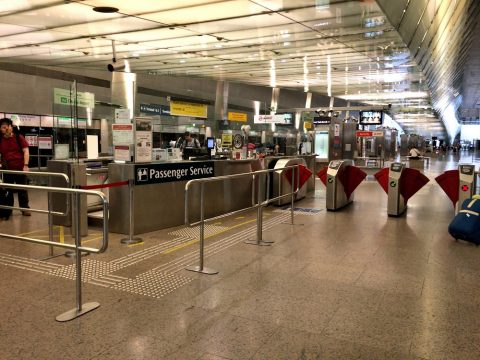 When you get off the escalator, you will see the MRT ticket gate, the platform, and the ticket office right in front of you. If you ask for an ez-link card, you can get one.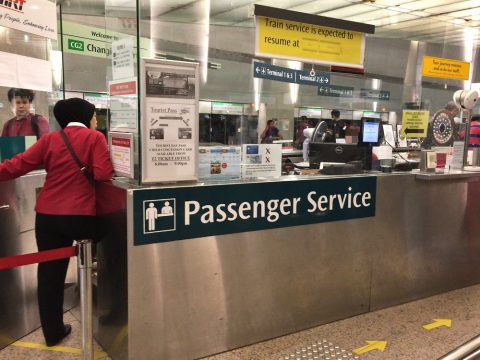 However, credit cards are not accepted, and I have used a $50 bill here before, but it was rejected beautifully. It is very inconvenient not to be able to buy it without small bills under $10 …。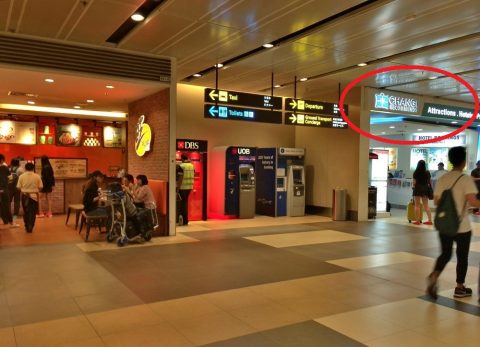 The ticket office is open until 8: 00 ~ 21: 00. If you arrive in Singapore during other hours, I have heard that a card called "NETS FlashPay" which has the same function as the ez-link card, is sold at the CHANGI Recommends service counter in the arrival lobby. (It is in each terminal, but in T1, it is on the right side of the ATM corner I introduced the other day.)
The Ez-link card is the same as Suica.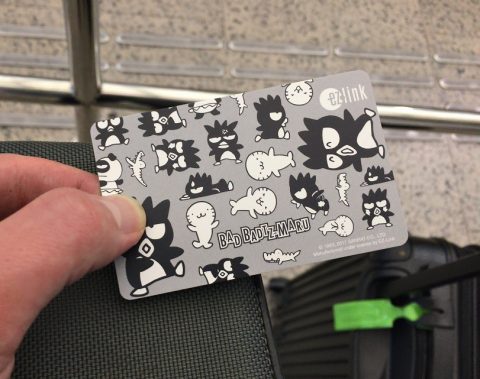 This ez-link card is an IC card similar to Suica, and it is used by recharging a certain amount of money (top up) in advance. These IC card type tickets are increasing in every country these days.
The card sells for $12. Out of this, $5 is a deposit and the remaining $7 is available as a freight. You can use it in the same way as Suica, and when the balance is low, you top it up at the ticket vending machine.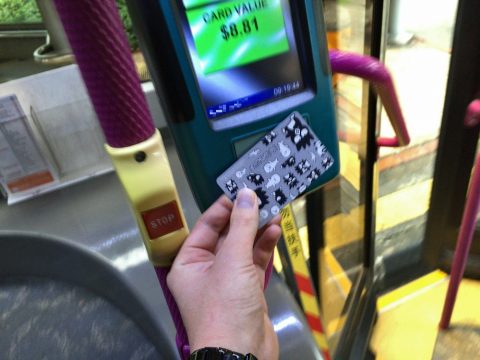 You can also use the ez-link card to get on the bus. Without it, you have to pay in cash every time, which is troublesome, and moreover, you have to prepare small change because the fare box of the bus does not give change, so it is very inconvenient, so the ez-link card is a must.
It is possible to refund the charged amount, but the deposit will not be returned. The card is valid for 5 years, so it's better to keep it for your next trip.
Standard tickets are a good deal for short stays?
The ez-link card is convenient, but since it requires a non-refundable deposit of $5 and a top up of $10, if you stay for about 1 ~ 2 nights or never visit Singapore again in the future, I think the standard ticket (Standard Ticket) will save you money.
The standard ticket is card sized cardboard. Once you purchase the ticket, you can reuse the ticket (thick paper) up to 6 times. This is a system that is not available in Japan. When you use it for the second or sixth time, you charge the fare of the section you use to this card in the same way as you top up the ez-link card. That way you'll get a discount of ¢10 on your 6th ride.
I have to go to the ticket machine every time I get on the train, but there is an advantage that I don't have to waste money by depositing $5 or charging in units of $10 like the ez-link card.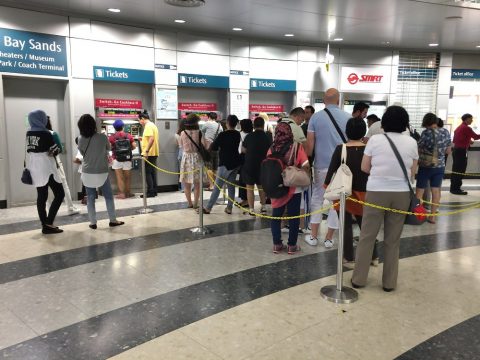 However, some stations are crowded with ticket vending machines. As far as I saw during this stay, there was always a line at Bayfront which is the nearest station to Marina Bay Sands, HarbourFront which is also the entrance to Sentosa Island, etc., so it is very troublesome to have to wait in this line every time.
It may be wiser to pay a deposit and use an ez-link card to travel smoothly here. I used the bus more often than the MRT this time, so I needed an ez-link card even more.
Next time, I would like to see how to top up an ez-link card at a ticket vending machine.
♪Click here for a List of articles on "Singapore"