After arriving at Singapore Changi Airport, I was hungry (I don't usually eat breakfast.) which was unusual, so I decided to go to the food court where I had received word of mouth information. This is a restaurant for the staff working at Changi Airport, but the price is cheap and the variety is abundant, so tourists can enter without any problem. I heard that there is a restaurant with good taste, so I'm looking forward to it.
※This article was written before the virus scandal. This will be updated.
How to get to Staff Canteen on the first basement floor
The cheap and delicious restaurant is located on the first basement floor of Changi Airport Terminal 1. I just arrived at T1 by JAL, so it's convenient.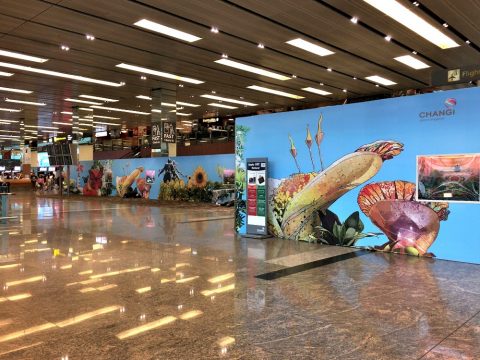 There are several ways to get there, but I used the way to access from the main floor on the second floor. The arrival lobby is on the first floor, so if you want to go straight from Japan, go up one floor.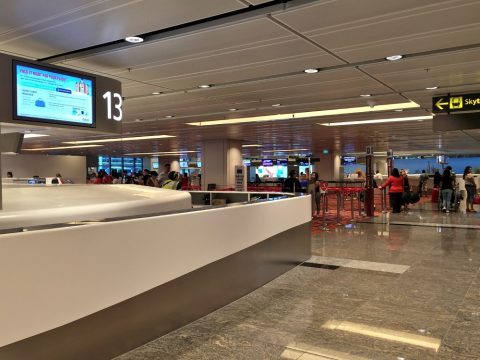 Then, go to counter 13 at the end of the main floor where the check-in counters line up.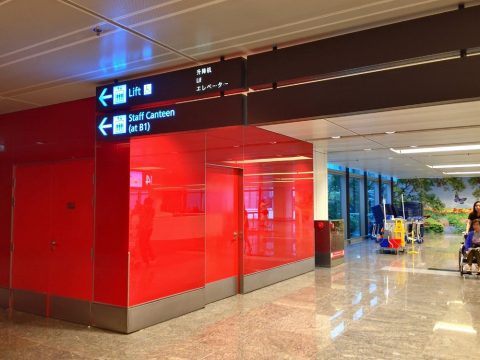 Follow the sign that says "Staff Canteen (at B1)" on the wall. The red wall is the landmark.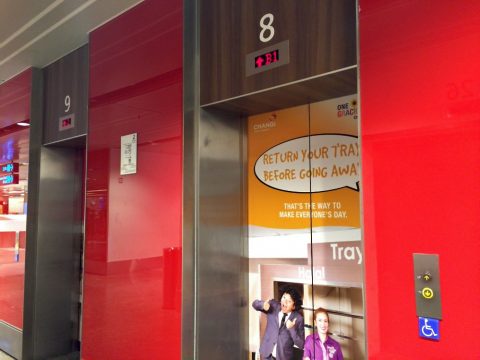 Then, there are elevators on both sides of the passage, so you use them to go down to B1. I hesitated a little because it doesn't have an atmosphere for tourists, but there was another person with a suitcase at that time, so don't worry.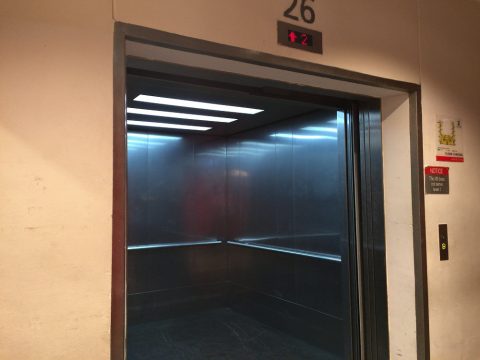 Some of the elevators had large fronts like this, and local people usually used them. I don't see any problem riding this.
quite a large food court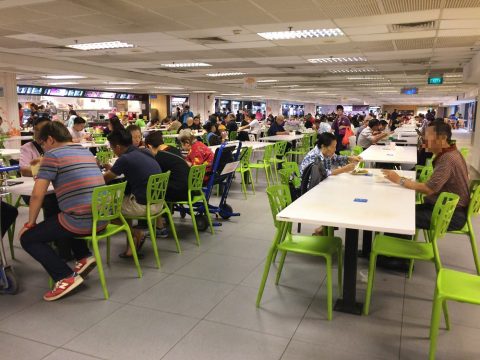 When you get off the elevator, there's a spacious food court right there! Since it was around 9 AM, it was crowded with many people. As it was a staff dining room, most of them looked like employees, but there were a few people who looked like tourists.
It doesn't look as clean as the departure lobby, but it seems to be kept clean.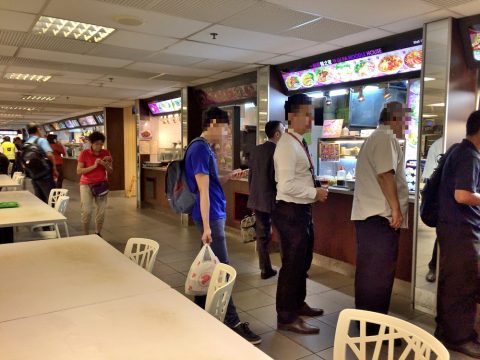 Stores are lined up around the floor. I think there were about 30 stores. There are a lot of customers, but the shops with a long line are limited. In other shops, the shop owner seemed to have time.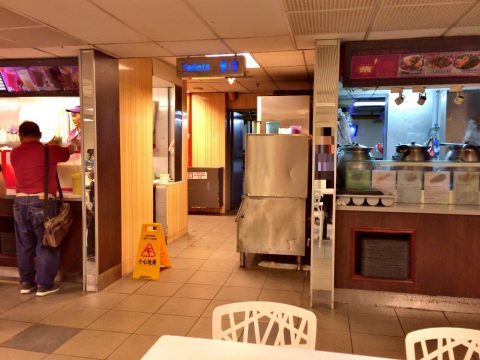 There is also a toilet here.
Order method and charge system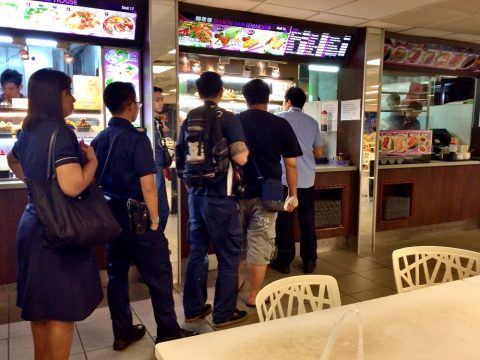 If you go to Hawkers in the city, there are many unique shops, but each shop has the same design. Shops are numbered like "Stall 22", so it might be convenient to remember the shop with the number.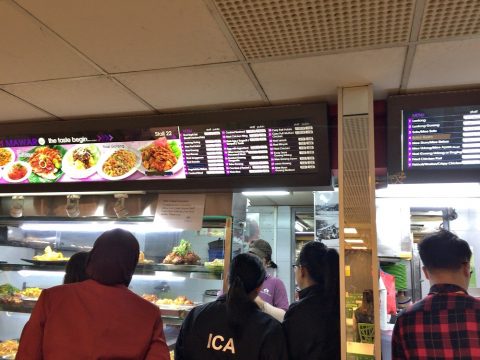 There are different ways to order dishes depending on the restaurant, but there are 2 kinds overall. One is a restaurant where you specify the main dish and order your favorite side dishes. The other is a restaurant that sells a la carte dishes such as "noodle".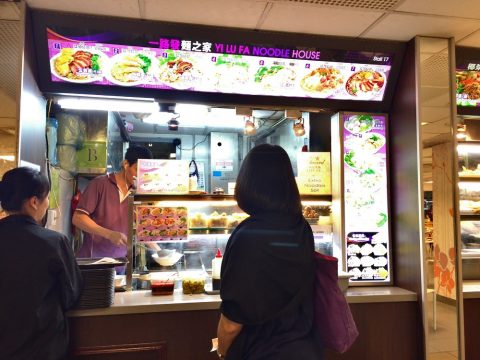 I decided to go to a restaurant called "Ichifuhatsu Mennoya YI LU FA NOODLE HOUSE (Stall 17)". There were only a few people in line, but you can order food by number here, so you don't have to worry about the language barrier.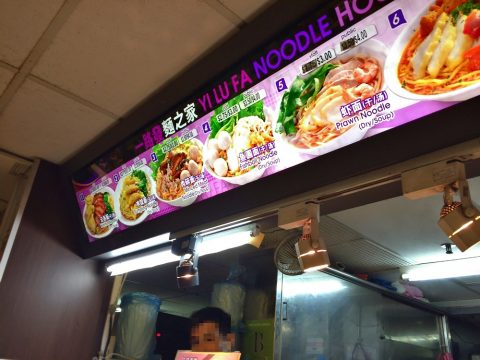 This is a noodle shop. You can choose from a variety of noodles such as wonton, gyoza, fish balls, etc. Dry (No soup) or Soup. When you look at the price display, it is divided into "staff" and "public". This is the fee system of this employee cafeteria, and it seems that it is offered to employees at 2 to 30% lower prices. Of course, our regular customers will get a public price.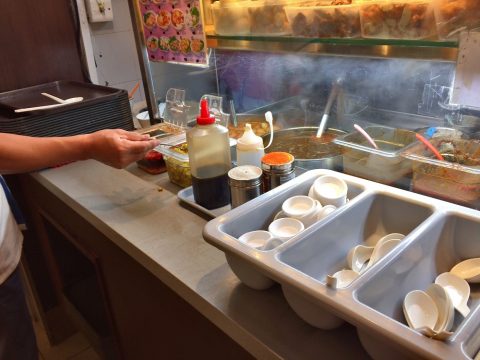 You don't get a number ticket, but wait for 1 to 2 minutes to get your food. Please help yourself to condiments and dishes.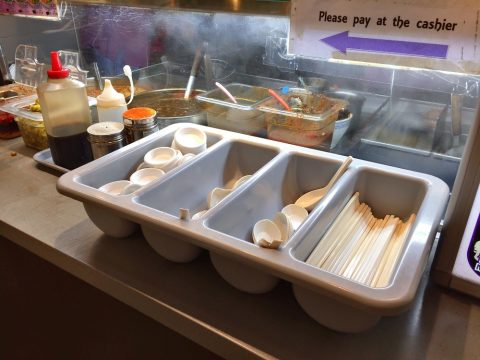 Chopsticks with Chinese spoon and condiment sauce were also prepared. The cleanliness of the tableware is not bad, but …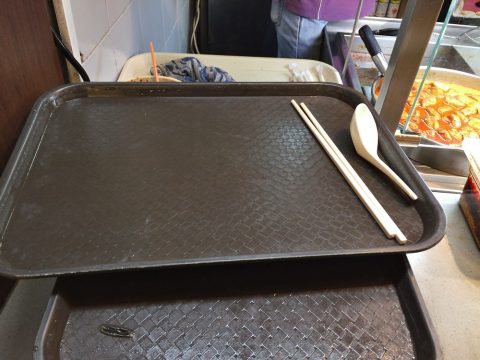 The tray is not so good …。 If you have a tray of this quality in Japanese restaurants, you can avoid it. If you are concerned, it is recommended to bring wet tissues.
How does Wanton Noodle taste?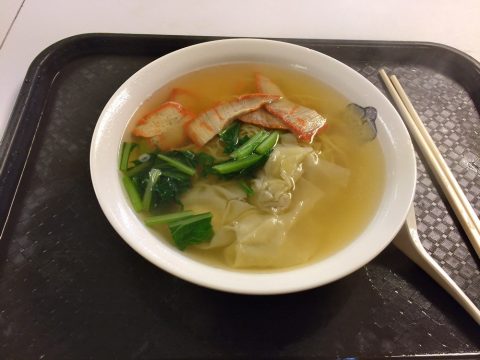 What I ordered was wonton noodles. I thought the price was $4, but I handed $5 and got $1.5 back. I saw it for the purpose that it is very different from the one with 6 big roasted pork fillet in the picture on the menu. …。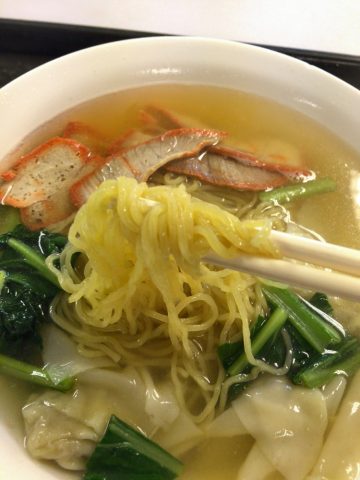 But the taste is pretty good! The light salty soup is very light, but the soup mixes well with the noodles and is delicious. This noodle with the flavor of egg noodle is also my favorite taste.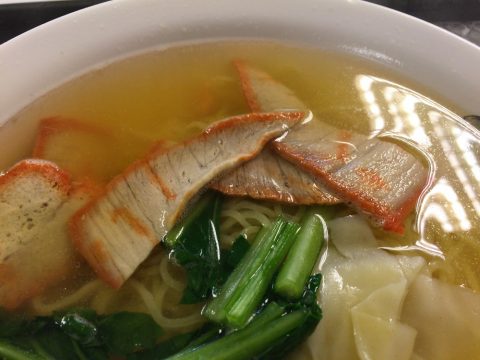 The red streaked meat is a little dry, but when you chew it, the flavor comes out. It looks very different from the menu picture, but the taste is not bad. But the wonton has a little foreign flavor. It's nice and chewy, but the garlic is very strong, so I think it's a taste that differs from your taste.
Even so, the quality is excellent at about ¥320! It may have been the most delicious hawkers I've ever visited in Singapore.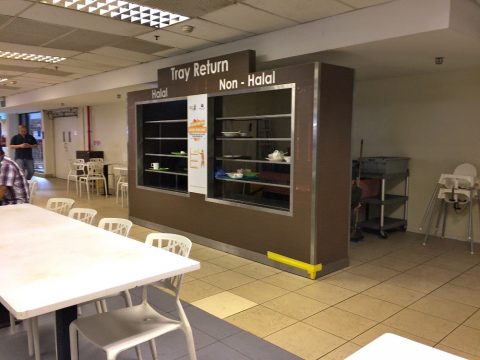 After you finish eating, please take the dishes to the return box.
Cheap and delicious staff cafeteria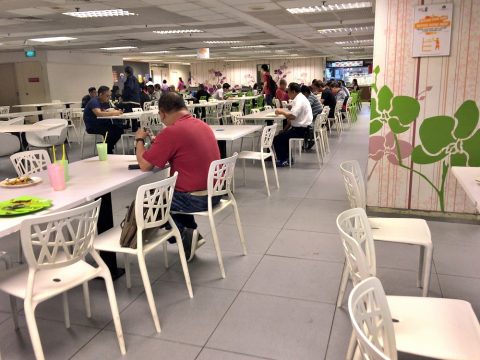 I didn't know there is a place where I can eat cheap and delicious noodles at an airport where the price tends to rise. It is easily accessible from the departure lobby of Terminal 1, so you can drop by before departure or after arrival, and the atmosphere is comfortable and the price is low! I think the taste differs depending on the restaurant, so you won't fail if you choose a restaurant with a long line.
I recommend the staff cafeteria at Singapore Changi Airport where tourists can enter!
♪Click here for a List of articles on "Singapore"