Known as a city-state, Singapore has a lot of nature created by the population, and "Southern Ridge" is one of them. There are a lot of rare birds in the urban jungle with promenades, and it's a fun place to just walk!
I will report the walking experience in such a natural park, which is accessible from the city center.
※This article was written before the virus scandal. This will be updated.
Harbour Front Nature Park
Harbour Front Station is located at the southern tip of Singapore Island. It also serves as a gateway to Sentosa Island.
As the name "harbor front" suggests, the south side of the station faces the sea, but the north side of the station is covered with forests, and there is a promenade called Southern Ridge.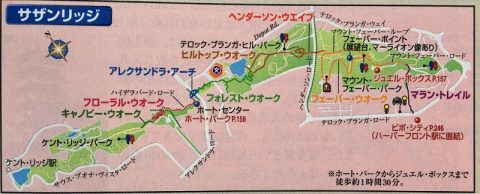 The promenade in Southern Ridge has various names such as "Faber-Walk" and "Forest Walk" and changes as you go along. This time I left Harbour Front Station and walked to Forest Walk.
make one's way along an iron trail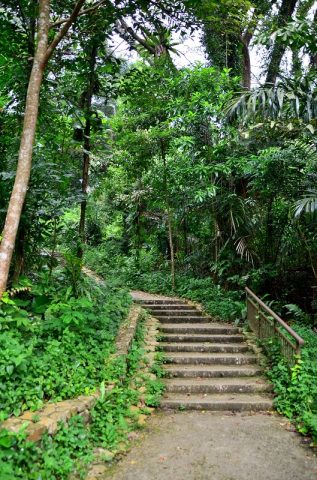 As soon as you leave the station, you'll find the entrance to the forest. I can't believe that this place is only 4km away from the center of the city, so it is full of unexplored regions!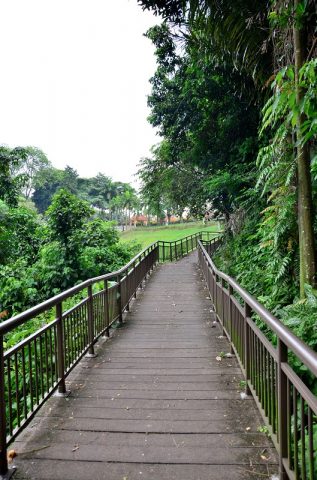 Like this, the promenade with the iron fence continues forever. It's easy to walk, but there are many stairs on the way, so it doesn't seem to be barrier-free.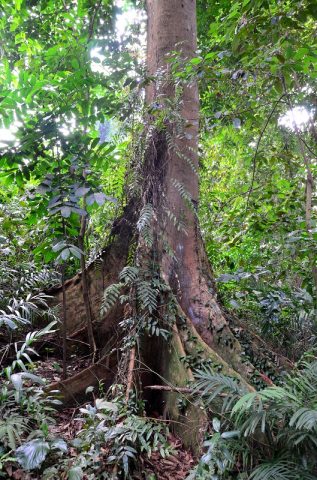 There were many plants unique to the tropics along the route. trees having roots like this plate. This is the same as the Saxifrage tree I saw in Iriomote Island. Is it like that?
Discovered native tropical birds!
Like the plants, there were a number of birds that we rarely see in Japan in Southern Ridge.
There is a guide board along the way, which shows the birds you can see here. The Japanese names are as follows.
Asian Glossy Starling
Barn Owl
Collared Kingfisher
Common Flameback
Oriental Dollarbird
Scarlet-backed Flowerpecker
Some of them come to Japan as summer birds, but I don't have a chance to see them.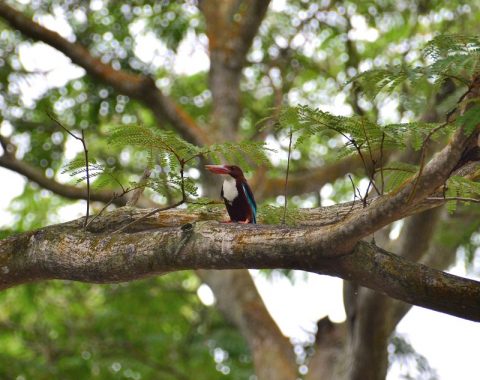 I found it too! … is not listed on the sign, this is the Aoshobin. The big beak and cute standing figure of the bird were so humorous that it was hard to understand from the front, but the blue feathers which is the origin of the name were vivid colors and stood out.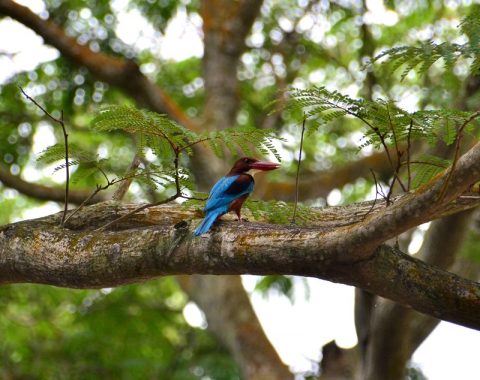 There is a record in Japan that it flew as a "stray bird". I think you can often see "red cypress" among kingfishers in Yaeyama region.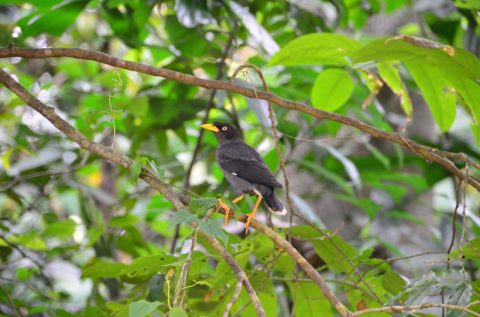 And this one is also not on the guide board. It looks like a crow at first glance, but it is smaller and cuter.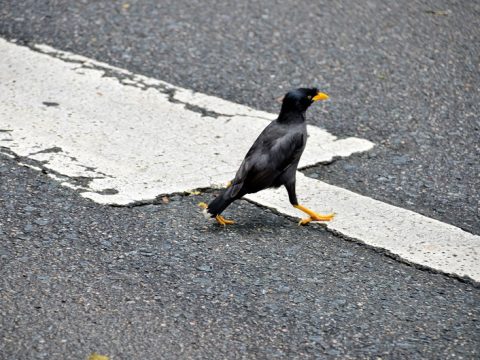 Even though he's a bird, he doesn't fly very much in front of me. He jumps and walks on the road with his characteristic movements. It's so funny!
But this bird, which lives throughout Singapore, is a nuisance because it appears to be hawking the streets, pecking for food. I think I saw it only here during my stay, but in that sense, it's no different from a crow?
slightly odd viewpoint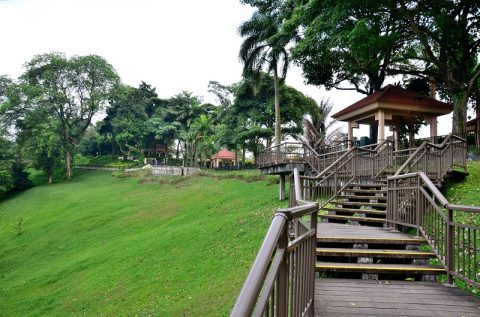 As we walked down Southern Ridge, there were viewpoints in places that contained little rest stops.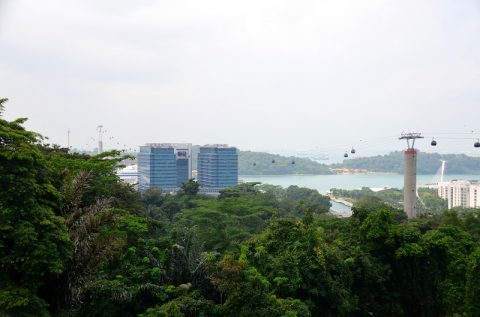 From the early Faber-Walk viewpoint, you can see the ropeway connecting Sentosa Island. This is called "cable car" in Singapore. An 8-seater gondola connects the city in 15 minutes.
The combination of a modern building in the depths of tropical trees and a ropeway … that stretches far ahead is a strange one. It has a strange atmosphere.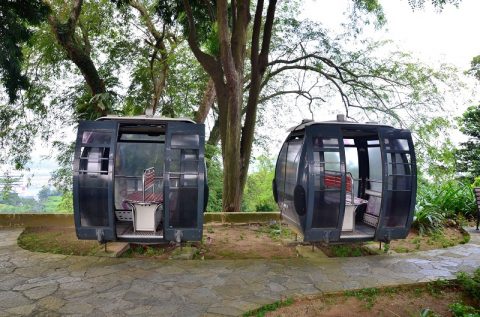 Near this viewpoint, there is a gondola that was used before. This place seems to be a rest area, but the fact that there is no graffiti shows how safe it is. If you are not good at it, there are graffiti in places like this in Japan.
Bridge "Henderson Wave"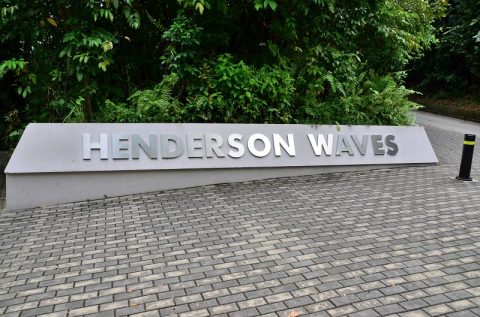 About 45 minutes after I entered Southern Ridge, I came across a sign that said HENDERSON WAVES and the bridge beyond.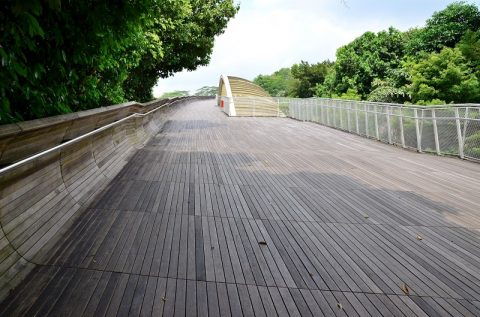 There are several bridges over the road in Southern Ridge, and its innovative design is also worth seeing. The Henderson Wave at the end of the Faber-Walk features a wavy, undulating design that makes it the highest promenade in Singapore.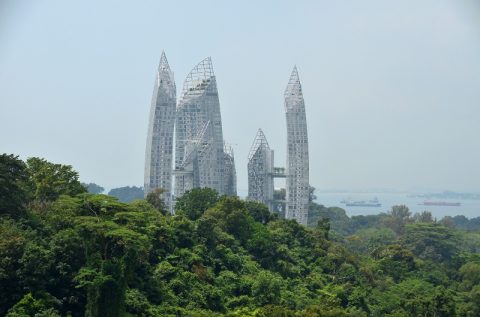 The view from here is also bizarre …。 I don't think you will be able to see the view of a novel high-rise building protruding from the forest. This is a high-class designer condominium called "Reflections" along the coast. I heard that the average rent is over 500,000 yen!
Anyway, it's hot! You need to rehydrate!
It took about 2 hours from the Harborfront station to the end of the Forest Walk …, and it's just hot! Unlike walking in the woods with lots of negative ions, walking in Singapore all summer is pretty tough.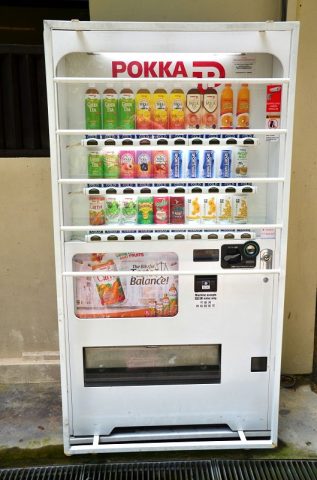 I was released from my daily desk work and it was relaxing, but rehydration is essential! There was a vending machine made in Japan on the way, but there is a doubt about the braking. …。 I think it is desirable to buy bottled water at a supermarket in advance and bring it.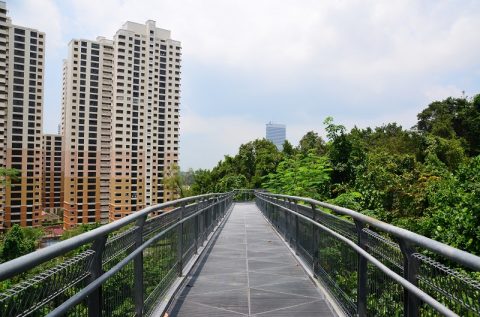 Still, it's worth it to see rare plants and birds and to enjoy the unexplored feeling of the city for free. I didn't feel any insecurity at all, and I think it's a good idea to visit there to relax when you are tired from the crowd.
♪Click here for a List of articles on "Singapore"