A night safari in Singapore that is popular among Japanese tourists. In addition to walking around the park, there is a course where you can ride a tram to see elephants, etc. This time, we would like to see how to ride the tram at a reasonable price, such as when it is crowded and how to see animals.
※This article was written before the virus scandal. This will be updated.
fire show in front of the entrance
I arrived at the night safari around 19 o'clock. It was after the sun had set, but the sky was still bright.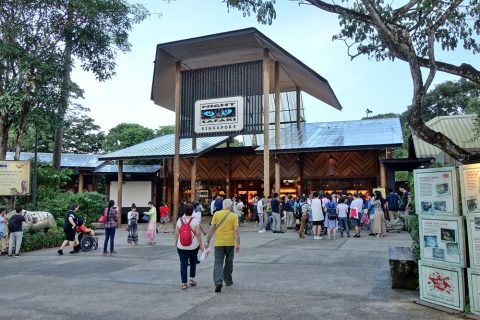 Night safari is literally an animal theme park at night, but I got word of mouth that it's good to see animals when it's bright. The entrance starts at 19: 15, so it's ideal to enter at the same time as the park opens.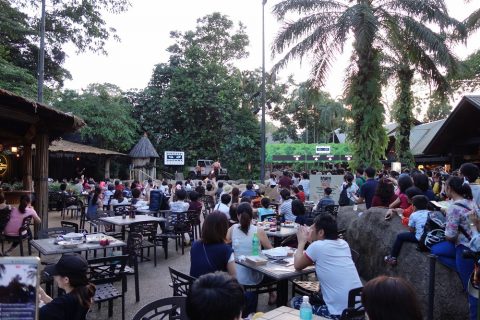 There is already a queue at the entrance! Next to it is a performance.
According to the brochure, this is a free show called "tumbuka tribal dance" where you can see acrobatic performances using flames. It is held every 1 hour from 19 o'clock every day except for rainy days, but you may not be able to see it when it gets dark. You may enjoy watching it while eating.
"7:15 enter" is very crowded!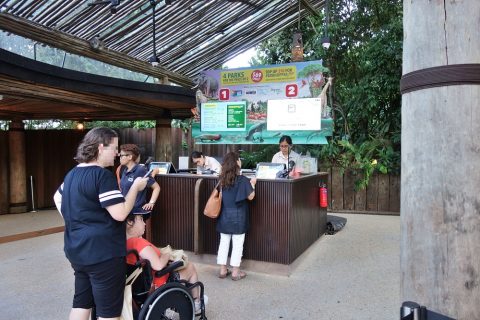 You buy a ticket at the counter. If you buy a ticket for the night safari on the website, you can get a discount, but you have to specify the date and time in advance, so it's a bit risky considering the weather and the schedule change.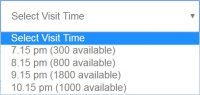 As you can see, the admission ticket for the night safari has 4 times, and you cannot enter until the designated time. Of course, the most popular is at 7: 15, and it is sure to sell out early in the peak season.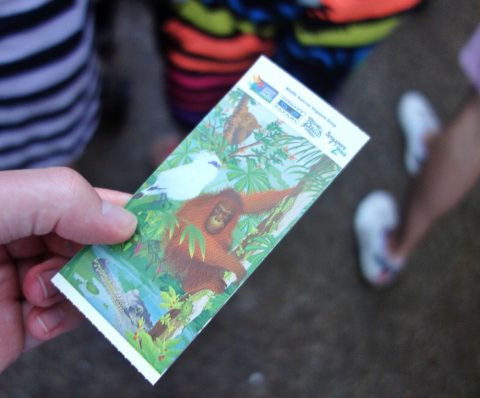 However, I was able to buy the 7: 15 ticket at 19 o'clock on this day. According to the website, it seems that the 7: 15 designated advance sale is limited to 300 pieces, but even if it exceeds that, the same day limit is reserved separately. So, even if the 7: 15 tickets were sold out on the website, you might be able to buy the 7: 15 tickets if you come early on the day.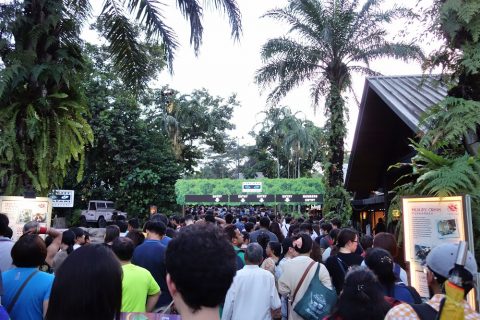 It's true that there are more than 300 people in this crowd. I don't think you should give up and buy a ticket after 8: 15 in advance.
be forced to take a picture of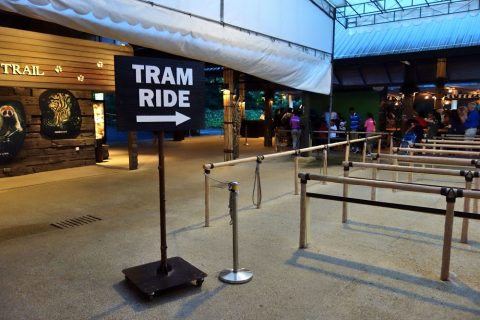 When you pass the entrance gate, there is a tram stand. If you want to go on foot without tram, you can pass this side and go toward "Wallaby Trail" or "Fishing Cat Trail".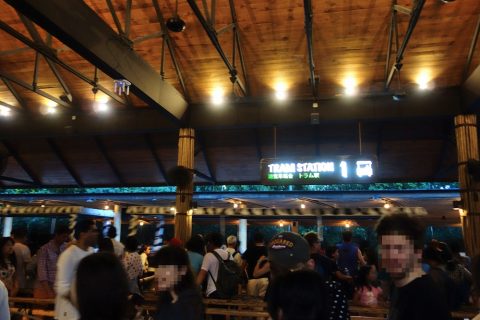 A tram is a way to look around an animal while listening to an automated voice. It passes through areas that are not accessible on foot, and especially large animals such as elephants can only be seen by trams, so many visitors take trams first.
The explanation is in English, but there is also a Japanese tram. However, in addition to the limited number of trains running, it is troublesome as it requires a separate reservation …。, so I decided to take a common English tram this time.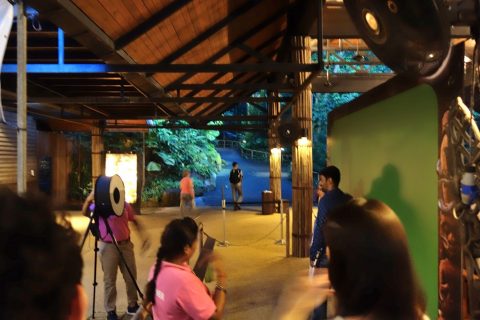 While I was waiting in line for the tram, there was a place where I was taking pictures. It seems that people in line are photographed in groups and sold later. It's a little bit annoying to be on a solo trip like this, but by chance the person standing in line in front of me (Probably traveling alone) was taking the picture, so I reluctantly decided to take the picture …。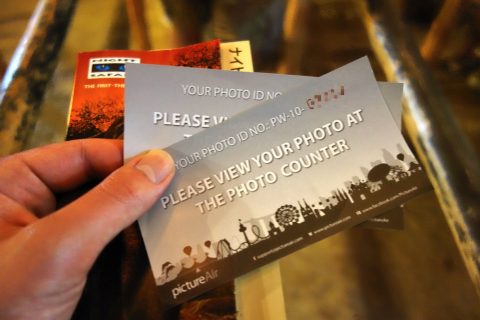 You can get a numbered ticket like this after shooting. Take this to the counter where you get off the tram later and buy the picture. Of course I did not buy it, but this kind of method was used in some dreamland …。
The tram is wheelchair accessible.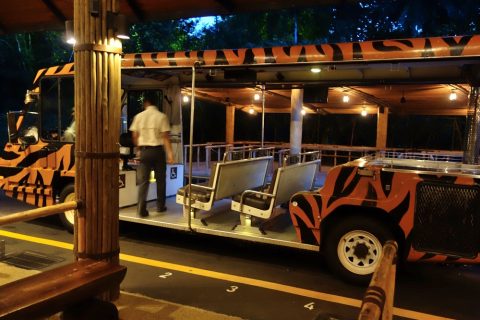 Now, the procession advanced and in about 15 minutes the tram ride was completed. The tram consists of about three cars and each car has four long seats for four people. At this time, it departed about every three minutes.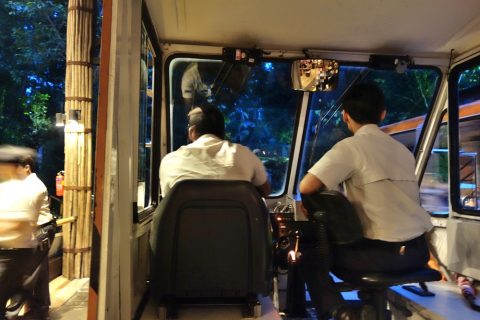 I was taken to the first seat by chance! This is not the place you can sit even if you try. And since it was on the aisle side, the visibility was excellent.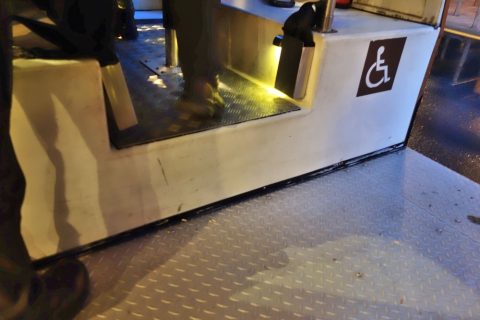 The front is a wheelchair space like this. There were no wheelchair users at that time, so the feet are wide and comfortable! This is helpful as the travel time is about 40 minutes.
Photography is too dark!
By the way, I was thinking of taking pictures of big animals such as elephants and giraffes from a tram, but this is quite difficult …。 It's already dark, so I can't get a shutter speed when I take pictures while moving on a tram, so I get blurry images.
It goes without saying that flash photography is strictly prohibited, but the camera and the smartphone's LCD screen are very bright in a dimly lit car, so it won't bother the people around you. There were some people who tried to minimize the backlight on their phones, but they were having a hard time taking pictures of blazes, so it's probably best not to use trams (Can I make it into a video?).
By 21 o'clock, it's already empty.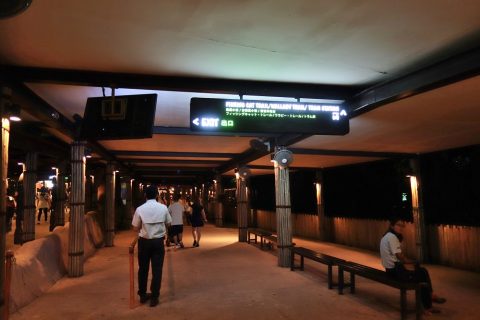 The 1 week tram lasts about 40 minutes. You will be getting off at a different place from the bus stop, so you cannot ride continuously. At this time, if you go to the exit that says "EXIT", you will leave the night safari, so if you want to go on a walking course, head for the tram station again.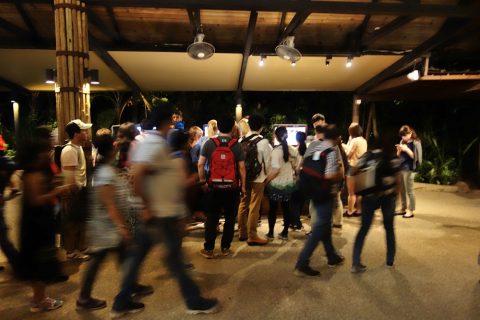 When you get off the tram, there's a crowd of people at … and, yes, this is the photo shop you just took.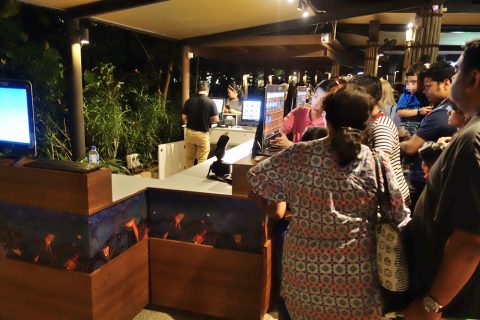 The person in charge is carefully selecting photos using a touch panel. I couldn't check some of the pictures, but I guess it would cost about 1,000 yen each.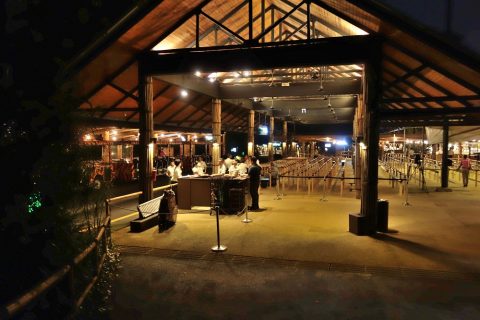 Also, after walking the walking course after this, I came back to the tram stand at around 21 o'clock, but there were almost no passengers and the rattle … was closed. If you come at this time, you can ride without waiting at all, and it is almost like a reserved car.
Summary: How to ride a tram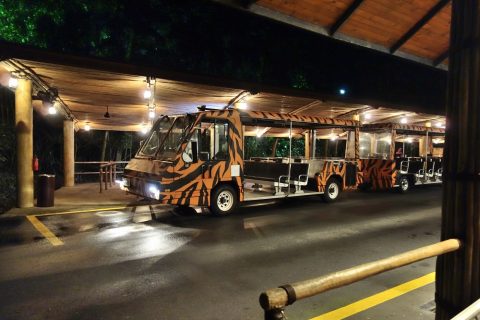 This time I arrived at the night safari at 19 o'clock and got on the tram immediately, but I ended up getting on the tram around 19: 50. It was already dark, and the animals looked like "in its own right". In order to get on a tram with a good view of the animals "still light time" you may have to stand at the head of the 19: 15 waiting line to get on the first train of the tram.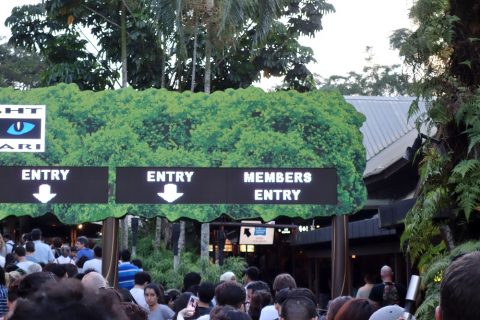 At the latest one hour before opening, if that is not possible, I thought it would be better to visit a little more slowly avoiding the busy time zone around 19 o'clock. Around 21 o'clock, there were only a few people on the walking course (It depends on the season.), so I think you can enjoy it more smoothly.
♪Click here for a List of articles on "Singapore"