There is an outdoor food court called "Makansutra Gluttons Bay" in Singapore. This is a place where you can enjoy the taste of a restaurant selected by a Singaporean gourmet book while looking at the night view, but when I went there to have dinner, it was packed to the full!
It was not possible to eat here because there were no empty seats, but I was able to enjoy the nice atmosphere, so I would like to introduce the state of the street stall.
walk through the night view of Marina Bay
The concert by the Singapore Symphony ended around 22 o'clock. I head for the nearby food court "Makansutra Gluttons Bay" for a late dinner.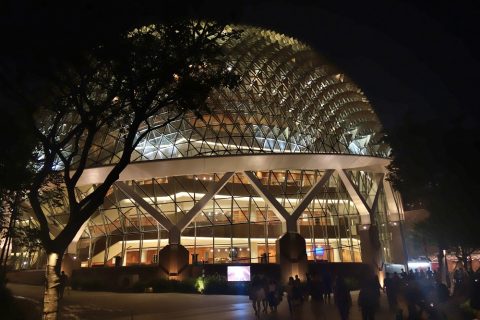 The Esplanade where the concert was held is also lit up at night. It looks like a planet with a spiny hat. The esplanade is elliptical, so it looks different depending on the angle.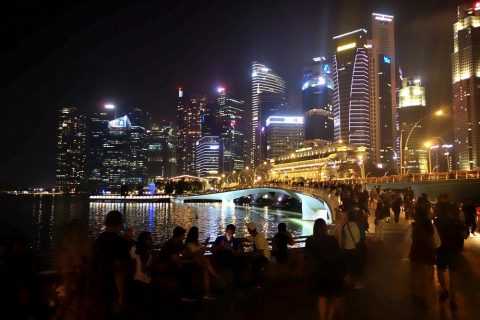 The night view of Raffels Place is here. The Jubilee Bridge, which leads to the Merlion Park, is also lit up from the pier and is very bright!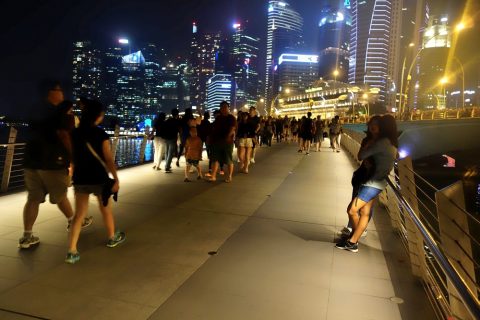 As for the way to enjoy the night view, if you walk on the bridge from here to go to the Merlion Park, you can see the skyscrapers in the background and I think it's the best, but the road is wide so you can walk more slowly than you think?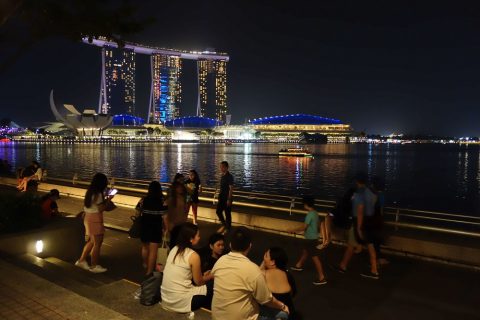 Also, it is good to relax at the promenade along the bay. In addition to the illumination of the Marina Bay Sands, you can also see ships going to the sea.
Singapore Gourmet Book "makansutra"
On the way to "Makansutra Gluttons Bay", this is the food court where shops selected from Singapore's gourmet book "makansutra" gather.
Unlike Michelin, makansutra is a booklet that mainly introduces B-grade gourmet. Looks like every other year, not every year? for more information. I checked if it was on Amazon and only the 2013 version was on secondhand at this time …。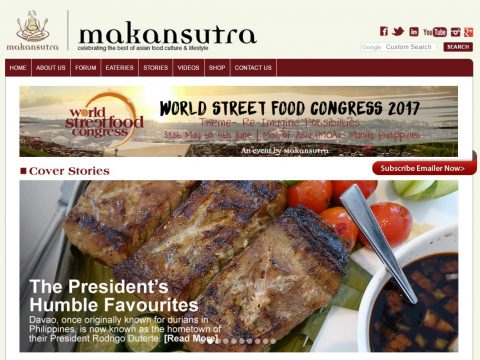 However, makansutra also has a website where you can browse shop information. In Singapore, "香港油鶏飯・面" a food stall in Chinatown, was awarded a star in Michelin, and such gourmet books are helping to raise the standard of food in Singapore.
Location of Makansutra Gluttons Bay
This is where the "Makansutra Gluttons Bay" is. It is an excellent location facing Marina Bay, but it is a little far from the shore, so the seats where you can see the sea seems to be limited.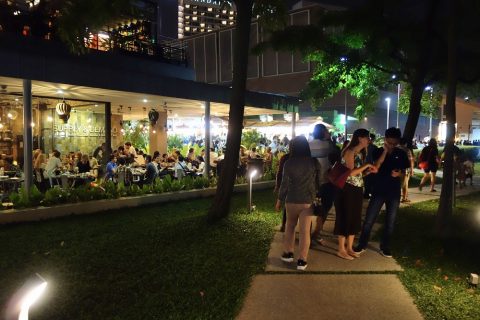 This area, which continues from Esplanade, was crowded with many other restaurants. This day is Saturday, so all the shops are full.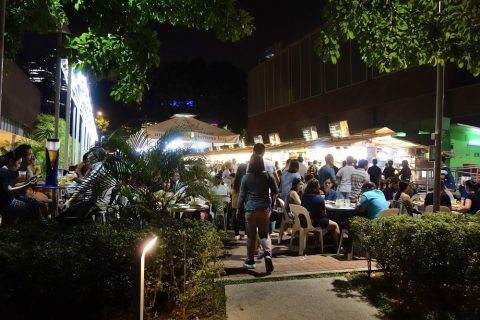 When I walked, I saw a bright tent. It looks like this is Macentra's food court.
jam-packed street stall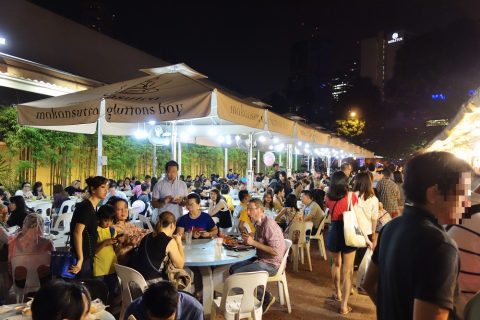 When you enter the tent, you will find table seats under the vertically arranged tent, and stalls are lined up on the opposite side. Compared to the street stall areas in town, there are many lights and it is very bright. Even so, there are so many people ~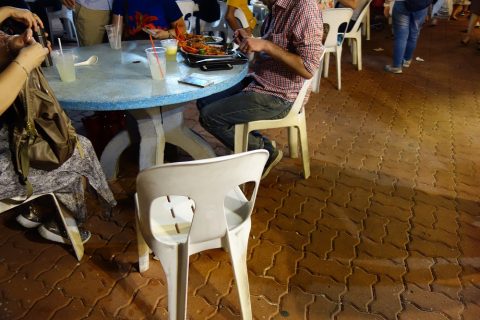 I looked for a seat, but of course I couldn't find one. I rarely find a vacant seat, but there is always a tableware I haven't eaten yet and I have to give up on using it …。.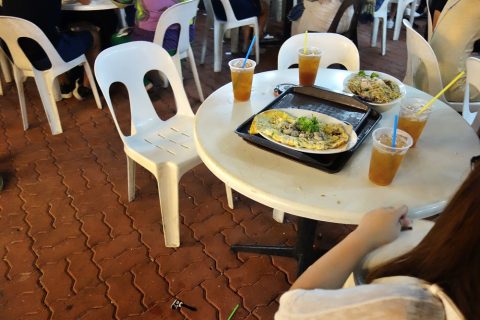 Looking at what everyone is eating, it seems that there are many dishes on large plates. It might be a good place to have fun with a large number of people rather than eating alone.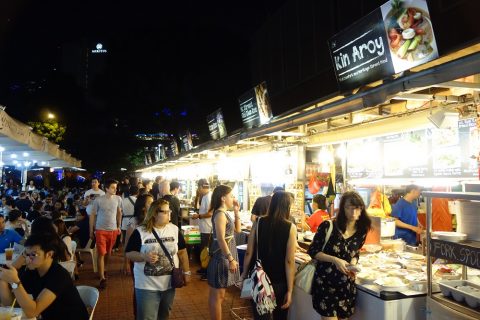 I gave up eating here, but let's take a look at the menu of each restaurant to see what kind of food we can eat. The total number of stores in Macentra (stall) is 12, which is a bit small.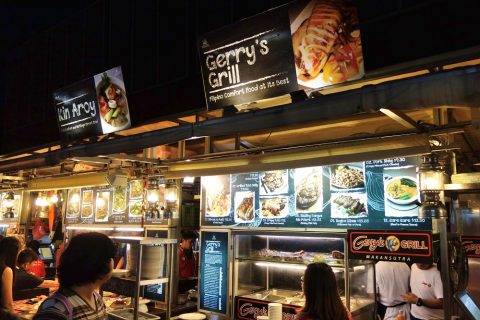 The lineup of dishes consists mainly of local standard dishes such as "Satay" "Mi Goreng" and "Chicken rice". In addition, there was one drink shop and one sweets shop.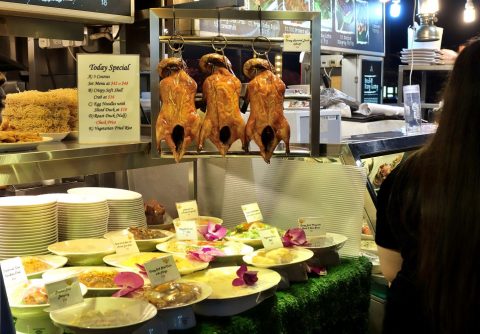 Some restaurants serve set menus as a course. At this Peking duck restaurant, there are two kinds of duck, $42 and $48.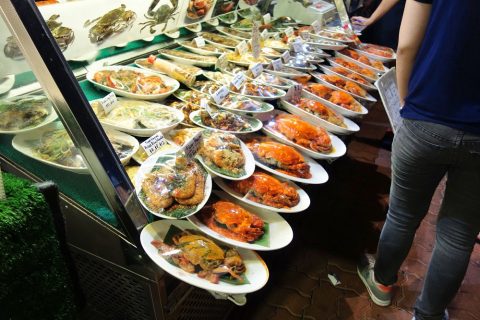 The average price of a la carte dishes ranges from $15 to $20 per plate at any restaurant. There are some restaurants that serve dishes very dynamically, and I have an impression that each restaurant has a large portion of one plate. It may be a little spicy to eat alone here.
Great food court for large groups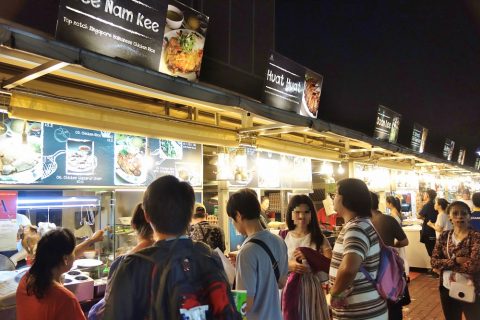 I wandered around "Makansutra Gluttons Bay", but the lighting was bright and the atmosphere was good, and it was open from evening to late at night, so I thought it was the best place to stop by casually for sightseeing. However, if you visit on a Saturday night like this time, you may not be able to sit at all, so I think it is better to visit early (before dark, if possible) depending on the day.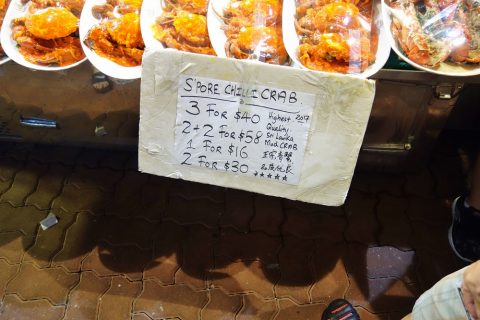 Also, the price is rather high for street food, but if you share it with several people, there will be no problem, and the amount is large, so it would be perfect. On the contrary, I thought it was not suitable for a small group. Please note that bringing food and drink from outside is prohibited.
♪Click here for a List of articles on "Singapore"