Esplanade is located along Singapore's Marina Bay. It is close to the Merlion Park as a tourist center, but it is slightly far from the MRT station and a little inconvenient. However, since the underground of Esplanade is directly connected to City Hall Station of the MRT, you don't have to walk outside in the hot weather, and there are some interesting passages along the way, which is good!
I would like to introduce the access to Esplanade using such an underground passage.
※This article was written before the virus scandal. This will be updated.
Esplanade to City Hall Station
First, let's take a quick look at "esplanade". Esplanade is a building with a theater, concert hall and other facilities, and is a complex facility facing Marina Bay. The Singapore Symphony Orchestra also performs here.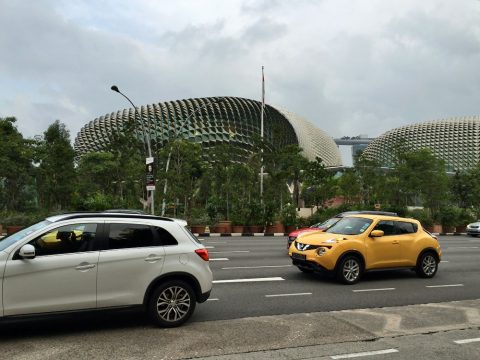 The "thorny head" building can be seen from the marlion park which is crowded with tourists. This area is a little far from the MRT station, but an underground passage connects this Esplanade to the City Hall station. If you're going to the MRT station after a Merlion tour, this underground walkway will save you from the heat.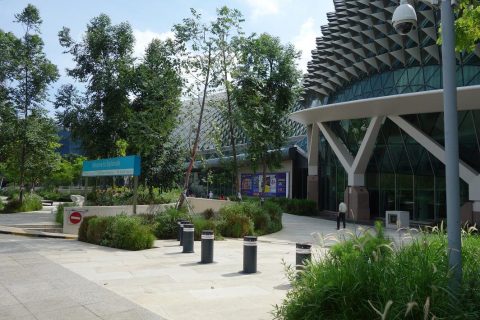 The area around Esplanade is less crowded than Merlyon Park, and it is spacious with greenery. There are benches, so it's good for a short break.
Get in through the entrance and go underground.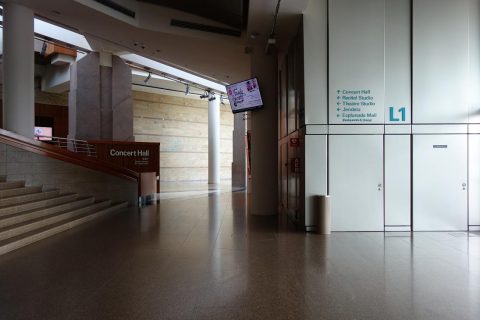 When you enter from the entrance of Esplanade, the concert hall is on your right. During times when there are no concerts, there is no one there and it is very lonely. Inside this concert hall, you can see the Esplanade Concert Hall! – See the Singapore Symphony Orchestra article.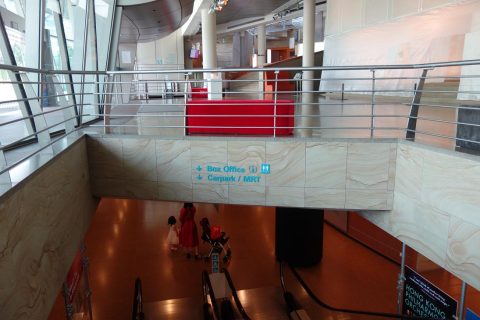 There is an escalator on this floor that leads to the lower floor. Please follow the "MRT" sign when you get off.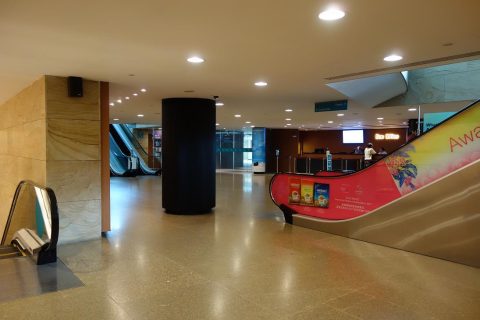 There is a Box Office on the next floor down, and they handle concert tickets and so on.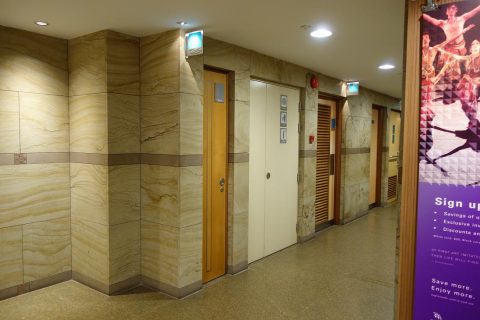 There is also a toilet on this floor. I used it, but it was clean and there was no problem with cleanliness.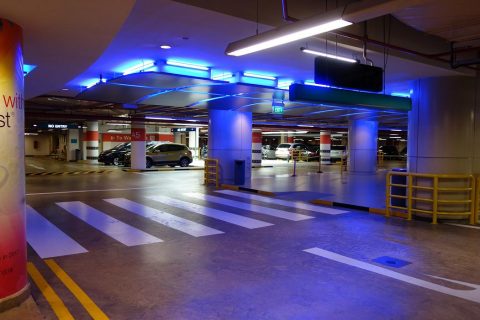 If you go down further underground from there, you will find the underground parking lot. I thought I was going out the wrong place, but I kept going.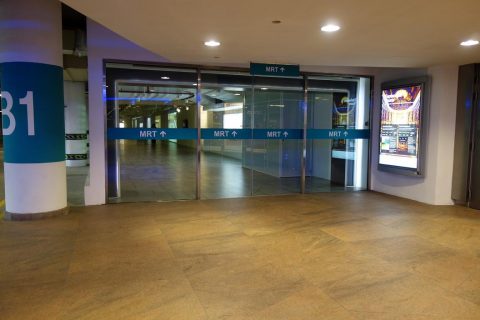 Then, there is an entrance to the museum again, and if you go through this entrance, you will enter the SC "Raffles City" which leads to City Hall Station. There is still a long way to go, but you don't have to worry about getting lost because it is a straight way to SC.
an interesting movie about an underground passage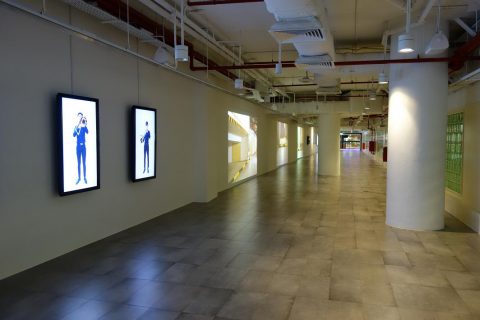 There was an interesting device in this aisle. As I walk, suddenly images are projected on the wall of the corridor and music starts to play.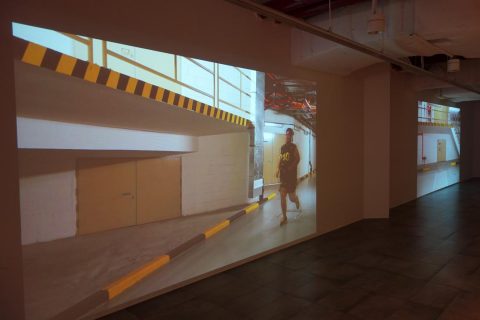 At the same time, I heard footsteps coming from a distance saying, "Cackon, Cackon, Cackon, Cackon." and when I saw the video, I saw a fat young man running toward me out of breath.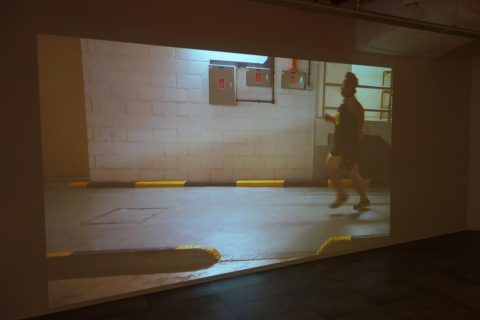 Multiple screens and sound effects work together, and as the fat young man moves away from me, the sound simultaneously diminishes and moves to a distant screen.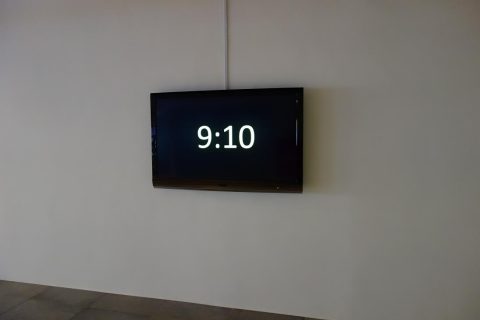 The count is displayed on the side, and one act finishes in about 10 minutes. I didn't really understand what the motif of this movie was, but it is certainly suitable for the Esplanade, the birthplace of culture.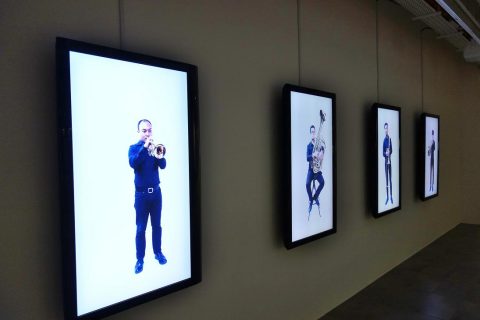 The performance by a band with a little bit of a swooping feel also has an atmosphere. This passage is air-conditioned and cool, so it will be interesting to watch it for a while.
City Hall Station is a 15 minute walk away.
You'll find the Raffles City shopping mall after walking through the fun movie aisle. We walked slowly from the entrance of the Esplanade for about 10 minutes (Excluding the above viewing time) and from here to the MRT ticket gate for about 5 minutes, a total of 15 minutes.
It's air-conditioned, cool, and has a bathroom, so it's perfect for a break, and I think it's a perfect way to get to the MRT station after sightseeing along Marlion Park and Marina Bay. If you have a chance, please try it.
♪Click here for a List of articles on "Singapore"