Sata andagi is one of the sweets originated in Okinawa. The simple taste of the batter coated with sugar and fried in oil is popular!
There is a restaurant called "Ayumu" on the 2nd floor of "Makishi Public Market" in Naha, Okinawa, where I visited for training, and I heard that the Sata andagi here is delicious and popular. This time, I tried and compared the taste of Sata Andagi of 2 shops including the shop next to it "Ryugu"!
Naha "Makishi Public Market" 2nd floor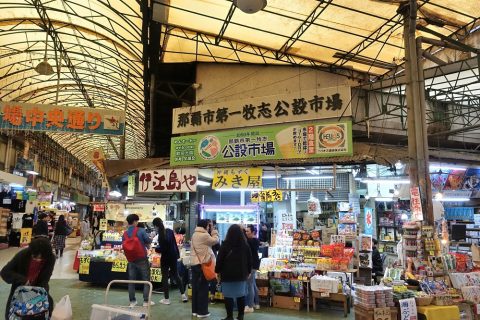 We visited Makishi Public Market in Naha. It is a famous sightseeing spot in Naha which is close to Kokusai Dori.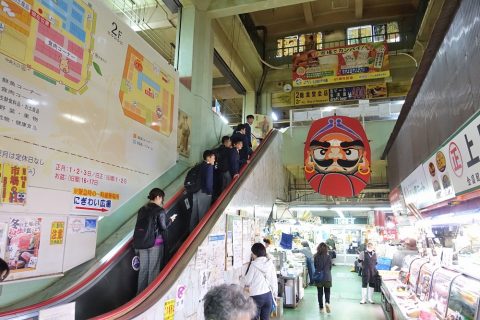 Go through the first floor where the market is and take the escalator to the second floor. There are some restaurants on the second floor, and if you bring the fish you bought on the first floor, you can have it cooked. There are some restaurants where you can eat Okinawa soba, but I don't think it leaves a good impression as there are many customers. …
It will be sold out! Sata Andagi's "Ayumu"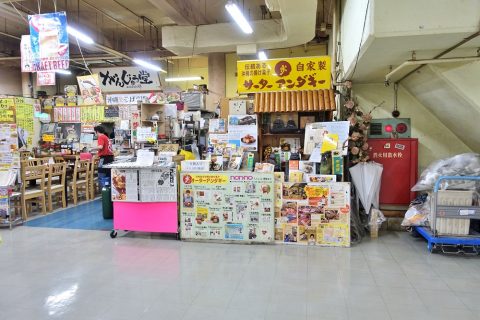 At the back of the 2nd floor of such public market is Sata Andagi "Ayumu". It has been introduced in many magazines and on TV so far, and there are many articles about it in front of the store.
The reviews on the Internet show high evaluation, so I can see that it is very popular.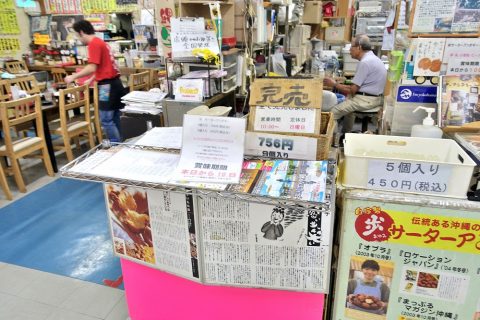 This store is open until 17 o'clock in the evening, but as expected, when I went there around 15 o'clock, it was already sold out! It might be difficult to go to a place like this if you don't go at the same time as the opening time. …。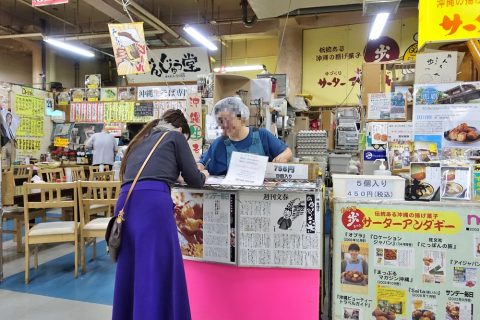 The next day, I visited the store at 10 o'clock when it opened, and got it safely this time! According to my aunt, it is sold out by 11 o'clock at the earliest and 14 o'clock at the latest these days, so I have to come here at the time of opening like this time to make sure to buy it.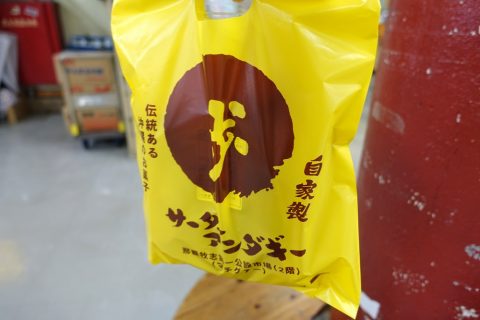 Sata Andagi of "Ayumu" has 2 types, 5 pieces (450 yen) and 9 pieces (756 yen), and they don't sell them separately.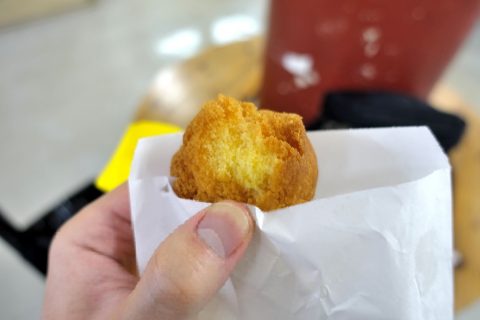 The waitress was very kind and helpful and gave us one freshly fried dish for tasting! When I tried it, I found that it had a crispy texture, well-balanced flavor of wheat, fine grain and good texture, and was quite delicious.
I also had what I brought home and bought, but the taste and texture remained even after a few days! If it's within the expiration date (10 days), it's delicious no matter when you eat it.
Choose from a variety of flavors "Ryugu"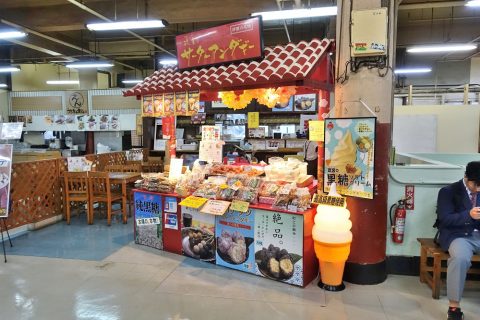 On the other hand, to the left of "Ayumu" is another Sata Andagi store "Ryugu". When "Ayumu" was sold out, this one was still unsold.
There are only 1 plain type "Ayumu", but this one has 4 flavors (Plain・Brownsugar・Coconut・Black sesame soybean flour), and it can be sold separately.
There are packages in a bag in advance, but the staff says that it takes a little less time to make them separately. Prices range from 85 yen to 120 yen.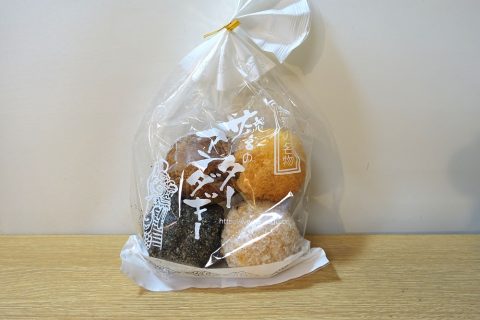 I bought four flavors of roses this time! Even though I bought it separately, they put it in a vacuum pack when I bought it!
As for the taste, compared to Sata Andagi of "Ayumu", the grain is rough and it is a little dry so it stays in the mouth.
The only coconut is moist and delicious, but the others are not so good …。 It is the same with the various Sata Andagi in the souvenir corner of the airport.
Sata andagi "Ayumu" that is plain and delicious.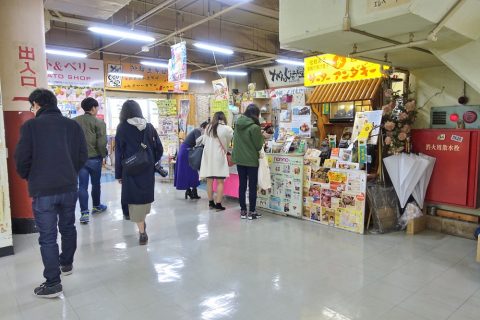 So, I compared the tastes of 2 stores of Sata Andagi that is sold on the 2nd floor of Makishi Public Market, and the plain one is definitely delicious "Ayumu"! It's delicious even when it's cold, so it's perfect as a souvenir! It became a recommended Sata Andagi in Naha!
It seems to be popular with foreigners too, and when I saw a line of young Koreans waiting right after I bought it, I could understand why it sold out quickly. If you want to buy it, I recommend you to visit at 10 AM when the store opens!
♪Click here for a List of articles on "Okinawa Main Island"