When I arrived in Naha, I went to the Okinawa soba restaurant "San-Chome Soba" near Kokusai-dori St. for my first meal. It is an Okinawa soba restaurant run by a small shop under the owner who is thought to be Asian, and the "Buckwheat Noodles" I ate here is very delicious!
Also, the takikomi gohan "juicy" that I ordered together was delicious even though it was only 100 yen! This is one of the shops I really want to recommend.
"Kencho-mae" 5 minute walk from the station
The Okinawa soba restaurant I visited this time, "San-Chome Soba" is located right near Kokusai Dori. It is located between Kenchomae station and Miebashi station of Yui Rail.
It's a little far from Kenchomae station which is the nearest station, but the road goes straight from the station to the shop, so I arrived in about 5 minutes on foot. It's only 3 blocks away from Kokusai-dori St., so it doesn't bother me to stop by while sightseeing.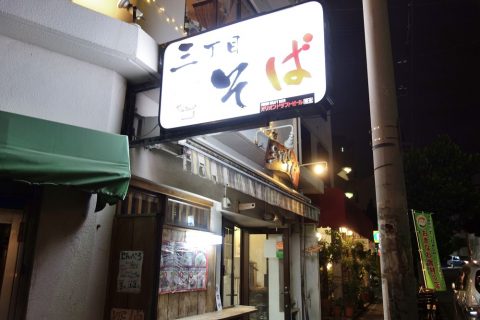 The 1st floor of a 2-story building cut off at the intersection is "San-Chome Soba". The opening hours are from 11: 00 to 6: 00 the next day, and it is nice that it is open until late at night.
A small restaurant is self-service.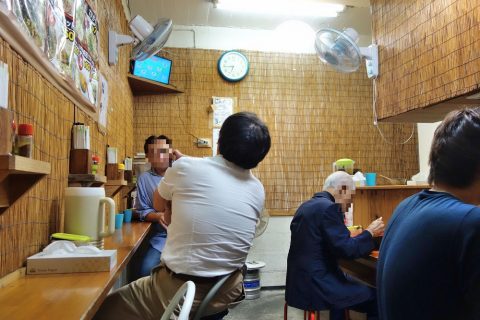 The restaurant is very small with only 10 counter seats behind the wall. It is a restaurant with a nostalgic atmosphere with a wall with a bamboo blind, a fan, and a TV stand near the ceiling.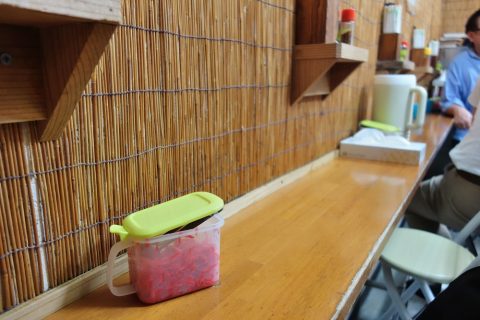 The extremely small counter less than 30 cm tells of the small size of the restaurant. Red pickled ginger on the table, cold water, tissue paper and so on, it really feels like a cheap restaurant.
Is the owner of the shop Asian? I think it's a little rare for a restaurant serving Okinawa soba, but as an employee, I often see it in other restaurants recently. In addition, there was another staff who seemed to be a staff.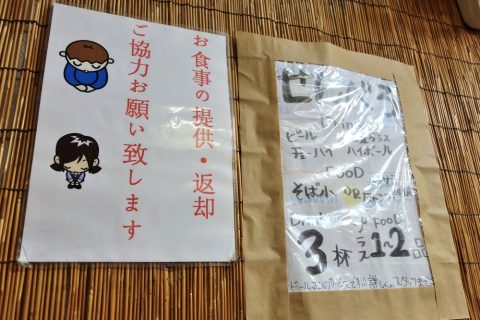 It seems that this restaurant serves meals by themselves. However, the text of the indication is a little awkward, but …。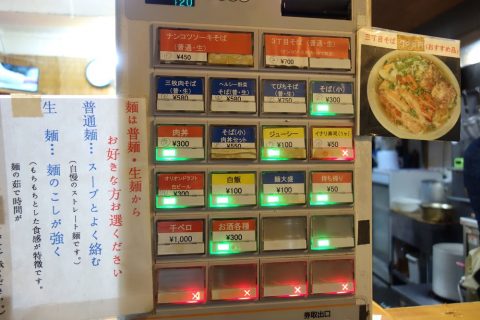 All you have to do to order is buy a meal ticket from the vending machine and hand it over to the shop owner at the counter. If you look at the menu, you can see Nankotsu Soki, Sanmai Niku, Tebichi, and other soba menus, as well as Gyudon and Inari-zushi (Out of stock at this time).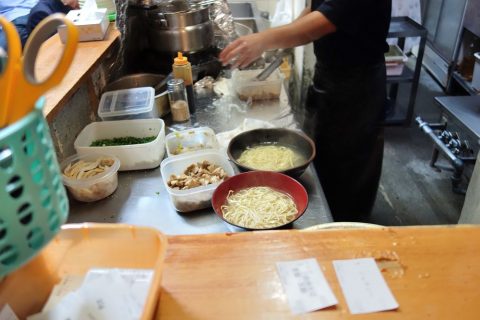 There are 2 types of soba noodles, "Regular noodles" and "fresh noodles", and when you order, you tell your request verbally. The regular noodles are straight noodles that mix well with the soup, and the fresh noodles are chewy and chewy.
It is said that you can cook, and you bring it to your seat by yourself, but you don't have to worry because you can put your soba on a tray at this time!
The pork belly soba is delicious!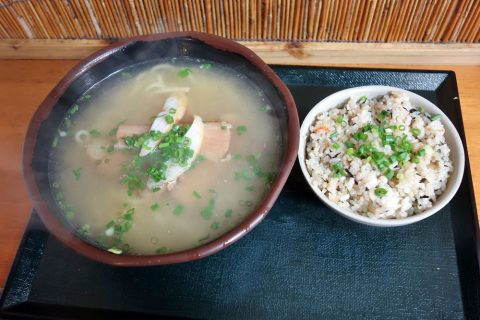 What I ordered was "Buckwheat Noodles" and "juicy", the total was 680 yen! It was ready in 7 to 8 minutes.
I chose "fresh noodles" for the noodles, and this is the right choice! It is soft and chewy. It mixes well with the soup, but this slightly cloudy soup is very delicious!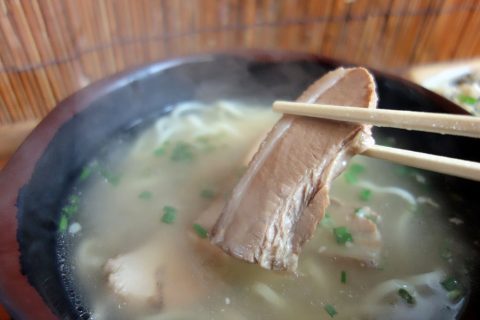 There are 4 slices of meat in total. Thick, juicy, sweet and just the right softness, this also brings out a good taste! This is really delicious Okinawa soba!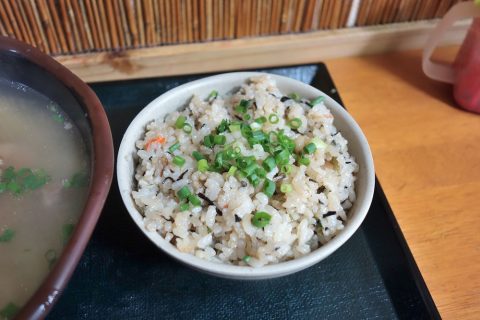 Another dish I ordered together was "juicy". Juicy is Takikomi gohan cooked with pork broth, which is one of the local dishes in Okinawa.
When you eat it, the flavor like clam spreads in your mouth. Finely chopped carrot, burdock, Hijiki, etc. are in it, which is rich in flavor and delicious! I can eat this for only 100 yen …!
It is said that the price has been raised recently. …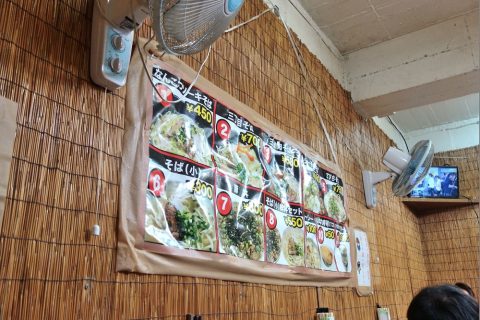 A restaurant near this 3-chome. According to word of mouth, "Buckwheat Noodles" has been raised from 450 yen to 550 yen since the beginning of 2018. In addition, according to previous reviews, this soba was originally priced at 400 yen, so don't you think the price hike would be too steep …?
I think it would be better for them to raise the price fairly than "real price increase", but since Okinawa Soba is based on the motto of "It is cheap and delicious.", I would like them to keep the price increase to the minimum necessary.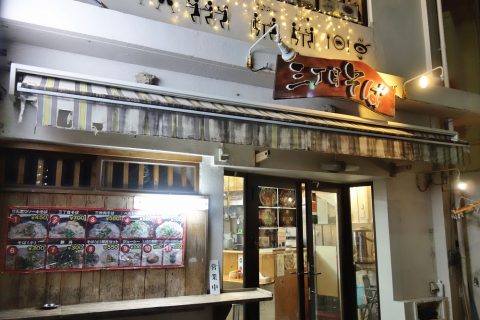 Even so, this is a delicious Okinawan soba restaurant "San-Chome Soba" where you can eat it at a price that is unthinkable in Tokyo. I recommend Sanmai soba (580 yen) because it was really delicious! If you have a chance, please visit.
Shop information for "San-Chome Soba"
Address : 26 -1, Kumoji 3-chome, Naha, Okinawa 900 – 0015, Japan
Access: Yui Rail "Kencho-mae", 5 minute walk
Business hours: 11: 00 – 6: 00 (Business hours may change on holidays.)
♪Click here for a List of articles on "Okinawa Main Island"