There are 2 JAL lounges (Diamond Premier Lounge, Sakura Lounge) at Naha Airport in Okinawa, but do you know there is another "Sakura Lounge ANNEX"?
It is a small annex lounge located a little far from the main building lounge, but it was renovated in early December 2019. What kind of interior lounge? I dropped by on my way back from Naha, so I would like to tell you about it.
※This article was written before the virus scandal. This will be updated.
Near the boarding gate No.28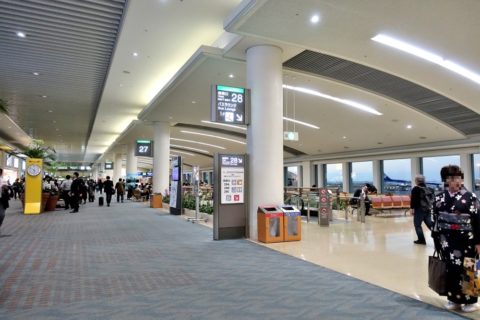 Sakura Lounge ANNEX at Naha Airport is located near the boarding gate number 28 in the restricted area. The boarding gate 28 is a bus lounge, so take the escalator from the departure concourse to the next floor down.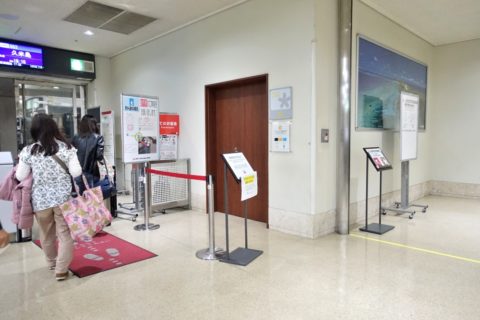 When you get off the escalator, there is an entrance door on your right, just next to the boarding gate. It's a manual door, so I might hesitate to enter, but this is the entrance of a magnificent cherry blossom lounge, so don't worry!
As with Sakura Lounge in the main building, you can enter with a status higher than Sapphire.
a small lounge with about 25 seats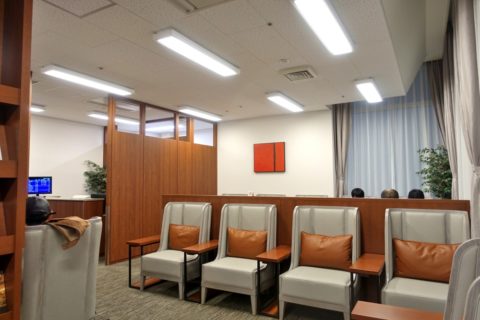 The lounge reception is right next to the door. There is a space of about 40 tatami mats ahead, and there are about 25 sofa seats. It is as small as a card lounge at a local airport, but it might be a little more open during the day because there are big windows.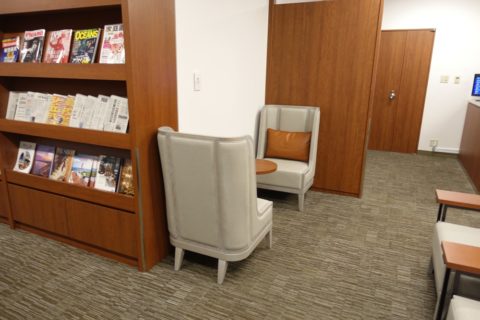 There is only one kind of cream-colored personal sofa. The backrest is high and both sides are recessed like partitions, so you can relax, but the seat width is not as wide as expected.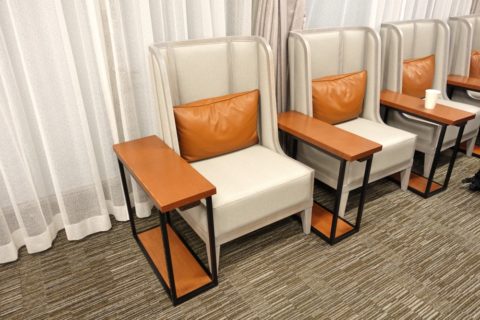 However, I am glad that there are not many places facing each other in such a small lounge! Maybe it was a chair that was introduced along with the renewal, but the seat is so shiny that it smells fresh!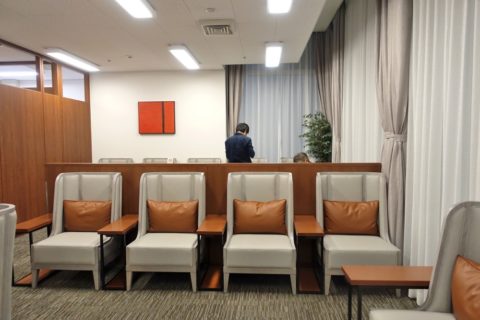 This time I visited around 18:00, but the lounge was very empty and 5 ~ 6 people including me used it. But there was a sign saying "The lounge is crowded now." at the entrance of the lounge, so it must have been crowded until just before.
As there are only about 25 seats, it will be crowded as soon as there are even a few visitors …
More substantial than the main building? Chocolate and snacks!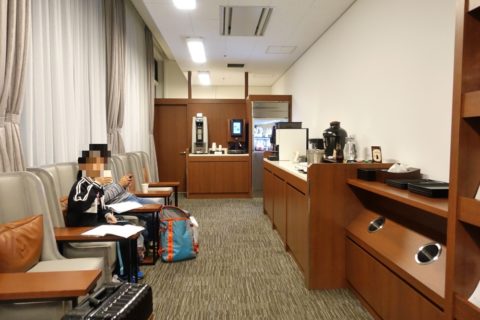 The drink counter is at the very back of the lounge. Although it is ANNEX, they also have Okinawa's Orion beer, Ryukyu Awamori's Nanpu, whiskey, and other soft drinks, and the selection is no different from the main building!
However, there are no glasses at all, so it's hard that you have to drink all in paper cups. … It's just been renewed, so maybe it's just that you don't have time to go to these places.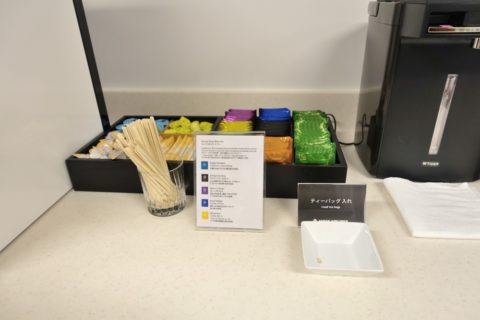 The tea is from "George Steuart", which is also used in DP Lounge. I saw it at ANA Lounge at Narita Airport the other day. Is it popular in Japanese lounges now?
There are also 4 kinds of okaki and chocolate in the corner of the counter. It was not in the DP lounge I visited after this, but this is a very stylish service!
I would like to grab some of them, but there are not many people in the lounge, so if someone takes them out and they become extremely small, they will find out right away (lol).
Open until 8:30 ~ 19:00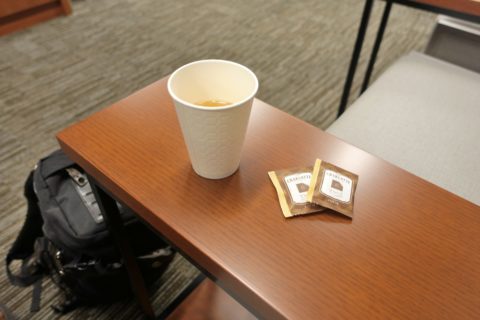 That's why the Sakura Lounge ANNEX is small but you can relax, but you should be careful that the opening hours are limited to 8:30 ~ 19:00.
Even so, if there are so many vacancies in the evening when departure flights are concentrated, it is very useful! If the main building is crowded, it might be a good idea to go further.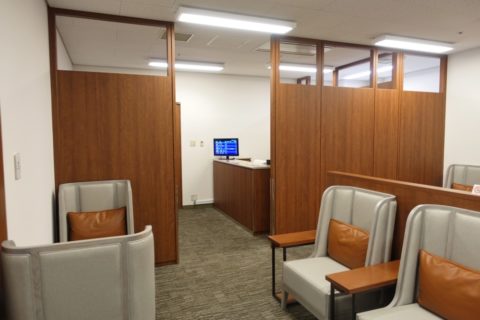 That was the report of Naha Airport Sakura Lounge ANNEX! Please also see the article of "Sakura Lounge" "Diamond Premier Lounge" in the main building.
♪I also recommend this link→Collection of AIRPORT LOUNGE Reviews Worldwide! Wine, buffet, Shower, etc.