In Ho Chi Minh City, Vietnam, people are talking about a new transportation system that they have recently created, called the "Saigon Water Bus" which is a water bus that runs on the Saigon River. This is a water bus that started in 2017 to ease traffic jams, but it seems to be popular among tourists if you can take a Saigon river cruise with a cheap fare.
This time on board this Saigon Water Bus! How to ride it, how much it costs, and what kind of scenery can you see? I would like to report in detail.
Water bus routes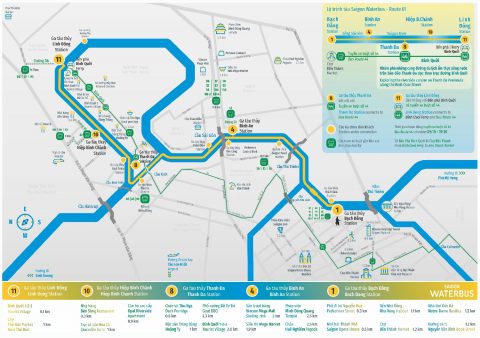 The Ho Chi Minh City Water Bus "Saigon Water Bus" runs along the Saigon River on the east side of Ho Chi Minh City. There are 11 bus stops along this coast.
However, 6 of the 11 bus stops are said to be closed due to construction work, probably because the operation has just started.
Among them, the closest bus stop to the urban area is Bạch Đằng Station. There is a ferry terminal across the street from Bạch Đằng Park. Tourists will naturally start from here.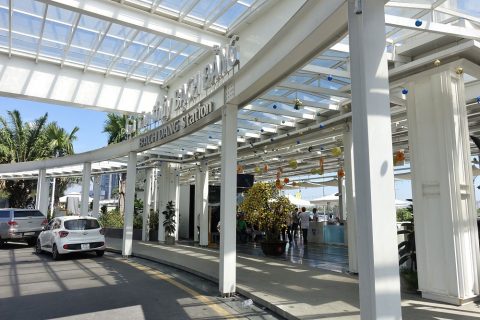 Of course, this time I will also board from this Bạch Đằng station. It is a very new and beautiful terminal, probably because it has only been a short time since it was built, as it is a magnificent whitish steel-framed wharf!
terminal of Bạch Đằng station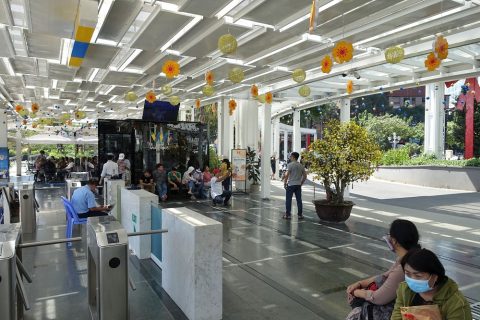 Inside the terminal is a chic shade of white ceiling and black floor. It has a modern and stylish design. Benches are set around the ticket gate and it's a waiting room.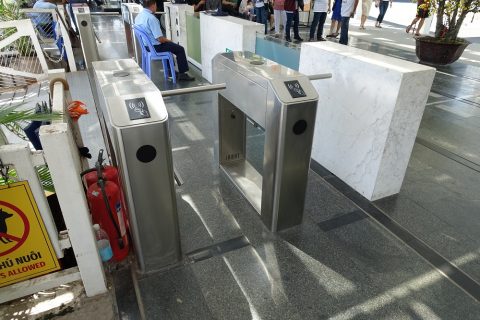 Ticket gate with IC card reader. However, this was not working yet and was manually rotated by an attendant (to be described later). In the future, I think you will be able to board with 1 IC card including subway (Scheduled to open in 2020).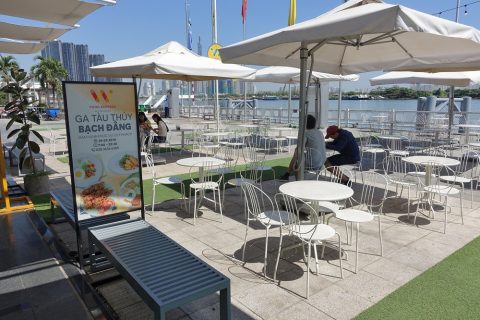 There is a cafe outside where you can eat and drink, and the atmosphere is pretty good! It's a little hot, but I'd like to use it even when I don't take a boat.
Please buy a ticket at the counter.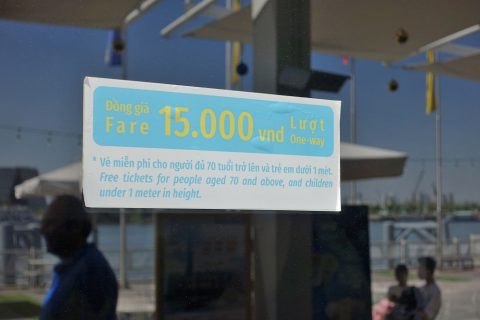 The waterbus fare is 15,000 VND . The fare is flat regardless of the distance. It is about three times as expensive as a regular bus, but it is still very cheap!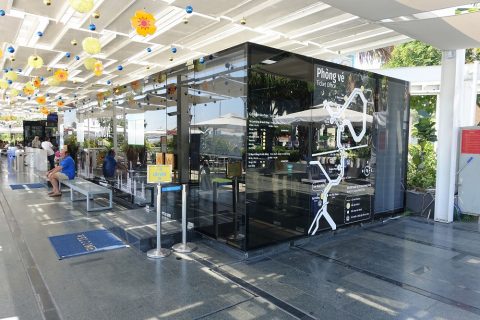 The ticket office is in this black building. There is a manned ticket counter in here, so I will buy it there.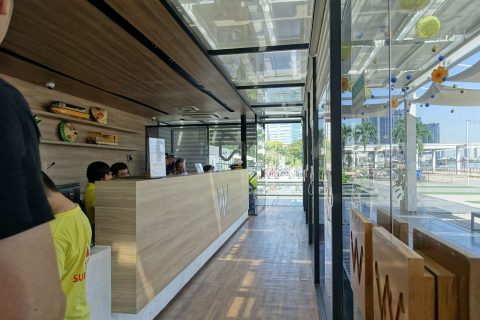 When I asked for a ticket at the counter inside, I was asked the flight number and destination, and my name was written on the list. You don't need to show your ID, but you have to go through other procedures. …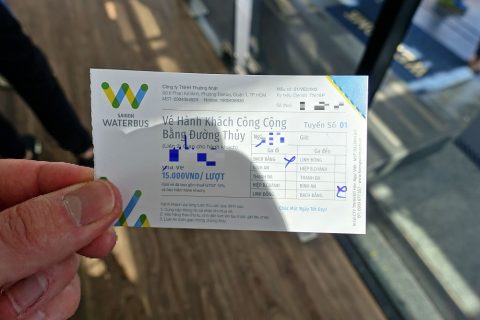 Here is the ticket I bought. The date, flight number and the station you get on and off are checked. It is not a reserved seat, but the number of passengers seems to be adjusted so as not to exceed the capacity.
This time, you can take the bus departing from Bạch Đằng Station at 11: 40, heading to Binh An 1 section ahead.
Automatic ticket gate? Let's get on board!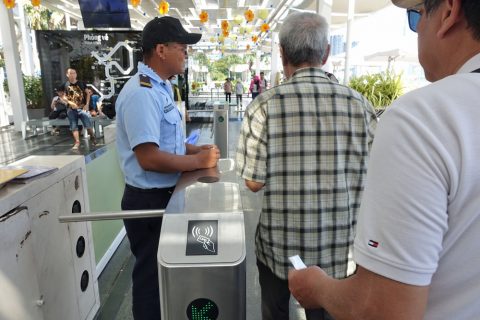 Boarding starts 7 minutes before departure! You go through the ticket gate after checking the ticket by the staff. As I mentioned above, the automatic ticket gate is not working yet, so it is only a manual check by the staff.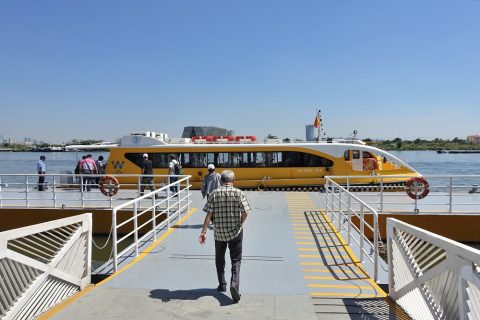 The ship is yellow and white, and the window frame is black. From the side, it looks very stylish! It is a one-story boat without a second floor.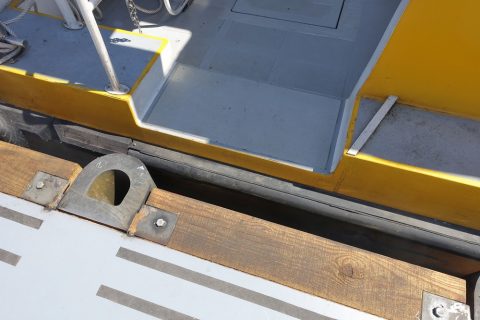 We will board from the rear of the hull. It is easy to get on and off because there are relatively few steps from the pier.
Seats and equipment on board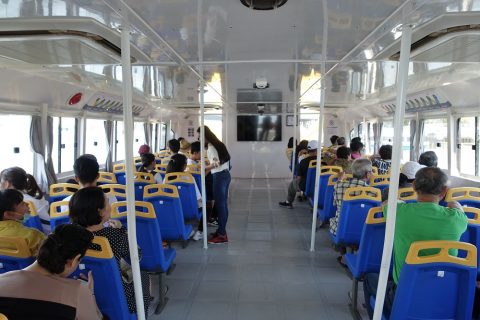 Inside the cabin, there are 72 seats in 12 rows, 3 seats on each side across the aisle. There were no major facilities other than the monitor in the front.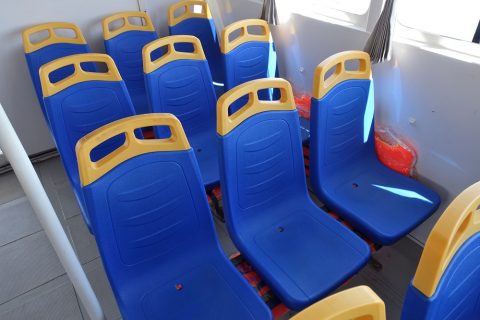 The chair was made of plastic, with no armrests or reclining. It was good that the boarding rate of this flight was half, but it might be a bit hard to get full with this chair …。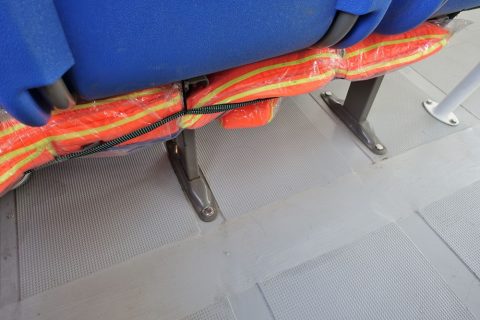 There is a life jacket under the chair. But there is no "safety guide" like an airplane, and there is no announcement about it.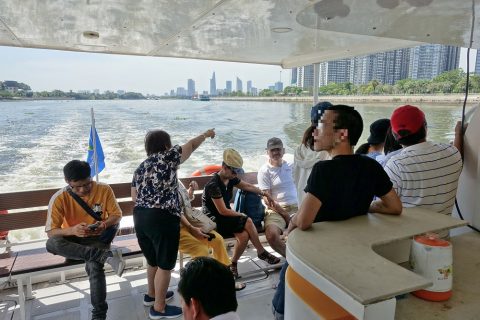 Also, there is a bench on the deck, so you can go out while driving. It has a better view and is more open than being on the ship!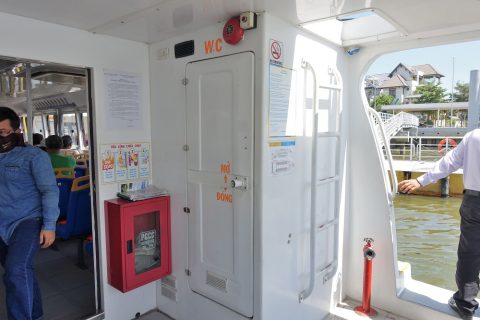 There is a toilet on the deck, so you don't have to worry.
What do you see in the view?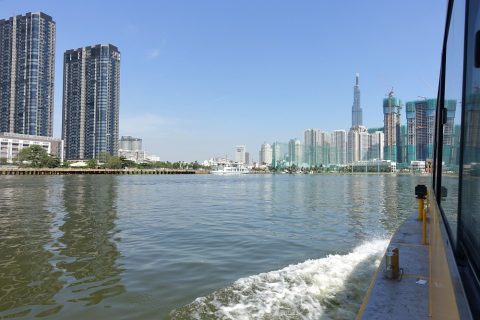 As for the scenery you can see from this water bus, you can see the streets of Ho Chi Minh City on the left side of the travel direction. In particular, skyscrapers and condominiums are crowded as you look sideways in the newly developed area!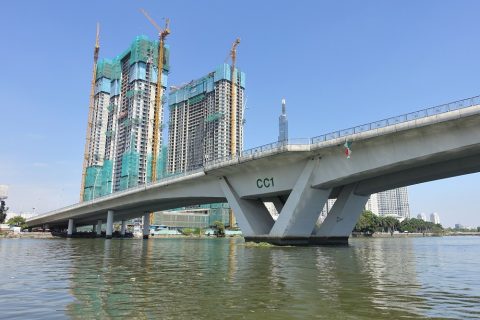 In particular, the view from under the bridge, which is not normally seen, is the point. The speed of the ship is neither too fast nor too slow, and it is just right to see the scenery.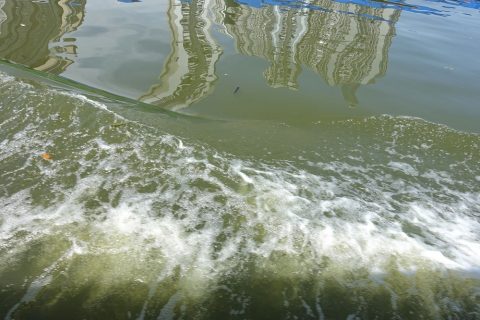 The water quality of the river is not clean, but it is much better than the Chao Phraya River in Bangkok, Thailand (lol). No bad smell!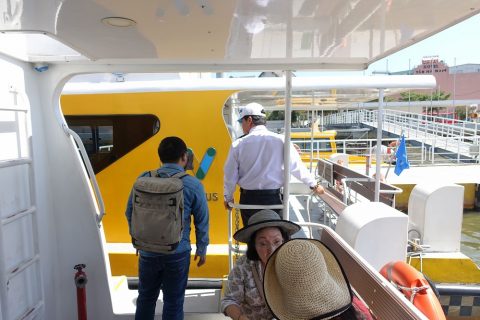 When arriving at the destination station, disembark following the instructions of the staff. You don't need to check your ticket at the station where you get off. You can just go to the exit.
There are no tourist attractions yet …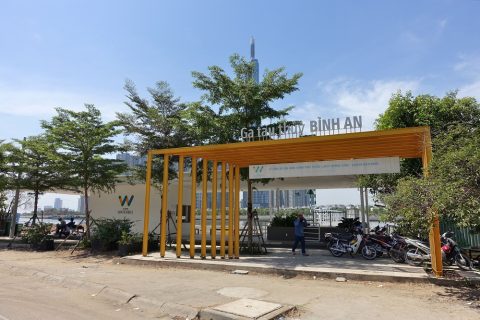 We arrived at Binh An station, our destination this time! This is a small station with only one attendant, but the station name plate is new and impressive.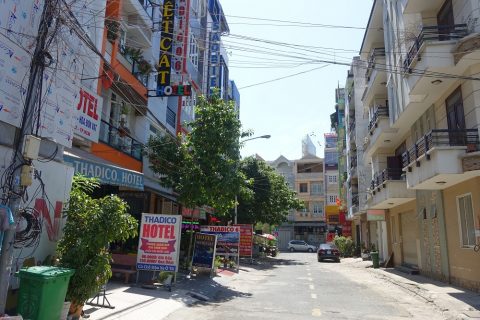 However, the area along this water bus line is mainly a residential area, so it is hard to find a tourist spot. There was nothing to see around Binh An station, so it was not the place I came for.
Then, I am on my way back to Bạch Đằng. However, to return to the city, I have to wait for a ship in the opposite direction or take a bus or taxi.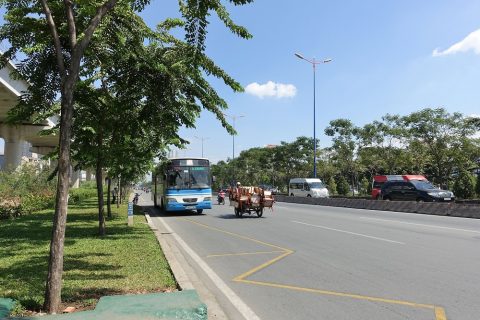 This time I went back to the city by a fixed route bus, but the bus stop for Ben Thanh was far, so I had to walk quite a bit. …。 There are no taxis around here, so it's quite an inconvenient place.
Can I use it in the opposite direction?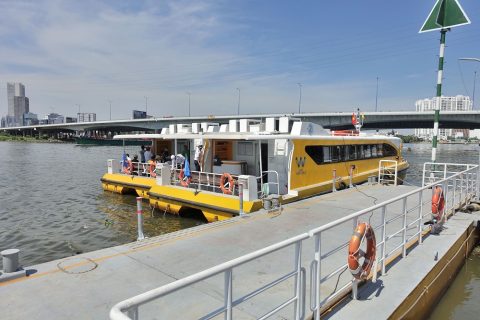 So I took a water bus in Ho Chi Minh City, and it was nice that I could easily go on a cruise at a cheap fare! If you are worried about traffic on the way back, it might be better to take a taxi or bus to your destination station and then ship back to Bạch Đằng.
The number of boats is still small, so I recommend you to check the timetable well! The Saigon Waterbus website is here.
♪Click here for a List of articles on "Ho Chi Minh City"