Continuing from last time, we will report on in-flight meals from S7 Airline Business Class that we used between Irkutsk and Moscow, Russia (Domodedovo Airport)!
The flight takes about six hours. The in-flight meals were prepared twice, and both of them were of good quality! However, I was surprised that the menu served for the second time looked so strange! It was a very unique in-flight meal like never before!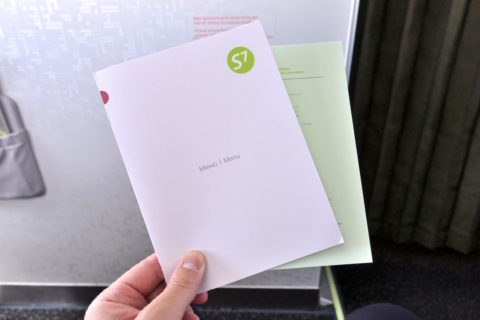 After taking off and the belt sign was turned off, the service started immediately! First, CA will distribute the in-flight meal menu. It's a simple design booklet made of cardboard with a drink menu inside.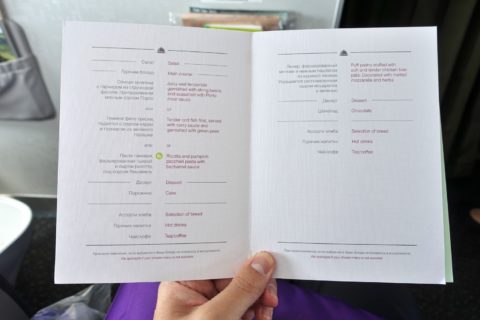 Russian on the left and English on the right. The first course meal is shown on the left page, and there are three courses of salad, main dish (Select from 3 items) and dessert. Is the right page a la carte menu? I thought so, but this is a light meal menu just before arrival.
It has a very rich menu for a 6 hour flight! What's more, it's a domestic flight, so I'm surprised!
The drink menu is on both sides, and it's divided into alcohol and soft drink. There are 1 each of beer, wine (Red/White/Sparkling), vodka, whiskey and brandy for alcohol, and water, juice, coffee and tea for soft drinks.
It's quite unusual to be able to drink vodka on an in-flight meal! As expected, it's a Russian airline.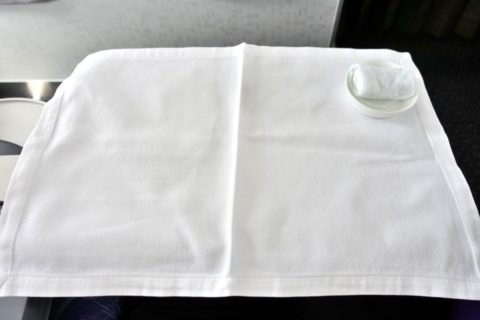 After you are asked to choose a menu, a tablecloth is spread. It turns an economy class table into a restaurant dining room.
Sparkling wine and almonds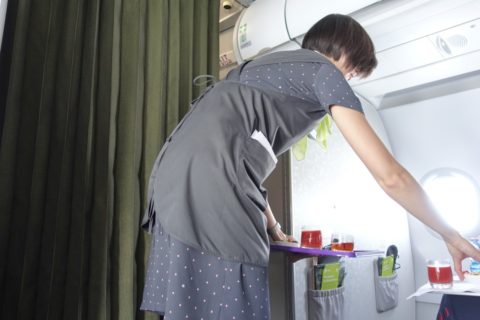 Drink service will start soon! It looks like there is only one CA in charge of this business class, but I don't have to wait because it is very efficient, and on the contrary, I am forced to put away dishes quickly.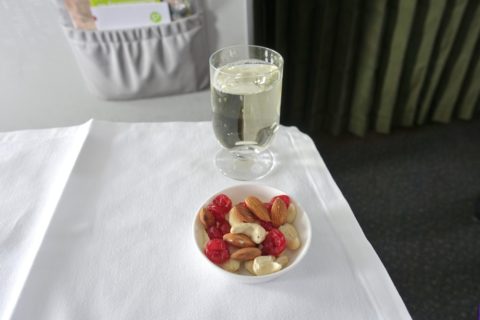 I would like to go to vodka … for drinks, but I still have flights ahead, so this place is quiet for sparkling (lol).
This "Procecco, Zonin DOC Sparkling" is sparkling wine from Italy, and claims to have just the right sweetness. It tastes like a little champagne, and it's pretty good. The price of a bottle is about 1,500 yen.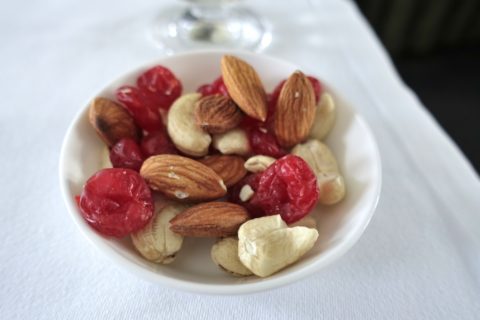 On the other hand, the nuts of the amuse bouche are very disappointing! Cashew nuts are not salty at all, and almonds are moist and don't even make a crisp sound.
When it comes to business class nuts, Qatar Airways is second to none! (Reference → The in-flight meal is delicious! From Vienna B787-8 Qatar Airways Business Class boarding!)
Appetizer and bread selection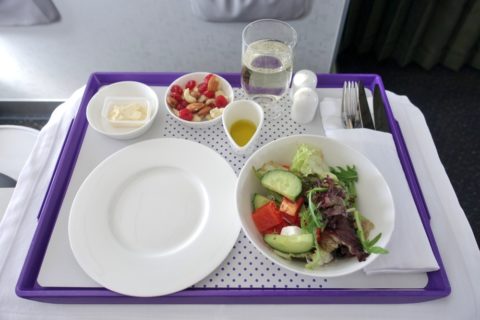 Then the appetizer plate. It was served on a purple tray. If you have a tray, it doesn't look luxurious, but it's safer because the table is small.
The empty plate is for the bread to be served afterwards.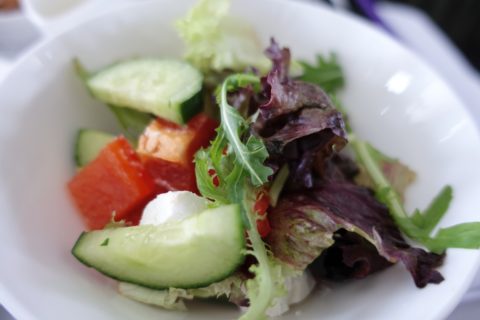 As for this salad, tomato and cucumber are not fresh, and purple cabbage has brown parts, so the quality is not so good. It's not so bad after trying it, but maybe it can't be helped because of the circumstances of the departure place.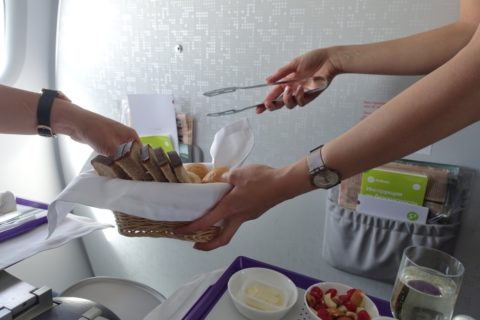 You can choose bread from a basket, but there are only two kinds. But this kind of performance is something that stimulates the appetite.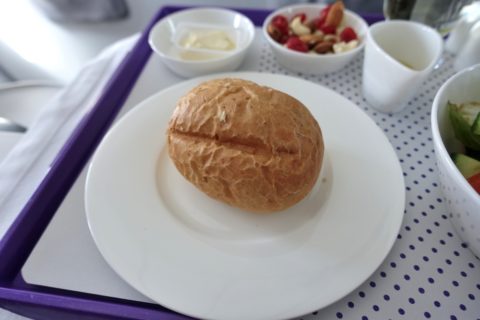 I had a round bread, but it was fluffy and very delicious! It will be more delicious if you add butter.
I ate bread at various restaurants in Russia during this trip, but there are many places where Russian bread is surprisingly delicious.
Both the main dish and dessert were delicious!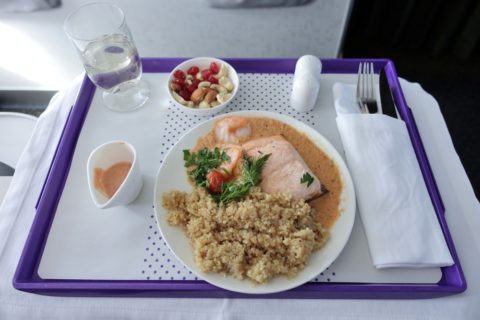 My main choice was "Tender cod fish fillet …" The main menu consisted of meat, fish and vegetables, and I chose fish.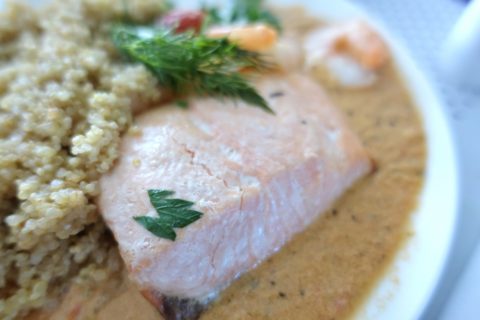 It should be Cod Fish …, but it's obviously salmon, isn't it? The taste is salmon itself! But it's very thick and juicy, the ingredients are pretty good, and there are 3 big prawns in it, so it's quite a luxurious plate.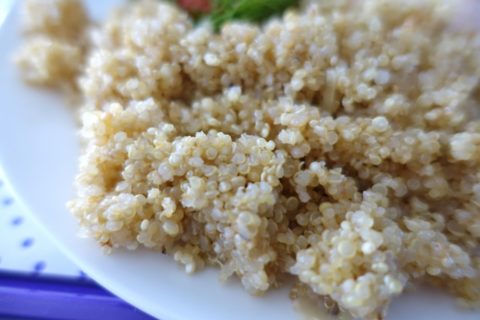 Is the garnish quinoa? This is a grainy food. In Europe, mashed potatoes usually cover half of the plate, but this dish has a light texture and is perfect for lunch!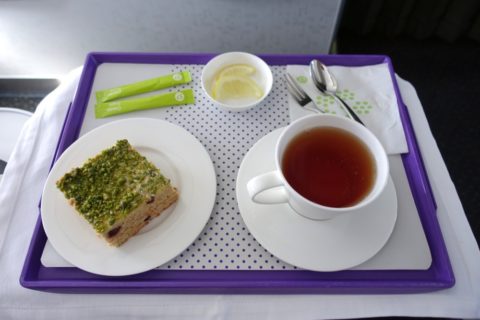 For dessert, I chose a large cake with tea or coffee. Tea also comes with lemon.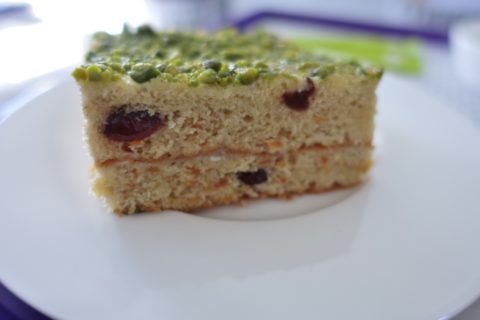 The upper layer of this cake is coated with pistachio, and the moist sponge contains orange peel. It's not too sweet, but it's a well-made cake and quite delicious!
S7 Airline is also doing a pretty good job of preparing this kind of cake for in-flight meals on domestic flights.
I was surprised by the appearance! second in-flight meal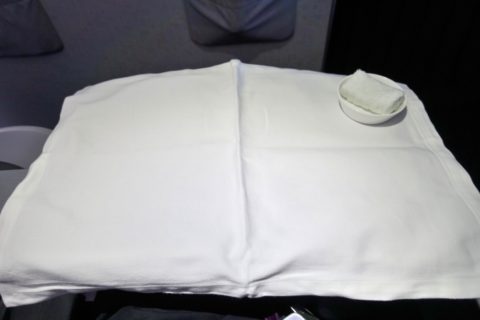 Well, about an hour before our arrival, the second in-flight meal service started just as we were about to go to bed. The second time, the table-cloth is firmly spread, which is an authentic style!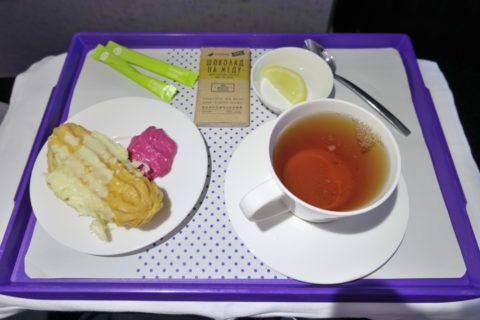 The second snack was all served on one plate. The main dish "Puff pastry stuffed with soft and tender picked liver pate" comes with dessert chocolate and tea or coffee.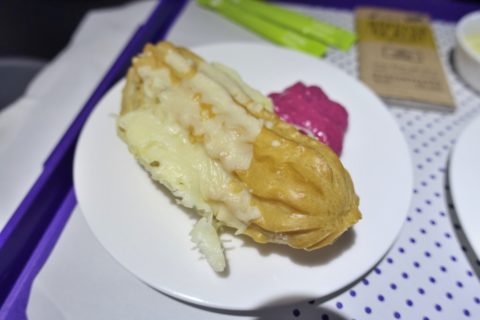 This main menu looks very grotesque! A sea cucumber-shaped object accompanied by a red slime made me hesitate to eat it …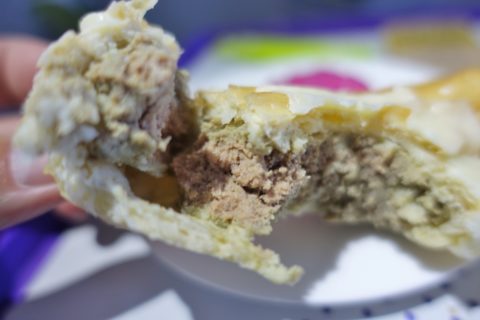 At first glance, it looked like a sweet covered with white chocolate, but when I broke it, it was paste-like meat. The white thing outside was cheese!
The taste is similar to gyoza (Japanese food), and the dough is made of flour like bread. The appearance is quite unique, but it was more familiar than I expected, so I took a break!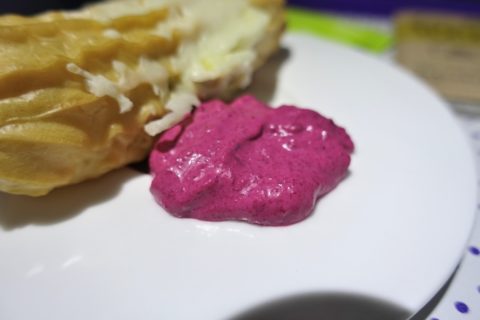 By the way, this pink thing tastes like vegetable paste when you eat it. The flavors of various vegetables are mixed and very delicious! Really, how do you cook it to get this color? This is one of the magical things about Russia (lol).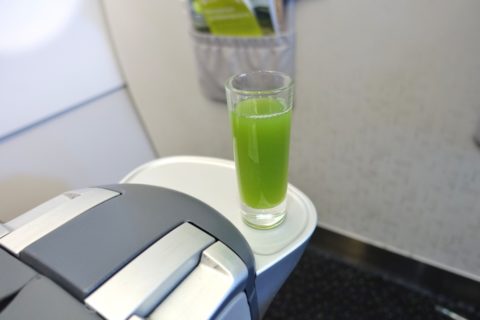 Just before we were ready to land, green drinks were served. It tastes like cucumber! It is a little hard to drink, but I am happy with this healthy hospitality.
It was better than I expected, business class of S7 airline!
That's why I used this S7 Airline Business Class at  Involuntary Upgrade. It was a dull seat without a monitor, but I was surprised by the high quality of the amenities and in-flight meals!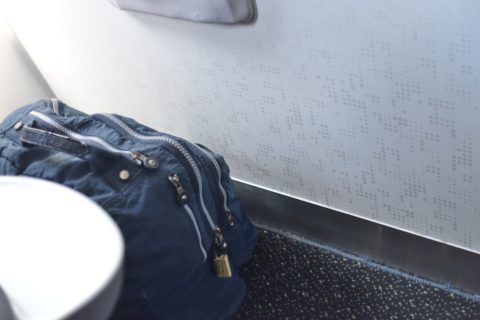 I have no complaints about the service of CA. However, even though I was in the front seat, the person sitting next to me didn't say anything even if I left my bag at my feet during takeoff and landing, and there were some points where I couldn't imagine in other airlines, but it's not a big problem (lol).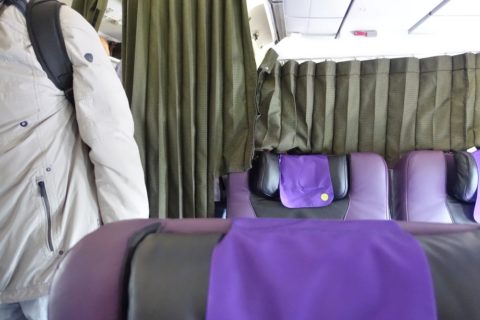 After arrival, a curtain was drawn between the passenger and economy class, giving priority to business passengers. This service is not very active in JAL and ANA, so I would like you to learn from them.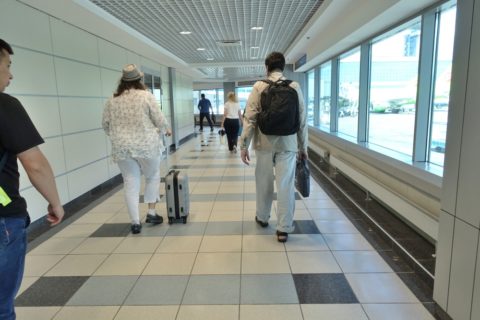 Arrive in Moscow a few minutes ahead of time! It was a very comfortable flight with 6 hours flying by!
For more information on the S7 business class, check out our coverage of seats and amenities "S7 business class boarding pass! Miracle Involuntary Upgrade! IKT-DME", as well as the Irkutsk Airport Lounge. → Irkutsk Airport Business Lounge location and how to use/Hard to find special route …
♪Click here for a List of articles on "First Class & Business Class Airlines worldwide (Seat, In-flight Meal, etc.)"