Continuing from yesterday, I will introduce you to a delicious Okinawa soba restaurant that I found in Okinawa Naha!
The "Ryukyu Menya Kariyushi Soba" that I visited this time is a rather expensive restaurant that serves soki soba and sanmai-niku soba for 700 yen, but once I ate it, I was satisfied with the expensive price! One such Okinawan soba restaurant that is expensive but worth eating!
Near Monorail "Asahibashi" Station
The "Ryukyu Menya Kariyushi Soba" is a 15 minute monorail ride from Naha Airport and a 2-3 minute walk from Asahibashi Station. This area around Asahibashi is also a battleground of Okinawa Soba with many soba restaurants and cheap restaurants.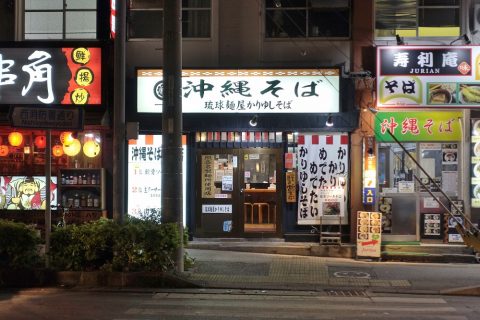 While many Okinawan soba restaurants close in the evening, this restaurant opens from 18:00 in the evening, so it is perfect for a quick dinner or closing a drinking party.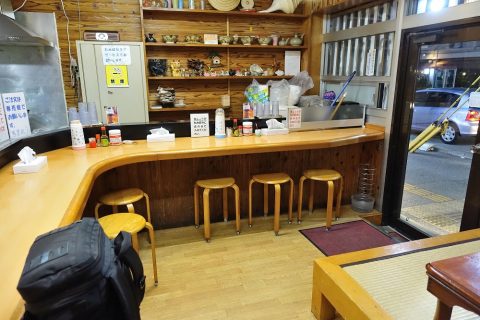 The restaurant has 8 counter seats and 1 tatami room for 4 people. It is a very small store, but it is clean and clean.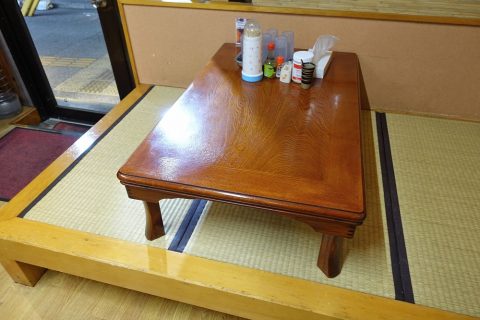 It is a Japanese-style restaurant with tatami mats and wood grain, but there were two staffs from Asia. Japanese is perfect, and the service is very polite and I have a good impression.
There are 5 types of soba and the price is expensive.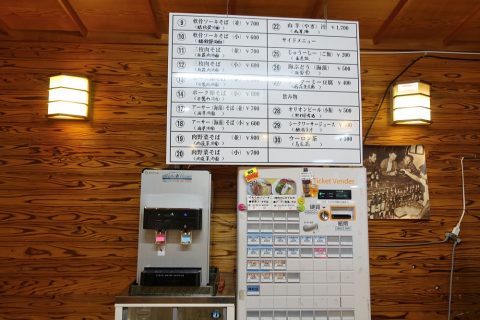 You buy a meal ticket at the ticket machine. Looking at the menu, there are 5 kinds of soba, 2 sizes of normal and small respectively, and there are juicy and sea grapes on the side menu, but both soki soba and sanmai-niku soba are 700 yen for normal size and very expensive!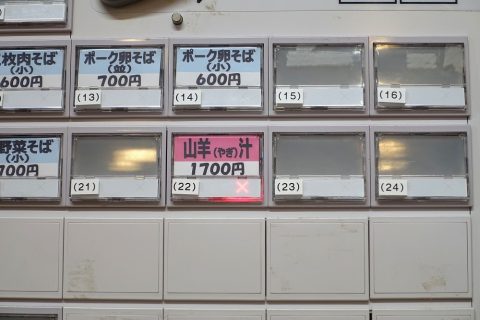 The most expensive one is goat soup, which costs 1700 yen! There are some restaurants where you can eat goat soup for 1000 yen, but I think this is a little too much. (Refer to "Daiichi Shokudo", an inexpensive restaurant near Naha Airport where you can enjoy Okinawa's high-class cuisine "goat soup".)
The pork belly soba (700 yen) and the thick meat is delicious!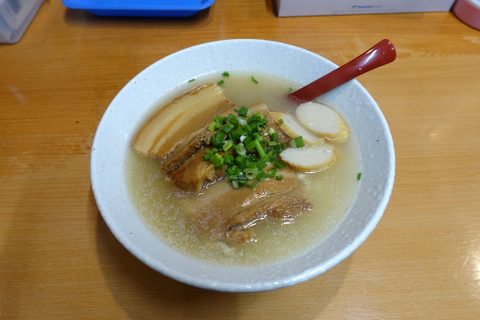 I ordered a regular size soba with three slices of meat for 700 yen. It's in a bowl like a bowl of ramen. The ingredients are three slices of meat with boiled fish paste and green onion.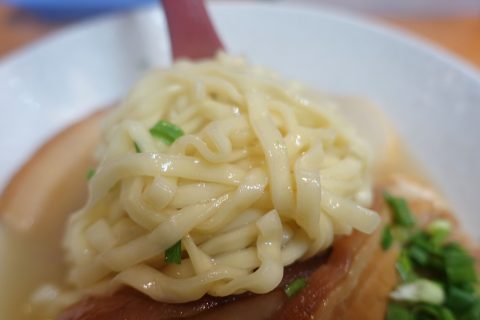 The noodles are flat curly noodles. The soup mixes well and the taste is good! The soup is light pork bone bonito broth, but the soup of this shop has a faint flavor of red ginger. This is very delicious!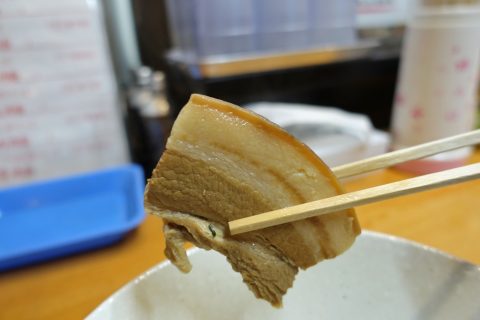 The meat is thick and soft, and it is very voluminous! It has a deep flavor and this is very delicious Okinawa soba!
Even though it's expensive, it's worth coming!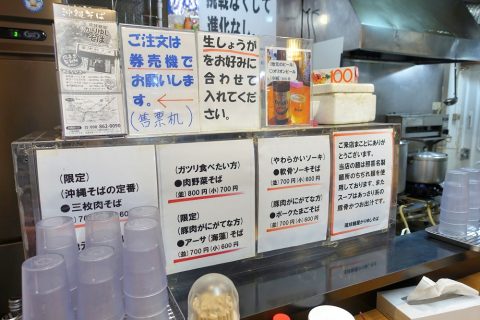 Okinawa soba is 1.5 times more expensive than the average price of 700 yen per bowl, but the taste is perfect! It's rather expensive, but I think it's well worth it.
Perhaps the reason why the price is so high is because it's a night business shop. As labor costs increase, soba is also expensive.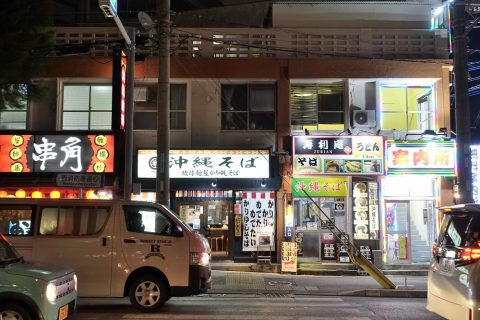 Even so, Okinawa soba is worth eating, so if you have a chance, please try it!
Ryukyu Menya Kariyushi Soba
Address: 1-1-1 Kume, Naha-shi, Okinawa
Opening hours: 18: 00 ~ 1: 00 the next day
Closed: Thursdays
♪Click here for a List of articles on "Okinawa Main Island"