I will report on a tour of lounges at Bangkok Suvarnabhumi Airport, followed by a "Royal Orchid Spa" where you can get a free Thai massage! This is one of the lounges operated by Thai International Airlines, but the entrance conditions are stricter than usual lounges, and this time, because it is a business class use, it is possible to enter!
What is the process from reception to treatment? I would like to report in detail.
※This article was written before the virus scandal. This will be updated.
Location and admission conditions of the spa lounge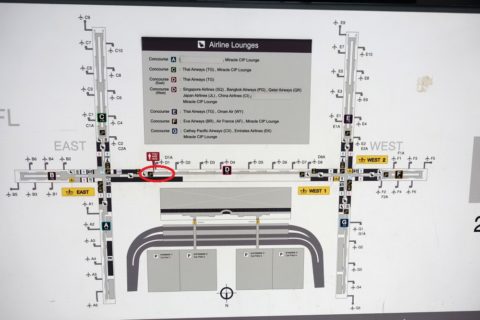 Royal Orchid Spa is located on the 3rd floor of Concourse D, East, near Gate D1. Right across the street is the same Thai Airways "Royal Silk Lounge", which you'll find in the next post.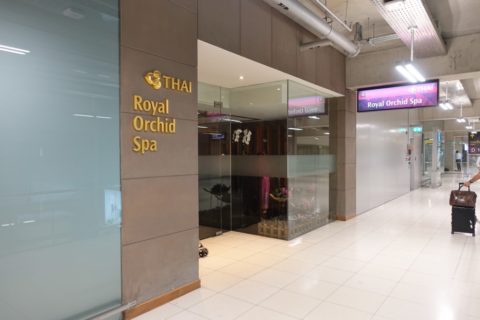 The spa lounge can only be used by first-class business class passengers of Thai Airways, but not by accompanying passengers. Also, it can't be used with Star Alliance Gold status, so I think the number of users is very limited.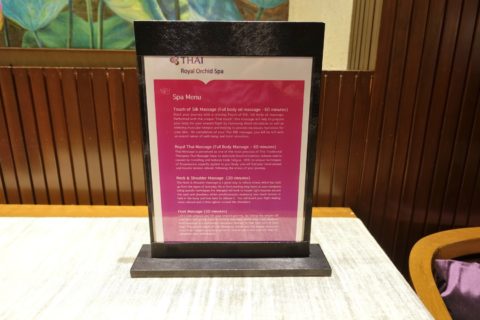 When you enter, there is a reception where you are asked what course you want. There are 4 types of massage available at this spa, but only the 30 minute short course is available in business class.
Touch of Silk Massage (60′)
Royal Thai Massage (60′)
Neck & Shoulder Massage (30′)
Foot Massage (30′)
You can get a full body massage using oil in the 60 minute course, and some people use first class for that. Then I regretted a little that I should have used the first place without stingy miles this time …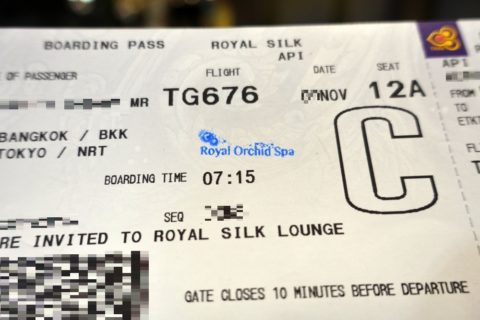 Also, when you finish the reception, the boarding pass will be stamped with "Royal Orchid Sap". If I were lucky, I would have taken it once and tried again later, but it seems I can't use it twice or three times (lol).
A nice lounge with Asian taste!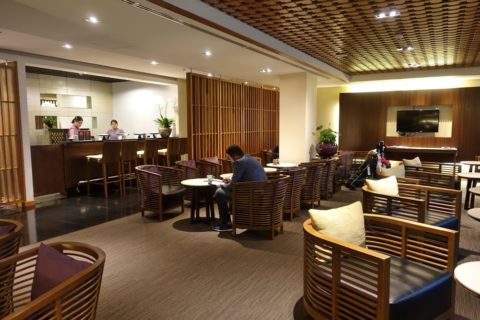 When you finish the reception, you will be taken to the lounge next to it. At this time, there were several people waiting, and my turn was about 30 minutes.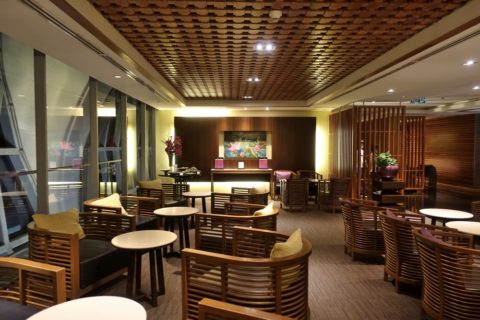 The lounge was decorated with calm colors using indirect lighting, and it was a very nice space! Although the space is surrounded by trees, I feel that the unique atmosphere of Asia, which is not "Japanese", is well displayed.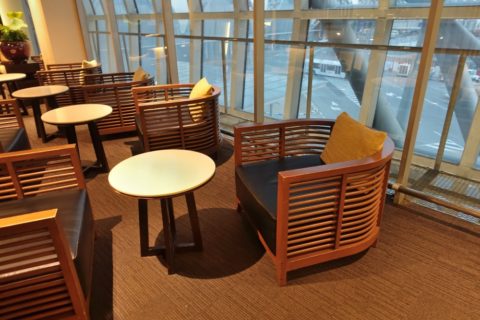 There are 32 individual sofas in this lounge and you have to wait here until your massage order comes. The seat by the window was bigger and the seat pitch was wider, so most people were sitting by the window.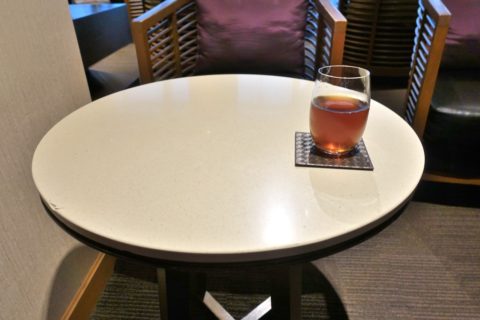 When you sit down, a welcome drink is served. However, this drink has a slightly fruity texture with little taste … like tea? I don't think so. A drink with a mysterious taste.
There are also first-class rooms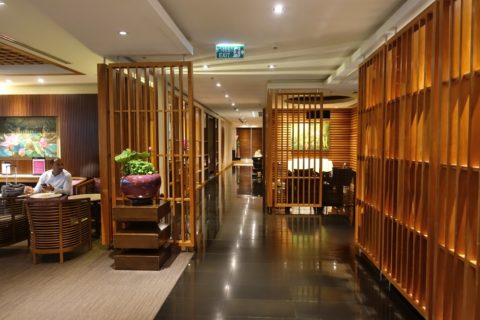 The Royal Orchid Spa also has shower and toilet facilities like those found in regular lounges, but according to HP, they're in first-class zones, so business travelers can't use them (However, it can be used only in the toilet.).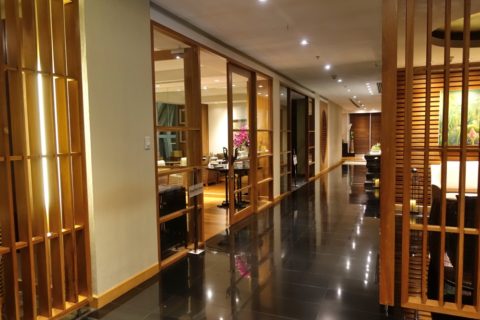 In the middle of the corridor leading to the treatment room are some first-class rooms marked "Royal First Zone". I see. I understand why first class customers can receive special treatment like this!
Thai style drink at the bar counter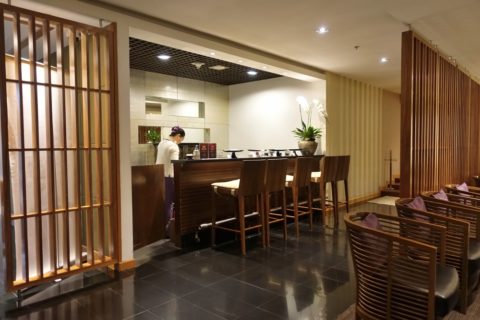 There is also a bar counter next to the entrance where you can order drinks. You can order various things such as coffee and tea, but the following 2 kinds of dishes were served.
Beal Fruit Juice
Roselle Juice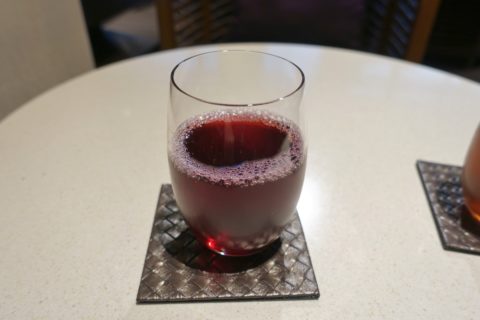 I tried Roselle Juice, and it had a strange taste with very little taste …。 Roselle (Roselle), which I had never heard of before, but when I checked it out, it was a red plant of the family Malvaceae.
Another plant, Beal (veil), is also a popular plant in Thailand, but was this the welcome drink I drank earlier?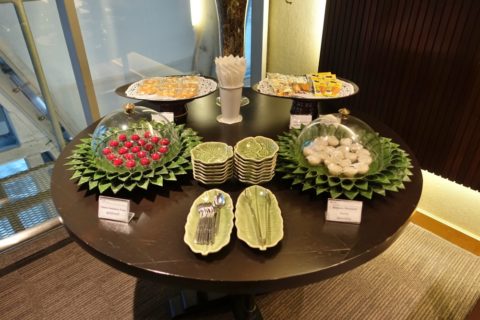 On the other hand, there was a snack corner in the lounge for business class, and there were okaki, dried fruits, and two creative sweets.
Cherry Imitation Fruit
Banana Steamed Pastry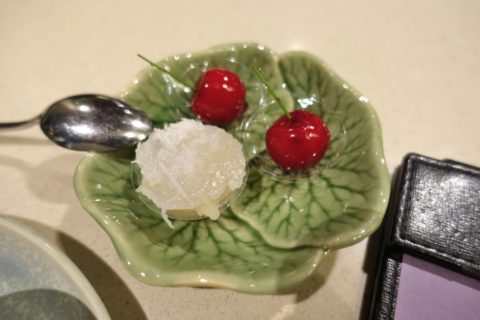 I tried this one too, but the one shaped like a cherry has a taste like Japanese sweets with white bean paste. It has an elegant sweetness, and this is pretty good! The white Banana has a strange taste …
How does a foot massage work …?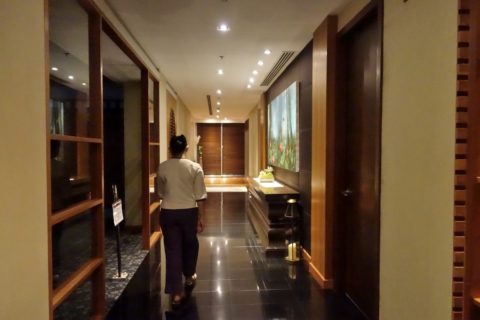 In the meantime my name was called! You told me that you had to wait for 30 minutes, but I will be there in about 10 minutes, which is much faster!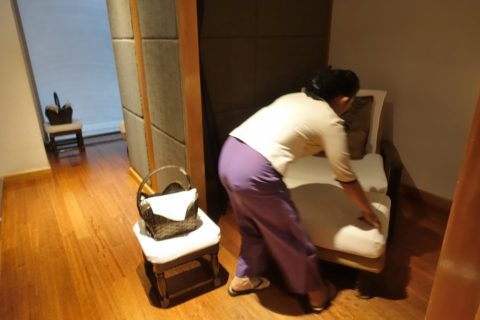 I was led to the room at the very end of the long corridor. The room doesn't have a door, but it is a semi-private room.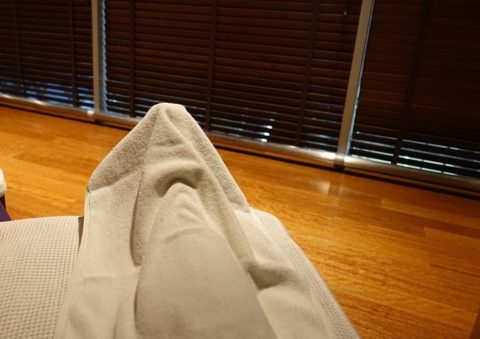 I chose foot massage this time, but first I massage the whole area from the knees down, then I apply oil to one foot at a time, and then I massage slowly with my hands.
At first, it's just a half-strength, but gradually it gets stronger, and then you stand up, put your weight on it, and use your whole body to stimulate it, so sometimes you feel a little pain.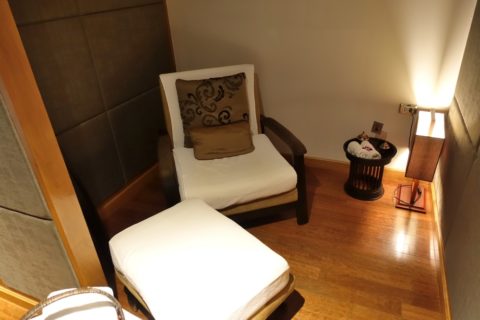 Finally, wipe off the oil and it's done! I wasn't tired from the start, so I don't really know how effective the massage is, but more than anything, multiple oil massages make my skin super smooth!
Getting this smooth skin is well worth it.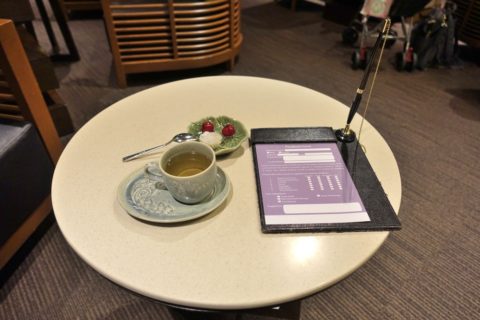 When you're done, you'll be taken back to the lounge where you'll be asked to fill out a survey (It doesn't seem obligatory.). I ordered lemon tea because they said they would bring me a drink, but this also had a unique taste …
Massage is good! Simple service?
So I tried a Thai massage at Royal Orchid Spa, and I was generally satisfied with the content! There was a lounge with a nice interior, and I had no complaints about the atmosphere, but maybe because it was business class (downgrade), there was no polite service, and I had an impression that it was a little dry service.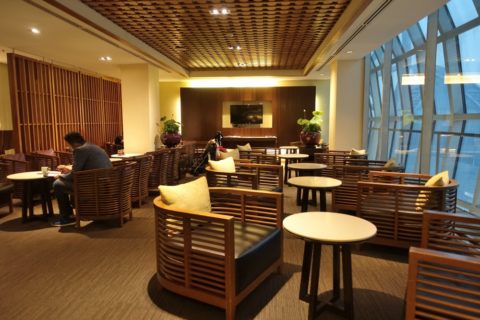 Well, if you want to receive a service with all your heart and soul, you should use first class.
First class (Tokyo – Bangkok) on Thai Airways costs more than 200,000 yen one way, but if you use ANA Miles, you can get a round trip from 70,000 miles (one-way economy), so if you have a chance, please try it!
♪I also recommend this link→Collection of AIRPORT LOUNGE Reviews Worldwide! Wine, buffet, Shower, etc.