This time I stayed at a 4-star hotel called "Rose Park Hotel Al Barsha" in Dubai, and in addition to being in a good location in front of the Dubai Metro (Railroads), I was able to spend a very comfortable time in a spacious and clean room!
It is very convenient as you can go to downtown with Burj Khalifa at 5 stations (15 minutes) and you can go to the airport without changing trains. I would like to recommend a hotel in Dubai.
Right in front of Dubai Metro "Sharaf DG" station!
The hotel I stayed at this time in Dubai "Rose Park Hotel Al Barsha" is in a good location right in front of Dobai Metro Red Line Sharaf DG station! It is far from the airport, but the red line is directly connected to the airport, so it is very convenient.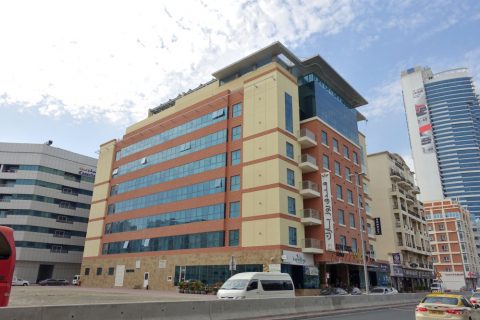 The Rose Park Hotel is a brown and cream-colored building across the street from the station exit. The exterior of the hotel is clean because it is still a young hotel, and the exterior looks very sturdy, which leaves a good impression!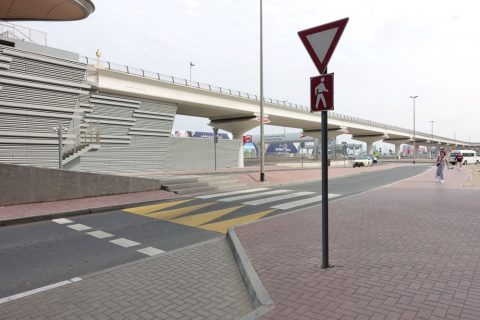 Also, the hotel is located in front of the station, but the problem is that there is a pedestrian crossing a little far from the hotel. Even so, you can walk from the station exit to the hotel entrance in 2 minutes, so it's not a problem at all.
well-attended reception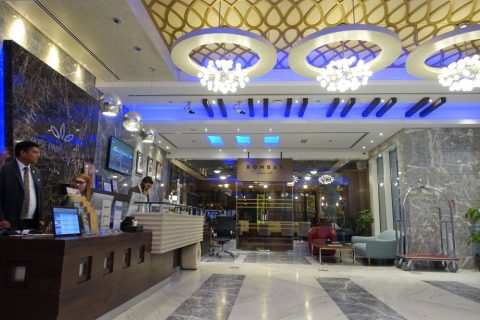 Good reception! This time I arrived about 1 hour earlier than the designated check-in time, so I had to wait for about 40 minutes in the lobby, but during that time, the waiter told me where to go to the restroom, connected my smartphone with Wi-Fi, and took care of me in various ways.
And they even bring juice along the way, which is VIP treatment! It was a plain fruity mango juice and I enjoyed it very much!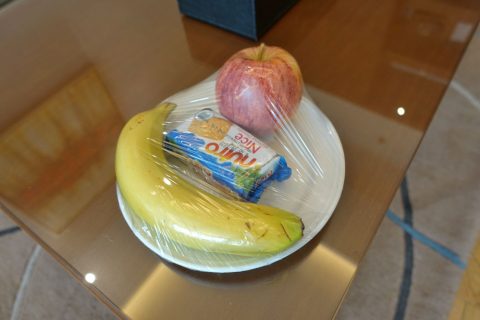 In addition, after this, the porter brought the luggage into the room, and then added the fruit service! As expected, it would not be free, so when I gave him a tip of 5DH, he thanked me very politely.
It's spacious and beautiful! Deluxe King Room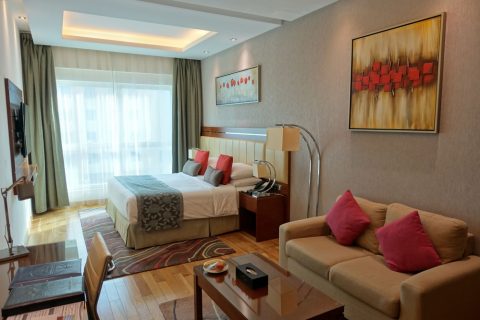 This time the room was a deluxe king room. With a king-size bed and a large sofa, this spacious and open room measures 35 ㎡. The name "Deluxe" is amazing, but I was surprised because it is the lowest class room in this hotel!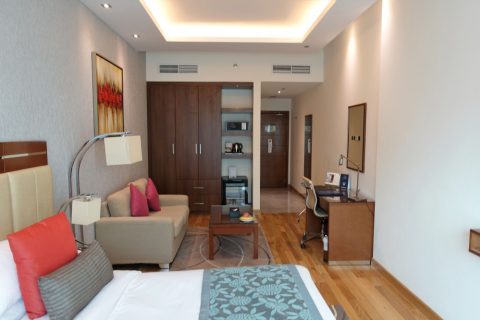 The high ceiling is well lit, so it is bright even at night, and the calm interior is very nice! It is a very comfortable space.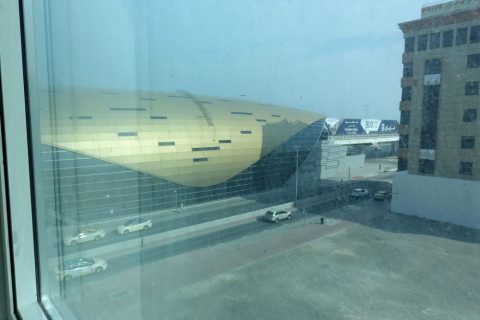 The windows are soundproof and there is almost no noise from outside even though it's in front of the station! Even if I hear it, I can barely hear the police siren.
The wall between the next room and the next room is also a hard concrete, so I can't hear it at all, but I can only hear the sound of the hallway. But the front door is also strong, so it doesn't bother me much.
Complete facilities! But there are few outlets.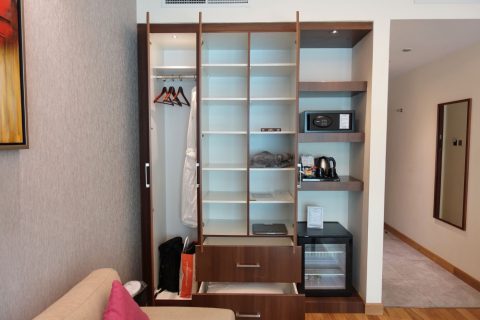 The facilities in the room have plenty of storage space! There is also a safety box, health meter and refrigerator.
The fridge is on and cold, but the mini bar is all on request so it is empty. It's good that you can use it freely from the beginning.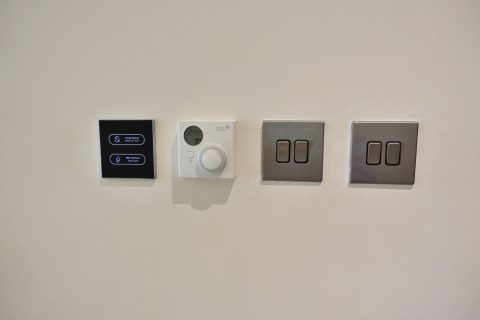 There is also air conditioning that can control the temperature, and the air volume is 3 levels.
The only complaint is that there is no outlet around the desk. There was an outlet that was used for lighting equipment in the place where the desk was moved, so I was able to charge all of my PC and smart phone from here, but I couldn't accept this in this age of cybernetics.
Wifi is a bit slow, and if I had to point out any improvements, I would say.
Clean water area and amenities are available.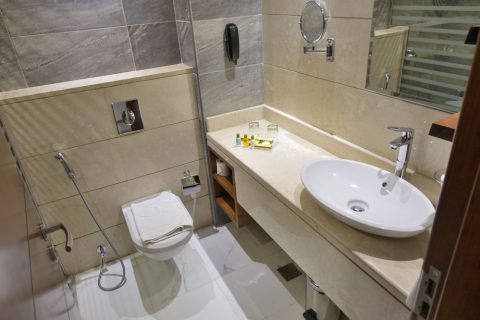 The area around the water is shiny and clean. Tap water may have a slight chlorine smell, so mineral water is good for drinking.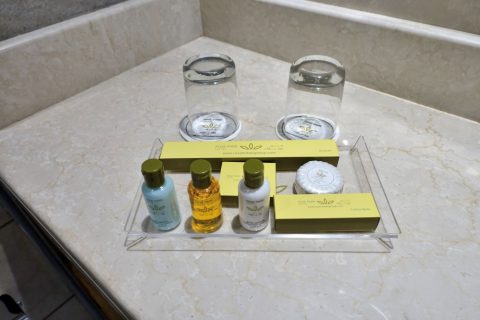 There are all basic amenities.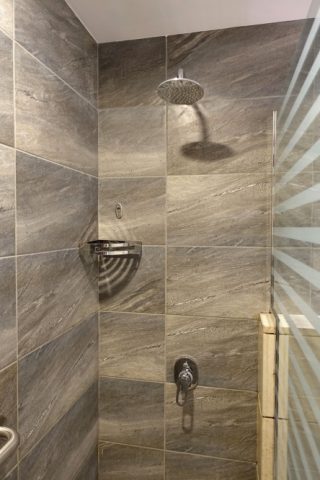 Water pressure in the shower is also good! However, even if I twisted it to the hot water as much as possible, it only became lukewarm water, and it was a bit chilly. Also, there is only a rain shower, so I cannot deny that it is a little difficult to use, but it is not a big problem.
Free early check-in!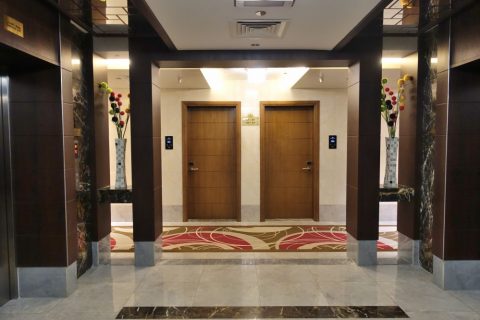 Although it is such a Rose Park Hotel, the accommodation fee this time is about 11,000 yen per 1 night with a reservation from Expedia (tax inclusive). In Dubai, known as the market of the blue sky, I felt it was a very reasonable price!
Even a month before my stay, I was surprised to find this price with a free cancellation plan! I will be staying in late February this time, and I heard that the winter season with a good climate is the peak season for sightseeing, but in that sense, I think it is a very cost-effective hotel.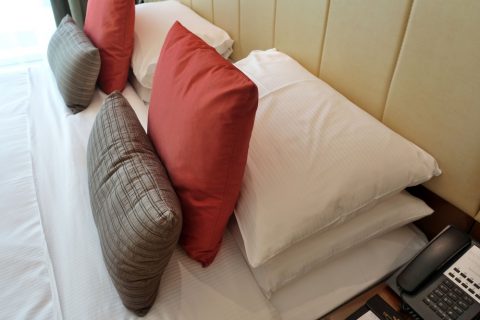 Also, this time I requested an early check-in at 8 AM because I was arriving in Dubai early in the morning, but there was no extra charge for that.
It depends on the availability of the day, but it is quite reasonable.
A high level 4 star hotel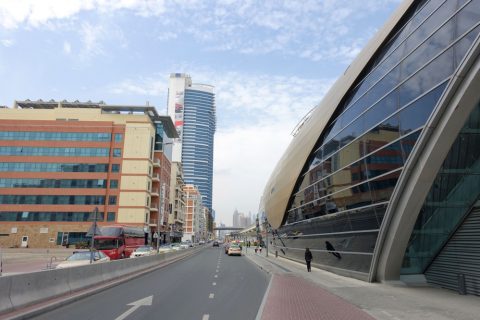 In addition to the good location in front of the station, the spacious and beautiful room, and the pleasant service, I was really surprised that it was 4 stars for this content! I realized the high level of hotels in Dubai!
The hotel also offers free machine gyms and a free shuttle service to the Dubai Mall, so if you have a chance to stay, check out our website.
♪Click here for a List of articles on "Dubai"