Next to Wat Arun was "Wat Phra Kaeo". As the golden temple with emerald Buddha is the most beautiful sightseeing spot in Bangkok, it was crowded with many tourists, but even more than that, the area around the royal palace was full of people wearing black mourning clothes!
In Thailand, following the death of King Bhumibol Adulyadej in October 2016, there was a long line of people who came to pay their respects. This time, I would like to tell you how Wat Phra Kaeo is now in mourning.
*This article was written in 2017. We are now open again.
Wat Phra Kaeo's Line of Mourning Clothes
I got off the Chao Phraya Express Boat at N9 "Chang" and headed to Wat Phra Kaeo, but I was surprised when I came out of the ferry exit!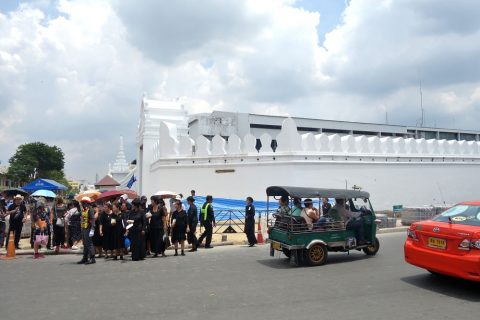 Everywhere along the street, there were a lot of people wearing black and white mourning clothes, which surrounded the outer walls of Wat Phra Kaeo! And then, there is a long line to go to the entrance.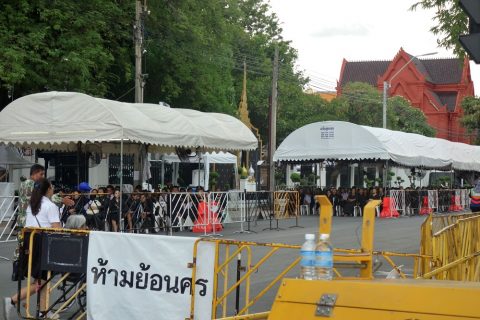 Also, some streets are lined with regulation lines, and tents are set up in some places, where many mourners sit. Everyone seems to be waiting for their turn.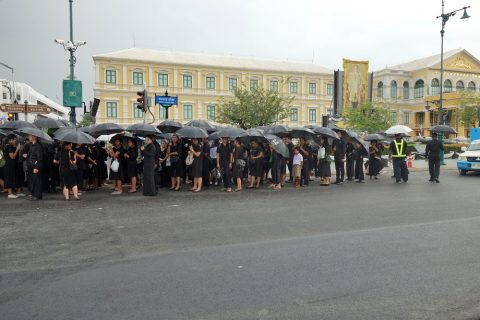 I later found out from the news that the procession was a line of people who had come to pay their respects to Bhumibol Adulyadej, who died last October. According to the news, the number of mourners had exceeded 1 million as of September of this year, and they must have gathered from all over Thailand for Sunday.
The support of the Thai people for the King seems to be very strong, and I think this is reflected in these actions.
How does it affect sightseeing in Wat Phra Kaeo?
Also according to the news, Bhumibol Adulyadej, who died 10/13 last year, will be buried 10/25 to 10/29 this year. As a result, Wat Phra Kaeo will be closed from 10/1 to 10/29 and visitors will not be able to enter for sightseeing.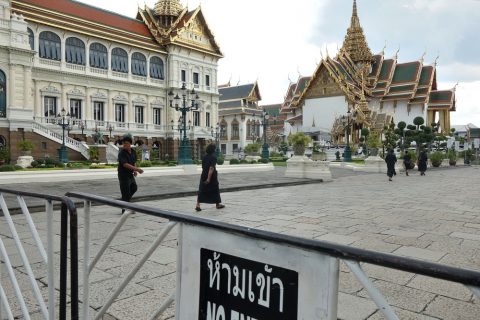 At the beginning of September when I visited, I was able to enter the area with "Emerald Temple" without any problem, but I could not enter one of the tourist routes "Chakri Maha Prasat", and there were barricades around the building, so tourists couldn't even get close to it.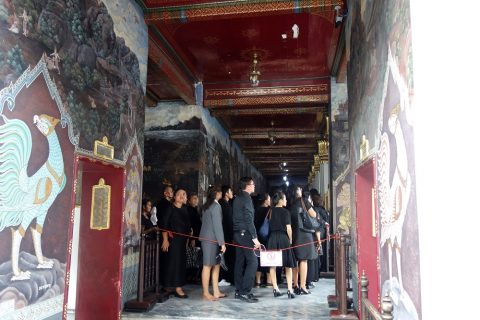 In addition, there are places in Wat Phra Kaeo that are not allowed to be part of the whole group, so it is not possible to see everything. The Wat Phra Kaeo is very expensive, at 500 bahts, so you might not want to visit during this period.
the impact on transportation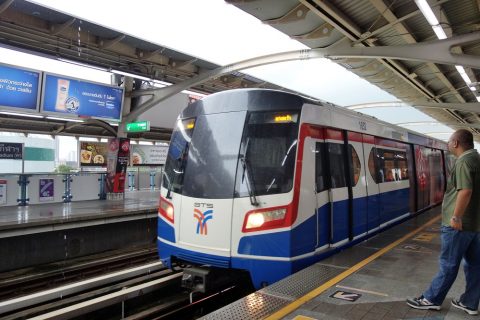 Due to the royal funeral, 10/26 of this year will be a holiday, and fares for some sections of the BTS will be free during the period. However, during the same period, the roads around Wat Phra Kaeo are expected to be closed, and heavy traffic is expected, so it might be better for tourists not to approach.
However, the location of Wat Phra Kaeo is in an area where Bangkok's tourist attractions are concentrated, so the effect on tourists is immeasurable … If you plan to visit Bangkok soon, I recommend that you postpone it to November or later if possible.
This time, I would like to report the golden temple in Wat Phra Kaeo. → Access to Wat Phra Kaeo and strict dress check! see a golden temple
♪Click here for a List of articles on "Bangkok"