While strolling around the city of Lisbon by tram, I found a cafe with a nice view, so I dropped by!
The Quiosque Portas do sol is an instant cafe with only terrace seats, but in a great location overlooking the scenery from the hill, you can enjoy a blissful coffee time overlooking the town of Lisbon with a row of red roofs!
※This article was written before the virus scandal. This will be updated.
a cafe on a hill with a nice view
Quiosque Portas do sol is here. It is located in a part of the old town near Lisbon Cathedral.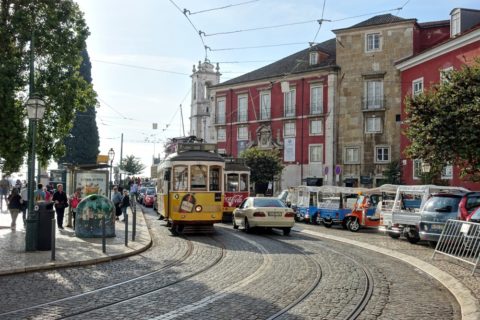 This is a square named "Largo das Portas do Sol" and it has a nice atmosphere with streetcars passing by! There are trams of number 12 and 28, so the access is excellent.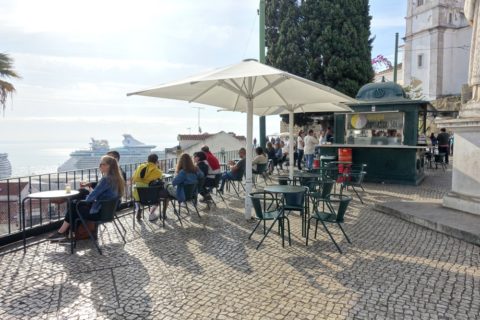 This cafe features a white parasol terrace in a corner of the square and a small green building next to it. It's self-service, so you order at the counter and go to your favorite seat to eat and drink.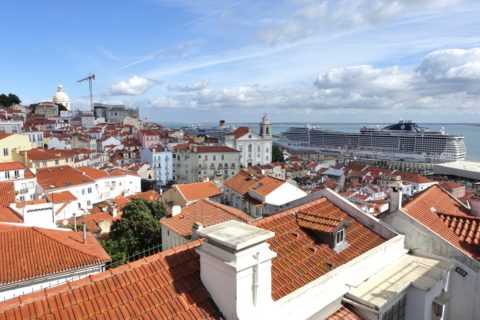 This plaza is on a hill and is open to the Tejo River, so you can enjoy a panoramic view of Lisbon with its red roofs! You can see a river in the distance, so it's quite a pleasant place.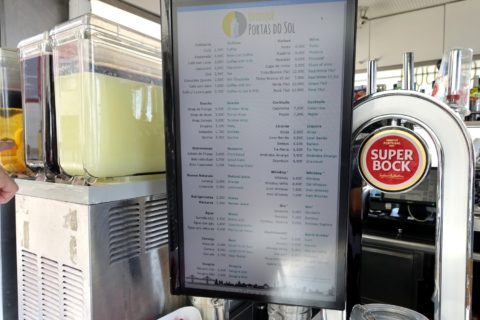 The menu of this cafe is displayed on the electric bulletin board next to the counter. It is easy to see as it is written in English, and there are various kinds of coffee and alcohol drinks!
In addition to port wine (€4), regular wine by the glass (€3) and bottle wine (€12) are also available.
The menu also includes snacks such as several kinds of Wrap (Like a tortilla.), Empada (Chicken pie), a Portuguese soul food, chocolate-covered croissants, toasts and, of course, pastels so it's perfect for tea time!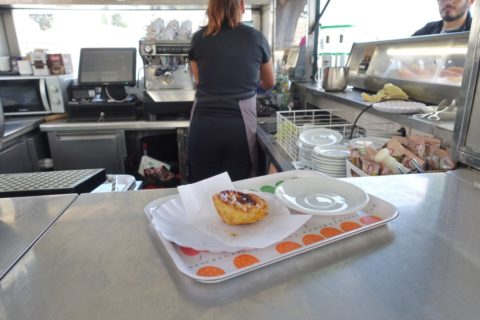 When you order coffee, they grind beans on the spot and brew it! I may have been lucky only this time, but this is a very stylish service.
The taste of valuable espresso coffee!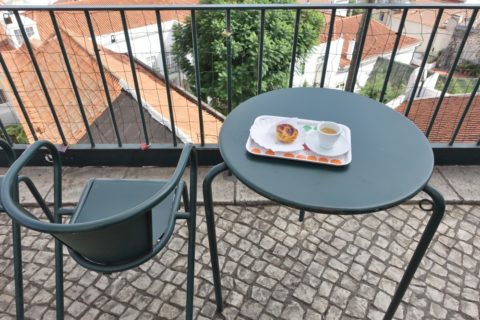 I ordered Nata and espresso coffee this time. The seat facing the view happened to be vacant, so I got it right away!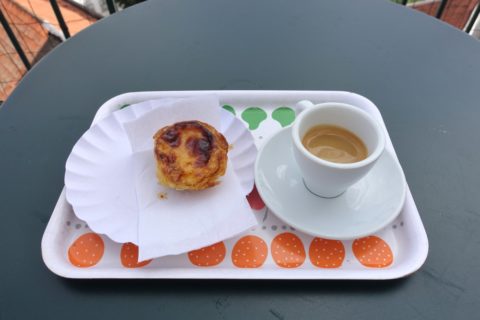 The set of Nata and espresso coffee is the standard combination in Portuguese cafes, but the price is €3 for the set. There are some shops that sell for less than €2 per set, but this might be a bit of a tourist spot price.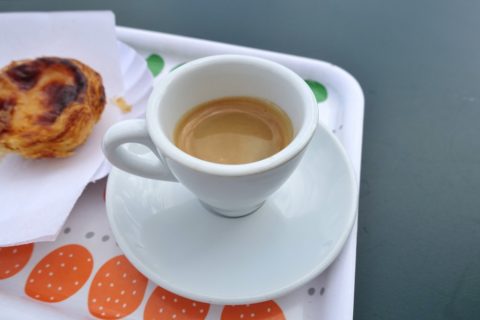 However, this espresso coffee is delicious with a good balance of bitterness and sourness! After all, freshly ground and brewed is delicious. This espresso only costs €1.3, so this is a worthwhile 1 cup.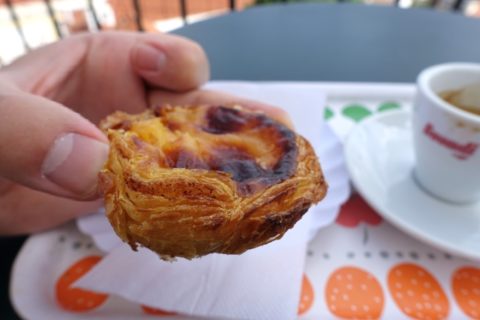 On the other hand, the pastel de Nata (€1.7) doesn't taste very good, doesn't have a very good texture … doesn't even have the crunchy texture of the crust or the creamy texture inside.
Well, this time I had eaten at more than 10 Natas in Lisbon and walked around, so maybe it was too much for me, but …
Is the view seat up to luck?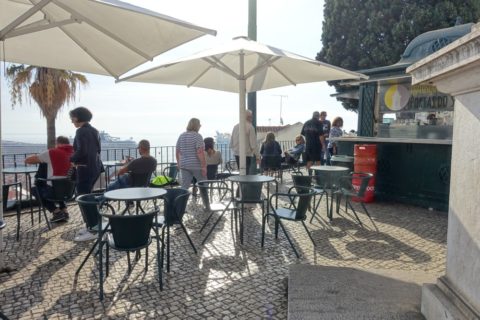 So I had a coffee time in Lisbon at the scenic cafe Quiosque Portas do sol! There are light meals and wine, so it's good to have a light lunch.
However, the observation seats are popular and there are not many seats available, so you may need luck to have a good seat.
Quiosque Portas do sol
Address:Largo Portas do Sol, 1100-411 Lisboa
Opening house:9:00~21:00 (From Thursday to Saturday until 24:00)
★Please also try this → "Lisbon" article list