In Vietnam Hai Phong, I visited "Quán Bà Cón" which I researched beforehand to try authentic local Vietnamese food!
When I went there, I ordered 2 local foods, " Bánh đa cua " " Nem cua bể ", at a shop with a simple atmosphere that local customers might visit. The taste is authentic for better or worse!
10 minute walk from Hai Phong Station
This time, I visited Hi-phone's "Quán Bà Cón" for lunch. It is located along Cầu Đất Street, which is about 10 minutes walk from Hai phong Station.
As I mentioned in the article "Hai phong sightseeing spot! tour French architecture", the area around Hai Phong Station has developed unexpectedly and there are many restaurants.
Hai Phong is one of the local cities in Vietnam, but the commercial population is said to be more than 1.7 million, so it is not a quiet rural town at all.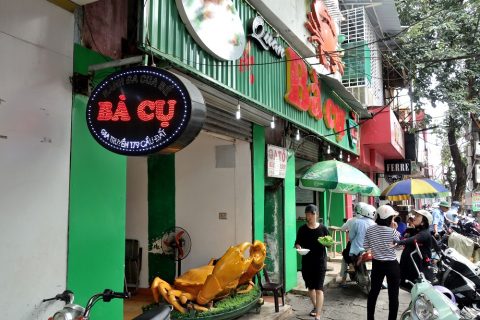 The red letter " Bà Cụ " is marked with a crab mark. We are open 7:00 ~ 22:00, and we are basically open all year round except for special holidays.
The interior of the store is a bit different world.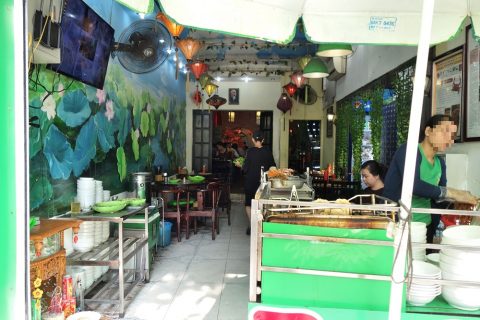 Inside the store, the frontage is narrow and it continues to the back. The counter and the cupboard in the shop are really like local shops.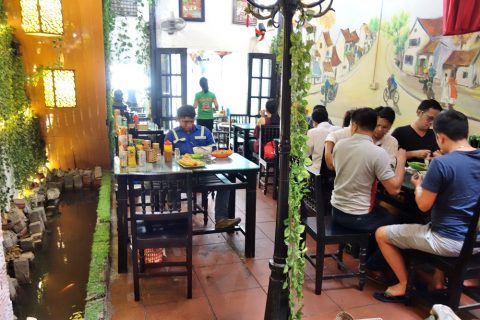 It was about 1:30 PM. The shop was crowded with people thought to be local people. The age group is mainly young people, and the proportion is small, but there are also women.
The shop front had a strong local color, but as you go further inside the shop, the atmosphere becomes somewhat elaborate with brick! There is a pond where carp swim and you can go to the other floor from the side.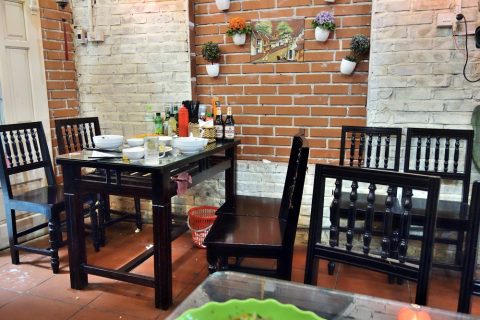 There are three tables for four people here. When I entered the store and was looking for a seat, a waiter asked me to take me to this floor, but there was a group here at the beginning that I thought was tourists, so maybe foreigners are guided here preferentially.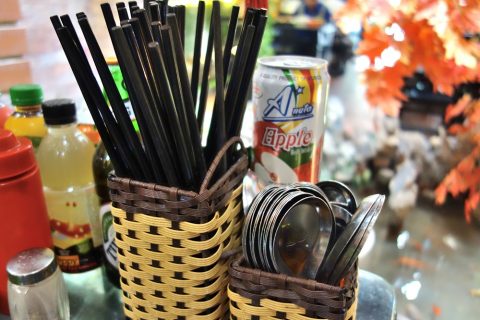 Chopsticks and spoons are provided on the table. The cleanliness is fairly common in restaurants in Southeast Asia. If you're curious, prepare a wet tissue.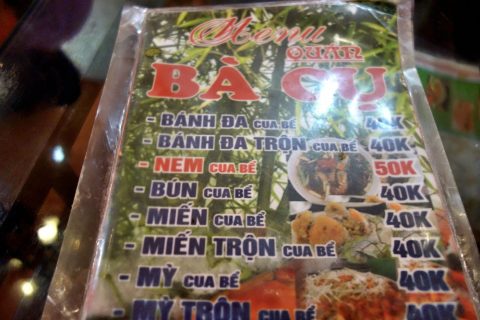 If you look at the menu, the signature menu of this restaurant is Binder Koa. It is a noodle dish that features rice flour kneaded with sugar cane juice and soup made from crab stock, and it is also a signature dish of Hai Phong.
Each dish costs 40,000 to 50,000 dong. It is not written in English, but Vietnamese is based on the alphabet, so you can read it.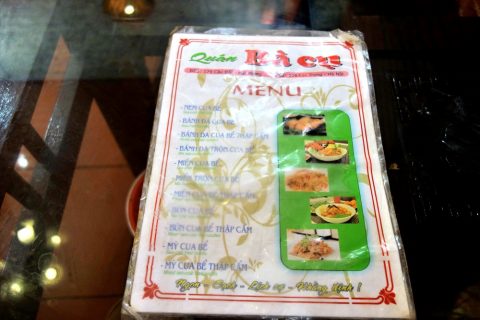 When I thought so, there was a menu written in English under the table! But the price is not written here, and I was worried that I might charge only to foreigners, but when I looked at the bill later, there was no such thing, so don't worry!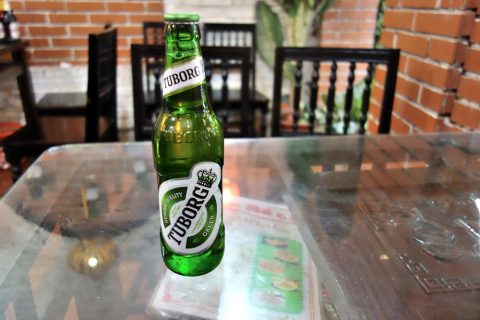 However, I didn't intend to order a drink, but when I was asked "Beer?" and gave a vague answer, it came out! It's a Danish beer called TUBORG, and it's a brand sold in large quantities in Asia including China.
For 250 ml, it costs 40,000 dong, which is pretty expensive. And it's not cold at all. …。
Nem cua bể
Among the 2 dishes I ordered, Nem cua bể came first. The main spring rolls come with vegetables and soup.
The staff showed me how to eat it with gestures and told me to put soup and vegetables in a small plate for spring rolls and eat them together.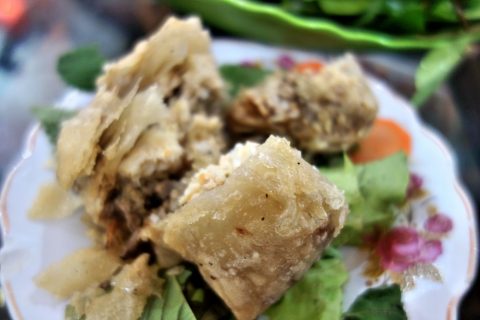 I was worried about the leftovers because they arrived 2 minutes after I ordered, but the fried food was crispy. There are a lot of ingredients such as Konjac thread, bean sprouts and shimeji mushrooms.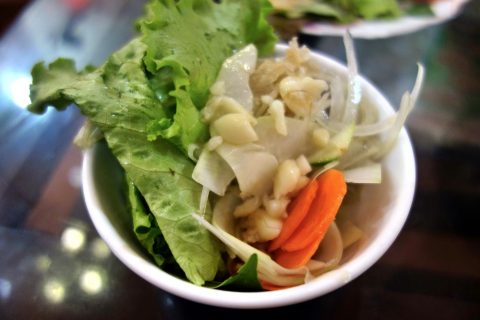 As the waiter told me, I put it with soup and vegetables and ate it, but the soup was cold, sweet and spicy, but it had a strange taste. The spiciness of the onion was great, and the garlic was so good that I couldn't help it.
It's not enough to vomit, but I don't feel like eating much …。, but it's definitely better to eat only spring rolls crisply.
Bánh đa cua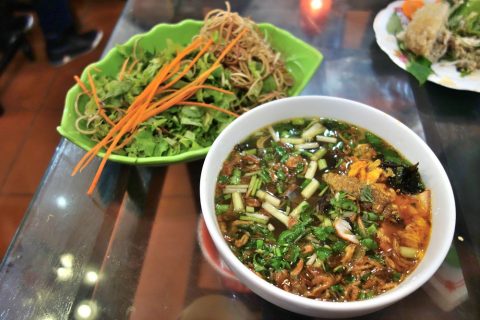 Then, the main Bánh đa cua. This also comes with vegetables with no freshness. Coriander, carrot, and finely chopped burdock root (?), and everything tasted just as I expected, so I'll just have the noodles!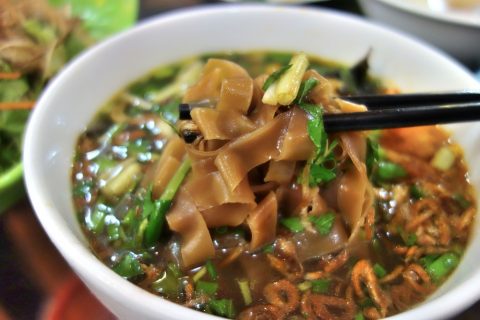 The noodles were a little chewy and the soup had a flavor like dried shrimp, but it didn't feel like crab. It's dark, but not very spicy.
Ingredients include wood ear mushrooms, eggs, green onions, and several slices of chicken. There was something like a mantis shrimp inside. Delicious? When I was asked, it was … humm, subtly …。
Taste of local food according to taste
The bill this time was 130,000 dong. It was partly because I ordered beer, but I thought the price was a little high for lunch at a local restaurant in Vietnam …。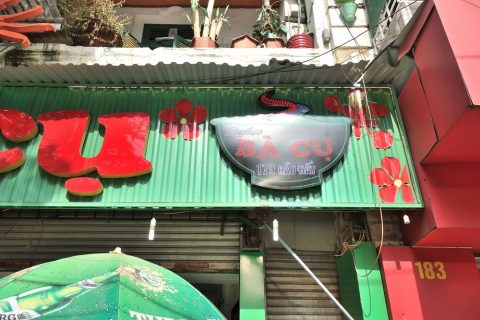 I ate local food " Bánh đa cua " and " Nem cua bể " in Hai Phong, Vietnam. Whether the taste is good or bad, it is authentic, and you may like it or not, but if you like it, it may be more economical to eat a delicious Bahn Mi with 30,000 dong.
The signature dish of Hai Phong, a little bit more than …。 I don't think there is any repeat, the report was from local shop Quán Bà Cä of Hai Phong!
Quán Bà Cụ
Address:179 Cầu Đất, Ngô Quyền, Hải Phòng
Opening House:7:00~22:00