Continuing from yesterday, we will report on Qatar Airways Business Class (Narita – Doha) boarding, and this time on the 1st meal. The dishes that are served with the service that reminds you of a high-class restaurant by a first-class CA are all elegant. But the champagne of the brand which was surprisingly cheap had a little disappointing taste.
After boarding the plane, CA will come to ask for the first order of in-flight meal. I was handed the in-flight meal menu and the wine list, but this is a very luxurious one!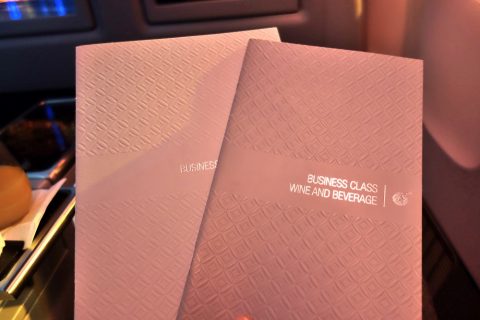 The thick paper embossed cover has a silver logo mark and the gray, sturdy menu is designed to remind you of a fancy restaurant.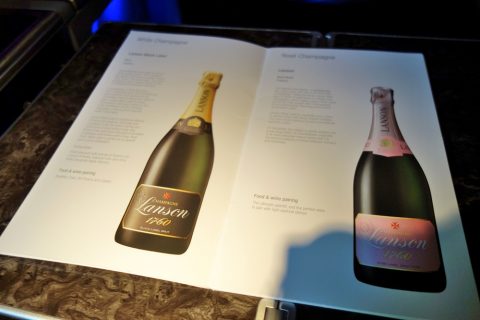 And the wine list includes full-color photos of all the brands! It is only in English, but there are detailed explanations. In addition to 2 types of champagne, there are 8 types of red and white wine, which is a great lineup!
In addition to wine, there are whisky, brandy, beer, and even sake and shochu which I didn't check. Other drinks like "Mocktail" and "hot chocolate" that even people who don't like alcohol can enjoy, and although it isn't mentioned here, it seems that there are various kinds of coffee and tea.
Unexpectedly disappointing Qatar Airways champagne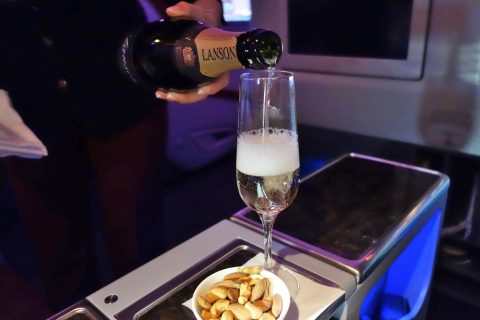 There are so many things that I can't decide, but speaking of business class, first of all, champagne! Many airlines put a lot of effort into champagne which is a star of wine list.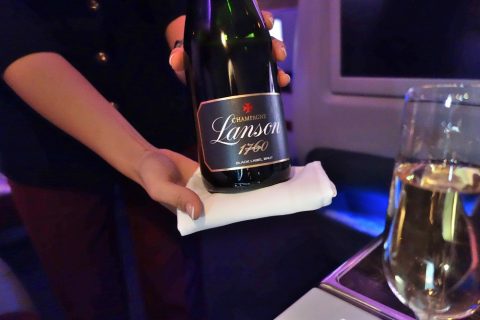 Qatar's business-class champagne is Lanson Black Label Brut. I put it in my mouth with a big expectation, but it was surprisingly light …。 The smell was not strong enough to spread the flavor, and there was little lingering feeling, so I was a bit disappointed …
The Lanson Black Label Brut is so cheap that you can buy it in Japan for around 3000 yen. When it comes to champagne served in business class of other airlines, the market price is usually 5 ~ 6000 yen, so this is a very low level.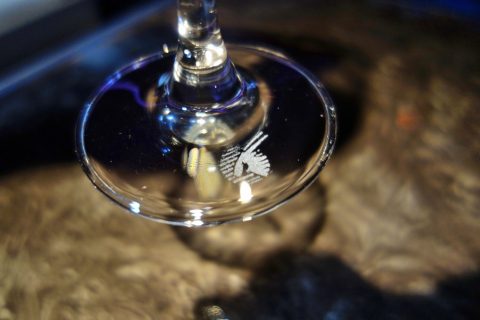 The glass is of good quality, but this is quite unexpected. To put it another way, it's a cheap champagne like a good sparkling wine. I was really shocked because I was expecting a high class champagne that cost more than 10,000 yen per bottle!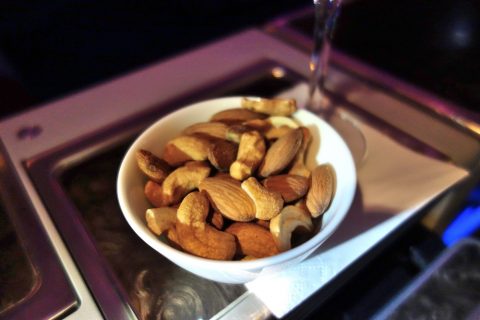 By the way, the nuts were served as a side dish for the drink. It's served in the sense of "Satay" on Malaysian Airlines, but it's really delicious! Almond peanuts, cashew nuts, pumpkin seeds. ) was in it, and there was a lot of it, so I left it every time, but it was disappointing that I couldn't take it home because it was not a return trip.
Amuse bouche and 3 types of bread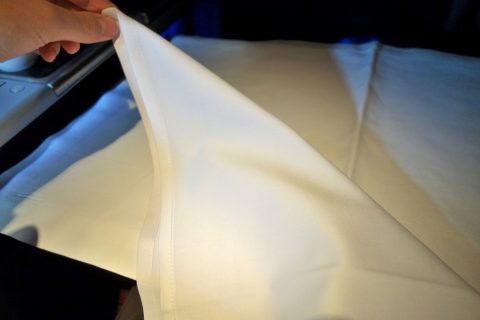 After the drink, you can't wait for the meal! First, a tablecloth is drawn and a napkin folded into a triangle is handed. CA's actions were first-class, and somehow I felt like I came to a high-class restaurant!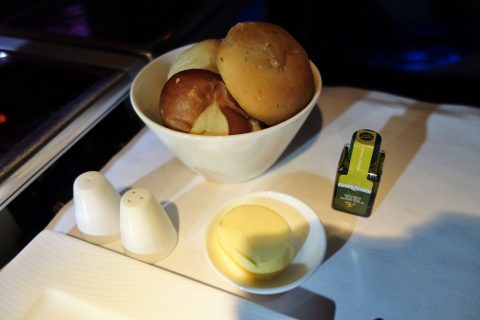 This time, I didn't touch the Japanese menu at all, and I chose all from Western dishes. First, three breads were brought. Salt, pepper, olive oil, and butter are not as hard as JAL, but they are just right for eating (lol).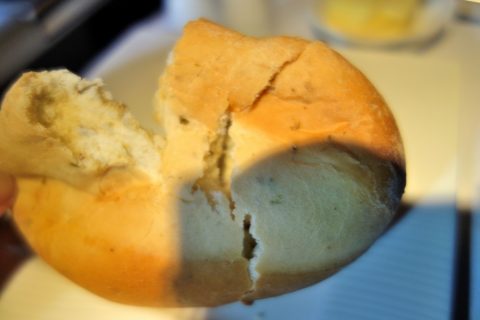 These three breads were served in different brands each time on the next flight, but they all tasted normal. This is the best flight from France. It doesn't have much flavor, so it's better to eat it with butter, olive oil or salt.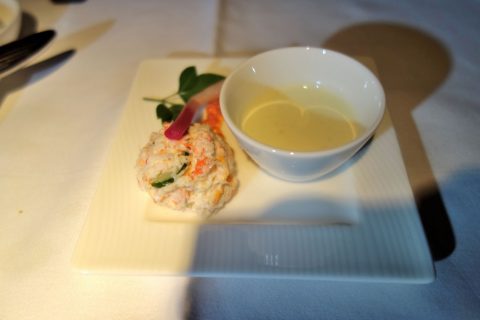 And the food was served at first with an amuse bouche which was not on the menu. It is a mixed dish of crab meat and vegetables with wasabi sauce, but it is not spicy at all. Aemono also goes well with sake if it is a little bit salty, but this is also a little bit subtle.
Soup and rose champagne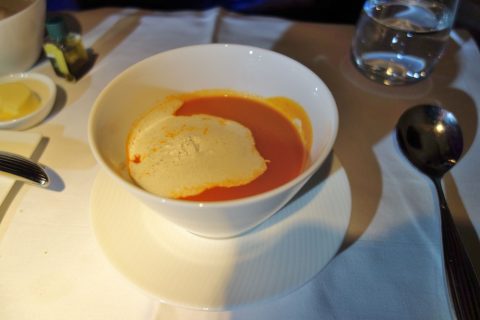 The soup is "Roasted tomato soup". The sourness of the tomato brings out the creamy texture, and it is moderately delicious. On the next flight, I was only able to choose from one kind of soup each time.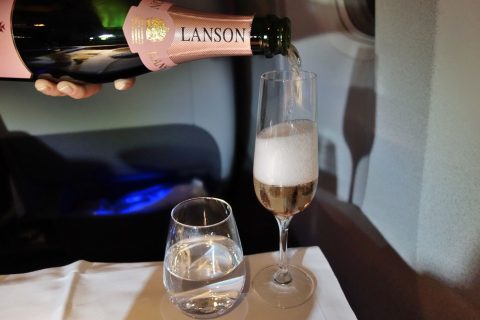 I will have my drink changed to rose champagne here. This is the same brand Lanson Brut as white, but the market price will rise by about 1,000 yen.
The taste is the same as above. This champagne is also unassertive and boring. Of course, it is not a bad taste, but I reconfirmed that the taste of champagne is proportional to the price.
This is my first experience of alabic cuisine!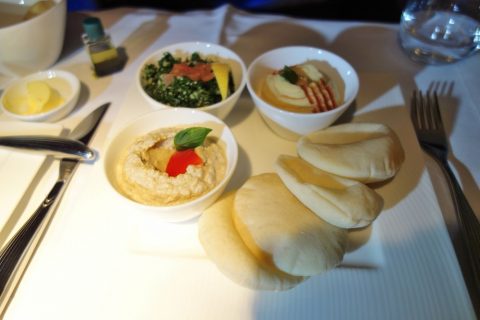 I chose "Traditional Arabian Mezze" for the appetizer. "Pita-pan" is a round bread and 3 kinds of paste dip dish, and this Mezze is a Lebanese dish.
The 3 pastes are dishes that I have never heard of such as Hummus (chickpea paste), Tabbouleh (chopped parsley), and moutaval (eggplant based paste). This is an in-flight meal unique to Middle Eastern airlines.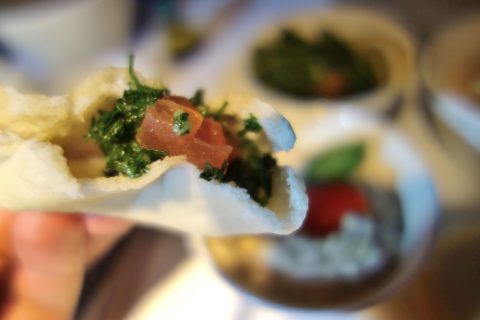 When you eat it, the Tabbouleh has a strong flavor of parsley, but if you eat it with a garnish of lemon, it becomes sour and easy to eat. It is not a side dish but a side dish for sake.
Hummus has an elegant taste without any smell, but it has a very strong flavor and has a taste like it contains a lot of purines. This Mezze is served as a healthy dish in Western restaurants, but don't eat too much.
Elegant main and dessert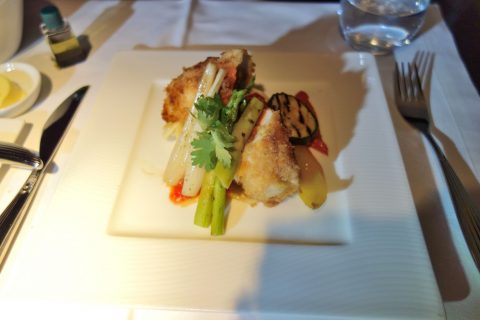 My main choice was "Fried Chicken Cutlet, Baked Bread, Tomato, Basil, Mozzarella Cheese". It's a shame that there are only 2 pieces of chicken cutlet in it, but the soft chicken, asparagus and sweet tomato taste are good!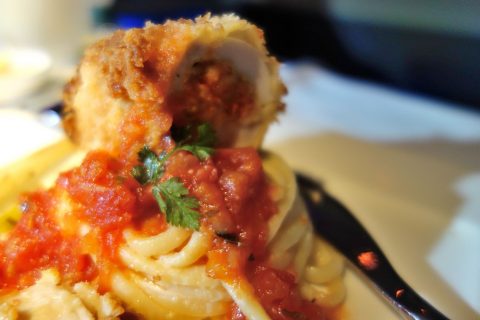 There is carbonara style pasta under the cutlet, but it is creamy and delicious for an extra dish.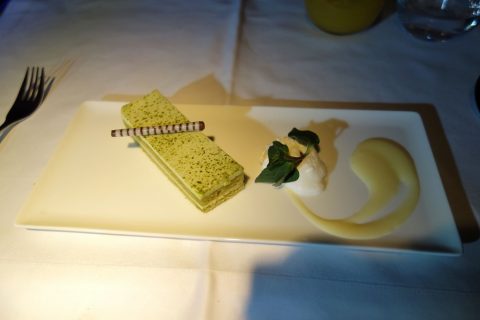 The dessert is "Matcha Tiramisu with Vanilla Cream Sauce". The flavor of matcha is slight, but this is also an elegant and delicious cake. I thought it would be nice if the cream had a more pronounced sweetness.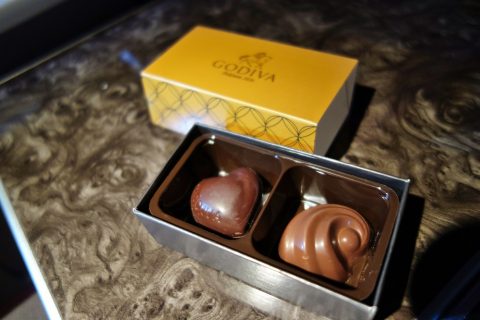 Finally, GODIVA chocolate was distributed and it was finished. The chocolate inside was different from what was distributed in Finnair business class before.
elegant in-flight meal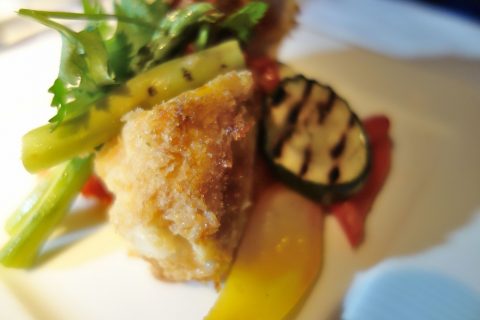 My first impression of Qatar Airways business class in-flight meals was that they were all plain but well-seasoned and of high quality. You may like the taste, but the quality of the ingredients and the menu of Arabic Airline make it an enjoyable meal.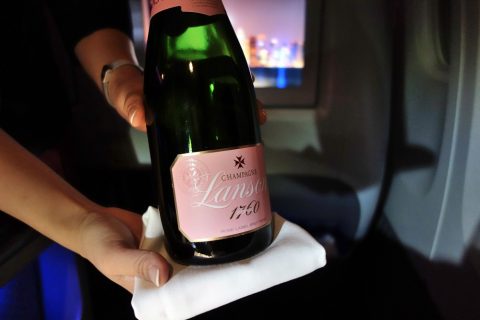 The only champagne brand was disappointing, but the red wine I drank on the next flight was quite delicious! We have a lot of high quality wine that we can never taste at JAL, so I will let you know about it another time.
Next time, I will report the comfort of the bed position and the second meal! → Report on Qatar Airways business class B777-200 for comfort and breakfast! Narita – Doha
♪Click here for a List of articles on "First Class & Business Class Airlines worldwide (Seat, In-flight Meal, etc.)"