Starting from yesterday, boarding records for Qatar Airways Business Class (Doha to Haneda) are being announced. This flight, which takes a full day from sunrise to sunset, offers two meals. This time I would like to report the first breakfast.
This is a delicious in-flight meal from Qatar Airways which is famous as a 5 star airline, and one of the attractive points is that they have Arabian menu which is unique to Middle East! What does the breakfast taste like?
The flight will leave Doha, Qatar, at 7:00 p.m. The first in-flight meal served qualitatively is "Breakfast".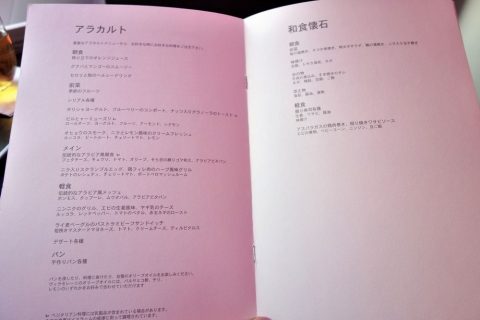 It is a route to Japan, so Japanese menu is available! However, when I made my first order, a Japanese CA didn't come, so I had to make an order in English by comparing it with Japanese. … It would be convenient if it was written in Japanese along with English, just in case.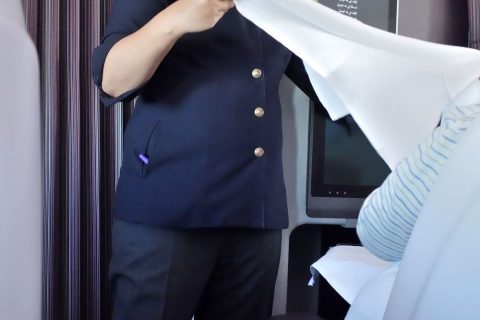 The table is then set according to CA's best practices. As we mentioned in the "Narita – Doha" article, CA's gesture of folding a napkin into a triangle and handing it over feels like an upscale restaurant (Reference → Qatar Airways business class/Arabian in-flight meal and disappointing champagne (Narita – Doha)).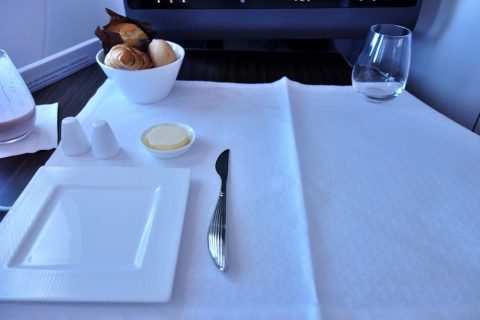 The way to place the knife on the tablecloth and the position of the plate are perfect every time! I really want some Japanese airlines to follow suit.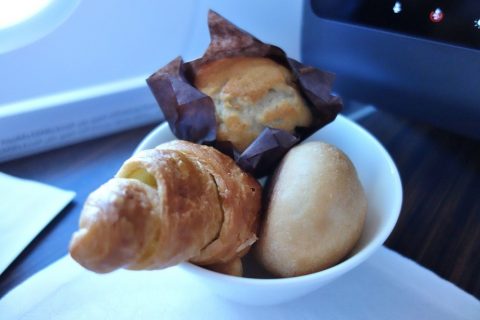 However, as I have told you many times, the taste of bread did not meet my expectations. The croissant this time is okay, but I was wondering if I could have some muffins that are too soft …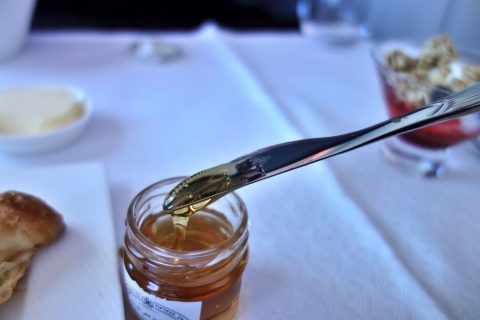 As for the jam on the bread, we have "Tiptree" which is the purveyor of the British royal family as mentioned in the Doha lounge article. I chose "Honey.", but this is a very thick jam that makes me feel like real honey!
Perfect for the morning! fruit appetizer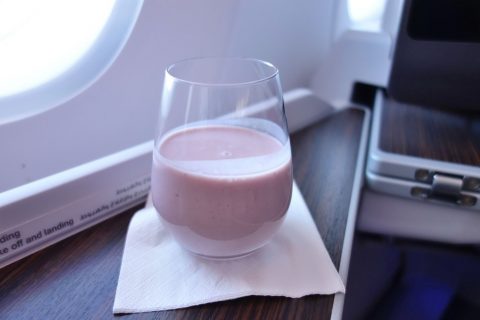 The menu starts with "Guava and mango smoothie". I usually don't like mango, but this smoothie has a sweet-and-sour flavor and almost no mango flavor. Instead, the berry taste of guava stands out and is delicious! It was perfect for the morning, and I had another one after this!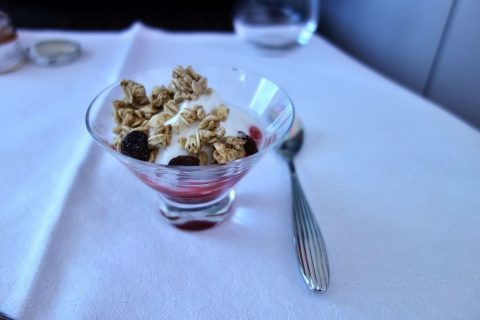 Then, "Greek yogurt". There were 2 desserts that didn't sound like "Food" in a row, but they are still treated as "Breakfast" and "Appetizer" on the menu anyway (lol).
Plain yogurt with mildly sweet berries. This dish is perfect for breakfast.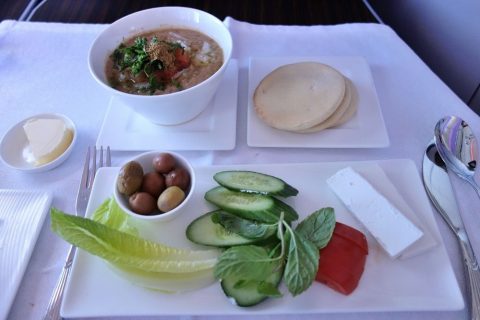 I ordered this as a main dish for breakfast. The menu is called "traditional Arabian breakfast", and it is a flat bread called pita bread with ingredients, just like the "Arabian Mezze" we ate on the way.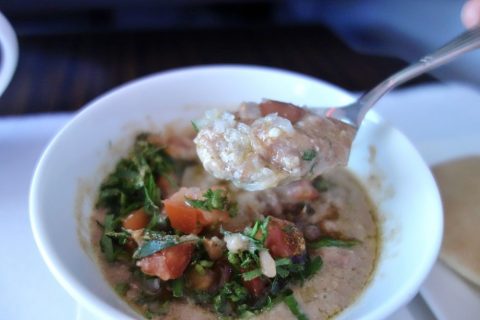 The main thing is "Broad beans with sesame paste". There are a lot of big beans, and onions, fish paste, and tomatoes are also in it. It has a deep flavor made from a lot of ingredients, and it is very delicious when you eat it marinated in a hot pita bread!
Large pitted olives, glossy cucumbers and fruity sweet tomatoes! The quality of the ingredients also shows Qatar Airways' high commitment.
elegant bar counter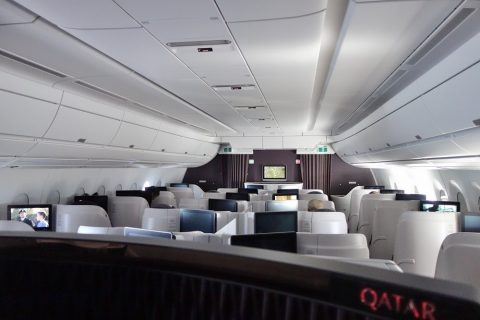 After the first meal, the lights in the cabin were dimmed, and there was free time until the next meal (laughs)! I took a nap for a while, but I couldn't sleep well because of the sunshine …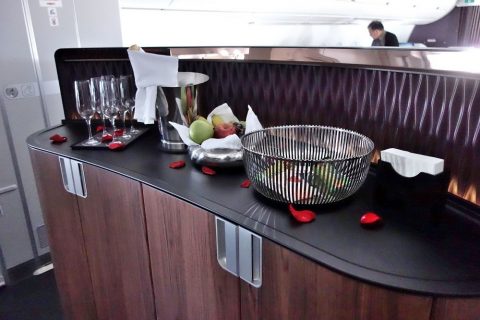 In the center of the business class area, there is a bar counter like this, where you can enjoy the sweets and wine. Until now, I've only been on late-night flights, so the inside of the plane was dark and I couldn't see the bar area well, but it's an elegant space with red petals scattered around.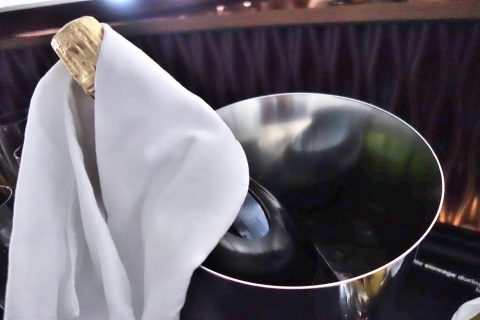 The wine on display is champagne. As I mentioned before, this is one of the only disappointing menus at Qatar Airways along with bread. I don't need to prepare a special "Rose", so I want to have champagne of at least 10,000 yen per bottle …。
By the way, the sweets on display are the two items you see. The crunch was just like a convenience store snack, but the tomato chips taste like something to go with alcohol. But if you want to focus on in-flight meals, it's even more important to have high-grade chocolates in places like this.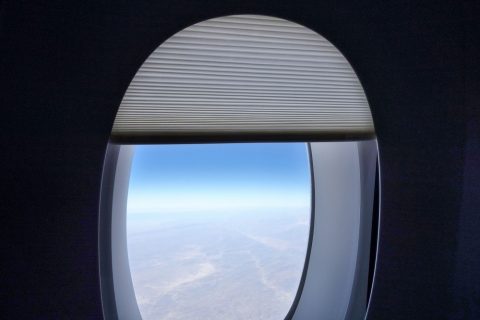 Qatar Airways business class (Doha to Haneda), 2nd in-flight meal will be continued next time → Delicious a la carte from Doha! Qatar Airways business class in-flight meal
♪Click here for a List of articles on "First Class & Business Class Airlines worldwide (Seat, In-flight Meal, etc.)"