Following the first meal, I will report a Qatar Airways business class in-flight meal from Doha to Haneda! The delicious sake and food continued, and I enjoyed the high quality in-flight meal again this time! I was really impressed again that this was the ability of a 5-star airline!
※This article was written before the virus scandal. This will be updated.
Red wine tastes better than champagne!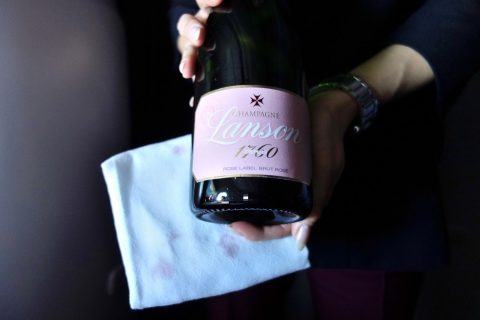 Before the second meal, I would like to have an aperitif first! The champagne made by Qatar Airways has been making a lot of complaints, but I really want some bubbles before eating!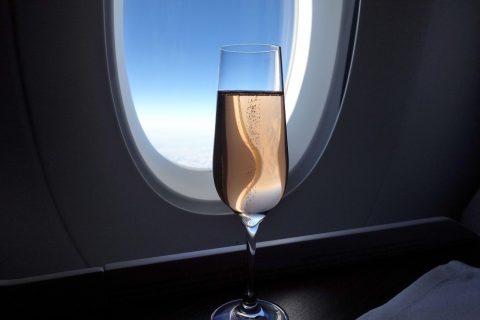 This is my last drink, so I took a picture with a standard angle! I don't know if the flute glass and rose champagne look good, but the taste is not so good …, but please check the article "Qatar Airways business class/Arabic in-flight meal and disappointing champagne (Narita – Doha)" about the taste of this champagne.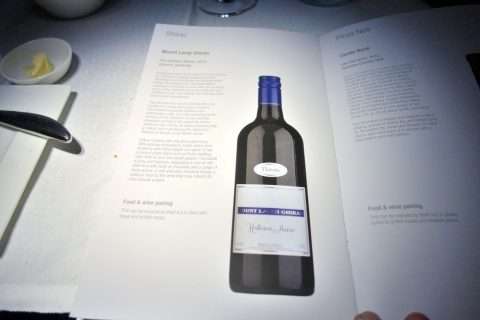 So I will finish champagne quickly and shift to red wine! As for red wine, I chose "Shiraz" wine which was delicious in Vienna line.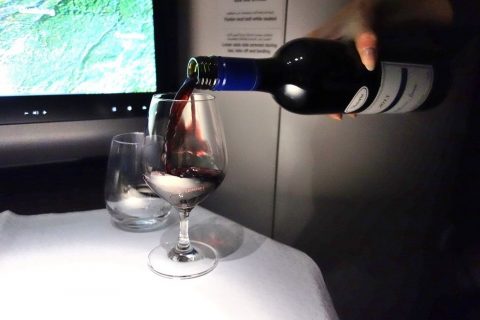 The brand is different from the Vienna line and this time the bottle is called "Hollows Shiraz 2013". According to the menu, this wine goes well with meat dishes.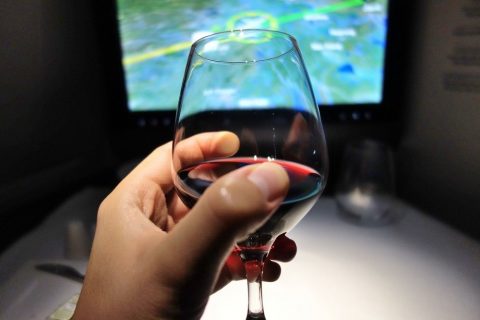 This red wine is rather bitter, but the rich sweetness spreads right after you put it in your mouth. It has a slightly sticky taste, and this is delicious! When I checked the market price of the bottle, it was about 2000 yen on an overseas site, so it doesn't seem to be a particularly expensive wine, but Qatar Airways' red wine is really a big hit!
A la carte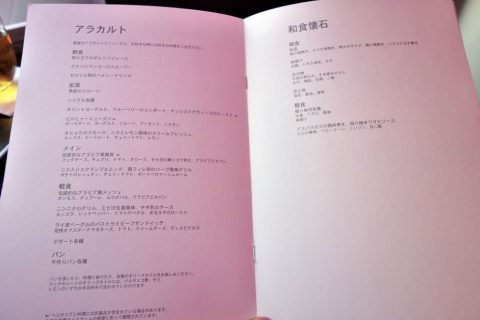 As we reported yesterday, here's a la carte menu of in-flight meals. After the first meal, you can order in-flight meals at any time from the menu list.
It says "Japanese Cuisine Kaiseki" on the right page, but this time I ordered all from the western menu on the left.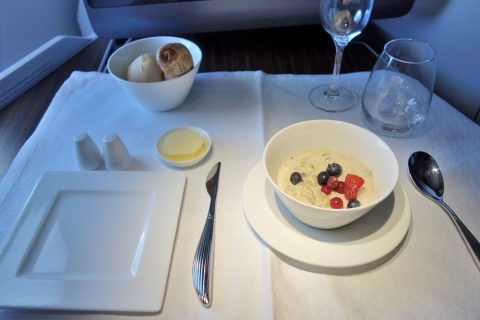 First, as an appetizer "Bidhya muesli", bread was set without omission.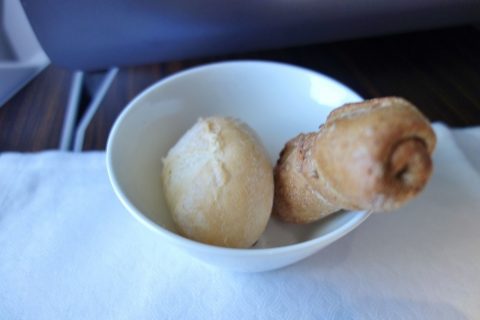 The taste of bread is …, I've mentioned it many times already, so I won't mention it (lol)! However, it is worth evaluating that there is a different kind of bread from the first meal.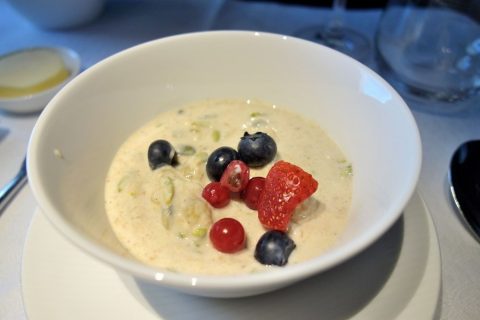 Bidhya muesli is a yogurt base with chopped fruits such as berries and bananas. The sweetness is only the sweetness of yogurt and fruits, so I think it is a delicious dish as not a dessert.
"light meal" Delicious Main Dishes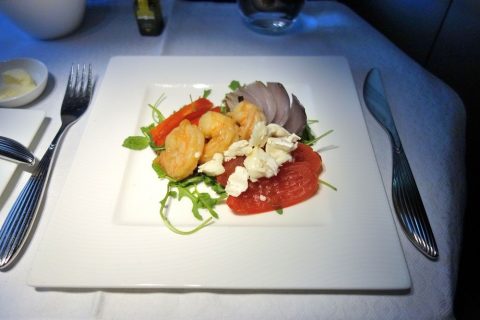 Next, I ordered 2 dishes from the "light meal" menu. First of all, "Grilled garlic, prawn with ginger, goat milk with cheese".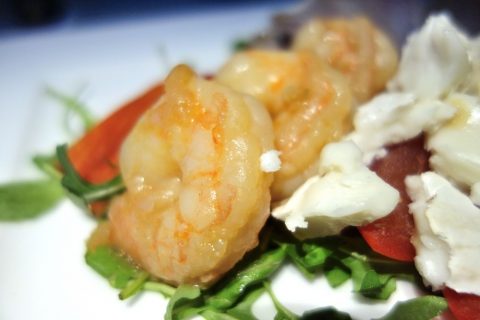 The plump shrimp is thick, savory and well seasoned. This is delicious with sweet purple onions!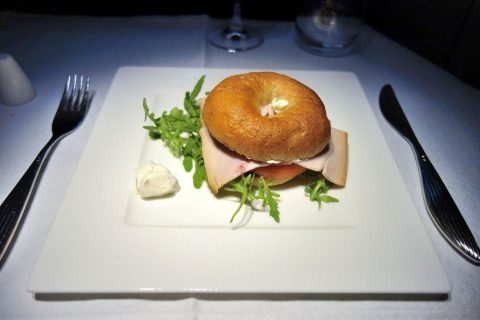 Another option is "Rye Bagel Pastrami Beef Sandwich". I was told to wait for 15 minutes until it was ready because it seems to take time to cook.
It's a bagel sandwich, but rye bagels are way better than any bread you've ever seen! Crispy bagels, juicy tomatoes, and ham are of high quality, and this is also a high quality dish!
Dessert and coffee are also first-class!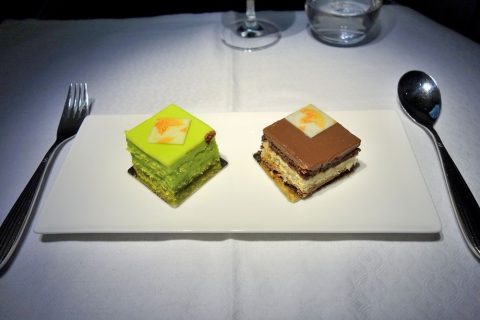 The dessert is "pistachio cake". I had not received Godiva chocolate on this flight, so I asked "I want chocolate too." and they served chocolate cake as well.
Both are rich and delicious cakes! There is no persistent sweetness, and the rich aftertaste spreads in your mouth.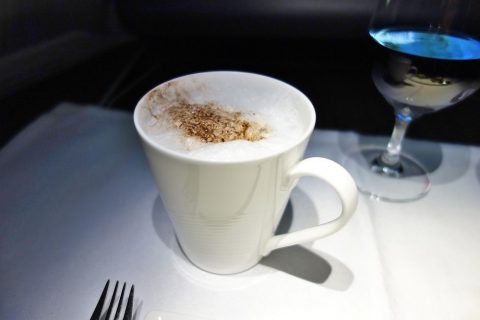 I'll have "Cappuccino" at the end. I have drunk a lot of delicious coffee in Vienna and graz so far, but this has a strong bitterness and it looks quite different from the coffee in Austria. But it is a very delicious cappuccino with a deep flavor.
Satisfaction is different! Qatar Airways Business Class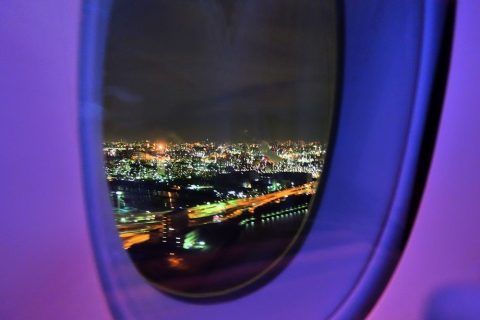 We regret to say that this is the last Qatar Airways business class flight. I have ridden 4 times in total, but this is the first time for an airline to serve such delicious dishes one after another! CA's behavior is also wonderful, and everything from how to pour wine to how to speak and how to take orders are all specialists!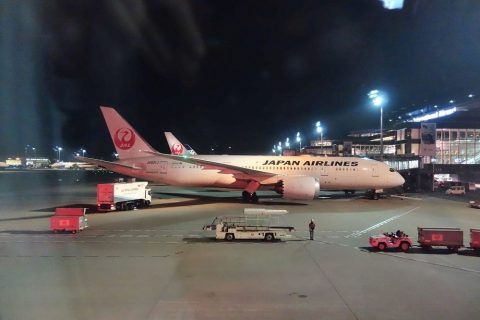 I really saw the power of "5-star airline"! "Business Class" is really something! The satisfaction level may be higher than the first class of JAL I took the previous year.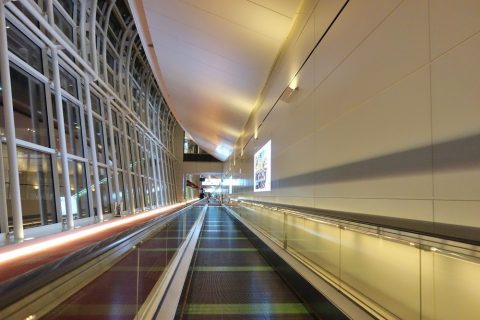 By the way, the departure from Doha was delayed for about 15 minutes, but I was relieved to arrive at Haneda before the fixed time of 22:30! Looking at past flight records, this Doha to Haneda flight is often delayed, and arriving after 24 o'clock is not unusual, so you should be careful about the last train from Haneda Airport.
That's all for a trip to Vienna using Qatar Airways business class. Thank you for listening to me for a long time! For more on the 1st meal and the seat on the A 350, please see the article below.
♪Click here for a List of articles on "First Class & Business Class Airlines worldwide (Seat, In-flight Meal, etc.)"