Qatar Airways business class, acquired through 20 year anniversary campaign! This time, I will tell you the boarding record between Narita and Doha.
It's my first Middle Eastern airline, but it's a 5-star airline in a country that has been enriched by oil money! From the response of CA to the amenity goods, I was able to receive a very high quality hospitality which is different from other airlines.
Pitch of the sheet! Legacy B 777 -200 seats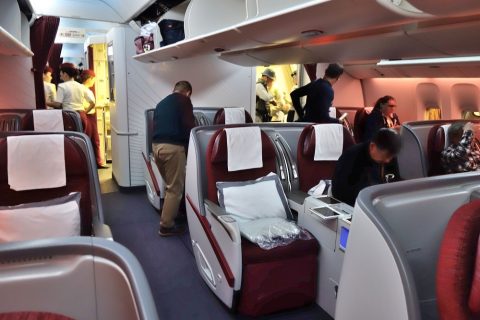 The plane will leave Narita for Doha. The equipment is B777-200, and it is an old style 2 -2 -2 array seat unlike A 350 from Haneda.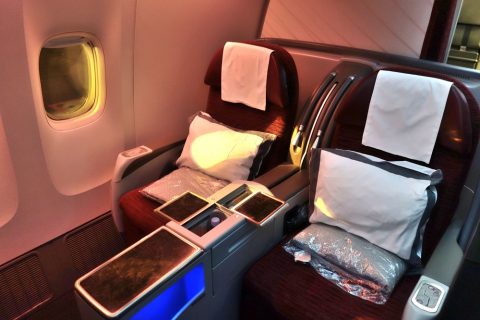 I chose 2K this time, but I changed it to 4K because I had a neighbor. All seats are not aisle accessible seats, so whether the seat next to it is vacant or not is a very important factor in the comfort.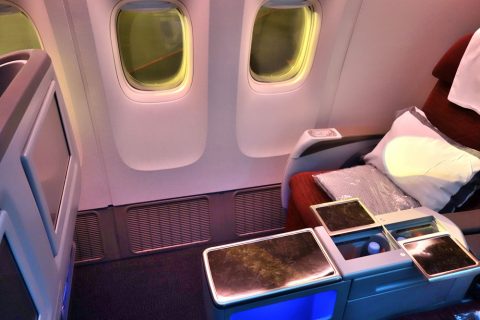 This seat pitch is the highlight! More than 3 windows! If it is a shell type that does not affect the back seat even if the seat is reclined, and if it is compatible with a full flat bed, is this space necessary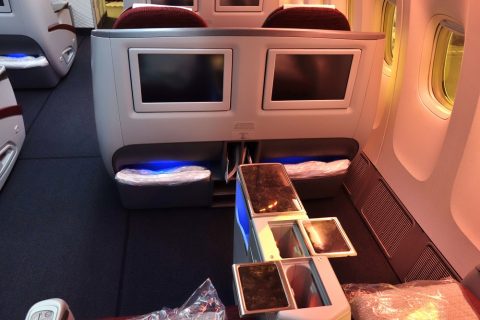 When I sit down, the sense of openness is outstanding! It's different from packing type which is popular these days, and it feels like it's a product of the good old days that makes full use of space. The monitor part feels a little heavy, but it is an old-fashioned specification, so I love it!
Drink holder is convenient!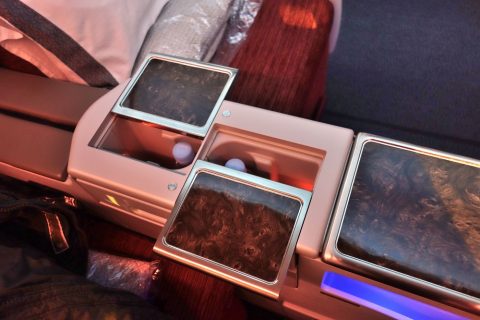 Next, regarding the equipment around the seat, the first thing I thought was convenient was this drink holder. When you press the button, the lid will open and mini-bar will come out from inside.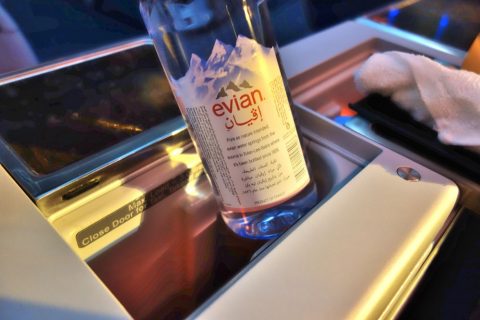 Inside is a 500 ml plastic bottle of Evian. It doesn't have a cooling function and is always at room temperature, but you can take it out easily whenever you want and it is very convenient! However, there are times when I don't know which is who I am and which is the next seat, so I am a bit worried that if there is a person next to me, heshe may drink by mistake …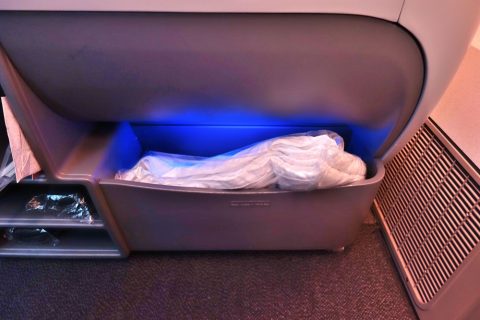 In addition, the storage space at the feet is like a basket, but it is very small as a space to store a handbag and a pouch. My backpack can't fit in at all, so it needs to be stored in the upper shelf especially during takeoff and landing.
I felt that this kind of personal storage space was a little small in spite of the large footprint.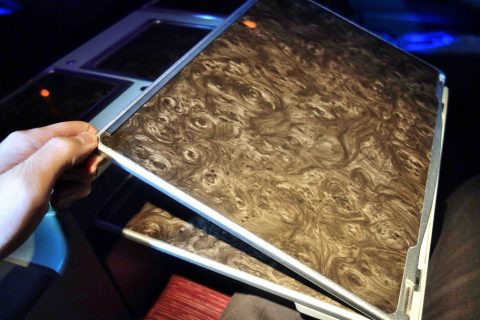 The table can be pulled out from under the armrest. The glossy veneer gives it a luxurious feel and there is no problem with its stability. Also, it was deeper than JAL, so I didn't have to worry about the wine glass dropping when I ate on the plane.
hospitality from a leading CA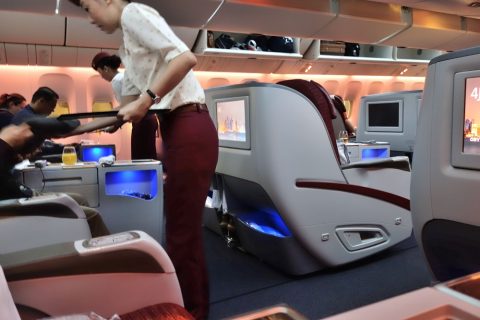 When I entered the plane and got to my seat, CA, the person in charge came to greet me soon. I am sure a Japanese CA is also managing director on this flight, but for some reason, I also have a glimpse of the first-class behavior of an English-only person, who always smiles and responds briskly at … and has been fully trained.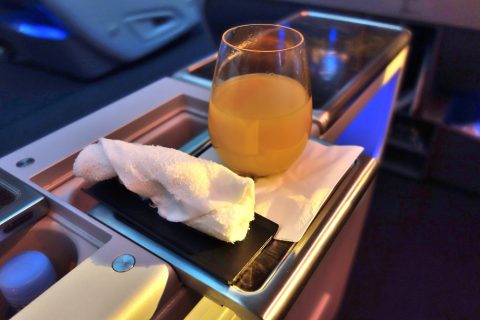 There are various welcome drinks such as champagne, but I chose fresh orange juice. When I drink it, I can feel the juice in my mouth while the sweetness is moderate.
Premium amenities and pajamas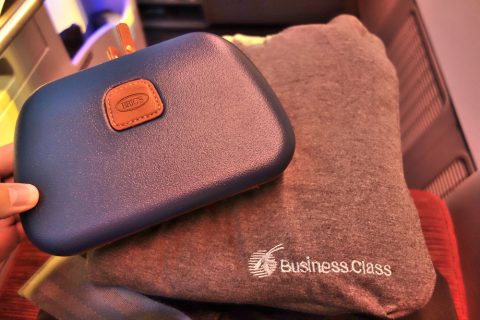 Subsequently, amenity goods and pajamas were distributed. Unfortunately, the amenities are in a hard case, but this is a collaboration item with BRIC'S, a well-established travel bag maker in Milan, Italy.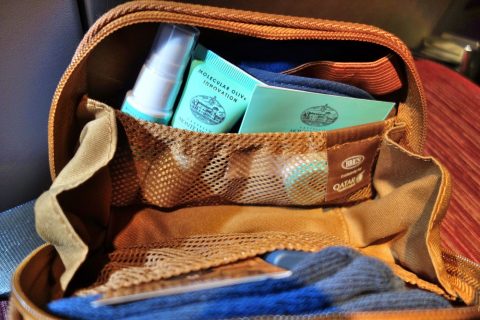 There are 5 items inside eye mask, socks, lip cream, skin cream and facial mist. The type of goods is standard, but the case is not easy to make like Malaysia Airlines, and the quality is high because it is woven to the end of the fastener. The meteor is a 5-star airline, and it is exceptional even if you only look at it here!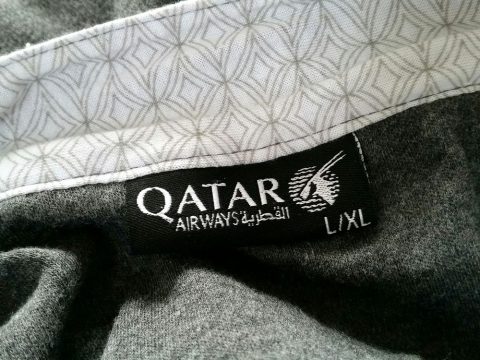 Also, you can only get pajamas in first class at JAL. Although it is made of thin fabric, it comes in handy with a carrying case, but the size I was given was very large! I tried this at the hotel where I'm staying, but the sleeves are 10 cm too long.
On my way back, I was asked about my size before giving it to you, but I should definitely check my size when I get pajamas.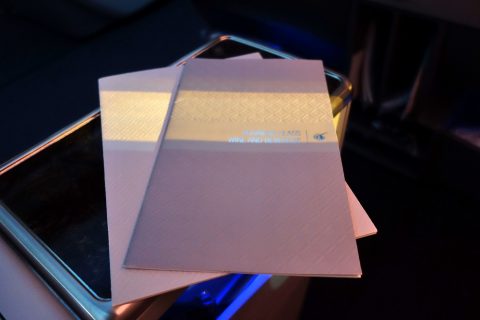 As far as I can see, there are so many high quality services that cannot be compared to JAL and others! Next time I will report the in-flight meal. Qatar Airways business class Arabic in-flight meal and disappointing champagne (Narita – Doha)
♪Click here for a List of articles on "First Class & Business Class Airlines worldwide (Seat, In-flight Meal, etc.)"