After a quality dinner, you sleep on a bed. However, the B777-200 I boarded this time was an old model seat, so I was a little worried if it would become a proper bed, but when I actually slept, I felt relieved as it was the same as other full flat seats.
This time, I'm going to report the comfort of sleeping in such a bed position and breakfast.
※This article was written before the virus scandal. This will be updated.
How do you like your bed position?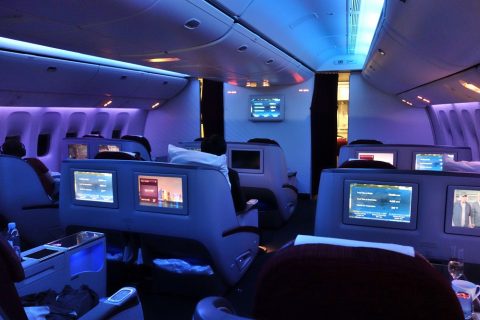 This is a 10 hour late night flight. I'm nervous enough that I can never sleep on the plane, but this B777-200 seat is an old-fashioned but full-flat one, so I'm a bit relieved!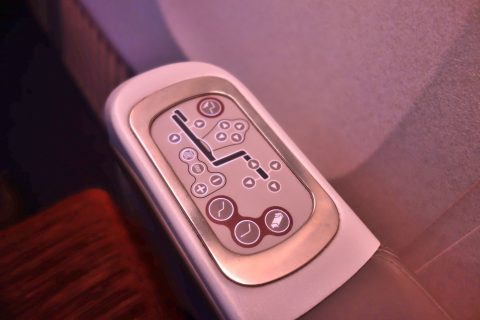 Press the bed mark on the seat controller to set the bed position. CA lays the sheets, but he doesn't set pillows or blankets (lol).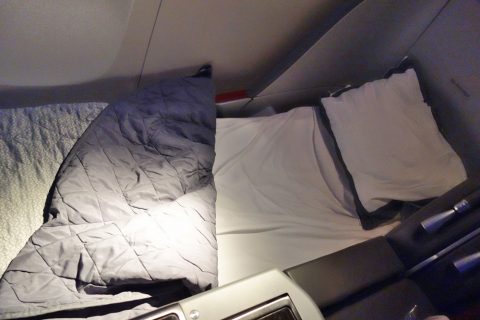 When I lie down, the width is wide enough and the angle of the bed is not bad, but it gets unusually hot maybe because of pressure on my back. Also, the thick headrest gets in the way and makes the height of the pillow higher than necessary.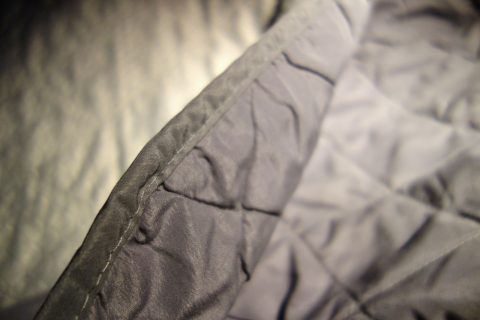 As for this blanket, there is no problem with its texture and heat retention. But the thing that can be spread on the bed is that I wanted a mattress like Airweave instead of sheets. …
In addition, with such an open seat, even if you lie down, you can still see CA walking down the aisle, so from the viewpoint of the feeling of a private room and sleeping comfort, JAL's Sky-Suite I is better.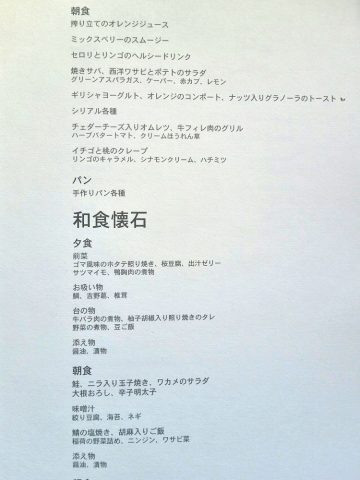 Qatar Airways business class in-flight meals are all a la carte dishes that you can order whenever you like, but there is a menu item in the "Breakfast" category that CA asks you what time you would like breakfast before you go to bed.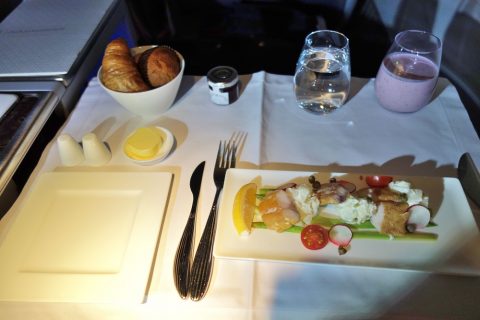 First of all, appetizer "Grilled Mackerel, Horseradish and Potato Salad", bread and "Mixed Berry Smoothie". This time, I had a full course meal with a choice of Western food for breakfast!
This is a potato salad that has been arranged so stylishly that it overturns the concept of "Salad". Wasabi is on the potato but it is not too spicy and mild. The taste of Japanese pepper is good overall, and it is quite elegant.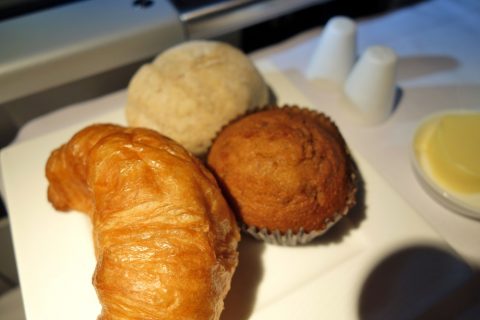 The three kinds of bread are all different from those served at dinner. It was hot and fluffy, but the muffin came out thick and soft.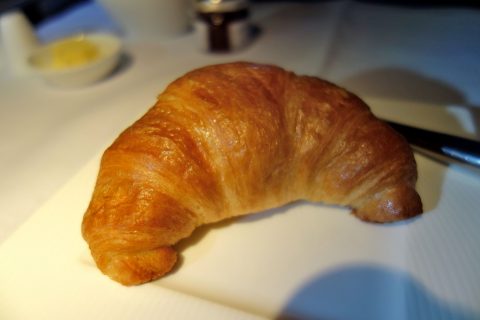 But this croissant is chewy and delicious! If you add strawberry jam with a good berry flavor, it will have a superb taste.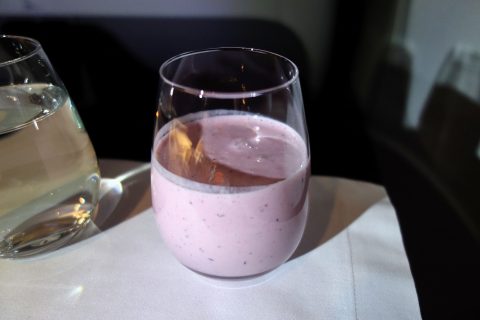 The smoothie I ordered for a drink had fruit bumps, and it had an elegant taste without any strong sweetness, so it was perfect for breakfast.
Surprise!
When the appetizer was finished and I was waiting for the main dish, 2 of CA came and …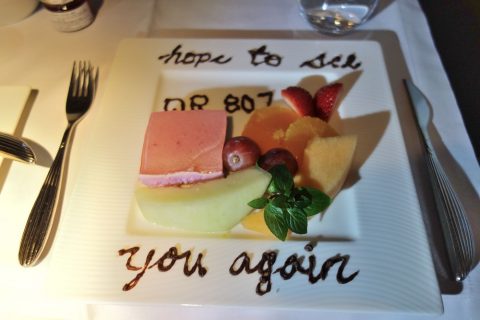 This is what I was offered saying "Surprise."! I was confused because of the sudden incident, but I was told that I wanted to take a picture for the company, so I snapped a picture with CA's camera.
But I didn't see anyone else offering this, so I think it was me who was chosen at random.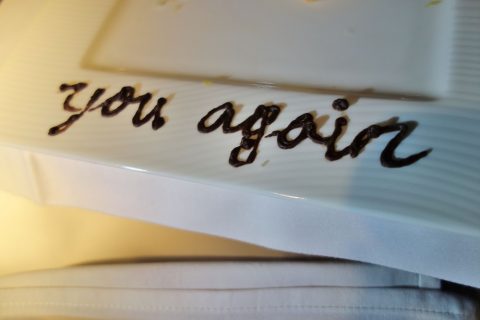 Speaking of a surprise, I have had it in JAL first class before, but this time they also wrote me a message with chocolate (Reference → JAL first class boarding record! Haneda – London – Part 3: In-flight Food Report and Birthday Surprise!).
I certainly hope to use it again if it is such a good airline!
Main dish, dessert and delicious coffee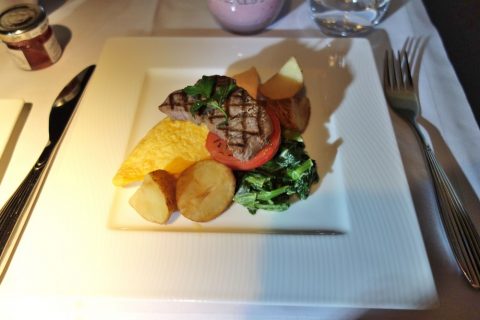 After the surprise, the main dish "Omelet with cheddar cheese, grilled beef fillet" was served. The meat is firm, but the sauteed juicy tomatoes and spinach is delicious!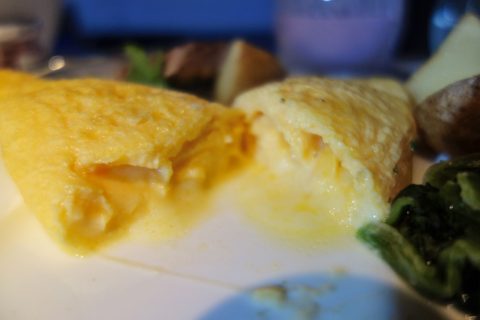 But the omelet, which is the most important thing, is very hard. I can hardly feel the cheddar cheese inside, which is a little disappointing. Even if it's an in-flight meal, it's possible to serve a thick omelet depending on the ingenuity, and I hope this will be improved.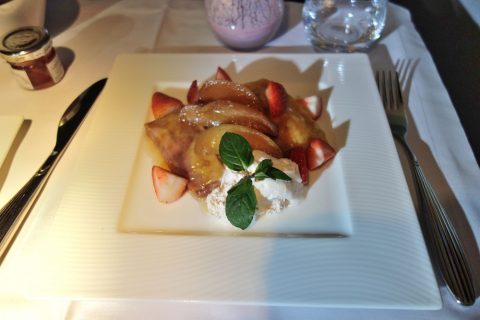 The dessert is "Strawberry and peach crepe". The apple is hot and cinnamon-flavored, and the crepe is thick, and there is an apple inside. It is delicious, but it is sweet enough to make you fat …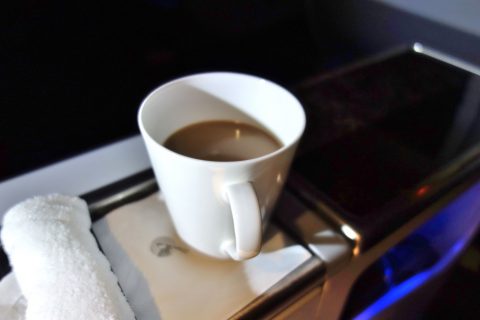 Finally, I ordered a cup of milk coffee after the meal and it was delicious! Just the right amount of bitterness, a long lingering scent, and an elegant taste make your mouth gorgeous. It might be more delicious than the French press coffee I had at JAL first class.
The hospitality of the 5-star airline was real!
This is my first time using Qatar Airways Business Class. The high quality food and CA's attention to detail made me feel that it was truly a 5 star airline.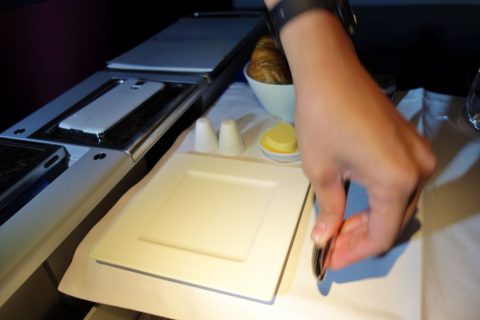 The dishes, how to place knives, how to pour wine, and everything else is first-class. Also, the fact that they always take care of you like "Shall I make the bed?" can be said to be the same service as first class in JAL.
On the other hand, for people who are not used to English, I would like them to leave it a little more quiet rather than communicating with each other, which is difficult to decipher, but they listen to my broken English with all their might and don't feel uncomfortable.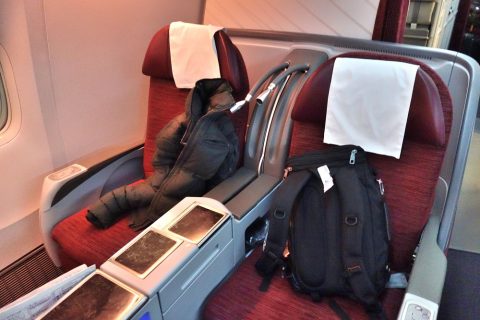 Recently, I have been riding on the JAL business class Southeast Asia line one after another, and it was a service that cannot be called an advanced class even by flattery, so I haven't had such an uplifting feeling for a long time! Business class is not fun unless it's like this!
That was Qatar Airways Business Class boarding pass (Narita – Doha)! After arriving at Doha, I will head to the hotel provided by Qatar Airways! See also the following articles on seats and dinner.
♪Click here for a List of articles on "First Class & Business Class Airlines worldwide (Seat, In-flight Meal, etc.)"