Vienna, Austria, connects Narita and Doha. Here is the boarding record for Qatar Airways from Doha to Vienna!
The plane will carry Boeing 787 -8 aircraft. It's a little smaller compared to flights to and from Tokyo, but it uses a new herringbone business class seat like the A 350 that flies to Haneda. Herringbone reminds me of JAL's cramped Sky Suite 3, but how does Qatar Airways fare?
Anyway, the boarding gate is far away …
The boarding gate for this flight from Doha to Vienna was E4. But, well, this is far, anyway …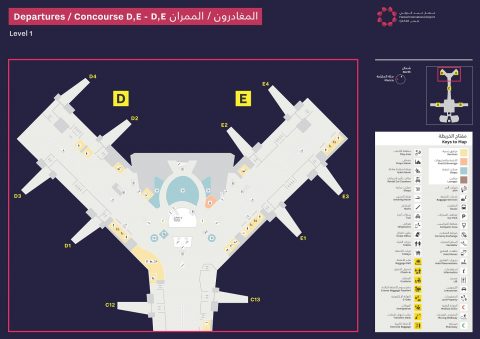 Departure gates at Doha Hamad International Airport are largely divided into A-E, but D and E must go to the very end of C and go further. Moreover, this time E4 is the innermost and innermost among them!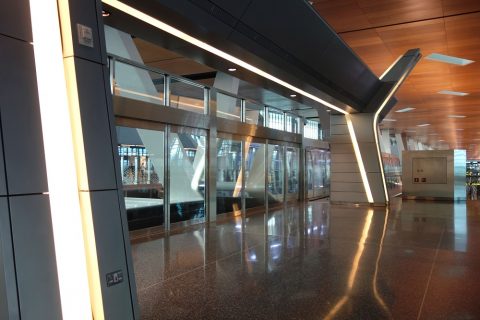 There was a monorail at C on the way to D and E, so I got on without hesitation, but there were not so many services, so I had to wait for about 5 minutes.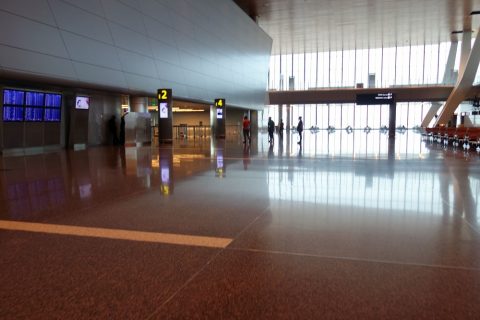 And since the … terminal is quite a long way from the monorail station "in vain", it takes a lot of time just to move to the next gate.
Looking at it this way, I realized again that the bustle of Narita Airport T2 satellite is very convenient. When departing from Doha Hamad International Airport, it is recommended that you allow yourself at least 10 minutes to spare.
787-8 "herringbone system"

The plane for Vienna is 787 -8. Business class is a herringbone seat with an array of 1 -2 -1. The herringbone type, with all seats on the aisle, has been adopted by many airlines recently, maybe because of its high profitability.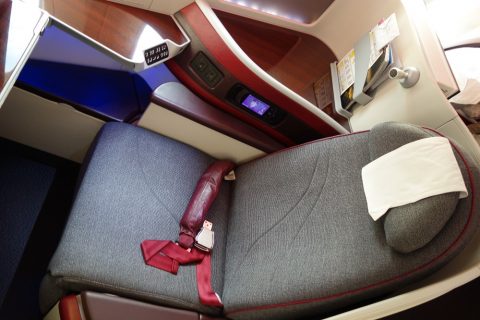 This is my first time in a herringbone business class! This time, I assigned a window 3K. When I sit down, the seat width is wide (Probably over 50 cm.), and it is spacious and has a sense of openness.
When I tried the JAL-Sky Suite 3 with the same herringbone system, I was sick and tired of the blockage, but the herringbone of Qatar Airways is completely different! (Reference: Experience JAL Business Class Sky Suite III! Worried about the feeling of pressure that has never been felt before …)
As expected, the floor space is smaller than B777-200 seats, but it is very different from JAL where you can't sit without straddling seats! I didn't feel cramped during the flight.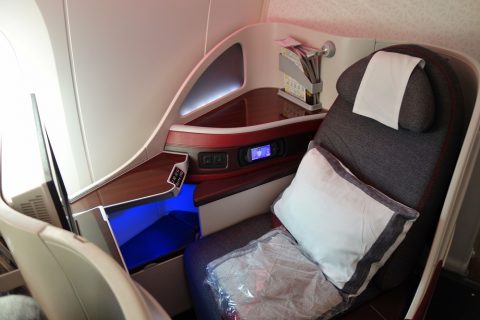 Note that there is no window at the very back of the window (5K). It's good if you just sleep, but it's spoiled that you can't see the view even though it's facing toward the window.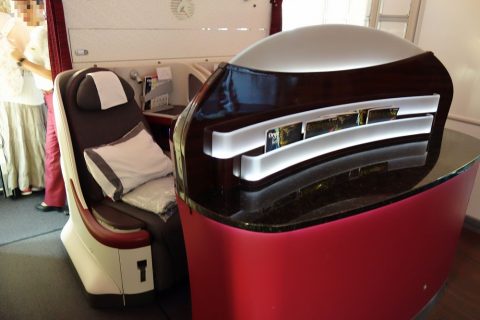 Also, there are only two separate seats between the aisle and economy class. This place is not only close to the toilet but also has a bar counter in front of you, where wine and sweets are placed during the flight, so I think you will feel restless because there are many people coming and going.
As a matter of fact, these 2 seats were vacant even in the 787 I took on this flight and the return flight, so it must be unpopular seat.
equipment around the seat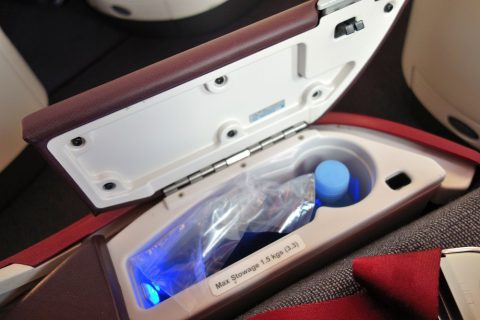 As for the area around the seat, the drink holder (mini-bar) on B777-200 is still on 787 -8. The entire aisle armrest opens up.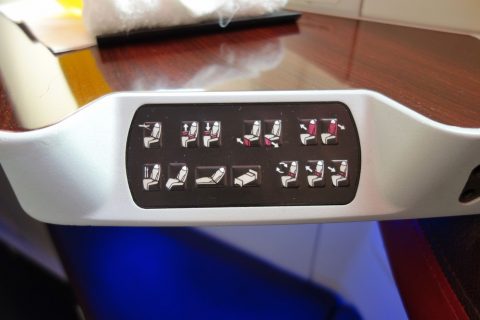 Use the seat controller to raise or lower the armrest. It seems that during takeoff and landing, it is recommended to lower the armrests on the aisle side where the mini-bar is located. If you press the button of the mark of an airplane with both the left and right armrests raised, only the aisle side is lowered.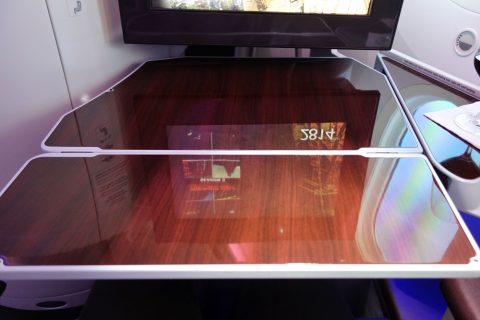 You use the table by pulling it out from under the display. It is a large table with maximum depth as you can see when you open it and it is folded in two. It was stable, and I didn't have any anxiety that it would overflow even if I put wine on it.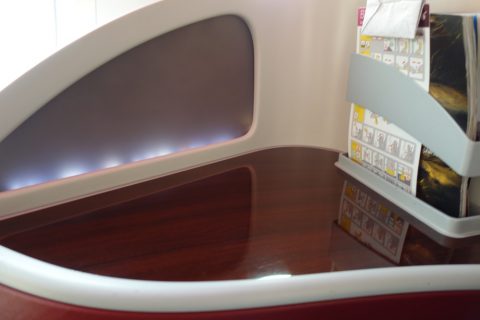 The side table is also spacious! It is very convenient that there is a place to put things on the side like this. Compared to the staggered of ANA, it has a glossy wood-grain decorative board and looks high-class.
Amenities are soft cases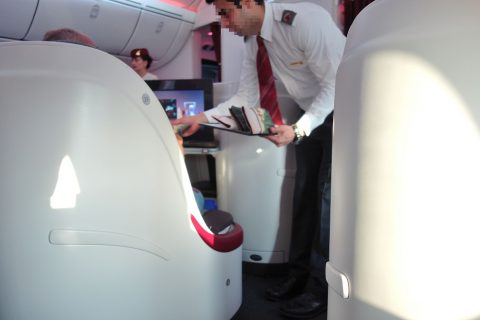 Mr. CA came to greet soon after boarding. The person in charge this time is like a male chief, and he is also polite and his behavior is also first-class!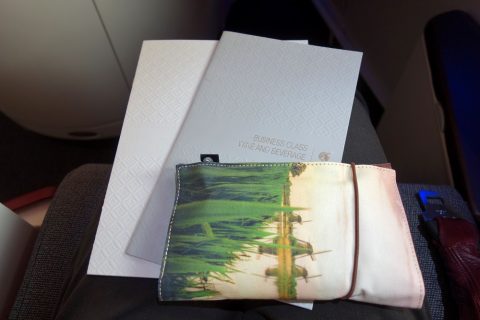 In addition to the menu and wine list, amenities were provided. The design of the entire menu is exactly the same as last time, but the amenity this time was a soft case. It's a stylish design.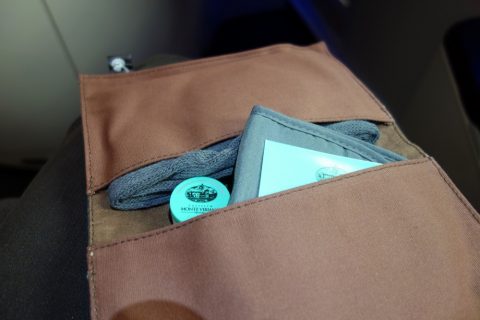 There are only 3 types inside, eye mask, lip cream and socks. Well, it takes about six hours to get to Vienna. Unlike the hard case I got from Tokyo to Doha, it seems to be easy to use as it is a soft case, but it seems to be limited to putting pocket tissues and handkerchiefs because the content is small.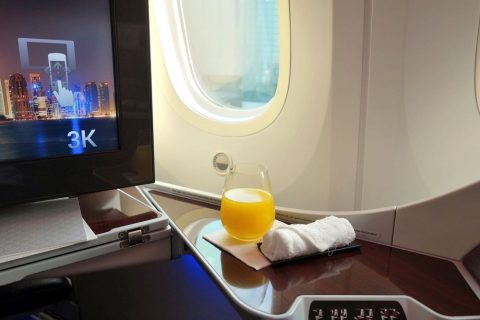 Now, happy time will start again! Next time, I'll tell you about the in-flight meal report → Qatar Airways Business Class in-flight meal and premium wine! Doha – Vienna
♪Click here for a List of articles on "First Class & Business Class Airlines worldwide (Seat, In-flight Meal, etc.)"