Continuing from yesterday, there are reports of "Qatar Airways Business Class" from Doha to Vienna. It takes about six hours to get to Vienna, and even though it's such a short flight, the delicious food and drinks, and the hospitality of the first-class CA are still there! I was fascinated by the high quality service which is the same as long distance routes!
※This article was written before the virus scandal. This will be updated.
The flight QR185 is leaving at 16 o'clock in the evening. It takes 5 hours and 55 minutes to get to Vienna.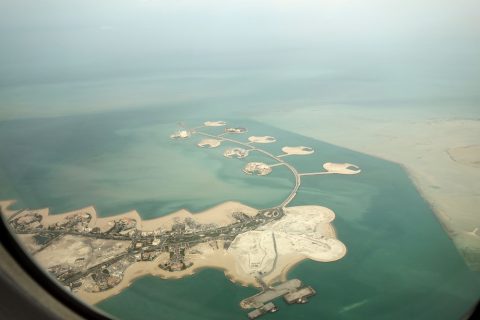 When I looked out of the window soon after takeoff, it was like the Middle East (? The view was wide! I thought the UAE was the only archipelago with such characteristics, but Qatar also has them.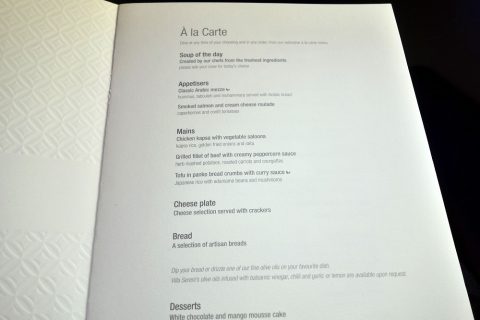 As for the in-flight meal menu from Doha to Vienna, since the distance is relatively short, the number of dishes you can choose from is about half that of the ones arriving and departing from Tokyo. It seems that only one meal of soup, appetizer, main dish, dessert, cheese and bread is expected.
In order to fill up the pages, some of the drinks on the wine list from Tokyo have been moved to the in-flight meal menu. But the brands of mocktails and soft drinks are almost the same.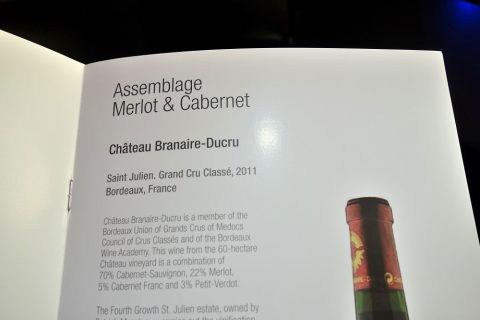 The wine list consists of 2 champagnes and 8 kinds of red and white wine. The brands are almost the same, but 2 kinds of red wine were different from those from Tokyo.
I was surprised at the high quality red wine!
Aperitif, usually champagne only, but as I mentioned in the last in-flight meal report, the champagne of Qatar Airways is a cheap brand and its taste is disappointing, so I will have red wine from the beginning this time.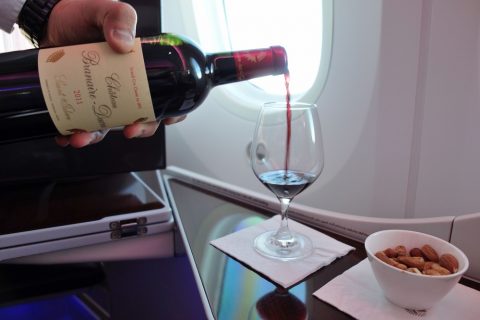 The service by the male CA who seems to be the chief, how to show the brand, how to pour and how to put a napkin are all first-class actions, and just looking at this action makes me feel uplifted.
The first I had was a red wine called Chateau Branaire du Cru 2011. This brand can also be drunk on routes to and from Tokyo, but it has a good balance of sweetness and astringency, and it feels like it blends in naturally. It's a pretty good red wine.
At that time, I was drinking without thinking about the price, but when I looked into it later, I was surprised that it was quite a luxury product! In particular, a bottle of this "2011" costs more than 6000 yen at Rakuten.
It seems you put a lot of effort to prepare a brand much more expensive than champagne.
Amuse bouche and bread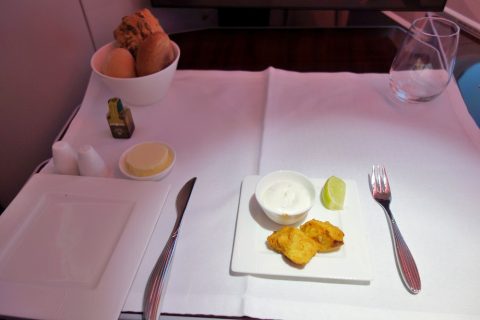 We serve amuse bouche. It comes with 3 kinds of bread.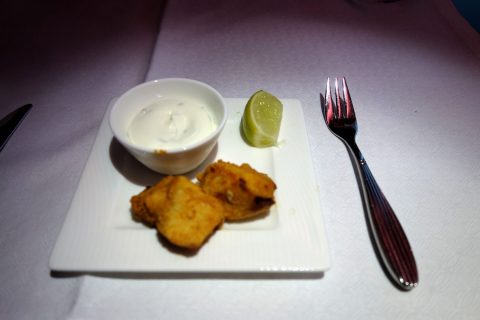 As in Tokyo, the amuse bouche is not listed on the menu list this time either. I heard that "Tandoori chicken with sour cream", but this chicken is very juicy and delicious!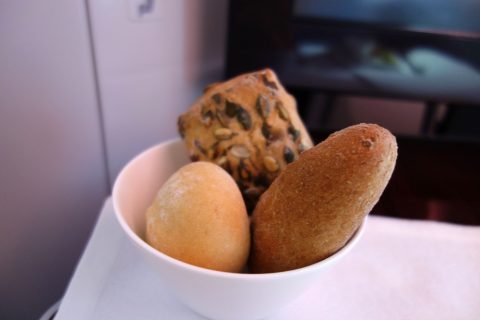 There are 3 kinds of bread different from those from Tokyo. This time it was very well warmed up, but all the flavors were moderate. I think it's better to eat it with soup or leftover sauce than eating it alone.
Soup, appetizer and main dish.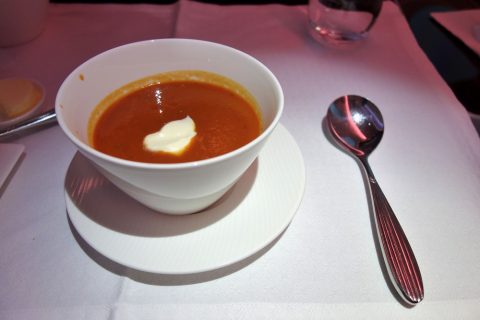 The soup is "Soup of the Day", but it is exactly the same as the "Roasted tomato soup" from Tokyo! But this time, I can feel the sweetness of tomatoes and it is more delicious.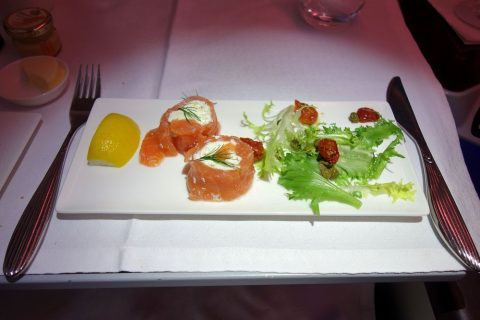 The appetizer is "Smoked salmon and cream cheese roulade". The fragrant salmon and the sticky and delicious salmon go well with alcohol, but it really tastes like high purine.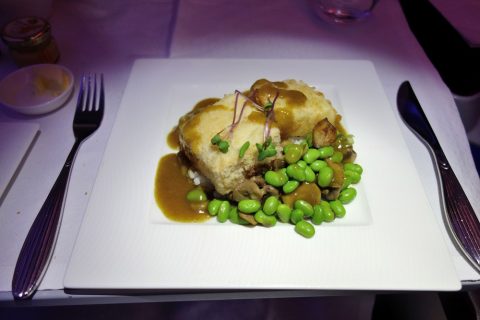 The main dish is "Tofu in panko bread crumbs with curry sauce". Atsuage tofu with green soybeans and mushrooms with curry sauce is one of the best 3 main dishes to choose from.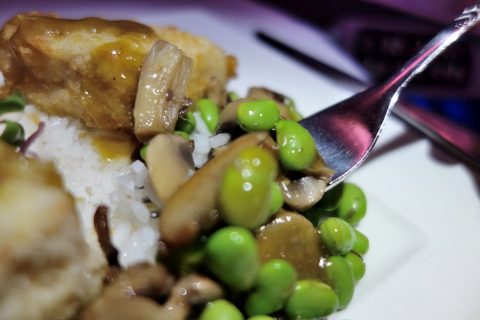 But the tofu is rich and the edamame is flavorful! Also, this curry sauce itself was very delicious and I think it was a good choice. It is more voluminous than it looks, and at this point, my belly is quite swollen.
Red wine and fine cheese selection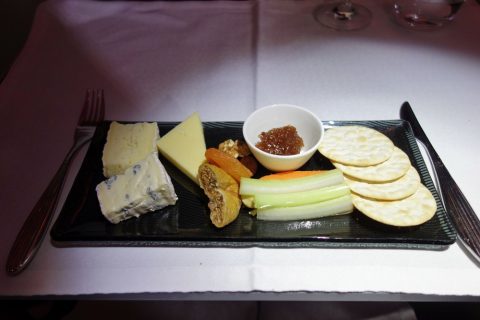 I'll have a cheese plate before I go for dessert. Qatar Airways' cheese selection includes three kinds of cheese, apricot, jelly, vegetables and crackers. It is completely different from JAL's cheese selection, which is as lonesome as dove food (Reference → The in-flight meal is terrible! JAL Business Class BKK-HND Shell Flat Sheet).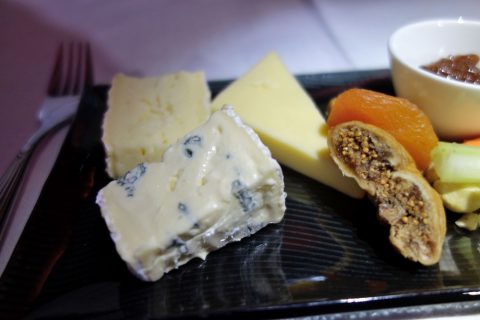 It tastes great too! Every cheese is rich and flavorful, and I feel the high quality. Even if there are not many kinds, I have no complaints if they serve cheese that is as good as this.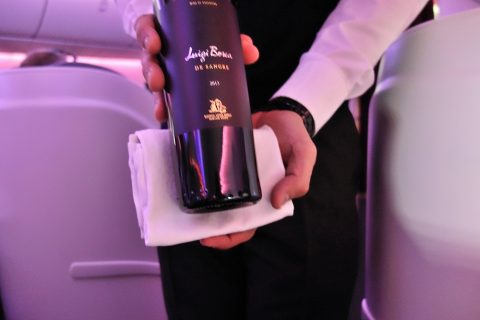 I'll have the wine changed here to go with the cheese. A brand called "Luigi Bosca de Sangre 2013" and the wine list said, "It goes well with cheese plate.".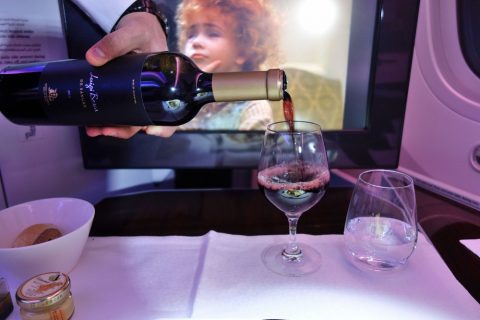 The taste is very dry. When you drink it, you'll find a tremendous amount of strength in your mouth, sometimes with a slight tingling sensation. This is the first time I've had such a pungent red wine, but it's so delicious that I get addicted to it!
The Argentine wine "Luigi Bosca" is priced at about 3,500 yen. It is cheaper than the above mentioned Chateau Branaire, but I think it is a pretty good wine.
Rich Ice Cream and Godiva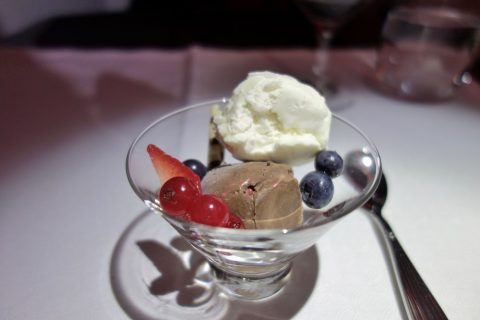 The final meal was "Gourmet ice cream". Vanilla ice cream and chocolate ice cream are both milky and rich! The sweet and sour berry on the side was a nice accent, and it was quite a delicious dessert!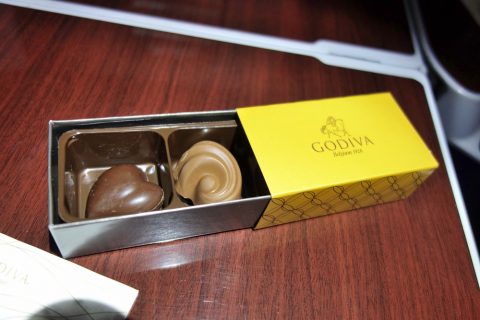 CODIVA chocolate is popular after meals. The contents were exactly the same as those from Tokyo.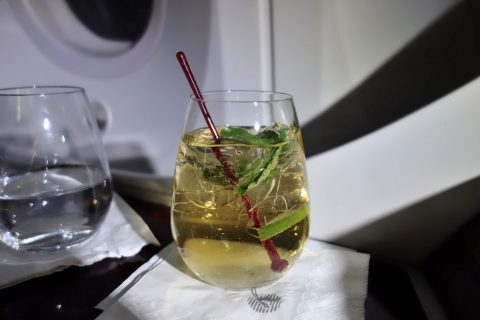 In addition, I will have a mocktail "Apple cooler". Apple juice, lemon juice, mint leaves, and lime. It is refreshing and may be good after meals.
High quality hospitality is a must even for short distances!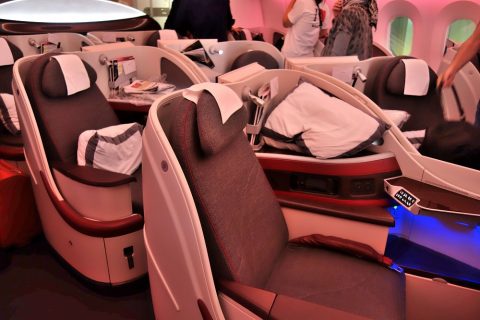 It was a relatively short flight from Doha to Vienna for just under 6 hours, but they served us high quality food, high quality wine and high quality CA. I was able to receive high quality service comparable to long-distance routes!
Even on the same 6 hour flight, it is totally different from the airlines which handle "downgrade" like JAL's Tokyo-Southeast Asia route! This is the symbol of 5-star airline.
This is the boarding record for Qatar Airways Business Class (Doha – Vienna)! Please also take a look at yesterday's article → Qatar Airways business class B787-8 seating chart and amenities/Doha ~ Vienna boarding record!
♪Click here for a List of articles on "First Class & Business Class Airlines worldwide (Seat, In-flight Meal, etc.)"