I will fly from Vienna, Austria to Haneda, Tokyo via Doha, Qatar! This time, I will use Qatar Airways' business class which is popular among 5-star airlines.
On the way, I was intoxicated with elaborate food and fine wine, but what does the in-flight meal from Vienna taste like? I would like to report in detail.
787-8 seats and amenities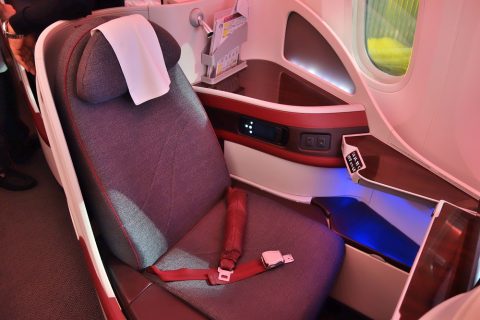 The flight from Vienna to Doha this time was B787-8, the same as the first one. A herringbone seat of 1-2-1 is used for business class.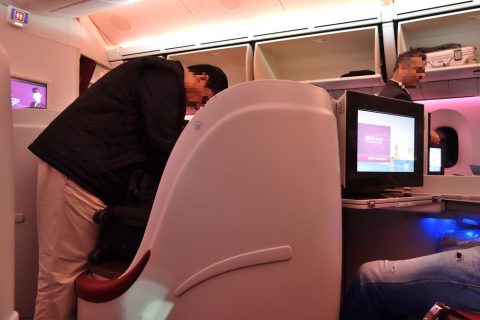 They are business class customers, but about half of them are Middle Eastern. The rest were Westerners, and I was the only Oriental. But I'm surprised that there are many people with the same skin color as us, CA. This is something I felt on the way, but judging only by its appearance, I find it strange that Japanese is not understood.
Soon after boarding, amenities were provided along with drinks and in-flight meals. The inside is the same as the outward, but the shape of the pouch is different. It has a reasonable size and a fastener, so it can be used as a tissue case.
It's freezing inside the plane!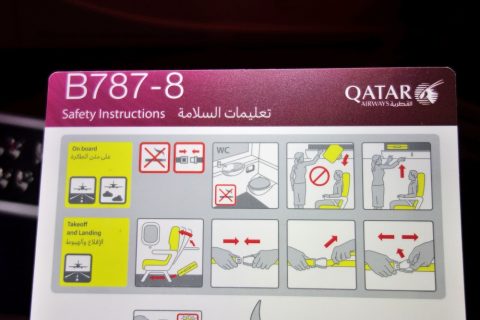 Well, this time we boarded B787-8. The Boeing 787 is supposed to help keep the cabin pressure close to the ground, reducing earaches and reducing dryness.
As a man, I don't usually care about dryness, but even for me, it was so dry that I needed candy and hand cream.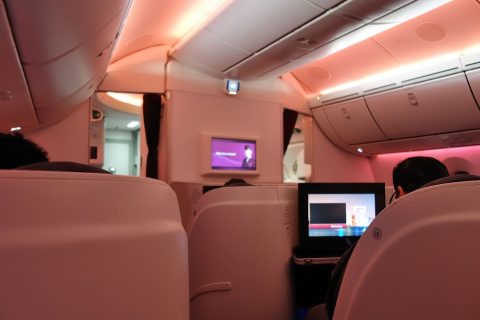 In addition, the inside of the plane is extremely cold! When I boarded in Vienna, I was surprised that the temperature was almost the same as the outside air when I entered the plane from the boarding bridge!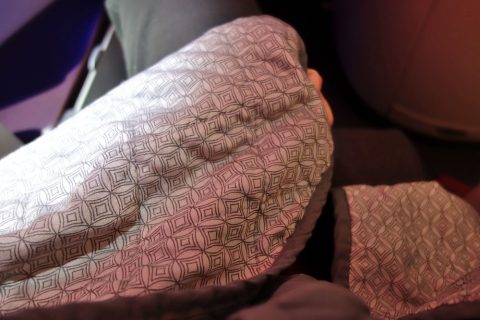 When I looked around … and tried to cover myself with a blanket to use as a comforter, I was the only one who was this cold, but maybe only Japanese are sensitive to cold?
After the amenities, I had a welcome drink. I was complaining a lot on the way, but I chose champagne (lol). The champagne … and Qatar Airways, which have a reputation for service, should improve as well.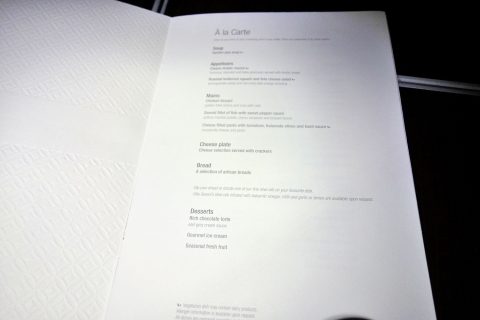 After the welcome drink, you will be asked what you want to eat in the sky. This time, the flight is from Vienna at 21:30 to Doha at 4:45, which is a very strange time for a meal, but they still have a selection of soup, appetizers, main dish, dessert, cheese plate and bread.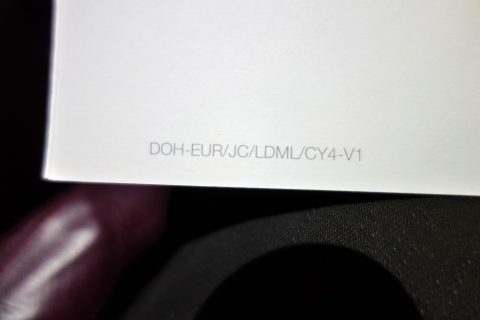 If you look at the back of the menu, you will see the words "EUR", so these are not limited to Vienna. The ingredients come from different places, but I think the same menu is served when you depart from other EU countries.
In addition, this "DOH-EUR" is a menu from Doha, and it was changed to "EUR-DOH" menu later, maybe because CA distributed it by mistake. By the way, the picture above is the menu after replacement.
Hollick's red wine is delicious!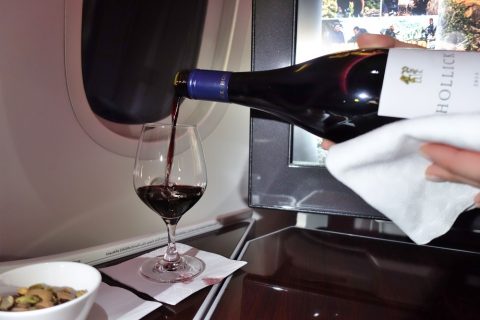 The in-flight meal menu differs depending on the round trip, but the drink menu is the same as the one on the outward trip (Doha to Vienna). This time I'm going to attack with red wine from the beginning, but this wine is delicious!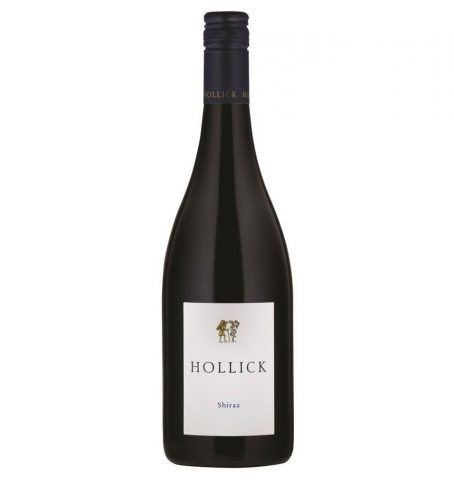 This is an Australian red wine called Hollick Shiraz. The well-balanced richness, sweetness, and deep aftertaste are even better than the high quality red wine "2011 Chateau Brenelle Ducruz" I drank on the way! (See: Qatar Airways Business Class In-flight Food and Premium Wine! Doha – Vienna)
When I checked the price of this wine, a bottle was sold for about 2,500 yen, but I couldn't find it on Amazon or Rakuten. If I find it at a liquor store in town, I should get it without hesitation!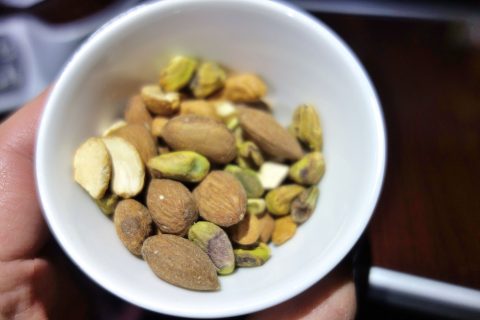 The nuts served with the drink are also delicious! The content is no different from the previous flights, but the flavorful almonds and cashew nuts never stop eating!
The bread is indeed disappointing …
After the drink, the in-flight meal will finally start! This time it was a late night flight, but I was hungry because I saved a day of meals (laughs). I will have a full course meal from appetizer to dessert.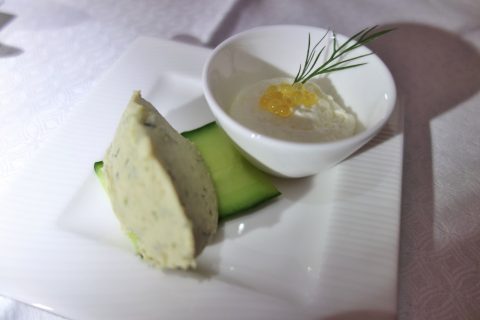 First of all, an amuse bouche that is not on the menu. a paste-like fish delicacy (? Sour cream. It's a simple side dish for alcohol, but it tastes pretty good!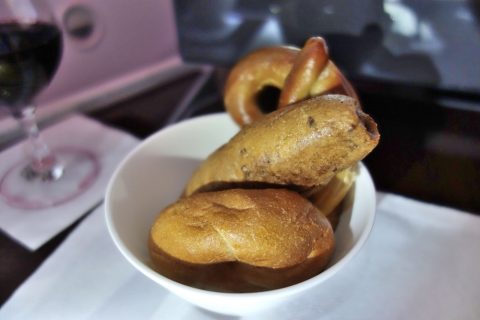 I used 3 kinds of bread this time too. They are the first to be eaten on previous flights. The spirit of serving different kinds of bread every time is wonderful, but the bread alone was disappointing … It's Qatar Airways that serves delicious in-flight meals as usual, but they may not be so particular about the taste of bread.
Soup and appetizers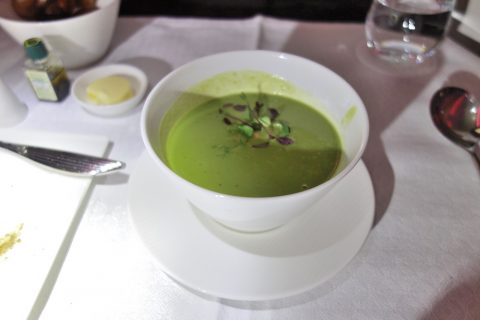 You can only choose one kind of soup, this is called Garden Per Soup. This is a vegetable soup with edamame flavor, and it is delicious with various flavors and smells of vegetables! I think the soup is creamy, rich and of high quality.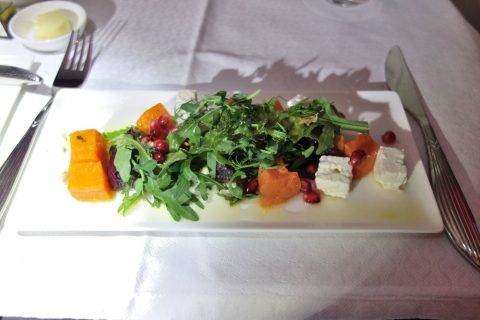 You can choose from 2 appetizers. I used a salad called Roasted butternut squash and beta cheese salad. The salad with French dressing was so sweet and delicious!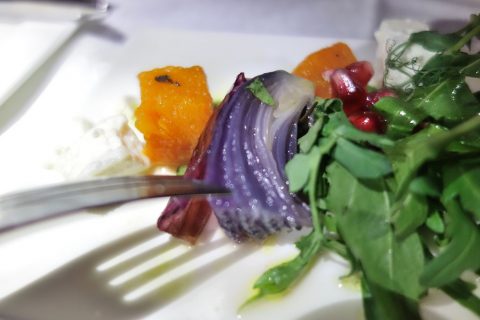 Especially this purple red onion is sweet and delicious! The fact that these special ingredients are used is also a testament to the level of Qatar Airways.
Super delicious Biryani!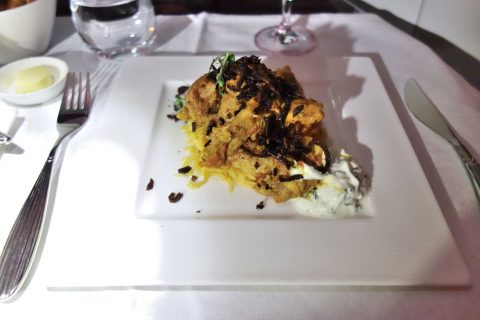 Choose from 3 main dishes. I used Chicken Biryani this time. Chicken Biryani is a curry flavored pilaf, and I have tried it several times in Singapore, but this Biryani is very delicious!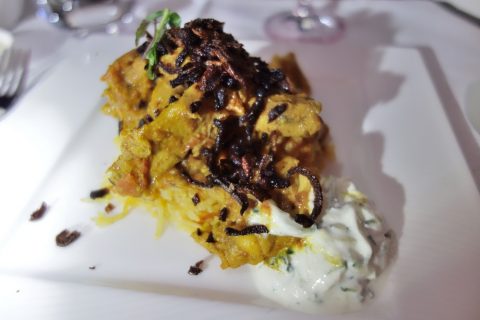 The soft chicken has a savory flavor, has a nice aroma and is not too spicy, and there is absolutely no unique smell when you eat it in Southeast Asia! Even if you look at how it is arranged, it is a "Works" that you would never imagine from B class gourmet in Southeast Asia.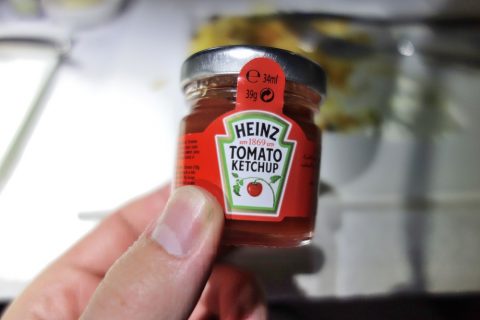 When asked what kind of seasoning to use, he chose the ketchup from HEINZ (Heinz), which is well known in Japan, out of about 3 choices. I'm not sure if I like Kagome, but this Heinz is smoother and has a stronger tomato taste, and it goes better with some dishes.
But I don't have time to eat a finished in-flight meal like this one!
I had a choice of 3 desserts and I chose Rich chocolate torte. Rich chocolate, white sauce with vanilla flavor. I think it tastes good.
The level of in-flight meals is stable!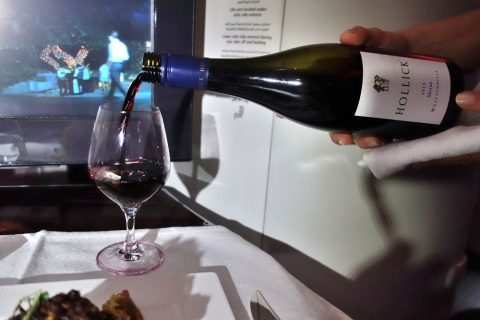 This time again, Qatar Airways business class in-flight meal provided a stable taste. The wine poured from CA's top-notch actions was delicious, and the six hour flight, during which you were intoxicated by the delicious sake and food, was a truly happy time!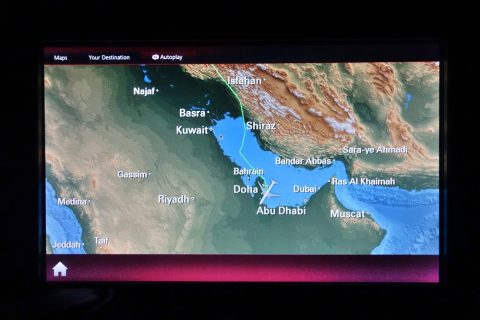 I would like to stay longer if possible. The lights are turned off after meals, but I could not sleep for about 6 hours until Doha, so I ended up spending the morning in Doha without sleeping at all …
Next time, I will report on the breakfast menu in the lounge of Doha Hamad International Airport! → Breakfast menu at Al Mourjan Lounge! When is the best time not to be crowded?
♪Click here for a List of articles on "First Class & Business Class Airlines worldwide (Seat, In-flight Meal, etc.)"