There are many restaurants in Lisbon where you can listen to traditional Portuguese folk songs "Fado", but I highly recommend the "Povo" restaurant!
It is located in the downtown area near Ribeira market, and the food is reasonable, the taste is good, and the music charge is extremely cheap, which is very generous! This is the best fado restaurant where you can go alone without hesitation!
※This article was written before the virus scandal. This will be updated.
Location of the fat restaurant "Povo"
Here is the location of the Fado Restaurant Povo I visited this time. It is very close to the Ribeira market and less than a 5 minute walk from the nearest station, Cais do Sodré.
This area has a lot of restaurants and is crowded with young people even late at night! It is not a dangerous area, but you should be careful when you walk at night.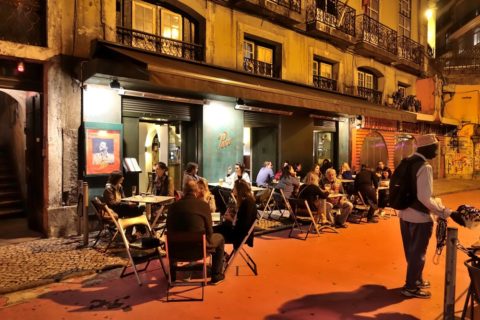 The green facade shop on the first floor of the slightly old building is Povo. It seems to be popular not only as Fado but also as a restaurant, and the outdoor terrace is already full!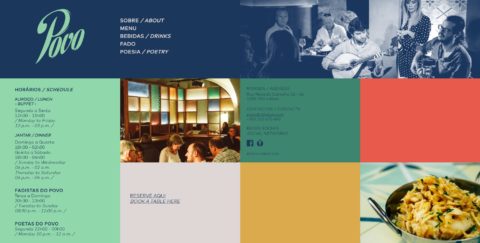 Also, this time I made a reservation from the official website in advance. Dinner starts at 20:00, and only fado starts at 22:00. Simply select the date and time and enter your name, email address, and phone number.
Maybe because it's a popular restaurant, it's often full the day before, so it's better to make a reservation early!
A very popular restaurant!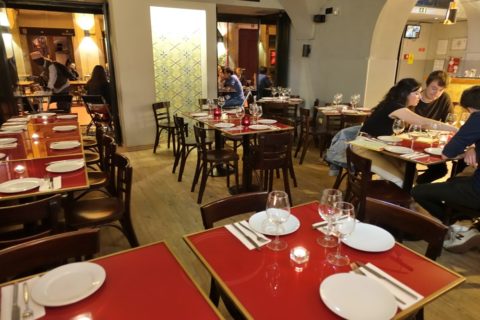 The restaurant has about 40 ~ 50 seats, mainly table seats. There is also a bar counter near the entrance. The seat pitch is also small, and the table seat which should be taken by 2 people is taken by 4 people, etc., so it is packed very much! It shows how popular it is.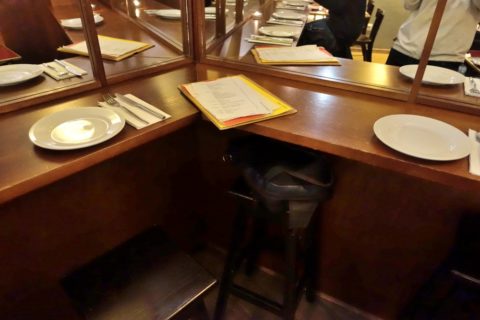 However, since I came to the restaurant alone this time, I was guided to several counter seats set up on the wall at the back of the floor.
When you sit down, the staff will explain a lot in English. There were some staff who didn't speak English very well, but they were all pleasant and gave a good impression!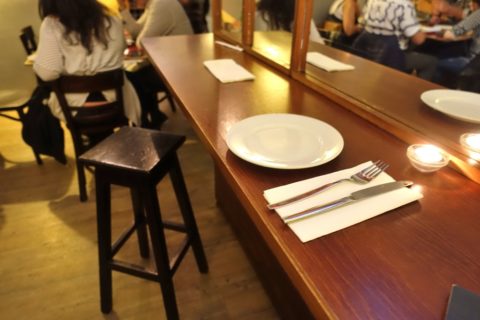 This is a counter chair with a very small seat surface, so it hurts my buttocks, but I can look around the store from a high position, so it's good for the location! There was also one young lady sitting next to me, so perhaps one guest will be guided here preferentially.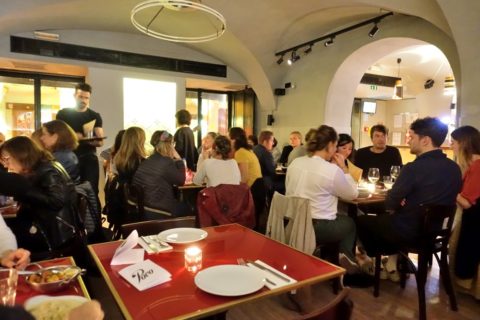 It was empty when I entered at 20 o'clock, but it was full within 20 minutes! It's absolutely impossible without a reservation.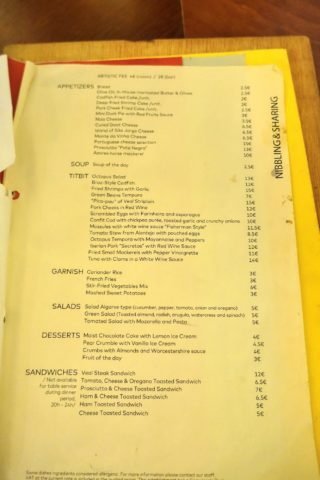 This Povo menu has a lineup that focuses on Portuguese cuisine, but it is reasonably priced with appetizers and soup starting at €2 and salad starting at €5! We also have sandwiches and desserts.
They have a wide variety of drinks, mainly alcohol, especially bottled wine! You can also choose from 7 types of wine by the glass.
Drinks are normal for a Lisbon restaurant, but a beer starting at €2 is a real bargain for a live restaurant.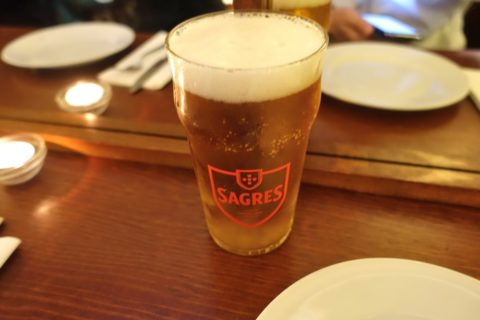 However, there were quite a few beers out of stock and I was told that I could only choose 2 from the top of the menu … The Portuguese beer called SAGRES is a bit light but it might be good to moisten my throat before meals.
Every dish is delicious!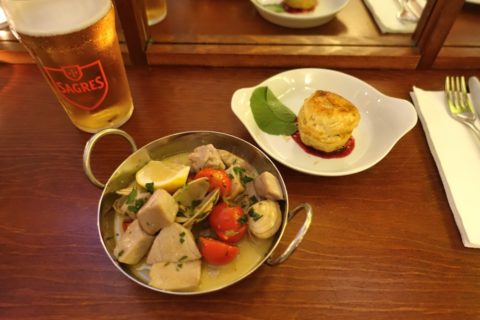 I made a reservation for dinner at 20:00 this time, so I tried several dishes, but I was surprised that all the dishes had a high level of taste!
The first "Mini Duck Pie with Red Fruits Sauce" I ordered had walnuts and was rich in flavor, and the main dish "Tuna with Clams in a White Wine Sauce" had lots of good tuna, which was good!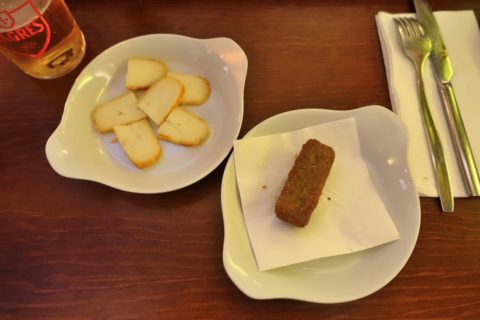 Also, the "Deep-fired Shrimp Cake" I ordered additionally had plump shrimp and was delicious, and the "Niza Cheese" was milky and mild in taste! Both go well with beer!
The dessert is "Moist Chocolate Cake with Lemon Ice Cream". The sweet and sour lime flavored sherbet ice cream had a very rich chocolate cake, and I also enjoyed it!
Amazing that you can eat such a high level dessert for only €4!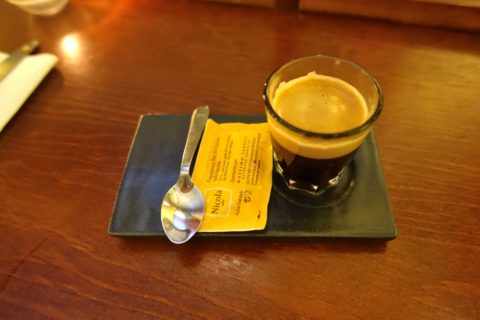 Also, the espresso that I was recommended after the meal had a beautiful crema and rich bitterness with less sourness, and this is also a very delicious coffee! No matter what you order, you won't lose!
High quality performance!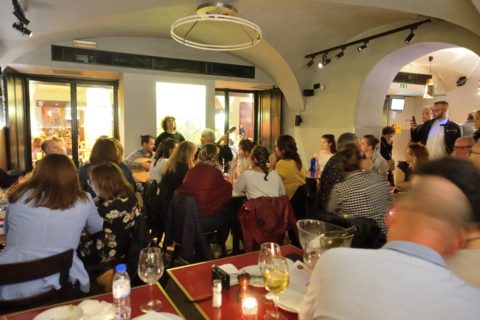 Now, after 20:30, the performers came in and started playing Fado! This time, 3 performers including a female singer and 2 guitarists are allowed to take pictures without flash, but the shooting fee (€2) will be added.
They play 4 ~ 5 songs in about 15 minute 1 set, and after that, they play 4 sets in total with a 30 minute break at 23:00.
This is the third time I've listened to Fado in Lisbon, but this time the female singer is good with her strong voice and rich expressiveness, and she has good sense of guitar backing, and she is the best one I have ever listened to!
The songs are up-tempo and friendly, and this is a pretty good performance!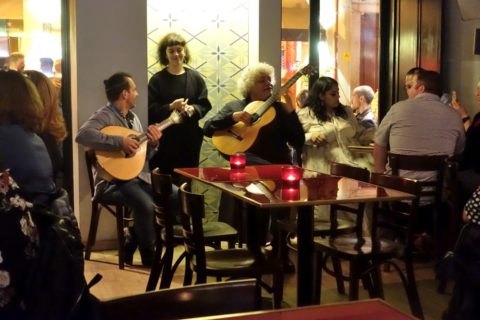 However, it is noisy outside probably because it is in the middle of the downtown area, and the weak point is that you can sometimes hear the thundering bass sound from the speaker of the next store. … The soundproof performance seems to be good to some extent, but it can't be helped.
Neither the song nor the guitar pass through the amplifier, so it is not suitable for those who want a lot of power, but if you get drunk with an emotional atmosphere, the acoustic sound is the best!
A super cheap music charge! the best fado restaurant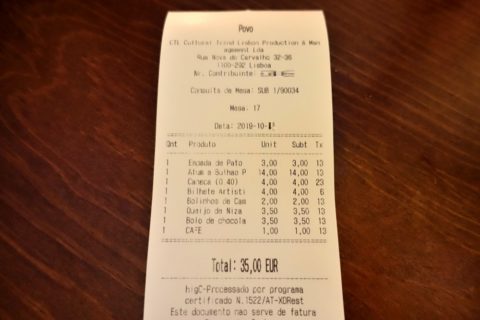 The payment this time is €35. The music charge is only €4! It's only €6 including the shooting fee €2.
I can't believe that after listening to the live and eating and drinking so much, it only cost me €35 …!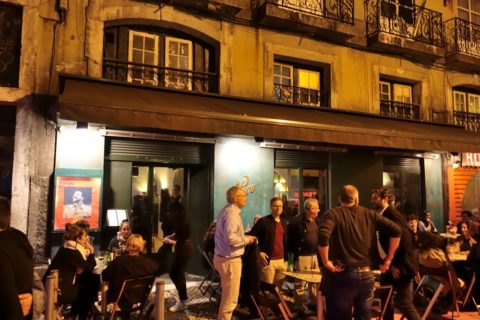 Fado's performance, the taste of the food, and the service of the staff are all perfect! The price is reasonable and I really don't have to go anywhere else so this was the only Fado restaurant I should definitely go to "Povo"!
Povo
Address:R. Nova do Carvalho 32, 1200-161 Lisboa
Opening hours: 12:00 ~ 15:00 (Weekdays only), 18:00 ~ 26:00 (From Thursday to Saturday until 28:00)
Website (Reservations) is here.
★Please also try this → "Lisbon" article list