This is Hanoi, Vietnam where you can find "It is cheap and delicious.". I checked the taste at the popular Pho restaurant " Phở Gia Truyền " which is very popular among tourists. As a result, there are many reviews saying that …。 is delicious. I would like to report on the taste and credibility of this famous restaurant.
There's a long line! super popular store
The place I visited this time was " Phở Gia Truyền ", which is located a little west of the old city of Hanoi. According to word-of-mouth research conducted in advance, pho with beef seems to be delicious and very popular among tourists.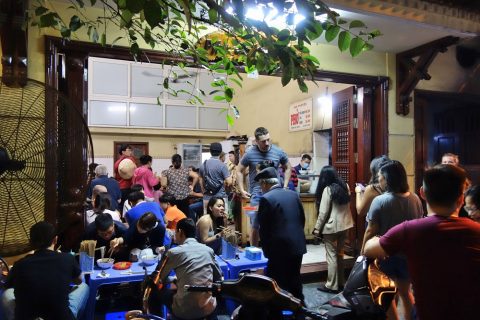 When I went there, it was a great person just like the rumor! It was very crowded around 19:30 as it was dinner time!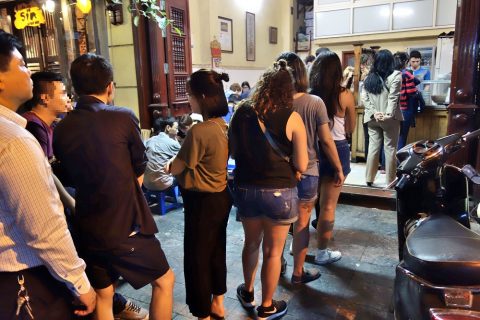 Long lines outside the store! There were about 20 people in line, but the line was moving fast probably because of the quick turnover, and we reached the order counter in about 10 minutes. There may be many people who eat it in about 5 minutes.
Pho Menu and How to Order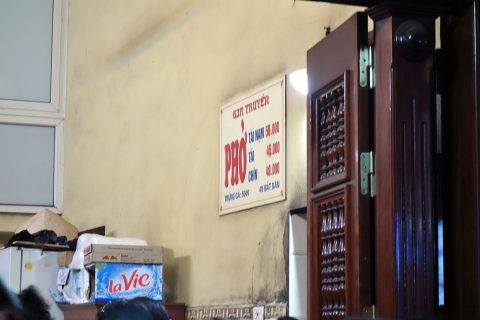 There are three kinds of menu in this restaurant. All of them are pho with beef.
Phở Tái Nạm…50,000 Dong
Phở Tái…45,000 Dong
Phở Chín…40,000 Dong
"Tai" refers to raw meat, and "Chín" refers to cooked meat. I didn't understand the meaning of "Nam", but since it is the most expensive, I guess it contains a bit special meat.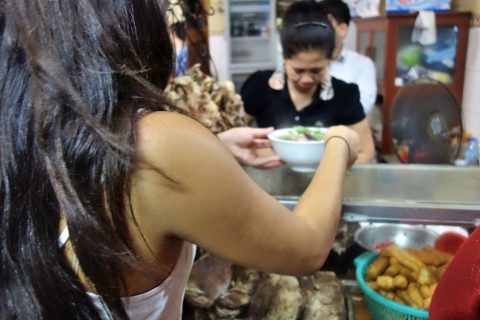 As for how to order, first order the optional four at the counter and pay. After that, we sat down and when the pho was ready, the waitress brought it to us, but it seemed that the waitress could not handle it because there were too many people, and many people seemed to carry it to the seat by themselves.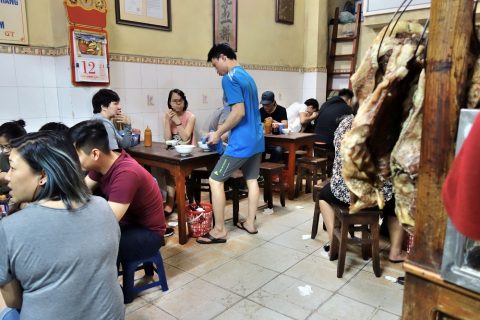 Seats can be reserved as you like, and while someone was ordering, other people were reserving seats for the group. However, a person traveling alone like me does not do so and waits by the counter until a seat becomes available.
Five minutes after I ordered, pho was ready and a table was available just in time, so I brought pho to the table by myself.
Is this delicious?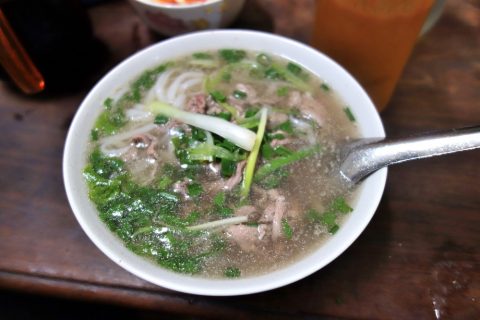 Phở Tái (45,000 dong) is the one I ordered. I should have chosen "Chín" because I really wanted to eat it when it was well-cooked, but for some reason I chose this by mistake …。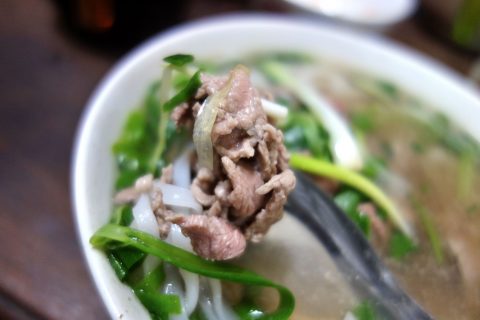 But this one is more expensive, so I was expecting it to taste better, but when I ate it, the meat was hard and dry! No matter how much I chew, the beef broth doesn't come out at all.
The soup is too bland! Instead, the pungent coriander's harsh flavor is strongly conveyed. This is because the taste of the beef is absorbed into the soup and the taste becomes deep, but you don't feel any such richness.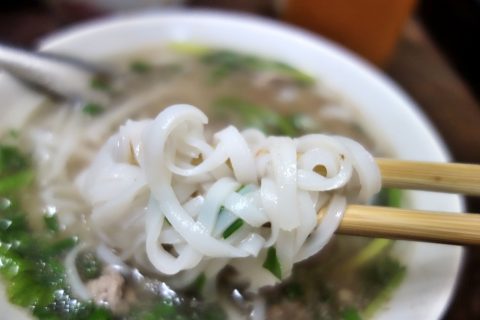 The noodles were not worth mentioning, and the texture and texture were very normal. Even if the noodles mix well with the soup, it would be meaningless if the soup itself didn't taste this much.
This might be the taste of the popular restaurant …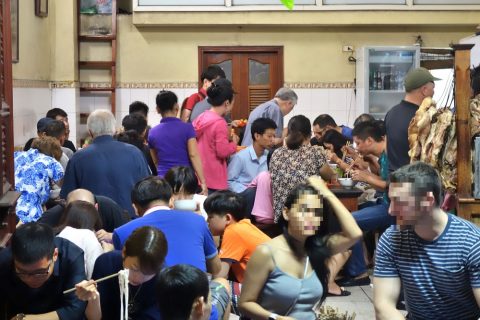 It is a popular restaurant " Phở Gia Truyền " where there is a line, but the taste of 45,000 dong pho was quite unsatisfactory. It was crowded with mainly Westerners and tourists, but after all, I didn't know what a famous restaurant was like …。
I couldn't recommend this report from the popular restaurant " Phở Gia Truyền " in Hanoi, Vietnam.
♪Click here for a List of articles on "Ha-Noi"