Arriving at Paris CDG Airport from Geneva, he then moved to Terminal 2E-K to transfer to London. I will wait for the next boarding at the familiar Air France lounge.
This is 2E-K's Air France Lounge which I have told you several times, but this is the first time to use the snack time (14:30 ~ 19:00)! I would like to check the buffet menu and champagne brands at this time.
※This article was written before the virus scandal. This will be updated.
Afternoon Buffet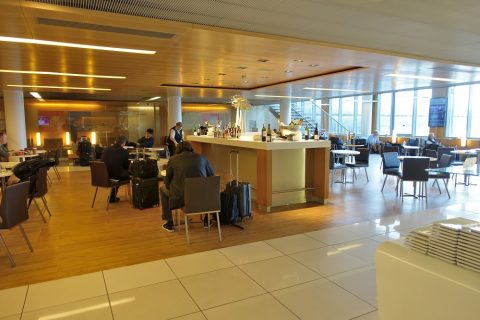 I used an air franc lounge when I transferred. I arrived before 3 PM, but the lounge was very vacant, so it was helpful …!
But be careful if you want to eat! At 14:30 ~ 19:00, the buffet is "Afternoon Snack" and basically it doesn't serve anything that could be a meal.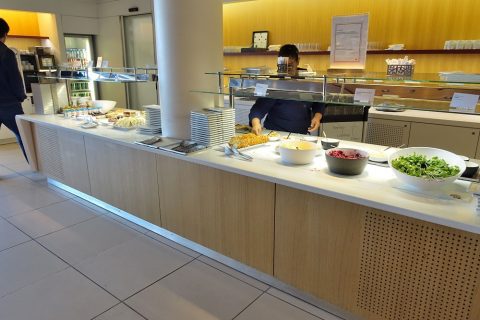 When I looked at the buffet counter, there were only several kinds of salads for meals, and only cakes, chocolate, cheese, and yogurt.
Bread and paste-like carrot (?), but nothing to make me feel better. If you want to eat, by all means make sure you visit before 14:30.
For lunch time menu, please refer to this article → Air France lounge lunch menu and delicious sweets! Paris CDG Airport T2E-K
Lots of delicious sweets!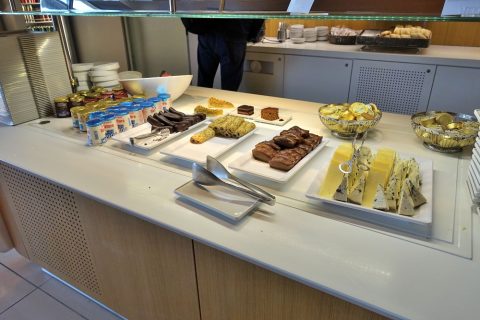 There is almost no food, but there are many delicious sweets, and the air franc lounge is as good as I expected! As we mentioned in our lunchtime article, the quality of the sweets you can eat in this lounge is outstanding!
The most delicious of these was this square chocolate cake. This is a high quality chocolate cake that is moist, rich and has a hint of bitterness in the sweetness!
These are served continuously from lunch time, but they are often out of stock due to their popularity, but they are not restocked, so you should get them without hesitation if there are any left!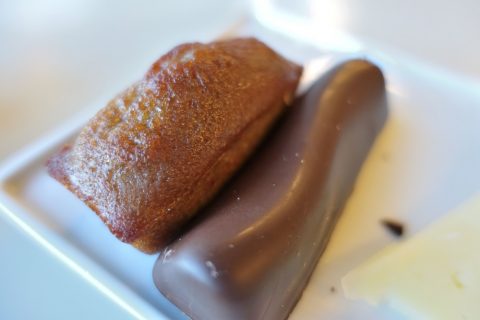 This banana flavored chocolate is also delicious! It is different from the mass of cheap flour in Japanese confectionery department. The pound cake is moist and has an elegant sweetness.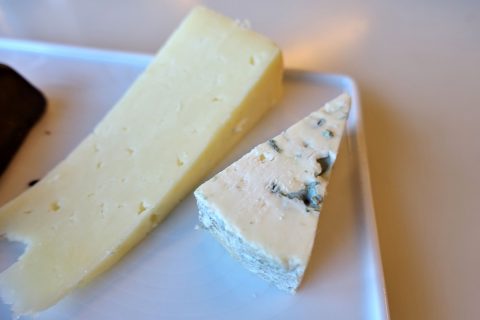 Also, there are only 2 kinds of cheese, but both of them are good quality! The blue mold has a bit of a smell, but the other semi-hard type was easy to eat with no peculiarity.
Two types of champagne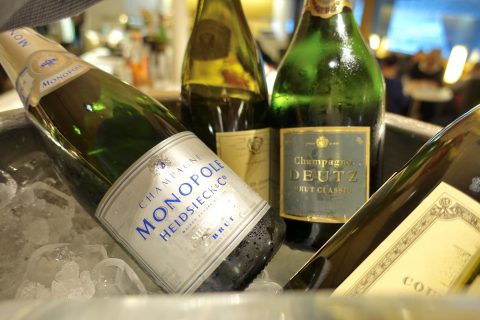 Champagne is perfect to go with such delicious sweets! When I visited there a few years ago, "Drappier" was included, but at this time there were 2 kinds, "Laurent Perrier" and "Duets".
I tried drinking and comparing the two, and Laurent Perrier was better in both taste and assertion. Laurent Perrier recently launched a new product called "La Cuvée" but this old model is definitely more gorgeous and delicious!
This Laurent-Perrier BRUT was previously available at JAL's first class lounge in Haneda and Narita, but recently it has been replaced with a new product La Cuvée … (Reference: JAL First Class Lounge (Narita Airport Satellite) The new Laurent Perrier)
The market price of Deutz is about 4,500 yen. It is one of the popular champagne that you can buy easily, but if you buy it at this price, I think Laurent Perrier is definitely better.
No matter when I go there, it tastes great!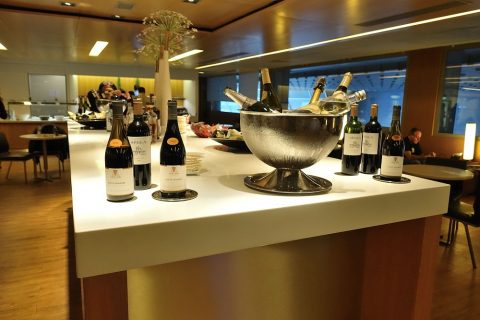 So, I fully enjoyed the delicious sweets and champagne, Air France lounge! This is a very attractive lounge where you can enjoy the finest croissant in the morning, delicious buffet for lunch and the best taste at any time!
This 2E-K Lounge is also a designated lounge of JAL (To Haneda), so I am happy that there are many chances for Japanese to use it! Check out the rest of the lounge's hours, including the breakfast menu.
♪I also recommend this link→Collection of AIRPORT LOUNGE Reviews Worldwide! Wine, buffet, Shower, etc.