I went to a Middle Eastern restaurant called "Operation: Failure" to have lunch at the Dubai Mall. It was a casual restaurant with a nice atmosphere, and I was able to have a casual meal even by myself!
The price is so reasonable that you can't believe it's in the Dubai Mall! This time, I would like to introduce such OPERATION: FALAFEL.
It's on the G floor of the Dubai Mall.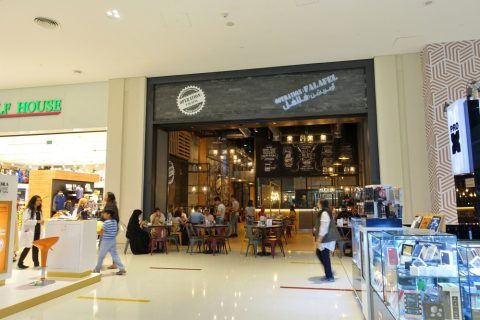 Operation: Falafel, which I visited for lunch, is located on the G floor of the Dubai Mall in front of the skating rink. There are a few chain stores in the UAE, but according to the website, there are plans to open chain stores in the United States and the United Kingdom.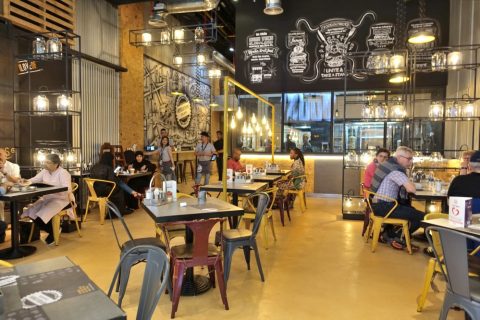 Inside, the ceiling is high and open! It has a modern interior with the exhaust duct exposed, and the interior of the lamp in the bottle is impressive.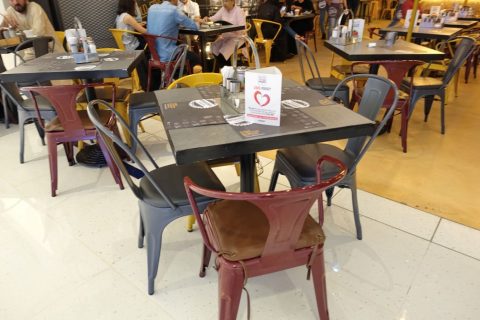 The chairs and tables looked a bit like a fast food restaurant, but the staff was very attentive and not uncomfortable. If you find an empty seat and sit down, the staff will bring you a menu.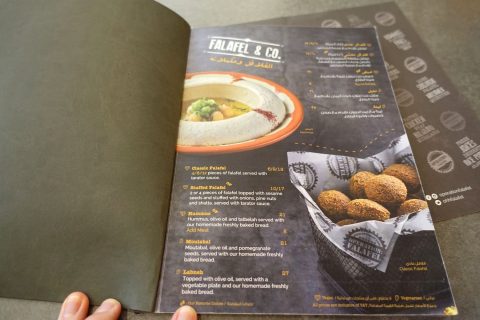 If you look at the menu, since it is a Middle Eastern restaurant, there are familiar menus such as "Hummus" and "Mutabal", and there are many sandwiches and plate dishes with "Falafel" in the name of the restaurant.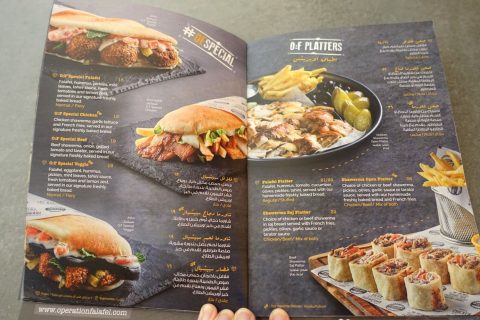 The price of each menu is about 20 ~ 30 DH, which is a nice price! The menu is written in Arabic and English, but there are pictures here and there so you don't have to worry.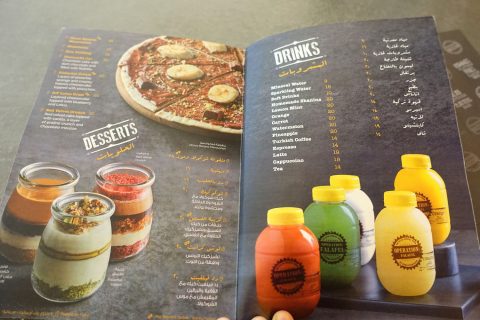 There are original sweets and drinks, but as for drinks, mineral water is 9DH, so I pass this time! There seems to be a one drink system in some restaurants, but I was able to refuse a drink without being told anything.
"Falafe" with a bit of a peculiar taste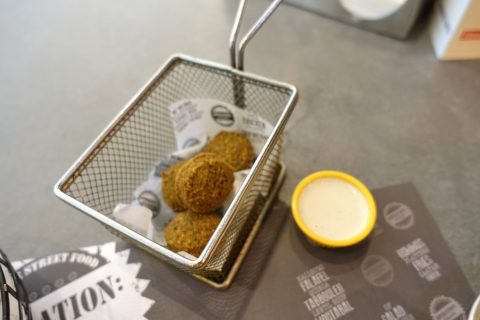 I ordered 2 items this time, but the first one is the signature dish "Falafel". There are two types, Classic and Stuffed, and I chose Classic! You can choose from 4 pieces, 8 pieces or 12 pieces depending on your preference.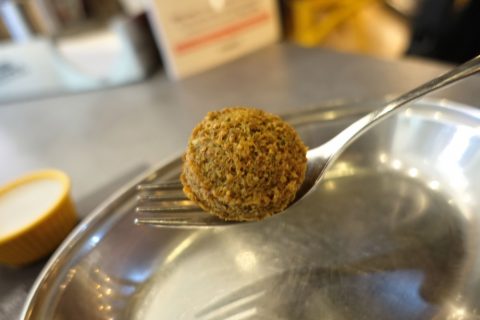 "Farafel" is a croquette from the Middle East made from chickpeas. It is said that it originated in Israel, but you can often see it in Lebanese restaurants.
It has a crunchy texture and is voluminous, but it is a menu for vegetarian vegans, and recently it is getting attention as a healthy dish in Japan.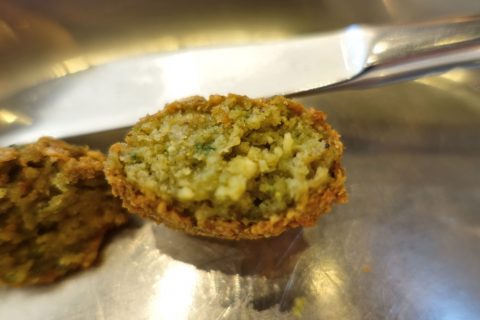 I have eaten falafel several times, but when I tried the falafel of this restaurant, it had a very peculiar taste. If you put sour cream on the side, it will become mild, but this may be a taste that differs according to your taste.
The farafel I had in Lyon, France before was very delicious, so the taste seems to be quite different depending on the restaurant.
Home-made dishes with a simple taste "Foul"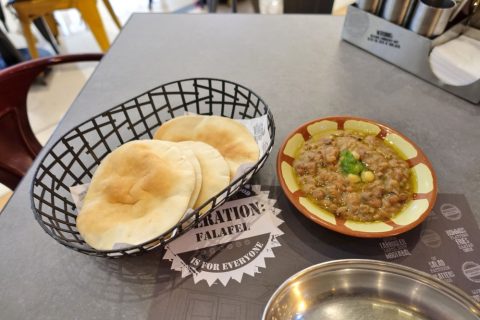 Another item I ordered was the "Foul" menu. This is my first time eating this, and it is said to be one of the home cooking made with beans eaten in Lebanon.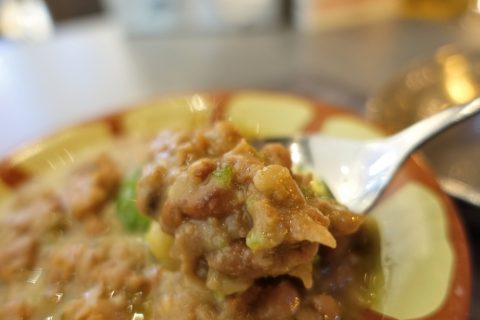 It is a dish boiled with several beans including chickpeas, but when you eat it, it brings out the simple taste like azuki beans. It looks like oil is floating on the surface, but it doesn't feel greasy at all.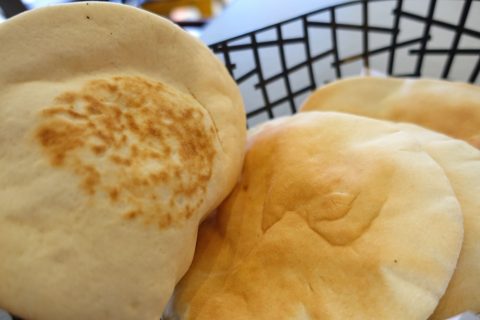 The pita bread that comes with everything is a staple food in Middle Eastern cuisine. There is no taste and the inside is hollow, so it is standard to put ingredients and eat it like a sandwich.
The size and texture differ depending on the restaurant, but basically every restaurant is made of thin dough, so Japanese who like fluffy bread may not like it.
A Middle Eastern restaurant where you can enjoy food at a reasonable price.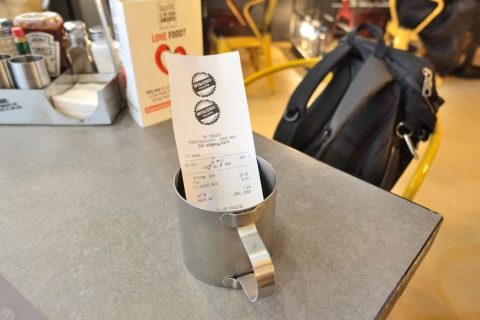 The payment this time is 26 DH. It is located in the Dubai Mall, but it is surprising that you can eat authentic Middle Eastern food at this price! I didn't have to order a drink, so it was cheaper!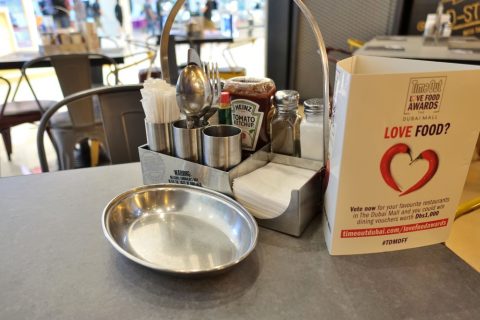 There are many dishes with different tastes, but it is also a gift because they are authentic Middle Eastern dishes. Please visit Operation: Falafel, a casual restaurant where you can easily enjoy Middle Eastern cuisine at a reasonable price, if you have the chance!
Operation:Falafel
Access:ドバイモールG階(Ice Rinkのすぐ側)
Opening House:10:00~25:00
♪Click here for a List of articles on "Dubai"