"Okinawaya", a souvenir shop chain on Okinawa's main island, also has a shop called "Awamori Kura" that specializes in handling awamori.
This time I went to Okinawan restaurant in American Village and bought Awamori called "Kikunotsuyu 7 years" and tried it, and it was really delicious! It is the taste of Awamori that has a strong taste and everyone likes, but the aged sake has a good taste even for beginners! It is also perfect as a souvenir.
Shop in the American Village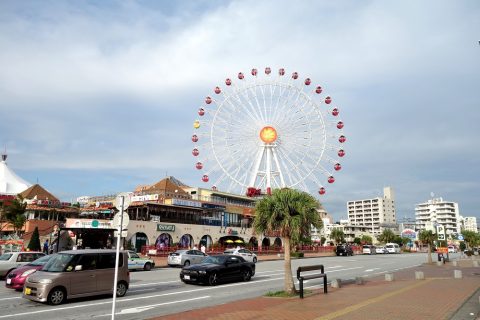 I came to the American Village on the main island of Okinawa! This is a large shopping area that imitates the atmosphere of the United States, and it was originally a base of the U.S. Army, but it was redeveloped and opened in 1998, so it will be 20 years anniversary this year!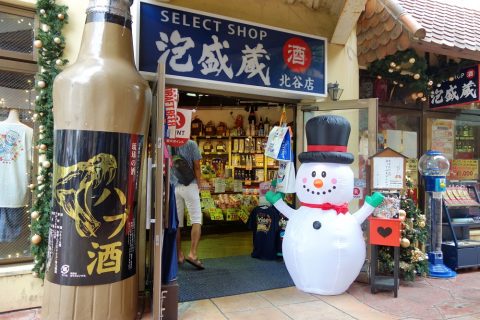 While I was wandering around this town this time, I found a select shop called "Awamori Kura". As you can read, it is a shop that sells a lot of local sake "Awamori" of Okinawa, so I will take a look.
By the way, this shop is here. If I look closely, this shop is one of the Okinawa-ya Store chain stores.
Rich Ryukyu Awamori!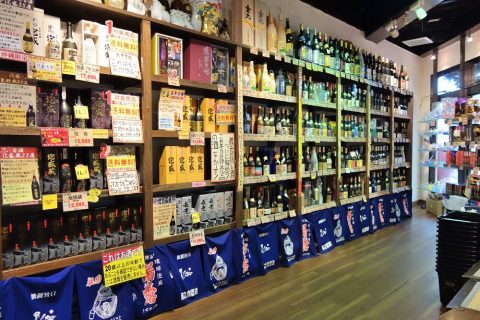 The inside of the store is small but the Ryukyu Awamori is awesome! You seem to have sake other than Awamori, but most of the sales floor has Awamori.
In addition to ordinary bottles, there are many other types of "rope winding". It might be good for people who want more authentic Awamori, but it is very heavy when you hold it and the price is quite expensive! It may not be suitable as a casual souvenir.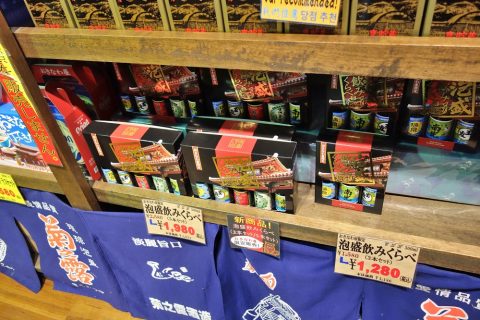 "drinking comparison" set that can be found in any store. I've tried this before, and two of the five were okay, one tasted subtle, and the other two were so bad I threw them away!
Most of these tying products are mixed with loser products that cannot be sold, so it is better not to touch them (And the price has gone up a lot!).
Other than Awamori, …
In addition, there was whisky, but Suntory Old which you can buy at around 1,300 yen here is over 2000 yen, and the price is rather expensive! This is completely for foreigners.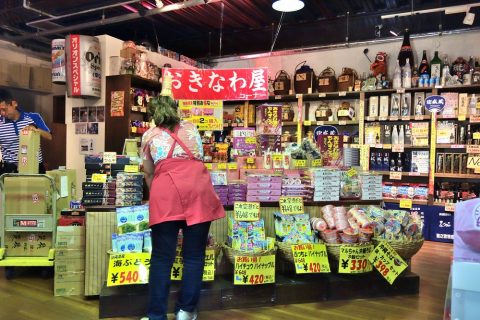 We also have Chinsuko, Beniimo-tart and other scattered souvenirs, but there are too many singing phrases such as "It's ○○yen at the airport!" and "Only now is it on sale!", which is a bit unreliable …。
Credit Card Acceptable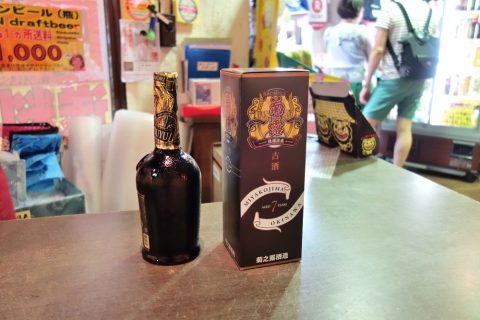 I bought this "Kikunotsuyu Koshu 7yr" this time. Originally, I wanted to buy "Kikunotsuyu VIP 8 Years Old" that I had at an izakaya in Naha City before, but unfortunately they don't have it, so I decided to buy a similar one.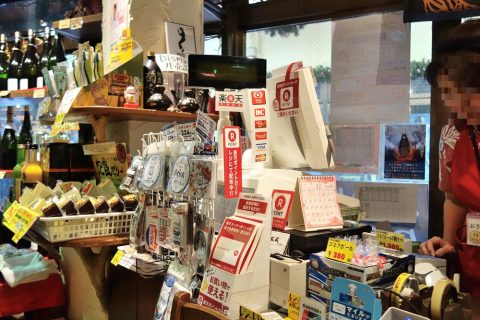 You can pay by credit card! If you use Rakuten card, you can earn Rakuten points.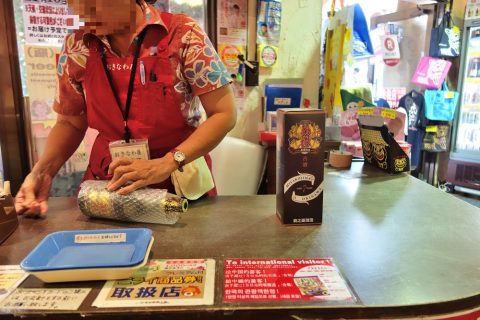 It is nice that it is carefully wrapped with bubble wrap! It is a service that is considerate to travelers who go home by plane.
"Kikunotsuyu 7 years" Flavor and Price of Old Sake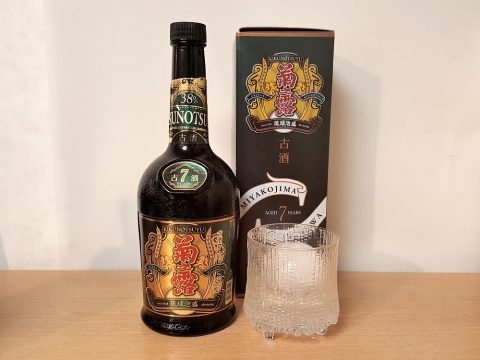 I brought back Kikunotsuyu 7 years ago and tasted it. It has a mild taste even though it is a strong alcohol of 38 degrees. It doesn't have a strong smell of Awamori, so it's quite delicious!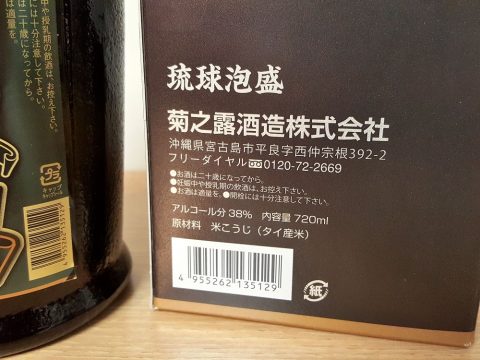 The purchase price this time is 2,592 yen including tax. Even so, it is rather expensive for Awamori, and the price is pretty good for general Japanese sake, but if you can get 7-year aged old sake at this price, I think it is not expensive at all.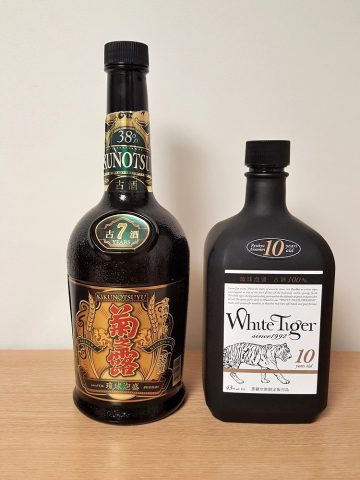 By the way, I told you the other day that it was 9,000 yen plus tax for the white tiger limited to Naha Airport in 10. I tried drinking and comparing these two, and it is true that the taste is deeper compared to Kikunotsuyu in 7 years, but I did not feel the attractiveness which is worth the price difference of 4 times. ・・・。
The taste of Kikunotsuyu is quite deep, and if you think about it, this 7 year old sake is Awamori with good cost performance. (Reference → Only at Naha Airport! Compare 5, 7 and 10 years of white tiger!)
I recommend "aged sake" for Awamori!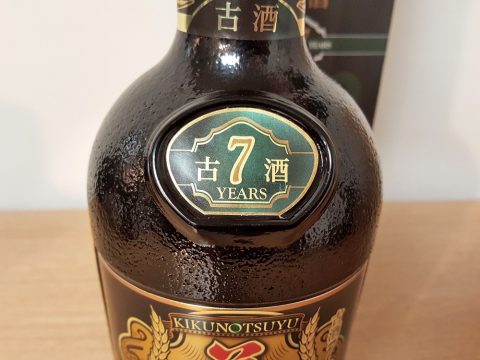 Compared to Japanese sake and shochu, Ryukyu Awamori has a strong peculiar taste, but I feel that "aged sake" matured for a long time often removes its bad smell and becomes mild. The aged sake looks good as a souvenir, and I recommend the old Awamori!
There are many brands that have a lineup of old sake other than Kikunotsuyu, so please look for your favorite one.
Okinawaya (Chatan) Awamori kura shop information
Address: 9-2 Aza Mihama, Kitatani-cho, Mihama, Nakagami-gun, Okinawa
Opening hours: 10:30 ~ 21:00
♪Click here for a List of articles on "Okinawa Main Island"